Many bartenders like to tell stories to their patrons. Some stories are action packed, some  are about love, and others are over exaggerated to the point where one wonders if the drink server has had a few themselves. Yet the most fun bar stories are those from haunted establishments. America is full of them. Bars are places that seemingly attract tragedy, and therefore spirits. Some bars hate them, some bars love them, and one bar I went to made me sign a notice that said it wasn't the bar's fault if I got hurt by a ghost. If you're a New Yorker and any of these things intrigue you, then don't buy plane tickets just yet. There's a bar right here in the city, where the owner tells tales of the horror that happens there. 
The Campbell Apartment is a lavish cocktail bar in Grand Central Station. If you're thinking to yourself, "Isn't that the bar where Serena and Nate hooked-up in Gossip Girl?" Yes. Yes, it is that bar. But the gossip we are observing today doesn't come from TV or from empty offices as a result of the pandemic. It comes from the owner himself. Mark Grossich has owned The Campbell for years and has done many interviews about the spirits in the bar. He claims he doesn't want to talk about the ghosts while on the clock, but many of these interviews were booked after people eavesdropped on a bartender's conversation with patrons, so I'm sure you could get someone chatting if you really wanted too. 
For example, when asked by the good folks of the website, Eater, if the place was haunted, Grossich stated, "We have some otherworldly visitors and I'm not bullsh*tting you here." So, they seem to take this ghost stuff pretty seriously. Grossich has also stated that the  spirits interfere with the staff as they work, pushing them as they walk and made drinks go missing when their backs are turned. Strangely, patrons don't have encounters nearly as often. Grossich attributes this to the fact that his employees are there more frequently, and the ghosts like to mess with those that are familiar to them. 
When asked why he thought it was haunted, Grossich had no idea. Honestly, I'm  struggling to find a reason for this place to be haunted myself. The room started as an office for John Campbell, a man of many dollars. He and his wife entertained a lot of company here, but no deaths were recorded at the time. In 1957, after Campbell's death, the space became a lot less festive, becoming a storeroom for police weaponry and a small jail. Though jails are often a magnet for ghost activity, no tragic deaths occurred while it was open. It became a bar in 1999 and has been the subject of ghost stories ever since. 
Grossich has had several paranormal investigators observe the bar overnight. The general consensus is that the building is haunted with mostly unidentifiable ghosts. I say mostly  unidentifiable because everyone agrees that John Campbell is still there. And why not? For  money men, the most spiritual place for them is the office where they made their riches. He most likely wants to keep an eye on the mahogany, the carpets, and his safe that's still on display. He probably also feels at home at The Campbell considering the bar has a fancy dress code. No baseball hats, t-shirts, or athletic shoes. This dress code wasn't specifically for John Campbell, but I'm happy he's happy hanging around to enjoy it. 
Grossich has also mentioned in interviews that the most haunted parts of the bar are  the upstairs bathrooms and the mezzanine. Both staff and patrons have reported seeing a well dressed older couple enjoying cocktails while watching the patrons below. The bathroom  poltergeist is the scariest thing I've ever heard of. I'd love to see a ghost on any occasion,  except one where my pants are down. A customer once saw a figure enter the bathroom and lock the door. Once a sizable line formed, people started getting upset. They banged on the door only to receive no answer. Eventually, a locksmith was called in to get the door open, but no one was found inside. 
Grossich and the rest of the staff claim all the ghosts are nice. I wouldn't call  being shoved at work or forced to call in an emergency locksmith, "acts of kindness" but I guess in a ghost bar you're just happy that no one is getting murdered. The staff have even stated in a Town and Country interview, "While it might be eerie for some to share a cocktail with a spirit, they have absolutely nothing to fear." Personally, if I had a few drinks in this place, I wouldn't even care if I felt a cold spot or heard a whisper. 
The ghosts of The Campbell Apartment are strange in that they seem to come out of nowhere. Unlike some other ghosts this series has covered, nothing truly tragic has happened here. Aside from the brief stint as a jail, this seems to be a place for celebration. And maybe that's why there are ghosts there. If you don't want to move on, but you also don't want to suffer, why not haunt the place where you felt the most joy? 
A bartender's job is not just to serve drinks. They also need to serve atmosphere. One way to do that is to tell stories. Ghost stories, in particular, strike a chord with those looking for a fun, adventurous night out. Sometimes, these are just stories. Bartenders will embellish because it's fun. However, that might not be what's happening at the Campbell Apartment. There are so many stories, sightings, and investigations that it's hard to believe nothing paranormal is there. If it is a hoax, it's a damn good one. But, in the words of owner Mark Grossich, "I'm not bullsh*tting you."
Also, they have a signature cocktail called Prohibition Punch that's mentioned in many of the articles I found while researching this. So next time you're in the area make sure to stop by The Campbell Apartment and give that a whirl.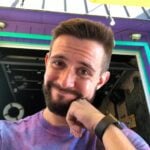 Russell is a writer and comic based in New York City. His plays have been featured at Penn State's Cultural Conversation's Festival, The NYC Thespis Festival, and Imaginarium's Inaugural Theater Festival. Follow him on TikTok and Instagram @pooleparty528