When most people think of NYC living, what's the first thing that pops into their head? Likely its teeny tiny apartments requiring much larger budgets in comparison to the rest of the country. Iconic New York movies and television shows have even glamorized using ovens to stash sweaters and ordering take out seven days a week to avoid pot and pan storage. 
It's true that urban cities across the world suffer from similar space problems which require a common adjustment to life in a big city. It often means giving rooms multiple purposes. A dining room might also work as an office, and a big walk-in closet could serve as a baby nursery. Getting creative is a must!
Storage itself is an issue for New Yorkers often solved by third party storage facilities or annual spring cleanings. So, what exactly is the long-term solution for city dwellers who can't necessarily upgrade their space but who want to upgrade their life?
One company has come up with a creative solution for the never-ending challenge of limited space in a big city – Bumblebee Spaces. 
Bumblebee is a San Francisco startup that specializes in creating modular furniture and spaces that are stored in a spot often overlooked in urban settings – the ceiling!
Some of the necessities prioritized by the company include beds, nightstands, closets, desks and even a privacy wall to add the appearance of an extra bedroom.
The modules are stored securely in the ceiling, with fire and earthquake safety in mind, and can be summoned by voice alone. The system is created using artificial intelligence that can even learn your regular routines such as a usual dressing or bed time.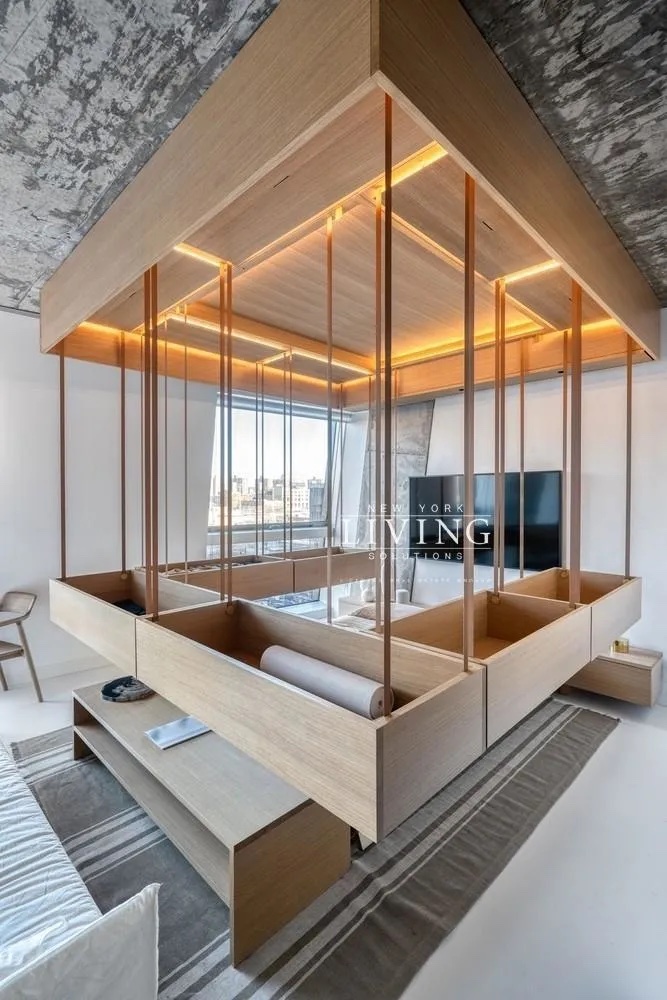 These furniture pieces are only 13 inches thick so they don't take up a ton of extra overhead space and are organized in a Tetris-like fashion to optimize the design and options. 
Bumblebee was founded in 2017 by a Tesla and Apple veteran who is familiar with the importance of solving consumer problems and perfecting the user experience. The company has secured over $22 million in funding and plans to work mostly with large-scale developers who want to outfit their entire buildings with the systems.
What does this mean for communities like NYC? With housing shortages, rising rent prices, and an insatiable  need for more space, Bumblebee could offer the solution we've all been looking for. Growing families could use their living room as both a bedroom and an office, to make a one bedroom apartment baby-friendly. Couples could embrace working from home without one person working from a kitchen counter. Studios could become more attractive than they are now by offering space to both entertain and sleep in one room. In fact, one building in Harlem, The Smile, has apartments pioneering this new technology.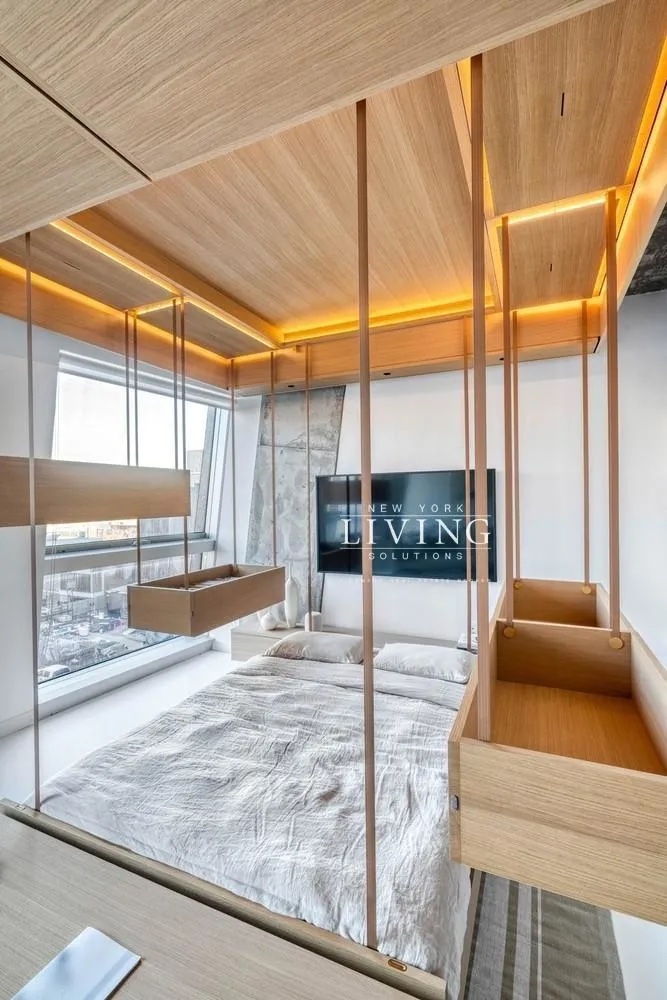 Bumblebee could very well be the future of urban living and help solve housing problems in densely populated areas across the United States. So, what do you think about this modern option for small-space living? Would you embrace the ceiling storage and modular furniture options offered up by Bumblebee?
Alda is a mom, Brooklynite, and real estate lover. In her free time, she cruises real estate listings to dream of a perfectly attainable several million-dollar brownstone, much to her husband's annoyance. Alda is also convinced she knows everything there is to know about New York City, based solely on consistent people-watching and eavesdropping. Mrs. Burrows would be an amazing trivia partner but instead chooses to write about all the random stuff she knows.