Single on Valentine's Day? It's a blessing and rarely a curse. Instead of taking out your significant other and treating them to an extravagant meal, you can take yourself out and treat yourself to the extravagant meal instead. With the holiday comes the ungodly amount of red and pink hearts, chocolates, and roses everywhere you look. As a single person, it might be an annoying and unnecessary celebration, but there are ways to enjoy the holiday by yourself too. 
There is absolutely nothing wrong with being single on Valentine's Day or even in general. In fact, being single is the greatest opportunity to discover more about yourself, your wants, and your needs. Instead of focusing on being single for a day about love, take the chance and turn it into a moment to treat yourself, friends, and family. However, if you're stuck alone on this holiday, here are some ways to celebrate by yourself.
Single Valentines Day Activities
1. Buy Some Fancy Wine
Movies always show couples going out on Valentine's Day and grabbing the fanciest wines and spirits to enjoy. Why not do it by yourself? Look at your budget or even splurge a little on a good bottle of wine. Then cook up your favorite food or buy your favorite take-out meal. That's definitely treating yourself.
2. Buy Yourself Flowers
Longing for flowers? Why not just buy some for yourself? This is the perfect way to guarantee the arrangement you want. There is no disappointment involved in this ordeal. Its impossible for you to mess up the kind of flowers or the amount! Plus, these plants can liven up your living space and can boost your mood.
3. Send Love Letters to Your Friends
Remember in elementary school, when you made your own Valentine's mailbox and exchanged cards and candy with your classmates? Let's bring that back as an adult. A holiday celebrating love isn't just reserved for a significant other. Instead, try and send some love letters to your friends. It's a great way to show that you care and appreciate their presence in your life.
4. Bake Delicious Cookies
If you're not going out on this day, then do something exciting at home. Baking is a great activity. You get to balance out ingredients and flavors then wait in anticipation for how yummy the cookies will turn out. Plus, if you have cute-shaped cookie cutters, utilize them! Make your cookies so appetizing that you can't help but eat them all. If you make enough, you can even treat your friends, family, or even that friendly neighbor down the hallway to some fresh baked goodies!
5. Go Explore and Enjoy Nature
It may be hard to access lots of nature directly in NYC and it may even feel impossible without a car. Thankfully, our public transportation systems are reliable, allowing us to venture outside of the city. Being outdoors is good for the body and soul. Your body gets the steps it needs, while your lungs get in some fresh air, away from the city. Take this chance to take a deep breath, forget your worries, and enjoy nature. Check out some great hiking trails or even try joining a group for some mushroom foraging!
6. Take Yourself Out for a Good Meal
Grab a seat at Ichiran with solo seating and a hearty ramen serving. Enjoy a night of omakase at Sushi on Jones for under $100. Explore some restaurants with no seating space so that you can bring the meal home. Or go to your favorite restaurant and get a take-out meal. It's a great opportunity to treat yourself to delicious new food or enjoy your favorites again. 
7. Sweat It Out
You might be thinking this is an insane idea. Working out on a holiday? Doing some type of workout inside or outside, and getting your heart rate up, is a great way to release endorphins. Go to your gym, find a workout class, or even roll out the yoga mat at home to calm your mind. 
8. Check out a Museum
NYC is the best place in the world for this activity. With a huge selection of museums, it is up to you which one you are feeling. Strolling through dozens or hundreds of art and historical sculptures is a great way to relax and enjoy yourself. It's also a great way to learn about new artists or historical facts that you didn't know before. Fun fact, many current NYC museums were originally mansions owned by wealthy individuals such as Andrew Carnegie. 
9. Splurge on a Gift for Yourself
Companies usually take this time to send out Valentine's Day promotions and emails. Usually, there are so many emails, that it gets annoying, but during a holiday there could be discounts for items you've had your eye on. This is the opportunity to get something for yourself. Buy the bag you've thought about for a few months, or the shoes you hesitated to get. The idea is to treat yourself and splurge a little. Who loves you more than you?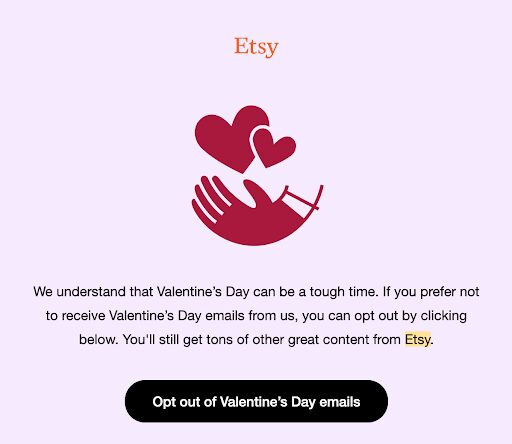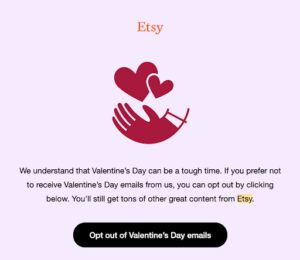 ---
If you're not a fan of getting Valentine's Day emails, some companies will offer to opt you out of their Valentine's Day related content. For example, Etsy has given the option to opt-out of their holiday emails.