New York City has long been the heart of the American theatre scene. From the Bronx to the Battery and beyond, celebrated playwrights have lived and written in apartments across the city. There's nothing as exhilarating as passing an ordinary building and knowing that a theatrical masterpiece was born inside. We've gathered a shortlist of the addresses of influential twentieth-century playwrights to guide your next ramble.
Eubie Blake and Noble Sissle
Central Harlem
Collaborators James Herbert "Eubie" Blake, composer, and Noble Sissle, lyricist, met playing in a Baltimore ragtime band in 1915. They created a successful vaudeville act called The Dixie Duo and performed original songs in elegant evening dress – a deliberate break from the degrading stage conventions expected of Black American performers at the time. In 1921 they struck Broadway gold with their hit musical Shuffle Along, which featured an all-Black cast and Broadway's first real love song between Black characters. The show also introduced jazz to the Great White Way. At the time they wrote Shuffle Along, Blake and Sissle both lived in Central Harlem. Blake lived in a boarding house at 238 W. 138th Street, part of Strivers Row, an area of dignified townhouses that attracted Black artists and intellectuals during (and after) the Harlem Renaissance. Sissle made his home at 166 W. 129th Street.
For more on the complex legacy of Shuffle Along, see Shuffle Along: Black Broadway hit remembered in book. 
Betty Comden
Crown Heights & Lincoln Square
Lyricist Betty Comden was born Basya Cohen in 1917 and raised in Crown Heights, Brooklyn. By 1940, she had graduated from New York University, changed her name to Betty Comden, and was pursuing a career in acting while living with her mother at 29 W. 65th Street, then a new apartment building. Today, it's the Robin Court Condominiums in Manhattan's Lincoln Square. In 1944, Comden had her breakout moment with the success of On the Town. Comden and her creative partner Adolph Green went on to write the hits Wonderful Town and Singing in the Rain.
Clifford Odets
Longwood, West Village, & East Midtown
Clifford Odets, one of the founders of the influential Group Theatre, was raised at 830 E. 163rd Street in the Longwood neighborhood of the Bronx. He would use the area as the setting for Awake and Sing, his first play, a realistic drama about the struggles of the working-class Berger family. By 1940, after the success of Waiting for Lefty, Golden Boy, and Paradise Lost, Odets was living at 1 University Place, just off Washington Square Park. He moved twice during the next decade: first to 327 E. 47th Street, then 615 Lexington Avenue, both in Midtown East.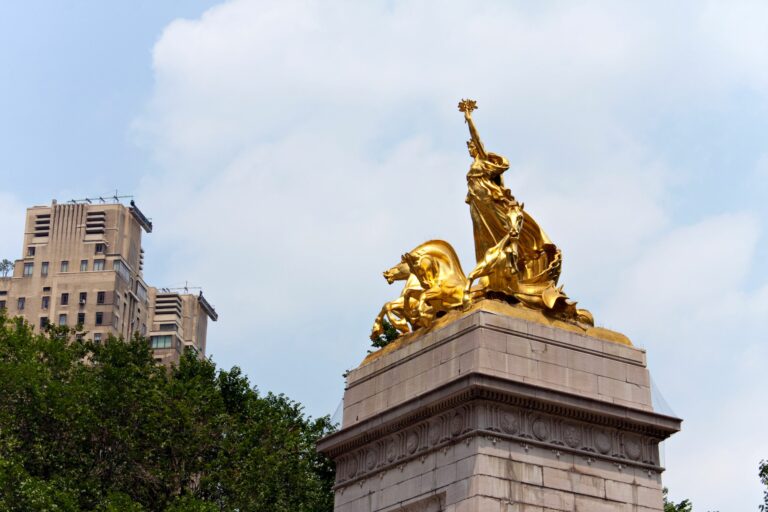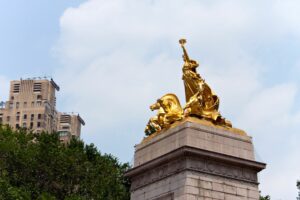 Alice Childress
South Harlem & Roosevelt Island
Playwright Alice Childress will have her belated Broadway debut in fall 2021 when Trouble in Mind, her 1955 play about racism in the theatre industry, opens at the American Airlines Theatre on West 42nd Street. At the time Trouble in Mind was written, Childress was a veteran actress and alumna of Harlem's American Negro Theatre with deep roots in the uptown neighborhood. Born in North Carolina, Childress moved to 5 West 118th Street to live with her grandmother when she was a child, and after her marriage in 1935 to fellow actor Alvin Childress, the couple made their home at nearby 216 W. 111th Street. Childress eventually moved to an apartment at 625 Main Street on Roosevelt Island, where she lived at the time of her death in 1994.
María Irene Fornés
San Juan Hill & West Village
Downtown playwright María Irene Fornés immigrated from Cuba with her family in 1945, when she was fifteen years old. At the time of her naturalization in 1951, she was living at 146 W. 62nd Street. The densely populated area included San Juan Hill, once the largest Black community in the city, and tenements housing recent Puerto Rican arrivals. The neighborhood was destroyed in the 1950s and 60s as part of the Lincoln Square Development Plan, a slum clearance project, and Lincoln Center was built on the site.
For much of her storied career, during which she earned eight Obie Awards, Fornés made her home at 1 Sheridan Square in the West Village.
Edward Albee
Greenwich Village & TriBeCa
Edward Albee, one of America's most important and influential playwrights known for Who's Afraid of Virginia Wolf?, first moved from Connecticut to Greenwich Village in 1949 to pursue his dream. During the late 1960s and early 1970s, old and inexpensive TriBeCa lofts became popular spots for aspiring artists. Just like many around him, Albee moved to TriBeCa in 1977 and called it home for decades until he passed away in 2016. His loft, located at 14 Harrison Street, was once a cheese factory and maintains lots of its unique physical characteristics, including traces of its industrial past.
Neil Simon
Van Nest, Washington Heights, & Midtown East
No article about playwrights of New York would be complete without a mention of Marvin Neil Simon, author of city-centric hits Barefoot in the Park, The Prisoner of Second Avenue, The Goodbye Girl, and the semi-autobiographical plays Brighton Beach Memoirs, Broadway Bound, and Lost in Yonkers. Simon spent his earliest years in the Van Nest section of the Bronx, at 1564 Taylor Avenue, before moving with his family to 609 175th Street in Manhattan's Washington Heights. At the time of his death in 2018, he owned co-ops in the Ritz Tower at 465 Park Avenue in Midtown East.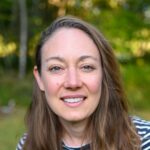 Leah Reddy is a New York-based writer, video editor, teaching artist, and theatre director/dramaturg with roots on the westside of Cincinnati, Ohio. She's been lucky enough to teach in all five boroughs of NYC and as a result, spend time in our fantastic city's lesser-known neighborhoods. An avid runner, foodie, and NYC history buff, she will talk your ear off about her favorite subjects and try to convert you to her level of enthusiasm for the Yiddish Broadway walk of fame, thali, and the fact that Chester Arthur was sworn in as President of the United States in the building that now houses Kalustyan's. She wants all New Yorkers to be able to enjoy their city and to marvel in the things that surround us all each day.