Some regions in the world are known for their own style of seafood, and few truly satisfy quite like New York with its oysters, Little Neck clams, clam chowder, or a New England lobster roll.
Ok, New York isn't quite New England, but if you go to the right places, they do that really well too. Plus, when it's as hot and humid out as it's been, nothing quite hits the spot like some light fish or devouring raw sea creatures with an ice-cold drink, and once the weather changes, most of these places can be quite cozy for a hot bowl o' chowder too.
With so many amazing choices in this city, it's hard to go wrong, but these nine places also bring something different to the table.
Grand Central Oyster
It would feel remiss putting together a list like this and not including Grand Central Oyster Bar. They've unfortunately been temporarily closed since the pandemic, though they have kept their social media very active over the months, and I, for one, am optimistic for their return. It would be worth Googling if they're open if you are in the mood for the best quality variety of raw oysters, raw clams, or clam chowder. They occupy a huge space inside Grand Central Station, and this place is absolutely iconic old New York. If they're still closed, or you want to try something a bit different or in another part of the city, don't worry; we've got you covered with a number of other choices too.
The Mermaid Inn
The Mermaid Inn is the other all-around great go-to for straight-up American-style seafood. They've expanded their Upper West Side location so they can now accommodate a pretty good amount of people, though it would be wise to make a quick reservation before heading over. Their website says they plan to reopen their Chelsea location and their McDougal Oyster Bar soon, though no concrete date has yet been announced. They have a brunch menu and a dinner menu, and if you like seafood, both menus have something for everyone. They have excellent, fresh oysters and a delicious lobster roll any time of day. Their dinner menu has wood-fired seafood, raw, and everything in between. Their brunch menu has the raw bar, nice typical brunch offerings, in addition to some seafood sandwiches and tacos. Whether day or night, they've got a wonderful assortment of wines or cocktails, and if you're around during their happy hour between 4:30 and 6:30pm, they've got that too.
Jeffrey's Grocery
Jeffrey's Grocery in the West Village is fairly small and intimate, but very happening and well worth the visit. They've got the raw bar, the brunch (Sat/Sun), the lunch (Mon-Fri), the salads, and the dinner, but they also have various smoked fish on their brunch menu of sandwiches, salads, and raw bar, and fun snacks like green gazpacho or deviled eggs. They have a nice wine list, including skin contact wines, in addition to some craft beers and creative cocktails. Because this place is a bit small, reservations are recommended, though they're pretty easy to get. Proof of vaccination is required just for indoor dining, as their team is fully vaxxed and rolling maskless, though you can also sit outside regardless of your vaccination situation.
Mary's Fish Camp
Maybe the opposite of Cervo's in some ways, Mary's Fish Camp is where you go if you want that feel of going to your simple neighborhood spot. Located in the heart of the West Village, it feels quiet and peaceful, even though just about every table is taken. They have your standard raw bar offerings of oysters and Little Neck clams, but they also have refreshing salads and gazpacho and your classic Maine lobster, seafood sandwiches and tacos, and fish n' chips. They also have some refreshing wines and friendly service. They don't take reservations, so it may be worth calling before you head over.
Lure
For a trendier type of vibe, Lure in SoHo is especially a great choice if your crew can't decide between American-style seafood or sushi or are really looking to satisfy a variety of tastes. You can walk by this place so many times and not realize until you walk in that it's designed so you feel like you're on a boat. They have an extensive raw bar with plenty of sushi and sashimi choices like any sushi restaurant. Their lunch and dinner menus feature standard American appetizers such as calamari and crab cakes and seafood dishes similar to those of Mermaid Inn, but they also have a wider selection of fish plates as well as seared diver scallops and sea urchin bucatini. They also offer weekend brunch with an assortment of choices including some with seafood like the smoked fish plate or the lobster frittata, but they also have a very seafood-forward dim sum menu. Their wine list features wines from every wine-producing continent and a really nice assortment of cocktails and beers.
North River Lobster Company
If you want to feel like you're on a boat because you are on an actual boat, North River Lobster Company will be your jam. It's easy to forget that Manhattan is an island surrounded by water, which means you can hop on a boat and sail around the Hudson River with one of their signature lobster rolls in one hand and a beer or bubbly in the other and feel like a tourist in your own city or be an actual tourist in the center of the universe. They board just north of the Lincoln Tunnel at W 41st and cruise around for about an hour.
Cervos
With a little advanced planning, Cervos in the LES comes highly recommended by just about everyone, but it may feel like all those very people are there any time you actually try to go, so get there early if you want a shot at a table, as they do not do reservations. Their menu features very creative dishes of mainly seafood, with mostly Spanish and Portuguese influence. The white prawns and fried skate wing are popular standouts. They have an extensive wine menu with beer and cocktails too, but they also have plenty of vermouth and sherry, all classic pairings for these types of dishes.
Bar Belly
If craft cocktails are your main priority, but you also really want oysters, head over to Bar Belly in the LES. Their cocktails are really special, and their oysters are also pretty nice, especially with each subsequent cocktail. It's one of those narrow, loud, trendy places bumping fun party music, but the bartenders have this special energy that, coupled with this party-ish atmosphere, just feels right.
Wildair
If you're more of a wine person, but you also really want some raw bar love, Wildair is just a couple of blocks away in the LES. They are a small, casual spot with a simple parklet of high tables. They have a small menu of rotating, creative bites, allowing for a very relaxed and satisfying evening. Their raw oysters and Little Neck clams are amazing. They also offer wines from all over North America and Western Europe, though these aren't your typical wines. With this summer heat, no matter how often you go, if you ask their knowledgeable staff for something refreshing, they will nail their recommendation every time.
Grey Lady
Craving $1 oysters? Definitely don't miss out on the Grey Lady located in the Lower East Side. This New England beach town-inspired restaurant and late-night bar has been around for 10+ years. For summer'22, they are offering weekday happy hour from 4pm-6pm. Slurp up $1 oysters while enjoying $6 drafts, $9 wine, and $10 cocktails! Tip: Make sure to order the Spicy Watermelon Margarita, a Nantucket-inspired cocktail. Getting hungry? Then order their 1¼-lb freshly-shucked Maine Lobster roll.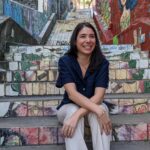 Jasmin Richie is a native New Yorker-turned-expat. Since 2014, she's lived in Brazil and Singapore and has traveled to over a dozen countries, chronicling it all in her travel and food blog.