Anyone who has ever been to New York City—or has watched a Woody Allen movie—knows just how beautiful the Upper East Side can be. Complete with some of the most iconic museums in the world, fantastic architecture, and some of the city's finest restaurants, the Upper East Side is truly a sight to behold.
However, despite this unique neighborhood's relative prosperity, that doesn't mean everyone is equally capable of having a good time. One group that might be overlooked by the City's urban planners, according to a recent statement from the comptroller, is children.
Yes, you heard that right. Despite the tremendous amount of wealth that you'll find in certain parts of this neighborhood, the Upper East Side has less than one playground for every 1,500 children. That's less than any other neighborhood in all of Manhattan.
Playgrounds create excellent opportunities for kids to get exercise, go outside, and make new friends. There have been countless studies demonstrating that children that have access to playgrounds are more likely to be healthy—both physically and emotionally—along with other studies demonstrating that, without a doubt, playgrounds add value to the neighborhoods they are in.
While this might not seem like the most pressing political issue for Manhattanites and other New Yorkers, it is actually a pretty big deal. Let's take a closer look at how, perhaps surprisingly, the Upper East Side became a verifiable "playground desert."
New York City's Playgrounds By the Numbers
There are a lot of playgrounds spread out across the five boroughs of New York City. In fact, the city is home to approximately 2,067 playgrounds, more than any other city in the United States (though the city is towards the middle of the pack when adjusted for population). These playgrounds vary in size, designated usage, and special features, but each of them creates a unique opportunity for childhood recreation.
Number of playgrounds per 10,000 residents in the 100 largest U.S. cities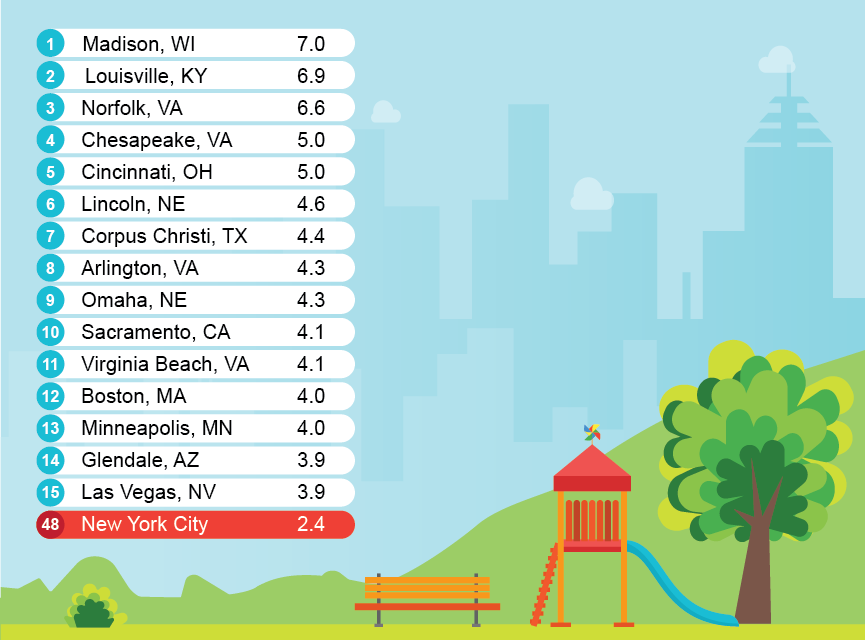 A report from New York City comptroller Scott Stringer's office in 2019 revealed that there are currently 15 community districts that have less than one playground for every 1,500 kids. But only one of these districts is on the bustling island of Manhattan.
Manhattan Community District 8, the district that currently has just 4.3 playgrounds for every 10,000 kids, contains the entire Upper East Side, along with a small portion of East Harlem on its northern end. This means that about 2,300 kids each need to share a playground—while obviously not every child will be using these playgrounds at the same time, there appears to be a playground shortage. As of 2017, the most recent year that data is available from, there are approximately 19,000 children living within this particular neighborhood.
Why is a Playground Shortage Such a Big Deal?
There are at least some playgrounds on the Upper East Side but, as the comptroller's office has revealed, there are not enough to address current needs. A shortage of playgrounds can cause quite a few issues:
When kids do not have access to adequate play equipment, they will be much less likely to exercise which can create an array of possible health issues. According to the New York City Youth Risk Behavior Survey, 13.5 percent of NYC students were obese and 16.4 percent were overweight but not obese.
Playgrounds create organic opportunities for in-person socialization, something that plays a crucial role in child development and long-term well-being.
When playgrounds are overcrowded, play equipment tends to be overused—not only does this mean the equipment will need to be replaced and maintained more often but overuse can also increase the risk of injury for children.
The unequal distribution of playgrounds within this specific district, which includes parts of East Harlem, exacerbates structural inequalities that can already be found throughout the city.
Ultimately, playgrounds are about more than just having fun. They play an important role in childhood well-being—and even though children cannot vote and hold their elected representatives accountable, they do represent a large part of the city's population that should not be ignored. Installing playgrounds in Manhattan, in particular, is especially important because it is the borough with the largest portion of the population living in multi-family properties (which are likely to have private playgrounds, as you might find in Staten Island).
Possible Plans for the Future
In response to these recent reports, the comptroller's office is recommending that the city builds approximately 100 new playgrounds over the course of the next five years (so about 20 new playgrounds per year). This ambitious program, currently dubbed Pavement to Playgrounds, will also help improve overall city well-being by placing trees in some places that are currently underutilized pavement.
The program has already experienced a mild degree of success. In Brooklyn's Crown Heights neighborhood, for example, a rarely used portion of Saint Marks Avenue was converted into a playground, containing both trees and play equipment. And because the playground was built over a road, the city did not need to pay to purchase the property—this has helped the city significantly reduce the total cost of installing a playground.
Another program the city has introduced is known as Schoolyards to Playgrounds. Many schools, particularly elementary schools, already have a playground installed, though school is usually only in session from about 8AM to 3PM. Essentially, the Schoolyards to Playgrounds initiative hopes to utilize 290 schoolyards for public enjoyment outside traditional school hours.
While these programs will take a few years to fully come to fruition, they are making a positive difference for the city's children—and that matters.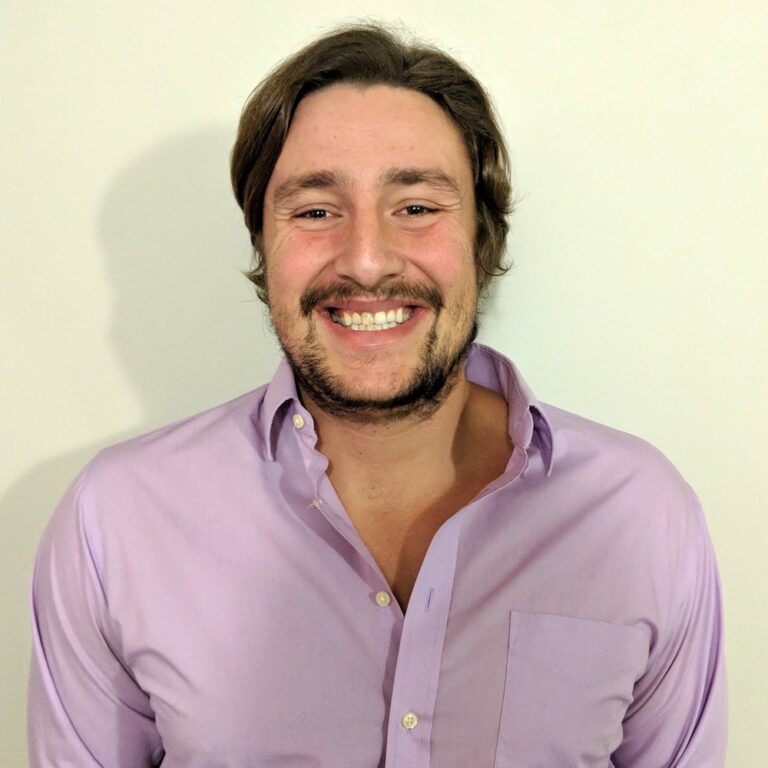 Andrew is a freelance writer that primarily focuses on real estate and finance topics. He graduated from the University of Colorado with degrees in Finance and Political Science and has since worked in the real estate, life insurance, and digital marketing industries. When he is not writing, Andrew enjoys skiing, playing piano, painting, and spending time with his wife (Maggie) and cat (Crow).