When we think of theatrical legends, we usually think of long-dead people who changed the genre as we know it. However, many people changing the industry are still alive and thriving. One of these living legends is Lynn Nottage, the playwright who's made me cry the most. Her work is powerful, dynamic, tragic, and poignant. Most playwrights can only do one or two of those things! But Lynn Nottage hasn't only changed the game with her writing. She has worked tirelessly for a more equitable theater industry, where black playwrights, actors, directors, choreographers, and more are treated the same as their white colleagues.
Lynn Nottage was born in Boerum Hill in 1964. The daughter of a school teacher and a psychologist, both of whom were heavily involved with the Civil Rights Movement. Her mom even started a school to teach kids about African and African American history and culture with the widow of Malcolm X. Basically art, empathy, and engagement run in the family. You know what else ran in their family? Genius. Lynn could play piano so well that she was admitted into LaGuardia High School where she also picked up playing the flute. She even wrote her first play there!
This play was entered into a contest and Lynn Nottage, along with four other high school students, won the chance to study musical theater writing with Stephen Sondheim.
And she was a teenager, remember. What were you doing as a teenager? Playing Mario Kart? Cause I was. But I digress.
Lynn then went to Brown for pre-med, which is a bit of a twist. But all good artists have a fun little side quest in their life, and they're rarely as awesome as, "ugh, I GUESS I'll be a doctor!" Lucky for the art world, she fancied herself more of a writer and switched majors to English and African American Studies.
For those of you who aren't impressed with just one Ivy League school, she then graduated from Yale School of Drama with a master's degree. After earning her degrees Lynn said to herself, "Welp, time to be a superhero" and worked with Amnesty International for four years. But even heroes need a hobby, which is why Lynn kept writing plays in her spare time. Eventually, one of these plays ended up at the Actor's Theater in Louisville in 1993. Poof! is a play about a woman in an abusive relationship. One day, during an argument, she condemns her husband to Hell, and he actually goes there via spontaneous combustion! Some friends of mine did a scene from this show in my freshman year acting class and it never failed to impress.
Once Lynn got going, she REALLY got going. Her next play, Por'Knockers, a play about a group of people attempting an uprising, was produced off-Broadway in 1995. Also premiering in 1995 was her hit play, Crumbs From the Table of Joy, a show about a young black teenager who moves to the American north from the American South after the death of her mother. This play would go on to mean a lot for Lynn Nottage, who two years later lost her own mother to ALS.
Lynn's work is poignant and empathetic no matter who you are or what your experiences have been. She knows that a powerful story comes from placing yourself in the shoes of others, shoes you could find yourself in one day. For example, in her 2003 play, Intimate Apparel, a seamstress, Ester, falls in love with a man from abroad who has been sending her romantic letters for months. His name is George. Once George comes to America and marries Ester, things don't quite go as planned. George starts drinking, gambling, stealing the money Ester was going to use to open her own shop specifically for Black women and starts seeing Ester's best friend, though the friend is unaware that George is married to Ester. Eventually, George tricks Ester out of all her money, tries and fails to leave with her friend, and then abandons the woman he seduced and tortured. 
Intimate Apparel won both an Outer Critics Circle and Drama Critics' Circle award, and it's easy to see why. If you read or see the play, every character is beautifully interwoven with one another and the story is one of a stark reality: that some people will try to rob you of your worth, simply because you're talented and kind. However, the story also highlights the importance and strength of reliable relationships.
Lynn Nottage also highlights the Black experience in her plays, and not just the Black, American experience. In 2004, Lynn traveled to East Africa and got the chance to speak with Congolese refugee women, who told her of their traumatic experiences during the Congo Civil War. These interviews would provide the basis for her play, Ruined, a show about a bar/brothel that employs women who've been abused and displaced by soldiers from both sides of the Congo Civil War. The bar both profits off of and protects these women from the horrors of the war outside. It's a powerful piece that won the 2009 Pulitzer Prize from Drama and had this writer in tears from just reading the play.
Lynn's most recent Pulitzer, (she's the only woman to win twice for drama), was for a play called, Sweat, a show about a factory shutting down in Reading, Pennsylvania. The factory shutdown makes the townspeople, who were once friends, turn against one another and destroy their community.
Lynn Nottage is nowhere close to finished yet. Most recently she opened a play Off-Broadway called, Clyde's, a show about a restaurant in which the entire staff is made up of former inmates. It's a showcase of just how hard life can be for people who just got out of prison. And that's Lynn's whole thing. She highlights aspects of life that we normally don't think about. She challenges her audience to look at the bigger picture around them. Lynn is also getting back into musicals, writing the book and lyrics for a number of projects, including "MJ", based on Michael Jackson's life.
Even after 30 years, Lynn Nottage is still learning and growing as an artist. Who knows? Maybe she'll even pick up the flute again!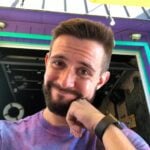 Russell is a writer and comic based in New York City. His plays have been featured at Penn State's Cultural Conversation's Festival, The NYC Thespis Festival, and Imaginarium's Inaugural Theater Festival. Follow him on TikTok and Instagram @pooleparty528