New York City is one of the most expensive cities in the world, and the price for housing just keeps climbing up. In fact, according to a Singles Index from Renthop.com, while New York isn't the most expensive city to live in, it is a close second. The median price for a studio apartment in the city is $2,450 a month and someone living alone can expect to spend around  37% of their income on rent. Even so, the population of the city keeps growing every year. New dreamers are moving to the city in greater numbers than ever. So, what's drawing them here?  What about the city makes them okay with the cost of living here? I sat down with several young professionals to answer just that. 
Q: What drew you to New York City? There are cheaper cities out there with ample opportunities for young professionals like yourselves. So why here? 
A: 
Lauren Pratchett, Journalist:

I love how the city gives you access to everything. Every

shop, type of entertainment, doctor, event, friend, vegan restaurant, activity, and

community you could ever want, and you can walk or take public transportation

everywhere.

 

Eddie Dougrou, Comedy performer and writer:

I was drawn to living in NYC because I am

from here and, while I've lived in other cities, there really is nothing like New York.

 

 Jesse Roth, Comedian, Writer, Host:

My parents are from New York, and I've always

dreamed of living here. The pace and accessibility is what I really love.

 
Q: So, the opportunity and accessibility drew you here. And I can imagine you chose studio living to compromise with the high price point of the city. But why choose a studio rather than living with roommates or family? 
A: 
Lauren:

After nearly 7 years of living with roommates, where I had an extremely tiny

bedroom, I realized I was ready to start a new chapter and live by myself, so I could live

by my own rules and get to know myself better. Being alone, more quiet, not having to

consider anyone else's schedule, having everything arranged in an optimal way for

myself, and being able to do whatever I want are some of the best perks.

 

Eddie:

What I find most appealing about living in a studio was having my own space

without having too much space to fill. Being able to run multiple errands around my

apartment without ever having to leave the room is great. I feel like it helps with

multitasking.

 

Jesse: I love having my own space to do what I please without judgements!

 
Q: So, it provides a strong sense of independence? That does sound appealing! What about amenities? Do your apartments have any special features?
A: 
Lauren:

The only amenity is an in-unit washer and dryer, which was my dream. The only

other building where I've lived in NYC did not have laundry in the building (or even a

 

laundromat nearby). It's also rent stabilized which is really lucky. Other than that, it's an

ancient walkup with no building-wide amenities.

 

Eddie:

My apartment has basic amenities. Basically anything short of a washer-dryer, but

my complex has one of those.

 

Jesse: A bathtub…That's pretty much it.

 
Q: Hey, a lot of apartments only have showers now, so count yourself lucky. And washer dryer access without leaving your building? I've lived in multi-bedroom apartments that don't have that. Studio living doesn't sound half bad! Speaking of, what has been your best experience since moving into your studio? 
A: 
Lauren:

I have really loved feeling like I'm in control of my life. Even though it's a small

space, I can dictate exactly what to do with it, who can come over to hang out, and what

music is playing all day.

 

Eddie:

The best experience I've had has been hosting a brunch or two with my mom. I

 

feel especially proud of that.

 

Jesse: Getting a cat! 
What I've gathered from the conversations I had with these folks, all of whom are creatives in one aspect or another, is that living in an NYC studio nurtures a sense of independence that doesn't sprout from living with roommates. You can rest and get to know yourself while also being in charge of your day-to-day. They're their own bosses, which makes them work even harder to achieve their goals. Additionally, they chose studios in NYC because the city has everything they need, even when they all need different things. Some need to be close to family, some need to be here for work, and others need to be here to fulfill their dreams and move at their own pace. So, while the city might be pricy, the price is worth it considering what residents get in return. 
Amenities in the city have become much better too. While Jesse jokes that her only amenity is a bathtub, that's still high on the list for many New Yorkers given that standing showers are placed in many newer buildings in order to save space. Additionally, Lauren lives in a pre-war walk-up on the Upper East Side but has an in-unit washer and dryer. That's still extremely rare, but it's becoming more common as rent prices go up and dwellings need to draw people in. 
People live in studios for different reasons, just like they live in New York for different reasons. A common thread, however, is the need for independence in a city that can provide you with anything you might need. So, while New York isn't getting cheaper anytime soon, the city, and its homes, are striving to improve quality of life as a compromise. It's up to each individual to determine if that compromise is worth it. If it's not, that fine. As the Renthop.com singles index shows, there are cities where rent for singles has become a lot cheaper. However, if you're looking for independence in a city that rewards ambition, then New York City might just be worth the price point.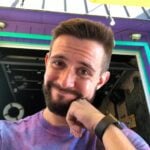 Russell is a writer and comic based in New York City. His plays have been featured at Penn State's Cultural Conversation's Festival, The NYC Thespis Festival, and Imaginarium's Inaugural Theater Festival. Follow him on TikTok and Instagram @pooleparty528