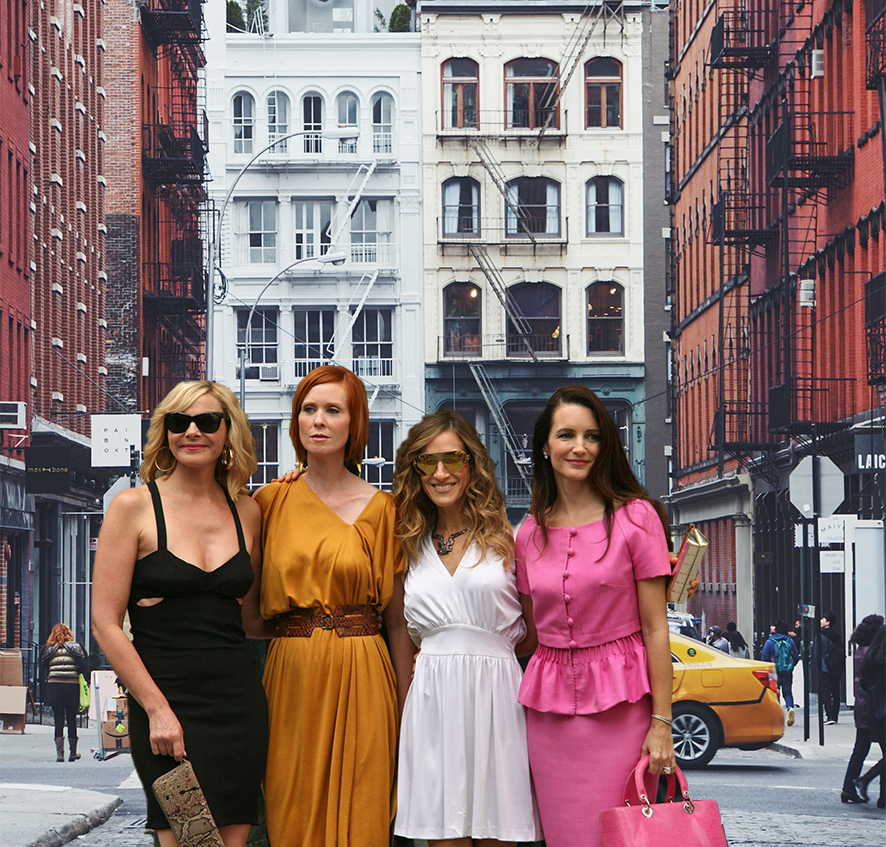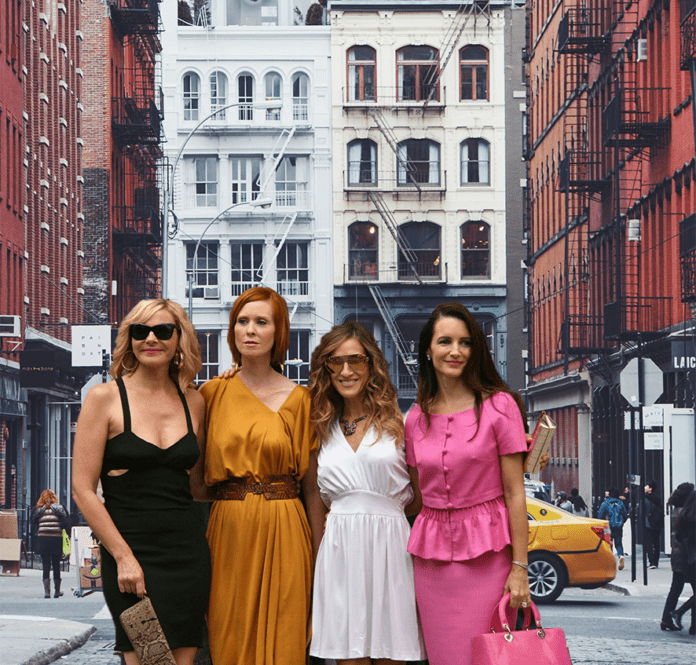 If you watch tv and know of New York City, you undoubtedly know about the HBO series Sex and the City. After a successful 6 seasons and two movies, the series is back with a new reboot: And Just Like That, a continuation of 3 of the 4 main characters' lives after the second movie wrapped. 
New Yorkers know that there is no love quite as true and special as one with their perfect apartment. But we can't help but wonder, what if their apartment could channel their favorite Sex and the City character?
Or better yet, how much do the apartments on Sex and the City cost today?
Whether you're a Miranda, a Carrie, a Samantha, a Charlotte, or yes, even a Stanford, we'll match you up with the perfect apartment for your character. 
For this first week, we'll start with the centerpiece of the franchise: Carrie Bradshaw's Original Apartment.
About Carrie's Original Apartment
Location
Carrie purportedly lives in a Studio apartment in a Brownstone on the Upper East Side of Manhattan, around 72nd Street, however, the actual exterior of her apartment was filmed in the West Village. 
Hypothetical space
While technically Carrie's OG apartment is a studio, the sleeping space is set back quite almost like another room and has the ability to draw a curtain to close it off. There of course is the iconic walk-in closet that leads into her bathroom, one of the two ways to get into the bathroom. As you may recall, Carrie insisted to Aidan that having two entrances into the bathroom was important for her in case she needed to escape an intruder. Her kitchen was so-so as she mostly just used it for storage. Lastly, there was plenty of wall space for bookshelves and a great window to stare out of for all the inspirational pondering for her writing.
Features to consider
While a listing might not have all of these, the following get you close to Carrie's apartment: walk-in closet or space to convert a room into a closet. (We need space for our shoes, not to sleep). At least one window to stare out of, brownstone building, walk-up, shelves in the wall, bright colored walls (from after the first movie apartment makeover), drab kitchen (you're not actually going to cook in it, used for sweater storage only), and UES location.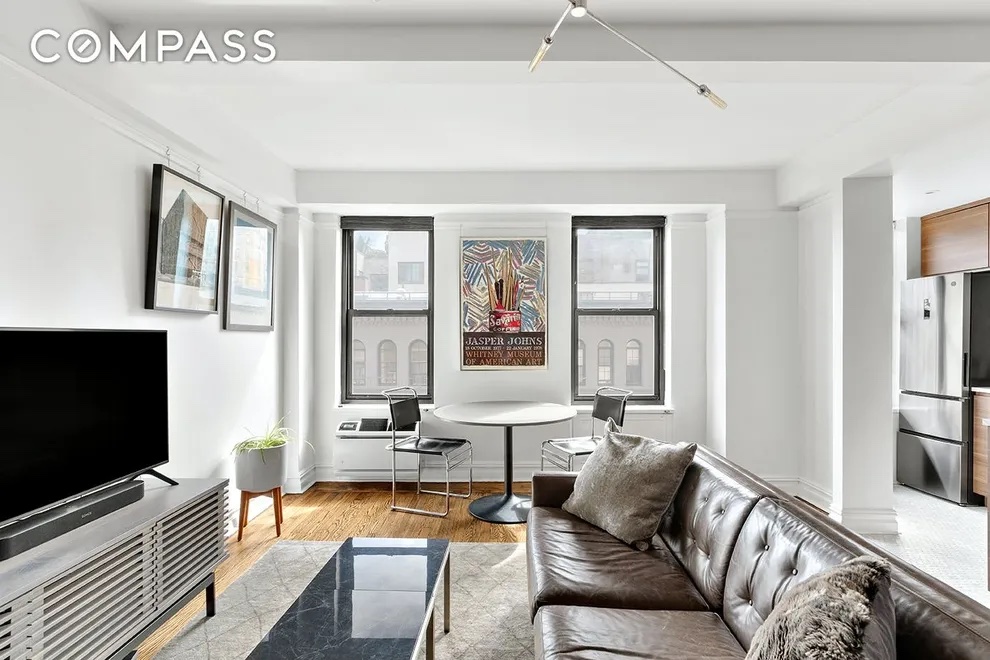 Studio apartment in the heart of Chelsea located in the building formerly known as the Barneys Building (how appropriate!) 
Similarity to Carrie's Original Apartment: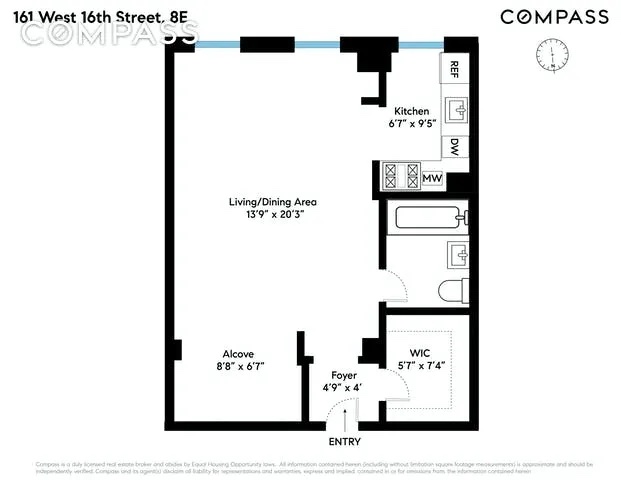 While the apartment does not have a walk-in closet connected right to the bathroom, it is right next to the entryway and the perfect size for all your boxes of Manolos. The sleeping alcove could also be split off by a curtain and there is plenty of space for many bookshelves. There are also two great windows to gaze out of for all your writing inspiration.
Differences 
The building is located in the trendy Chelsea area (not UES) but we might not mind the change in commute. The building is a doorman building with elevators (a little more Charlotte) and is a high rise, not a brownstone. Sadly, no double entry options leading into the bathroom, le sigh.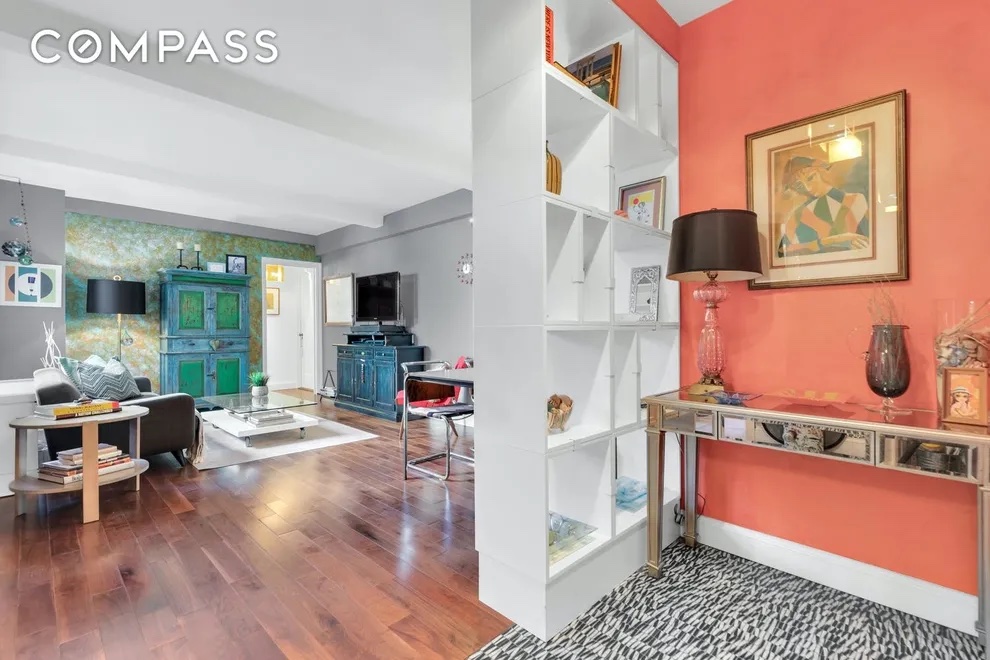 One bedroom in a Javelin Realty Co building in Sutton Place
Similarity to Carrie's Apartment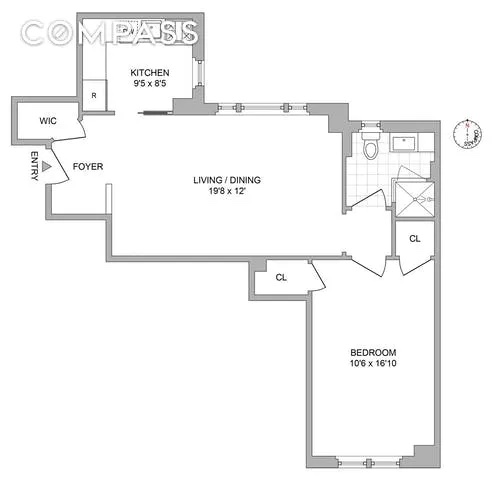 About 14 blocks south from the series' address, this jazzed-up apartment gets major style points. The light fixtures and accent walls are reminiscent of the "grown-up" apartment upgrade that happened in the first Sex and the City Movie. There are plenty of windows to choose from to ponder the meaning of relationships and ample closet space (3 large closets).
Differences
Unlike the series apartment, you get plenty of room to sleep as it's a one-bedroom apartment and there aren't two forms of egress in the bathroom. While there is not one major WIC connected to the bedroom and bathroom, the 3 large ones should do for all your clothes. Again, this is in another doorman, elevator building, not a brownstone.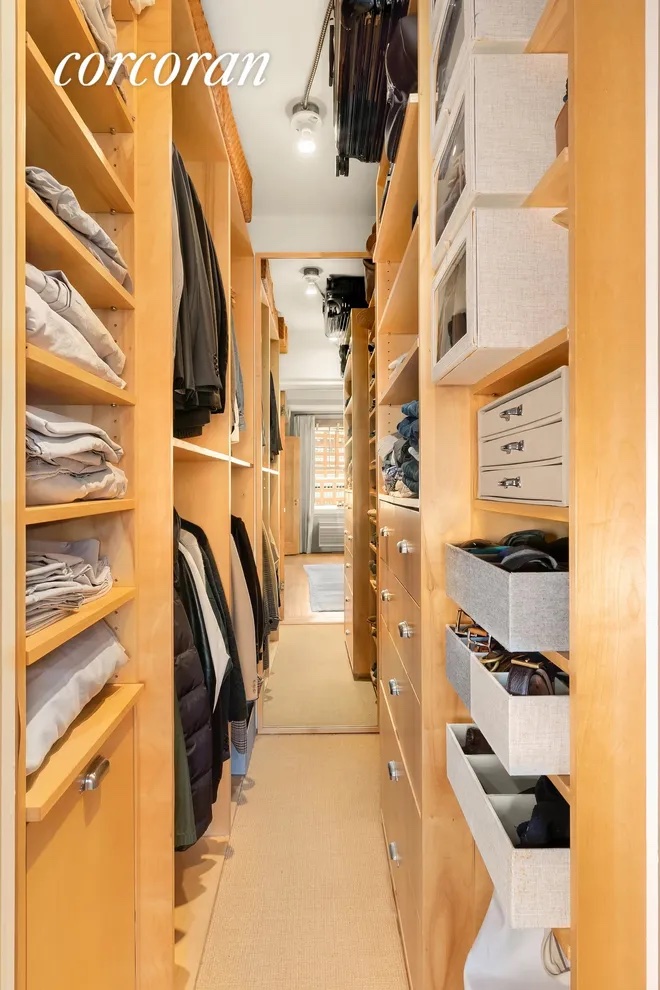 One bedroom from 2 Horation Owners Corp in the West Village.
Similarity to Carrie's Apartment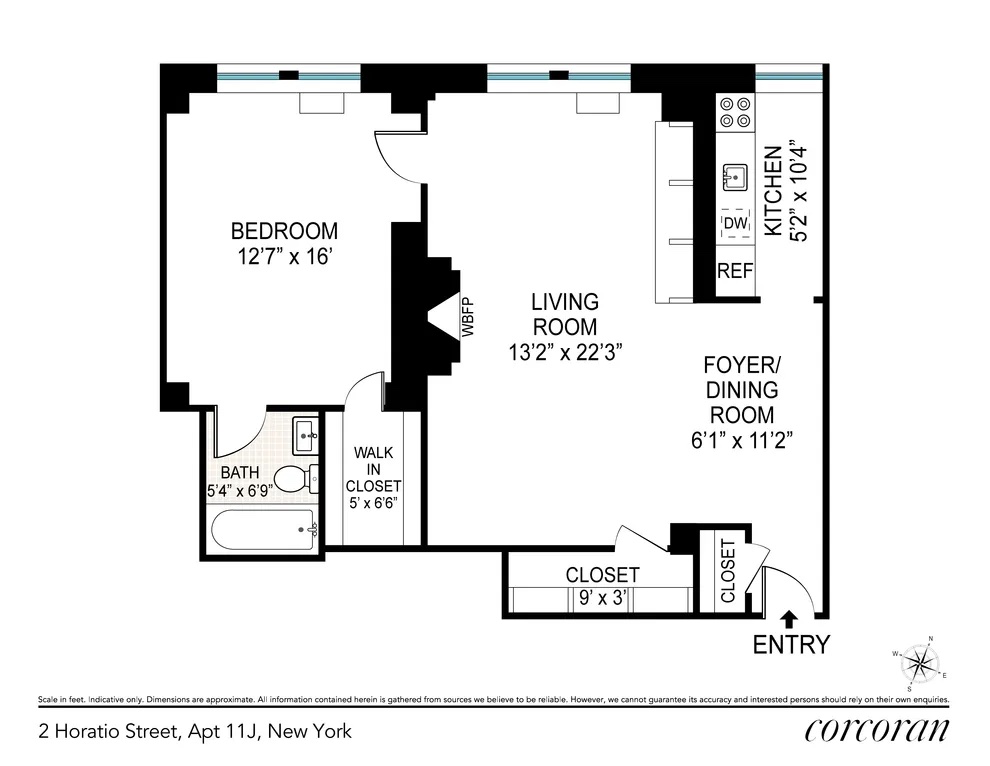 This apartment has a stunning walk-in closet that is filled with drawers and is reminiscent of Carrie's actual closet. There are real radiators (although dubbed as being quiet in the listing) and a perfect window in the living room to set up your writing desk in front of. The bathroom has the same tile as Carrie's in the series
Differences
There's a working wood-burning fireplace in this listing (we're not mad about that) and an upgraded kitchen, both things Carrie's original apartment never had, but hey, she did eventually learn how to cook in And Just Like That. Since the closet is so on point we can forgive the doorman/elevator building location (West Village, close to the filming location), the single bathroom door and that it's a one bedroom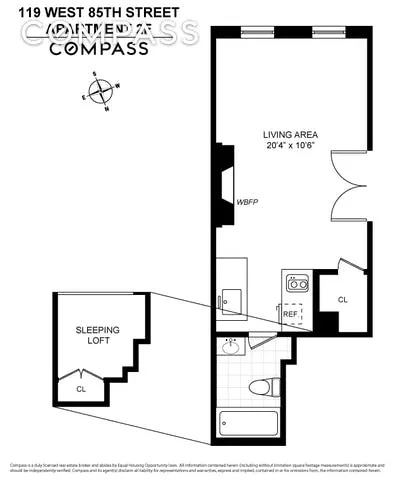 Studio apartment in the Upper West Side
Similarity to Carrie's Apartment
The exterior of this apartment will give you major Carrie vibes as you climb down the stairs to be whisked off to your date in a classic taxi. There is a large closet on the first floor which we think is large enough for your shoe collection. The sleeping area is set aside from the main area and not technically closed off by the door, another win.
Differences
The layout of this apartment is not at all like Carries but you aren't in it for the layout, you're in it for the iconic brownstone steps. We don't need to say much more.
---
And just like that, you found your new apartment to enter into a lifelong love affair within gorgeous NYC.
Alda is a mom, Brooklynite, and real estate lover. In her free time, she cruises real estate listings to dream of a perfectly attainable several million-dollar brownstone, much to her husband's annoyance. Alda is also convinced she knows everything there is to know about New York City, based solely on consistent people-watching and eavesdropping. Mrs. Burrows would be an amazing trivia partner but instead chooses to write about all the random stuff she knows.