COVID-19 brought the entire world to a grinding halt. However, while other industries were beginning to open their doors, Broadway had to take its time. Most theaters only opened in the fall, and not every show was able to come back right away. Some shows are still waiting to open their doors.
So how has the COVID-19 pandemic affected the people who work in this industry? How are the actors, customers, directors, ushers, stage crew, and more dealing with these massive changes?
I was lucky enough to chat with several industry workers about their experiences. Here's what actor Keely Beirne had to say about Broadway during COVID.
---
Russell Poole: Thanks for speaking with me about your recent Broadway Experience! I appreciate it.
Keely Beirne: Sure! No problem!
RP: So, for starters, what show do you work on? What is your role or roles?
KB: I am currently in the ensemble of Moulin Rouge on Broadway and cover Nini/Arabia/La Chocolat.
RP: Oh Wow! That's a lot of parts to juggle. Got to love understudies and swings. Did you work for Moulin Rouge before Broadway shut down initially?
KB: No. I was on Frozen on Broadway which, sadly, did not survive the pandemic. But I am very fortunate to join the cast of Moulin Rouge.
RP: When did Moulin Rouge come back? And what did prep for your return look like?
KB: The show re-opened on September 25th! The newcomers started rehearsals the first week of August, two weeks earlier than the returning members.
RP: That makes sense. Have to learn the roles and the new COVID stuff. What precautions and procedures were put in place when you first returned? Have any of those procedures changed?
KB: We tested each morning and continued to mask during rehearsals and tech. We still continue to take a PCR test before each show and have masks on backstage until we enter the stage. Everyone working backstage keeps masks on and complies to all the rules set by our awesome covid compliance officers.
RP: Those compliance officers are miracle workers. But, if someone in the cast does get sick, how does the show handle that? Are the producers supportive?
KB: This holiday season was particularly challenging. The Broadway community collectively were hit really hard. Lots of show cancellations due to lack of coverage and, first and foremost, safety. The financial hit was worrisome for a bit but our houses are full and we're so lucky to have people come, feel safe, and enjoy the show regardless of any understudy and swing swooping on to save the day.
RP: Again, hats off to the swings and understudies. It's amazing that everyone in the show is so committed and supportive. How do you think the Broadway League has handled the pandemic? How about the Unions?
KB: I think everyone is doing the best they can to keep one another safe. Have there been disagreements? Certainly. But at the end of the day, no one wants to repeat the horrors that were 2020. The Actors' Equity union is now implementing a payment plan for dues, which has been helpful. However, it feels unfair to those who are still out of work and having financial difficulty and recovery. Eighteen months of unemployment is the hardest hit our industry has ever faced and we need to continue to uplift and support one another, because we are all still in recovery mode.
RP: Preach! So, how does it feel to be performing on stage right now? Is it scary? Business as usual? How are you and your fellow cast members and staff handling these changes?
KB: I never feel unsafe. Everyone has to be vaccinated and the majority have been boosted. Boosters were available to our company in the lobby of the theatre so that we all could have access and time if boosting was chosen.
The joy of performing again and the thrill of a live audience after being out of work and dark for 18 months outweighed any fear of contracting the virus. Again, everyone was vaccinated and we followed all protocols. I had covid for the first time in September when we were in tech rehearsal. With minimal symptoms, nothing felt scary because we have the luxury of the vaccine to protect from the devastating results that were in 2020.
I think everyone is doing their part in protecting others because no one wants to shut down again and we care for one another's safety.
RP: I had no idea you had COVID. I'm glad you're okay! If you don't mind me asking, can you expand on that experience?
KB: Well like I said, I had covid for the first time in September. As a low-risk, vaccinated, 30-year-old, able-bodied woman, my symptoms were extremely manageable. I lost taste and smell for 4 days and had to quarantine, recover, and miss the entire tech of act one. I felt immediate shame for being the first in the cast, super nervous of the symptoms, and anxious for missing work.
I thankfully had hardly any symptoms and was able to return to work, be plugged into the show, given the proper amount of time, and was able to perform our pre-recorded Tony Award performance. Truly the lowest of lows to the highest of highs. With the support of my cast, crew, creatives, and producers my quarantine was met with compassion and support. That support was most important for my mental health and reminded me of resilience, patience, and the reality of the ever-changing world we are all adjusting to, accepting, and continuing to navigate.
RP: Well said. And again, I'm glad you're okay. This was very enlightening. Thank you for taking the time to answer my questions.
KB: Of course!
---
Keely is just one of many workers on Broadway navigating these new waters. Through trial and tribulation, these shows are making it work. It's beautiful to see casts, crews, and industry leaders working together. That said, the pandemic still rages on, and every show, and person, has a different experience. Stay tuned to see how other industry workers are handling the pandemic, striving to work together so the show can go on.
(featured image courtesy of Blocagency.com)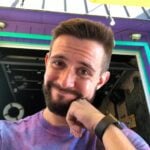 Russell is a writer and comic based in New York City. His plays have been featured at Penn State's Cultural Conversation's Festival, The NYC Thespis Festival, and Imaginarium's Inaugural Theater Festival. Follow him on TikTok and Instagram @pooleparty528