As a former real estate agent in NYC, I'd seen my fair share of wonky layouts, inadequate storage spaces, and other design blunders. Some arose from questionable decisions made by the building architects, while others came out of necessity due to building codes and space restrictions.
Below are some of my favorite worst construction and design trends I encountered throughout my real estate career in NYC.
Terrible Construction and Design Trends
Huge Closet Door, Meet Queen Bed Frame
A huge closet door in a tiny bedroom had "Napoleon complex" written all over it, as if the closet was attempting to overcompensate for the lack of bedroom space. How unfortunate that an outwardly swinging door took up so much room in a small space, I thought to myself. And yet, this quirky design trend seemed to be everywhere, from pre-war and post-war buildings to new construction properties in NYC.
Several interior designers I met along the way said that an oversized closet door in a small room gave the illusion of a bigger space. But in my client's 500-square-foot apartment in Gramercy, that "illusion" kept banging against her queen-size bed frame. This combination also prevented the door from opening all the way, making it harder to reach items stored near the back of the closet. Adding insult to injury were horizontal levers in lieu of standard doorknobs that opened with a heavy jerk, making it easier for the door to slam against the bed frame. My advice to the interior design world: never underestimate the power of bifold doors.
"Wood-Style Flooring" Didn't Mean "Wood Flooring"
Some of my fashionista friends complained about being "allergic" to synthetic fibers like polyester and acrylic. Not allergic in the sense that they developed red, itchy rashes, but rather averse to the idea that a synthetic fiber dared to pass for a natural one like cotton or wool, much in the same way that master chefs in Paris rolled their eyes at the idea of margarine as a substitute for butter.
More to the point: it took me a while to realize that the phrase "wood-style flooring" didn't mean that the floors were made of real wood. It meant that they were made of a laminate or veneer plank so uncanny in its resemblance to actual wood that it could even fool an expert lumberjack. Not to mention my clients, who swooned over blonde oak flooring only to discover after moving in that the floors were pretending to be solid blonde oak. Catfish much?
Curtains are Curtains. Doors are Doors.
Common sense told me that to call itself a bedroom, a door had to close it off from the rest of the living areas in the apartment. Yet throughout Manhattan, makeshift doors were being fashioned out of curtains left and right, creating "bedrooms" in cramped studios or loft spaces. This defied something else common sense told me: that curtains were reserved only for windows, showers, and the occasional closet or kitchen entryway.
Now, I could forgive a cute red-and-white checkerboard curtain to create under-sink storage in a charming place like Rome. But in NYC, where rents were astronomically high, a curtain did not a bedroom make. However, try telling that to most of my clients who enlisted roommates to afford their rents and turned 1-bedrooms into twos or 2-bedrooms into three by hanging curtains in the living room. Some clients took it to the next level by installing pressurized walls to create the infamous "Flex-2" apartment.
Frosted Windows Gone Wrong
Working on a lease-up project in Manhattan came with its challenges. For those who aren't familiar with this real estate term, a lease-up is a newly constructed or gut-renovated property whose units are ready to be rented out. In the late 2010s, I was working at a lease-up in Manhattan's Flatiron neighborhood. The property was pending its certificate of occupancy from the Department of Buildings (DOB), rendering the apartments I rented uninhabitable until the DOB deemed them fit to live in. As a result, the landlord included a construction rider in the lease agreements that made residents waive their rights to cancel the lease should the apartment fail to look at all like the renderings hanging from their giant plexiglass frames in the leasing office.
Enter the frosted glass, floor-to-ceiling windows over which I lost countless hours of sleep. Peering into the pre-leased apartments on the ground floor, I noticed that all of them had frosted windows covering the top half of the frame. The bottom half was left clear, which meant that the residents' feet and legs, along with those of passersby on the sidewalk, were visible from either side of the window.
But this wasn't what the architects had promised. Instead, I was told that the lower half of the windows would be frosted and that the upper half would be clear. Then, window shades installed on a pulley system would allow them to rise from a headrail at the foot of the window rather than lowering from the ceiling. That way, sunlight could pour into the apartment from the unfrosted (upper) part while also enhancing the resident's privacy. However, the wonky design produced the opposite effect, and when residents complained over the lack of privacy and natural light, the landlord reminded them of the construction rider in the lease. They had no choice but to suck it up and live with a constant parade of shins, calves, and feet passing by their windows.
Other Bad Design Trends in NYC
The above examples are just the tip of the iceberg. And while there's plenty more to write about, I'll end with a lesson learned:
Despite bad apartment design trends in NYC, New Yorkers always found a way to make the most of them, even if it meant hanging curtains from the ceiling, banging doors against their beds, or cherishing "wood-style floors" as if they were real.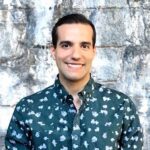 Ivan Suazo is a copywriter and SEO blogger with over ten years of experience in the real estate industry. He's also the founder of a wellness blog, QWERTYdelight.com, and writes sleep stories for the Slumber App.