Update: This Housing Lottery is now closed. For more housing lotteries visit the Housing Connect portal.
If you have ever wanted to live in one of New York City's libraries, this is your chance. The lottery for 49 affordable apartments at 372 51st Street in Sunset Park Brooklyn has opened. The one-story branch of the Brooklyn Public Library is being replaced with a new eight-story building with residences and a 20,000 square-foot public library in the base of the building.
The project is the first 100 percent affordable housing project in New York City to be developed in combination with a new public library. The affordable housing is aimed at low- and extremely low-income residents with household incomes between 40 percent and 80 percent of the Area Median Income (AMI).
Details about 372 51st Street
The new building was designed by Magnusson Architecture and Planning in conjunction with developers Fifth Avenue Committee and the Brooklyn Public Library. The expanded branch of the library will measure about 20,000 square feet and occupy the lower, first, and second levels of the building. The library section will feature modern technology, a new HVAC system, and a flexible design.
The residences will occupy floors two through eight and are a mix of studios, one-, two- and three-bedroom apartments. Amenities in the building include an elevator, rooftop solar panels, green space, a community center, bike storage, and a shared laundry room. Residences are all modern with an open floor plan and hardwood floors, energy-efficient appliances, and top line countertops finishes. The monthly rent covers gas for cooking and the tenant is responsible for electricity.
The surrounding area provides many conveniences as the development is close to mass transit, retail, healthcare, and open space. It is only two blocks from the R train and half a mile from Sunset Park, which has an outdoor pool and views of Manhattan.
Affordable Housing Lottery Qualifications
Forty-nine units will be available for residents at 40 to 80 percent of the area median income (AMI), meaning incomes range from $20,160 to $118,400. For example, there are two studios available at 40 percent of the AMI, with incomes ranging from $25,338 to $42,960, which will be rented for $524 per month.
The most expensive apartments are three-bedrooms for $2,096 per month. There are also one-bedrooms and two-bedrooms available with rents that range from $667 to $1820.  For example, a 2-bedroom apartment at 80% AMI in the income range of $65,598-$76,400 for two people will run $1,820 per month.  A complete list of apartments and corresponding income levels can be found here.
How to Apply
Prospective renters that meet the income and household size requirements may apply for these apartments.  Applications must be postmarked or submitted online to Housing Connect by January 13, 2022. Applicants who currently live in New York City will be given preference for the apartments to live in this brand new building complete with its own library.
CitySignal has more information on how to apply to the residences of your choosing.
(featured image a rendering by Magnusson Architecture and Planning)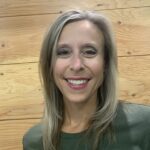 Lara Popeck has been writing for over 10 years, with a focus on business and real estate-related articles. She has a degree in Economics from Bryn Mawr College and an MBA from Montclair State University.