Winter is here and that means it's time for warm and comforting food. Two of the best choices to soothe your soul and stomach is a hot meal such as hot pot or shabu-shabu. You've likely heard of both…but how do they really differ? 
Hot Pot vs Shabu-Shabu
Traditional Chinese hot pot typically comes loaded with meat, seafood, and vegetables in different flavor-able broths. In fact, the broth in hot pot is so important that many restaurants will offer a variety of options from Sichuan spicy broths to mild chicken stock-based broths. The ingredients are often times kept in the broth and cooked over the course of the meal. As a result, a variety of ingredients such as fish, chicken, corn, shrimp, scallops, etc. are used in hot pot meals. Even more fun, many hot pot restaurants will allow you to mix your own specialty sauce using a plethora of ingredients such as soy sauce, shacha, peanut paste, cilantro, scallions, etc. This guarantees a slightly different experience each time you enjoy hot pot.

As for shabu-shabu, which originated in Japan, the primary type of meat used is typically beef though pork can also be found on some shabu-shabu menus as well. Shabu-shabu broths are significantly different from those found in hot pot in that it's typically just water flavored lightly with konbu (edible kelp). The meat which is thinly sliced is meant to be quickly dipped into the broth and then removed for consumption. Both the lightly flavored broth and the quick cooking ensure that the meat is kept rare to medium rare so you can fully enjoy the flavor of the meat itself. Finally, Fun Fact: "Shabu-Shabu" directly translates to "swish-swish", the action you make when stirring ingredients around in the broth. Once you are done cooking the ingredients, you can either dip them into a goma dare (a Japanese sesame sauce) or ponzu sauce. 
Hot Pot in NYC
Now that we know the main differences between hot pot and shabu-shabu, read on for the best spots in Queens that offer these warm, delightful, interactive meals. We included both Chinese, shabu-shabu, and even other hot pot styles from Korea and Thailand. P.S. It's a great group activity.
49-11 Roosevelt Ave., Woodside 
(718) 205-4555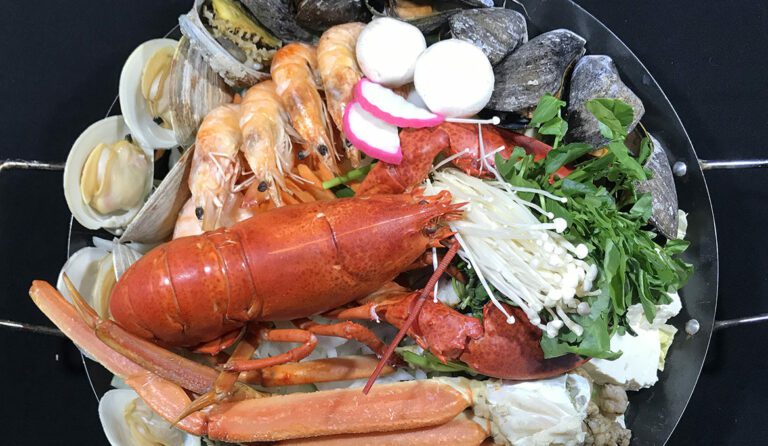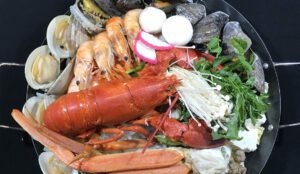 Although Sik Gaek offers a large menu, you come here for the Empire Spicy Seafood hot pot. It includes lobster, squid, snow crab, abalone, baby octopus, shrimp, clam, mussel, and udon. The deluxe size is large enough (and pricey enough at $99) to feed at least four adults. The fried-rice option add-on at the end is a must with a capital M. They take the leftover broth and flavoring in your pot and make a communal serving of fried rice. Yes. Please.
138-23 39th Ave., Flushing
(917) 231-8888
View this post on Instagram

Haidilao has been feeding its loyal following of customers for almost 30 years. With 1600 locations across the world and a reputation for incredible service (they peel your shrimp at the table for you), it's easy to see why people flock here for some of the best hot pot around. Haidilao offers a plethora of soup bases, sauces, apps, and main dishes, but here are the standouts: the signature tomato soup base, mushroom broth, grass-fed lamb, shrimp/egg balls, shrimp paste, and their own strawberry probiotic beverage to assist with digestion.  
71-30 Roosevelt Ave., Jackson Heights
(347) 935-3085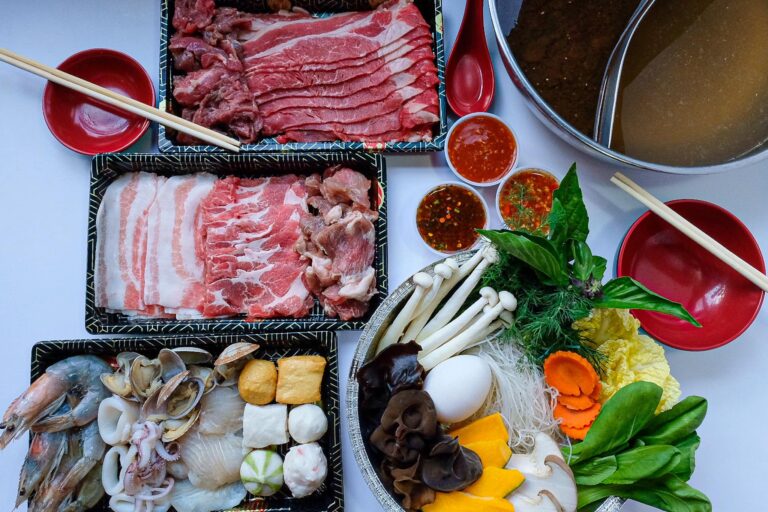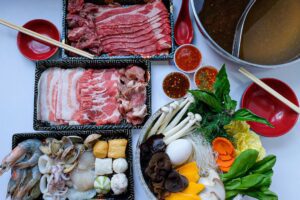 This reasonably priced, small, and cozy Jackson Heights gem does not take reservations and gets packed on the weekend.  Don't let that deter you – Jaew Hon is definitely worth the wait.  Must-try dishes: garlic fried rice (many diners say it's "addictive"), Thai hot pot, sliced beef, pork belly, and the Ovaltine Lava for dessert.  
136-76 39th Ave., Flushing    
(347) 732-0201
View this post on Instagram

Founded in 2000, Liuyishou Hot Pot has grown from a single location on a small street in Chongqing, China to over 1200 locations across the world. Adding to its popularity is an all-you-can-eat option, starting at $30. Some of our top picks are sliced beef and lamb combo, coconut chicken soup base, Chinese dough-stuffed shrimp paste, and the braised pork belly.
36-36 Prince St., Flushing     
(718) 358-7777
View this post on Instagram

This upscale chain has locations across the globe. Excellent service, friendly staff, and delectable bites make The Dolar Shop one of the highest-rated hot pot spots around. While everything on the menu is very tasty, these standouts are not-to-miss: thick-cut boneless Wagyu beef, Szechuan hot and spicy broth, shrimp pate, and silver broth (made with chicken and pork bone and simmered for 8 hours.)
136-20 Roosevelt Ave., Ste 2M, Flushing
(718) 521-9999
View this post on Instagram
Hidden inside the New World Mall, you'll find the Flushing location of Xiang Hot Pot. Enjoy a lovely outdoor rooftop dining experience with killer views of the city. These are the stars of the show: shrimp paste, tomato broth base, pork bone broth base, house special spicy beef dripping pot (say that five times fast), and the enoki. Don't forget to take a photo of their signature, edible orange teddy bear, made out of pure mala soup and butter – definitely Instagram-worthy.
135-21 A 37th Ave., Flushing
(718) 989-0888
View this post on Instagram
One of the newer all-you-can-eat hot pot spots in Flushing, 37 Xiang offers quality food at a reasonable price. Perhaps the coolest feature is private seating for every party, no matter the size.  What a nice touch to have your own small room, equipped with a bell to ring for the servers! Definitely get the shrimp paste, snowflake beef, white tuna, prawns, and oysters.
37-04 Prince St., Flushing
(917) 563-7171
View this post on Instagram

The tip to dining at this three-story, super popular spot is to get on the waitlist – EARLY.  You can access it from their website and the key is not to let the wait time intimidate you, as many diners drop out.  Once you arrive (and breathe a sigh of relief) here's what to order: split pot soup, spicy beef, sticky rice cake, milk beef, and brown sugar pudding for dessert.