Business hasn't been looking bright for NY real estate mogul Abraham Haruvi.
Together with his brother Arthur, Abraham Haruvi owns more than 30 buildings across New York City. They control a total of 500 apartments, concentratedly mostly on Manhattan's Upper West Side and Upper East Side. 
A call to the police on the night of December 9th left the future of the Haruvi real estate empire uncertain, after Haruvi's wife of 14 years reported a domestic dispute. The NYPost reported that police arrived at Haruvi's waterfront Palm Beach estate around 10 p.m. and found Giovana Stephenson, Haruvi's soon-to-be ex-wife standing outside with their two children. 
The 9,700 square foot property boasts a swimming pool, multiple outdoor fountains, and its own private boat deck. It's located just four blocks away from Donald Trump's Mar-a-Lago Resort Club. 
Stephenson told officers Haruvi had scratched her and showed them the redness he had left on her chest. She also says her husband hit her during an argument that erupted over Haruvi "hiding something on his phone."
Haruvi was arrested and charged with misdemeanor battery. He was later ordered to move out of the $7.8 million Regency-style mansion and cease all contact with Stephenson. A restraining order has been put into place to ensure Haruvi stays aways from his wife. 
Not Your Typical Sibling Rivalry 
The incident adds fuel to an already well-ignited fire between brothers Abraham and Arthur. The two brothers have been at odds for some time now, accusing each other of stealing from the real estate business built by their father Jacob and left to the brothers to be administered.
During the height of the pandemic, about 40% of Haruvi properties were vacant. This lack of funds sparked a liquidity crisis that led the brothers straight to court. Arthur filed a lawsuit against Abraham in July of 2020, forcing him to agree to a debt-refinancing deal that would allow them to stay afloat until the negative effects of the pandemic subsided. 
Up until then, the Haruvi brothers had kept a low profile, with the exception of a publicity crisis that took place in the 1990s. The brothers had allegedly tried to evict rent-stabilized tenants, claiming they needed the apartments for themselves and their family members. Currently, 35% of their apartments are rent-stabilized. 
From 2020-2021 their profits were reduced by a considerable amount and their $53 million mortgage went into default. This prompted Arthur to arrange a refinancing deal in hopes of taking advantage of the historically low-interest rates offered by the Fed. 
The brothers ended up in court because Abraham had apparently denied his brother's request to sign the refinance deal "for no other reason but to further a personal vendetta," according to court documents filed in July of 2020. 
Prior to the lawsuit regarding the refinancing deal, Arthur had accused his brother Abraham of redirecting money out of the real estate business for his personal use. The source of these funds came from the rental income that was collected from seven buildings owned by Simry Realty Corp and four buildings located on West 54th Street in Midtown. 
According to the lawsuit brought forward by his brother, Abraham had instructed Simry employees to charge more for their services and even gave some notorious bonuses as part of a "nefarious plan" intended to force Simry into default. 
This would in turn put Abraham in a position to "purchase the debt from the lender, foreclose on the collateral, and usurp total unfettered control of Simry's assets." The lawsuit was withdrawn and the brothers decided to settle the matter privately. 
Future Outlook on Haruvi Real Estate
As Abraham Haruvi comes under pressure from all sides, the future of his real estate empire is uncertain. His impending divorce has the potential to unravel $200 million tied up in the company. 
It's unclear how much exactly he will have to pay his wife. According to The NY Post, their prenup entitles his wife to $8 million upfront as well as ownership of their Palm Beach residence. The restraining order and battery charge will most likely increase the amount owed to Stephenson and leave Haruvi in need of liquidating some assets. It's suspected that he is not currently in the position to be making any large payouts as it is believed he is low on cash flow. 
Since the domestic disturbance was reported on December 9th, Stephenson has hired high-powered Palm Beach divorce attorney Joel Weissman. Known for his aggressive demeanor in the courtroom and a martial arts enthusiast, he's been nicknamed "Mad Dog" and is expected to put up a strong fight for his client in court.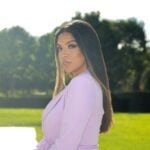 Vivian Tejada is a freelance real estate writer from Providence, RI. She writes SEO blogs for real estate, travel and hospitality companies. She's passionate about the future of work and helping Latin American freelancers achieve time, location, and financial freedom. When she's not writing you can find her at the gym, a family cookout, or at brunch with her girls. Follow her on Linkedin to learn more.