New York City is home to the second-largest Jewish population on Earth, right behind  Israel. With so many members of the Jewish community living in The Big Apple, it's no wonder that the city celebrates holidays and festivals in a big way. There are feasts, religious ceremonies, and even educational events for children and the curious gentile. So, whether you're looking for a new tradition for your family or seeking to expand your horizons, NYC has plenty of options for you to celebrate Hanukkah.
Hanukkah NYC Guide
Food Options to Celebrate Hanukkah
Hanukkah isn't known as a feasting holiday. That said, a celebration is a celebration, and that means coming together to share an experience everyone in the world can identify with; eating a good meal. Some of the best Jewish-owned restaurants to celebrate this season are:
Michael Bakery
Looking for something sweet this season? This Israeli bakery has got you covered. Located on the Lower East Side, this bakery's specialty is sufganiyot, essentially a jelly donut. Michael has seven varieties of these sweet treats including a vegan option that'll knock your socks off.
Russ & Daughters
Our writer, Russell, has a bias about this place because his name is in it, but also because it's delicious. They have several Hanukkah-specific specials, like their latkes that they send fully cooked, but cold so you can heat them up yourself. You can also order applesauce and sour cream from their grocery section, all of which will be delivered to your front door.
Shelsky's
This Jewish-owned Brooklyn staple celebrates Hanukkah in a big way.  Available until the 5th, they have a special called "celebrate the miraculous defeat of tyranny" Hanukkah Basket, which has everything you need to celebrate the holidays all without lifting a finger. They even come with dreidels for a little added fun!
NYC Events for Hanukkah Celebrations
Whether educational or celebratory, these events can add a special memory or two to your Hanukkah celebrations. Different events happen on different nights, but all of the following are open to the public. Some of these events are:
World's Largest Menorah
This towering symbol has been a special NYC event since  1985. Taking place in Grand Army Plaza, a candle is lit by Rabbi Shimon Hecht and other special guests every night of Hanukkah. This family-friendly event is open to the public and includes live music and snacks.
54 Celebrates Hanukkah
54 Below is the place to be when seeking new musical theater talent. On Sunday, Dec 5th, the last night of Hanukkah, 54 Below will have two showcases featuring original Hanukkah songs written by Jewish musical theater writers. The shows take place at 7:00 and 9:45. Tickets cost between $40-$55 and there's a $25 food and drink minimum. That said, these writers have worked on multiple Broadway, Off-Broadway, and Streaming shows, so the price is well worth it.
Stephen Wise Hanukkah Concert
Looking for a musical event that's a bit more family-friendly? Check out the Hanukkah Concert at Stephen Wise Free Synagogue  "Rededicating Ourselves to Israel." This ceremony will be a lighthearted religious experience for the children of the Jewish Community.
Hanukkah Hunt Gallery Program
The Jewish Museum on 5th and 92nd is hosting an educational event called "The Hanukkah Hunt Gallery Program" for kids ages four and up. The scavenger hunt will consist of kids drawing pictures of things they find in the museum as guides explain the significance of the exhibits they encounter.
Chanukah Under the Stars
On December 5th, the 92nd Street Y will be holding a roof top concert and candle lighting ceremony. This family-friendly event will be led by Rebecca Schoffer, the director of Jewish Family Engagement at the Y, and she's promised  "glowsticks galore"
Latke Festival
The annual Latke Festival is back after taking a year off due to the pandemic. The event will take place on Monday, December 6th, but to find out more,  you'll have to sign up for their newsletter, which just adds an element of secrecy and surprise! Folks who have gone to this event in the past, will tell you that it's well worth it.
---
Hanukkah is a multi-day celebration that many people see as a rival of Christmas. However, that's not at all what it is. It's a celebration of light, of the wisdom and mercy of God, and community. These events and restaurants are open to the public and are a special way for the city to celebrate its Jewish heritage. That said, you don't need to go to any of these events to have a pleasant, meaningful Hanukkah. All that matters is that you spend time with people you care about. That's all any holiday needs. So happy Hanukkah everyone! We hope your Latkes are hots, your candles burn bright, and that, if you go to 54 Below for that holiday concert, the songs are snappy and memorable.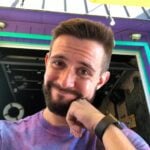 Russell is a writer and comic based in New York City. His plays have been featured at Penn State's Cultural Conversation's Festival, The NYC Thespis Festival, and Imaginarium's Inaugural Theater Festival. Follow him on TikTok and Instagram @pooleparty528