Hannah Hayward is someone who knows how to make the best of everything and living in the city was no exception. Equipped with a dream, grit, and a few stereotypical shoebox apartments, Hannah made the best of her time in New York as she pursued her dreams of being a dancer. Hannah's story is one that many New York residents and hopefuls can relate to.
Hannah's Story
Having trained and performed in New York for six summers, the move to the city at only 16 didn't scare her. Because she graduated early from high school, Hannah was free to live the life she'd dreamed of, which excited her more than made her nervous.
Sure, the move at a young age came with its fair share of challenges, like being unable to legally sign things or go to the doctor, but since when have New Yorkers ever been afraid of a little challenge?
Upon relocating to the city, it was important for her to keep her "why" at the forefront of everything she did. In fact, that is one of the biggest pieces of advice she carries with her for those pursuing their own dreams, especially in the city.
Knowing what your why is and keeping in mind that every day is a choice helps to keep what matters at the forefront. 
"It is so easy to get caught up in the hustle of living in NYC- between work, rehearsals, and the odd jobs to make ends meet, it is so easy to fill your day to the brim." Hannah goes on to say,  "remember to take moments to enjoy life and recognize that every day you are choosing where you live…the hustle is just part of the process."
A Typical New York Day for Hannah
Like many New Yorkers, Hannah's days were filled to the brim but often looked different from one day to the next. Because she was a student studying for her bachelor's degree and dance, plus working, there were days when she would leave once the sun came up and didn't return home until midnight.
This busy schedule helped to keep Hannah from feeling burnt out in her apartment. Instead, the space, regardless of how small it was, acted as a reprieve and place to rest her head above all else.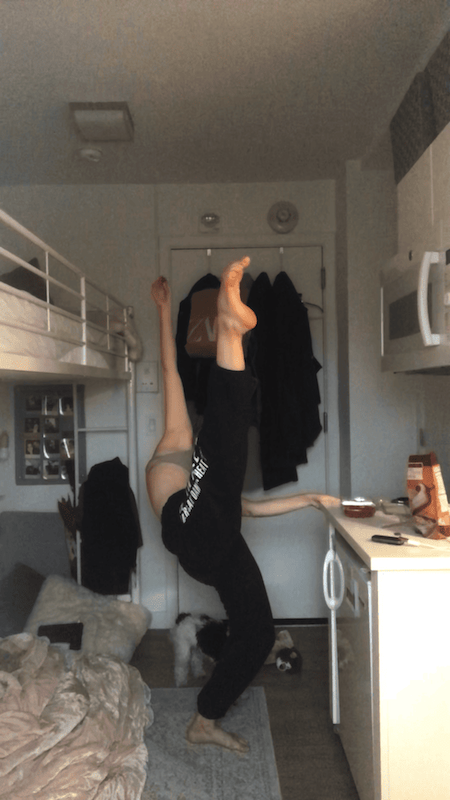 While Hannah's days usually end late, they also begin early. They often start with: 
A 6:30 am wakeup call where she walks the dog

Walking or taking the subway to Ailey (about a 20-block distance from her UWS space)

Ailey School classes into the late afternoon (ballet, Horton, Graham Technique, Pointe, Composition, Contemporary)

A mixture of rehearsals, studio time, studying, and work
In addition to attending Ailey School, Hannah also studied online with the University of Tennessee. She was vying toward her bachelor's degree in philosophy and psychology but has since pivoted to an education-based study plan. Throughout the day, Hannah would work on her degree work. If she didn't have time between classes at Ailey, she would stay up late at night to finish her coursework.
When she wasn't schooling or practicing, Hannah was running around the city, making ends meet. Two of her more common jobs included nannying and working at the famed Cookie Do. Nannying included picking up children from school and making sure they got home or to their after-school program.
Alternatively, days at Cookie Do were filled with crafting edible cookie dough in the company's flagship West Village shop or commuting to pop-ups in places like Bryant Park, Dumbo, and the Upper East Side. When all was said and done, Hannah was working 25–40-hour work weeks in addition to her other obligations.
Though there was limited time for fun, some of her favorite activities included modeling, classes at Steps on Broadway, or going out with friends. By the time the day was over, there wasn't much more to do than to relax in the spaces she's come to call home, even if temporarily.
The Buildings She Loved
Did you truly live the New York experience if you didn't live in at least one (usually more) apartment that put HGTV's tiny home shows to shame? Unlikely.
For Hannah, the experience of rotating "modest" apartments was all she knew when living in New York. Her experience when it came to choosing real estate was fairly unique.
Most of Hannah's living situations were made possible by touring dance friends who allowed her to sublet their apartments while they were away. That means consistently revolving around the city, living in places like Washington Heights upon first arriving, the Village, and the Upper West Side.  
Of all the places she lived, her favorite space had to have been the one on the Upper West Side, and for more reasons than one. It was the first New York apartment that was her own – meaning it wasn't a sublet.
At a whopping 175 square feet, the studio was located on the 13th floor at the corner of 75th and Amsterdam and offered impeccable views of Central Park. The space was just large enough to house a mini fridge, convection oven, and two stove top burners and for Hannah to do the splits and touch each opposite wall of the space.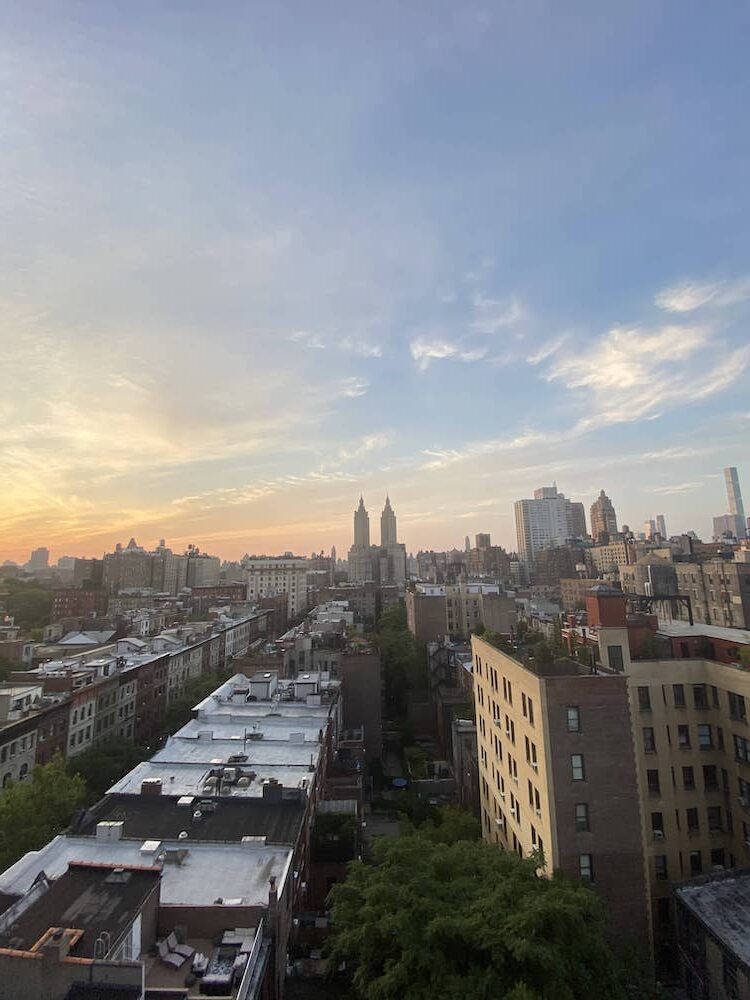 Despite the small size, Hannah looks back on the space affectionately, continually looking for and focusing on the best aspect of the circumstances.
She describes highlights, including the large window and picturesque views that allowed for warmth to flood in, highlighting the space's white walls, white granite countertops, and beautiful hardwood floors.
The retro optimism and affection help to certify her love for the city despite no longer being in it.
View this post on Instagram
How She Made Her Spaces Feel Like Home
If you find yourself living in an apartment less than 200 square feet (just over the average size of one American bedroom). What do you do to make it feel like a home? Decorate!
Skipping the décor process due to limited space is not recommended if you want to make your house (even if temporary) feel like a home. For Hannah, no space was complete without having some sort of personalization.
Hannah says, "I decorated every apartment I lived in, even if I was only there for a short time. I feel that decoration is integral to making the space feel like your own. At the end of the day, my apartment didn't feel like home without my decorations… Pictures of family and friends, throw pillows, and my color scheme. I think that decoration is crucial."
If you're worried about overwhelming a small space with décor, there are minimalistic approaches to interior design that can make your space feel like your own without being chaotic.
How to Work with Minimal Space
Hannah may have some tricks for you, and you'll want to listen, especially given the fact that she regularly had family and friends staying with her in these tiny apartments!
When it comes to storage, it's more than necessary to be creative with your solutions. One trick Hannah used when first moving to the city was purchasing a tri-fold bed.
The multi-functional furniture allows someone to open the device for a double bed at night and to fold it up into a rectangle to be used as a couch during the day.
When working with such tiny spaces, the furniture and storage purchased need to be just as adaptable as the renter. Later on, Hannah made the luxurious switch to a lofted twin bed and stuck that tri-fold mattress under the bed to save for a rainy day, extra seating, or, you guessed it – guests. Living alone meant that any time her family was in town, there would be space for them to crash. As her sister, also a dancer, visited the City often to train, this was an ideal scenario. 
Another choice Hannah routinely made out of necessity was only purchasing what she needed as she needed it. This went for both clothing and groceries. While there are more and more innovative design choices being crafted every year, the reality remains that no space = no space.
For Hannah, that meant only purchasing a week's worth of groceries at a time and maintaining a seasonal wardrobe. Excess clothing was thrifted or taken to her hometown until the seasons changed, and she switched out her wardrobe again.
How the Pandemic Shifted Her Dreams
New Yorkers know all too well just how transformative COVID-19 was. In the midst of devastating losses and daunting statistics, there were pockets of joy, like in the form of revelations. For Hannah, the pandemic completely shifted her world, much as it did for the rest of the world.
When the pandemic hit and everything began shutting down in the city, Hannah decided to leave. She returned home to Knoxville, Tennessee, where she currently resides. What started as a hopeful one- or two-month hideaway quickly became the new normal.
It was through this move and within the pandemic that Hannah discovered a new course for her life – an equally passion-driven one. The pandemic highlighted Hannah's desire to connect with others, specifically children, helping them to learn to dance.
This move combines both her long-standing passion for teaching and the thing she wants to spend the rest of her life doing – dancing. Along with this shift was the creation of her nonprofit, centered around providing equal access to arts education for children in her hometown area.
This experience of moving back home and trudging forward helped Hannah, like many others, to realize that "making it" or making a difference is not exclusive to one coast or the other as many believe. Hannah discovered that the impact she made for disadvantaged and marginalized children right in the heart of her hometown is as equally meaningful as the work she did for years in New York City.
Despite being away from the city now, a piece of her will always be New York-based and driven. As the saying goes, "you can take the girl out of the city, but you can't take the city out of the girl." Speaking to this further, Hannah goes on to say, "even though I no longer live there, the remnants of the city are still in my bones."
Hannah continues to sow the seed of ambition, grit, and passion wherever she goes, just as it was cemented in her long ago.
Thinking of Moving to New York? Keep These Things in Mind
Hannah's story offers a unique perspective into what it means to be a New Yorker, and the experience can vary for everyone. There are plenty of important lessons within her story, and these are some to keep in mind when navigating the city for yourself, especially if you're a fellow dream chaser.
Things Can and Will Change: Roll with It
If there's one thing that New York is not, it's stagnant. New York would not be New York if it didn't consistently change and reinvent itself. While this happened for Hannah while living in the city, including constantly adjusting to what she called "home," it also set her on a new trajectory for life.
View this post on Instagram
Hannah's last semester at Ailey was when the world completely shut down. Rather than letting the shifts shut down her dreams, she found new ones and readjusted them. Successfully moving to New York means staying flexible. 
Making the Best of What You Have
Nothing will ever be perfect, especially not in NYC. Though Hannah speaks of her picture frame views of Central Park and the Ghostbusters towers as being close to it, the reality is things are going to be challenging.
In the case of Hannah, revolving sublets and a tiny apartment to call her own were highlights of living in NYC. She decorated and made the spaces her own with the resources she had, regardless of how temporary or challenging it was. Though cynicism is a key characteristic of being a New Yorker, the constant desire to be better and make the best of things is a universal desire behind the façade.
Find Your Purpose
While living in NYC, Hannah discovered how to look like she had a purpose regardless of where she was going or what she was doing. Even if she had no idea what she was doing, she and every other New Yorker were making it seem as though they did.
Sure, this lesson can be chalked up to "faking it until you make it," but there's also an important lesson on finding your purpose too. That's something that has stuck with Hannah today, beyond the New York City limits, and continues to influence her life. Even if someone doesn't know what they're doing or continually trips up along the way – stay focused on finding the purpose.
One day, like Hannah, you'll be able to say, "no matter where I live, NYC will always have a huge part of my history and my heart."
---
Interested in following Hannah's journey? You can find her on Instagram @_gracegirl and support her work as a founding member of Tessera Dance Theater, a Knoxville 501(c)(3) dedicated to ensuring access for all to a world-class dance education.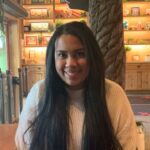 Kylee was born and raised just outside of Sacramento in a small town full of history and charm. She stays up-to-date on the real estate market and hopes to empower hopeful buyers and sellers to make the best decisions for themselves. Kylee is particularly interested in bridging the gap for younger generations, helping them understand the power of owning and investing in real estate.