Hamilton Heights Basics
Welcome to Hamilton Heights, the Manhattan neighborhood named for a founding father! When people think of Hamilton Heights, they confuse it with its northern neighbor Washington Heights, assuming the streets are filled with music like Lin Manuel Miranda's musical, In The Heights, implies. However, Hamilton Heights is a mix of multi-generational families and Columbia Students, giving this area an identity all its own.
The History of Hamilton Heights
Like much of Northern Manhattan after European Colonists arrived, the area that would become Hamilton Heights was mostly used as farmland and homesteads, one of which included Alexander Hamilton's house: The Hamilton Grange. By the late 19th century, City College had been established in the area, and train lines had expanded to the north part of Manhattan, which allowed for greater expansion and put an end to Hamilton Heights' rural days.
In the 1920's the area saw an influx of wealthy black residents, like Duke Ellington and Thurgood Marshall, who had found newfound success during the Harlem Renaissance. This affluent neighborhood became known as Sugar Hill, and is currently a historic district. The area saw some protests during the Civil Rights Movement, especially at City College. However, the area has long been known as a family friendly one, a reputation that continues to this day.
Where to Shop in Hamilton Heights
While Hamilton Heights is mainly residential, there are still some shopping opportunities here if you know where to look. Some of the best stores in the area include: 
View this post on Instagram
Alfalfa New York
Stunning studio that focuses on posters of iconic cities, Alfalfa New York is the place to go if you want to class up your apartment. These city prints are bright and beautiful, so you know you'll be getting a quality product.
Fly-E Bike West Harlem
A store that sells high quality e-bikes, mopeds, and e-scooters, Fly-E Bike is an extremely popular brand that's known all over New York. Their products are durable, energy efficient, and perfect for city life.
Dazzle by Sofia
A luxury clothing store with affordable prices. Sofia, the store's owner, wants everyone to feel like they're living the life of a fashionista walking down the red carpet. This is the perfect place for those seeking the finer things in life on a budget.
Museums and Galleries of Hamilton Heights
Even though this is a residential neighborhood, there are a surprising amount of museums in the area. These museums include:
Sugar Hill Children's Museum of Art and Storytelling
A wonderful museum that the community adores, this place has exhibits featuring professional stories tellers. They capture the imagination of all the children who come to visit.
View this post on Instagram
Hispanic Society Museum and Library
A museum dedicated to Hispanic and Latinx art, history, and culture, the Hispanic Society is dedicated to furthering education and understanding of different cultures.
Martinez Gallery
A small art gallery on the southern border of the neighborhood, this place specializes in graffiti art, and even has classes where people can constructively learn graffiti techniques and history.
Hamilton Heights Landmarks
Hamilton Heights is a beautiful neighborhood, with many older buildings that have stood the test of time. These places can be explored, and include amazing structures like:
The Hamilton Grange National Memorial
The former house of Alexander Hamilton, this home is made available to the public through tours and educational events. It's a fascinating look into one of our founding fathers.
View this post on Instagram
Trinity Church Cemetery and Mausoleum
This historic burial grouxnd is the final resting place of some of NYC's most important early figures. The likes of Eliza Jumel and John Jacob Astor rest here, and it's still selling plots to the public today.
Sugar Hill Historic District
Lined with beautiful row houses and little shops, this historic district is a wonderful place for a calm walk. The people who live here live within the walls of history.
Where to Eat in Hamilton Heights
With a population that's a mixture of students and families, the food scene in Hamilton Heights is diverse and delicious. Some local favorites include:
Harlem Public ($$)
A popular spot that's equal parts cocktail lounge and dive bar, Harlem Public has something for everyone. Their food is delicious, their staff is fun, and the drinks there are top-notch. Try their Spankies Bourbon with Elderflower Liqueur, peach, lemon, and black tea.
Sofrito ($$)
A delectable Puerto Rican restaurant in a park, Sofrito offers a variety of dishes for brunch and dinner. We recommend trying their Prix Fixe menu which includes options like popcorn shrimp, seafood paella, and pernil.
View this post on Instagram
ROKC ($$)
A Japanese oyster bar, ROKC is a great place for a date night. Specializing in cocktails, ramen, and, yes, Oysters, this place will knock your socks off with its amazing flavors and decadent ambiance.
The Grange ($$)
A bar and grill with a slightly more upscale vibe, The Grange has bar classics like burgers and sliders, as well as upscale options like roasted bone marrow and braised beef cheek. They also have specialty cocktails.
Oso ($$)
A Mexican restaurant with a comfortable vibe, Oso is the place to go for great Mexican food in this neighborhood. They have everything from tacos to chile relleno, and their special cocktails, like The Taco Truck, have earned them an excellent reputation.
Getting Drinks in Hamilton Heights
Any neighborhood with great restaurants is bound to have great bars, and Hamilton Heights is no exception. Check out awesome places like:
The Honeywell ($$)
This 1970's themed bar is groovy and sleek, serving specialty cocktails that will impress family, friends, and dates alike. Try their Wallflower cocktail, with Sipsmith gin, Cocchi Americano, spiced honey, lemon, basil, and pansy.
The Cloak Room ($$)
This bar and jazz club is a cool little spot in the neighborhood that strives to feel like a speakeasy. The drinks are amazing here, especially the Suit & Tie, which comes with Grey Goose White Peach & Rosemary Vodka, coconut orgeat, pineapple, orange, and lime.
View this post on Instagram
Oh Craft! Beer ($)
A newer craft beer bar in the neighborhood, Oh Craft has a huge selection of beer in a fun environment. They host special events like trivia and karaoke on a regular basis and hold video game tournaments from time to time.
Cafes in Hamilton Heights
Restaurants and bars aren't the only hot spots in this neighborhood. Cafes are also very popular here, and some of the most popular ones include:
The Chipped Cup
A cute café with imaginative drinks, this coffee shop is a popular place for people to bring work or dates. They have an outdoor space that can only be described as fanciful, and the indoor space has a comfortable ambiance.
The Oma
This beautiful spot isn't just a café. It's a home furnishing store and apothecary as well. This store has a little bit of everything, including clothes, make-up, vases, and espresso. It's truly a unique experience.
View this post on Instagram
Sugar Hill Café
A classy café that serves a great breakfast, Sugar Hill café is a go-to spot for many people in the neighborhood. With a wide variety of sandwiches and drinks, starting your day here is the right way to go.
Where to Live in Hamilton Heights
This residential neighborhood is mostly made up of pre-war apartment complexes and row houses, with a few modern buildings mixed in. Some of the best buildings include:
Rental Buildings
450 West 149th Street
A beautiful white brick building built in 1909, most of the homes here have been renovated to meet modern standards. With spacious rooms and plenty of storage, homes here are perfect for families or students.
609 West 151st Street
A beige brick building from 1929, homes here are enormous and bright, letting natural light flood rooms thanks to an abundance of windows. Lined with beautiful hardwood floors, these homes have a ton of storage space.
615 West 136th Street
A stunning art deco building from 1908, this complex has updated, modern units for people to live in. Apartments typically come with stainless steel appliances, as well as an extra room or alcove to be used as an office space.
Condos and Co-ops
Hillview Towers
A beautiful red brick co-op that allows pied-a-terre, this building has a large laundry room and renovated lobby. Most units come with hardwood flooring and luxuries like dishwashers. Many homes here have been renovated to fit modern design standards.
Bradhurst Carriage House
Though the original building was constructed in 1926, this condo got a complete remodel in 2006. Now, this building has new, luxury apartments with stainless steel appliances, hardwood floors, and large windows that are perfect for natural light. Many homes here are duplexes.
400 Convent Avenue
This pre-war co-op is from 1926, and has a ton of spacious apartments perfect for smaller families or a couple of college students. The gorgeous interior of this building throws folks back to the 1920's, while the homes themselves are modern and bright.
Parks of Hamilton Heights
Hamilton Heights might be a smaller neighborhood, but it has several large green spaces that the public can enjoy. These parks include:
Riverbank State Park
A large park built on top of a sewage treatment plant, this park is extremely popular with residents of the neighborhood. It has a restaurant, a large indoor swimming pool, and a large track field. The views of the Hudson River and New Jersey aren't bad either.
Riverside Park
Riverside Park is enormous, but a good chunk of it is located in Hamilton Heights. This section of the park includes athletic fields, grilling locations, and several playgrounds that are perfect for families.
St. Nicholas Park
Another large park that spans several neighborhoods, the Hamilton Heights section of the park contains the Hamilton Grange. There are also a ton of playgrounds and great views of City College's gorgeous campus.
Dog Parks of Hamilton Heights
Hamilton Heights is a neighborhood that's full of dogs, and those dogs need places to run around and play. Luckily there are several organizations that provide pooches with that opportunity:
142nd Street Dog Run
A wonderful community of dog lovers, 142nd Street Dog Run is a large open space with mulch, trees, and water fountains. The faces here are friendly and welcoming, and that goes double for the dogs who frequent here.
St. Nicholas Park Dog Run
A huge dog run with plenty of toys and obstacles for your dog to enjoy, this run is in the heart of St. Nicholas Park. With a friendly community of dog lovers, you and your furry friend will feel right at home here.
Traveling in Hamilton Heights
This neighborhood is super easy to get to, and even easier to navigate once you're here. The best way to traverse Hamilton Heights are:
Trains – Hamilton Heights has convenient access to a number of train lines including the 137th and 145th street stops on the 1 train, and the 135th, 145th, and 155th stops on the B and C trains. The A and D trains are on express lines and stop at 145th street.
Busses – Several bus lines run through Hamilton Heights, and make a great alternative to the subway on sunny summer days. The bus lines that stop here are the M3, M4, M5, M11, M100, M101, Bx6, and Bx19.
Rental Bikes and Ride Shares – While ride shares are pretty popular in the area, the rental bike is king. There are a decent amount of Citi Bike docking stations around, and expanding bike lanes only makes cycling more popular.
---
Hamilton Heights is a delightful community of history, culture, and food. The residents here are friendly and supportive of the neighborhood. People in this upper Manhattan area feel more connected than their southern neighbors. The community feels closer up here, but they are also willing to welcome newcomers with open arms. As more new shops and restaurants open, the face of the neighborhood changes. However, what remains the same is the comfortable feel of the area. This is the part of Manhattan where people have to hustle to survive. This is a residential neighborhood in its purest form. Come up and say hello!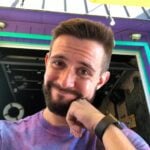 Russell is a writer and comic based in New York City. His plays have been featured at Penn State's Cultural Conversation's Festival, The NYC Thespis Festival, and Imaginarium's Inaugural Theater Festival. Follow him on TikTok and Instagram @pooleparty528