Staten Island is the southernmost borough of New York City and is often either forgotten or the butt of many local jokes. With its more suburban aesthetic, Staten Island feels like a world all its own. With tons of museums, its own zoo, and huge parks, it's a rich part of the city that deserves more attention, especially when it comes to its history. While much of NYC's history is focus on Manhattan, each borough has stories to tell. Some wholesome, some funny, some sad, and some spooky. One such building on Staten Island is the Old Bermuda Inn, and it has a tale that dates back all the way to the Civil War. It's a tragic tale of love and waiting, only to never receive what was expected.
Currently, the Old Bermuda Inn is a "jack of all trades" hospitality venue in western Staten Island. It's an Inn, a funeral home, a restaurant, a wedding venue, a dance hall, and much more. However, it wasn't always the New York hotspot it is today. Before the massive landmark that lines Veterans Road, it was a humble manor. Built in 1832 by the Mersereau family, who had an illustrious political history on Staten Island, the house was mainly used by Martha Mersereau and her husband, Peter.
The black sheep of the family, believing in equality and shunning any outside assistance, Martha and Peter didn't have the access to the money the rest of their family enjoyed. So, when the Civil War started, Peter enlisted without hesitation. When it was time for him to ship out, Martha promised him that she would wait at the window every day until he returned. Likewise, Peter promised to return as soon as he could, while also ensuring to do his part in the war. The two parted ways with hope in their hearts, that they would be reunited shortly.
Martha kept her promise, sitting at the windowsill every day since Peter left. At first, things went as well as things could go during a time of war. Martha would get frequent letters, detailing Peter's trials, and tribulations on the battlefield. She wrote him back every time, telling him about the events happening on the Island and the gossip involving their neighbors. For months they wrote each other, and Martha sat at the window waiting for her husband to walk up the path to her front door. But one day, the letters stopped coming.
Martha never gave up hope. Every day she sat by the window, hoping that her beloved husband would come home. Months turned into years, but still she sat and waited. Even as rumors spread throughout town and news of the war often looked bleak, she never gave up hope. Hope that her husband would return and they could have their family. However, her husband never came home. Even after the war ended, she waited for him by the window, hoping that he was one of the many soldiers who simply got lost in the fray and would returned home later. But Peter never came back. Martha died in that house never to see her husband again.
No one knows what happened to Peter. He's lost to history, as many soldiers of the time are. He most likely died in battle, but the details are a mystery. All we do know is that he never came home. Well…he never came home alive. The family's house is now long gone, but the people who lived there might still be around. At the Old Bermuda Inn, paranormal phenomenon are a frequent occurrence. Some say they hear the faint voice of a desperate man, trying to find his way around the Inn. There was once a fire in a room where Martha's portrait stood, but it was untouched by the flames. Is this the spirit of Peter Mersereau finally coming home to his wife? Did he protect her image?
No one has seen the physical form of Peter, but Martha is around a lot. Guests at the Old Bermuda Inn often see a woman wandering the halls of the venue, looking for her long lost husband. The staff and guests often report of items going missing in the kitchen and in their rooms. Some even report seeing Martha looking over them from a window, still waiting for her husband to come home from a brutal war.
The Old Bermuda Inn provides luxury services for many events. Their biggest two sellers are weddings and funerals, which fits the brand of their ghosts perfectly. The love at this place blooms eternally, but not in a happy way. Two spirits wander the halls looking for one another. The tragedy of war separated them, but hopefully not for eternity. Love, whether it begins or ends, at the Old Bermuda Inn is ever present. Sometimes bonds transcend life and time. Martha and Peter could one day find each other. This would make the Inn a bit less spooky, but there's plenty more going for it. In the end, the Old Bermuda Inn is worth the visit, ghosts or no ghosts.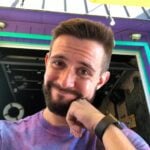 Russell is a writer and comic based in New York City. His plays have been featured at Penn State's Cultural Conversation's Festival, The NYC Thespis Festival, and Imaginarium's Inaugural Theater Festival. Follow him on TikTok and Instagram @pooleparty528