Update: Metaverse Fashion Week occurred March 24th 2022 to moderate success
The emergence of the metaverse is bringing together two industries that have seldom—if ever—collaborated: tech and fashion. 
The internet pretty much went nuts when Facebook announced they'd no longer operate as a social media company, but rather a "meta" company. The announcement was met with a mixture of excitement, concern, and general confusion as to what the metaverse even was. 
Why Metaverse Fashion Makes Sense
Cathy Hackl, Chief Metaverse Officer at the Futures Intelligence Group, describes the metaverse as "the evolution of Web 2.0…where people, spaces, and assets can [exist] in a fully virtual synthetic environment."
Whereas Web 1.0 facilitated the transfer of information from one user to another, and Web 2.0 focused on connecting people and creating the sharing economy—web 3.0 provides a place where these connections can be explored on a more interactive level. 
Not only will we be able to interact with content through sight and hearing, but also through touch, perhaps even taste and smell. The metaverse is essentially an extension of our sensory experiences on the internet. 
As our digital identities evolve and the use of our senses expand within the metaverse, it only makes sense that fashion—a form of self-expression and autonomy designated to a particular time period and place—would make its way into the metaverse. 
Culturally, we're also moving away from fast fashion and towards sustainability in the industry. Given the rapid pace at which trends develop, fashion brands are continuously pressured to produce new and trendy items, often resulting in waste that's harmful to the environment. 
Combine that lack of sustainability with the global supply chain shortages we're facing due to a global pandemic, and you've got the perfect reason to explore alternative forms of fashion. In this case, digital fashion is the opportunity at play. 
Digital fashion eliminates the need for brands to produce physical items at all, saving them money on production costs and allowing them to appeal to a more environmentally-conscious clientele. The metaverse will also make it easier for smaller designers to break into the market because all that's needed to create and sell digital pieces is access to a computer and the internet.
Fashion Brands in the Metaverse
The best way to understand how fashion will work in the metaverse is to look at the fashion brands already participating in it. So far, the majority of the fashion world's investments into the metaverse have been through video game skims—a $40 billion a year market. 
Balenciaga is one of the first brands to embrace virtual fashion. They recently announced plans of launching a metaverse business unit within the company to explore new opportunities in the space. In Fall of 2021, they released their seasonal collection through a gaming app and partnered with Fortnite to create a series of "skins" for the game's characters. 
Dolce and Gabbana is another fashion brand sinking its teeth into metaverse fashion. In September of last year, they released a nine-piece digital garment tech drop on the USXD marketplace which was available for purchase in Ethereum, one of the better-known cryptocurrencies in the metaverse. The company's inaugural NFT collection was auctioned off for close to $6 million dollars. 
Largest Virtual Land Acquisition Ever is Dedicated to Fashion Industry 
If you read our article on How to Become a Digital Real Estate Investor in the Metaverse, then you already know about the 6,090 square foot parcel of digital land sold to Tokens.com on Decentraland back in November. The massive virtual land acquisition totaled $2.4 million in crypto and is considered to be the largest real estate transaction on the platform to date. 
Tokens.com revealed that the digital property will be used "by fashion brands to advertise, host fashion shows, and have e-commerce storefronts." Conveniently located in the Fashion Street District of Decentraland, the land is the perfect place for fashion brands to connect with metaverse users in the near future. 
Virtual Fashion Week Set to Take Place in the Metaverse 
Just a couple of weeks ago, Decentraland announced that a virtual fashion week is coming to the metaverse in March. It will consist of four days of "catwalk shows and showcases, pop-up shops, after parties, and immersive experiences," the first of its kind on the platform. 
The fashion week will be hosted in collaboration with luxury marketplace UNXD, the company responsible for Dolce & Gabbana's inaugural NFT collection. Taking place between March 24 and March 27th, the virtual fashion show will allow participants to watch the runways, engage with other attendees, and purchase virtual fashion products for their online avatars.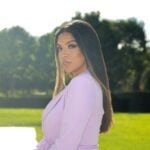 Vivian Tejada is a freelance real estate writer from Providence, RI. She writes SEO blogs for real estate, travel and hospitality companies. She's passionate about the future of work and helping Latin American freelancers achieve time, location, and financial freedom. When she's not writing you can find her at the gym, a family cookout, or at brunch with her girls. Follow her on Linkedin to learn more.