There's only one question that will always start a squabble between two New Yorkers. And no, it's not which New York baseball team is superior or whether the Knicks will ever win the finals again.
The question is a simple one: What's the best bagel in New York?
It turns out, this question is important for everyone in the city, from obnoxious tourists to crusty New York natives. People come to New York City, home of the best bagels in the world, and want to know what the deal is.
But why is this such a difficult question? After all, a bagel is just some boiled dough and schmear. So making a good bagel should be easy to do, right?
Quite the opposite.
We're going to stop you right here. We want you to join our journey of finding the best bagel in NYC, but if you only have time for a New York minute, scroll to the bottom for the ultimate decision as to who has the best bagel in NYC.
Anyone who has spent time in the city knows that finding the best bagel is not that simple.
Every New Yorker I've talked to has deeply held opinions about what the best bagel is, whether or not it should be toasted, and what should go on/in it.
Order the wrong bagel and risk ridicule and shame from those closest to you!
In truth, creating a perfect bagel is as much an art form as it is a science – one that goes back decades for some of the storied bagel shops found on New York's streets.
From the preparation of the dough to the water used for boiling the bagels, each minute detail is of critical importance to the true bagel connoisseur.
A Debate For the Ages
New Yorkers have been debating this question since bagels were first brought to the city in the 19th century. The subjective nature of what makes a great bagel is as much a part of this tradition as the bagel's history. Everything including what goes on top or between a bagel is fair game as far as new yorkers are concerned.
That said, there are some aspects that all new yorkers can agree upon. A true bagel should be crisp on the outside and chewy on the inside. But exactly how crisp or how chewy?
For the average Joe, like yourself, the hardest part of the debate is discovering what bagel you like the most.
That's exactly what Zack did.
In the midst of all the opinions, debate, and questions about New York's best bagel, Zack decided to answer the question for himself.
He had recently moved to New York and was tired of being told over and over again that he was not eating the best bagel in town.
So he decided to figure things out himself and devised a game-plan with his friend.
The plan was simple: simultaneously order the same bagel at two different shops and then compare the two bagels side by side.
That day, the bagel bracket was born.
To accomplish this task, Zack created a giant map of every supposedly decent bagel shop in the city and started taste testing.
What followed was a summer-long saga, taking the two friends across the city, eating dozens of bagels as they went.
Each Saturday and Sunday the two of them worked towards answering the all-important bagel question.
To make the taste test easy, they always ordered the same bagel at each shop: Sesame Seed Bagel Toasted with Regular Cream Cheese, Lox, Lettuce, and Tomato.
While this might not be the most orthodox order, Zack realized that if he was going to eat over one hundred bagels that summer, he might as well stick with his favorite combo.
Similarly, a toasted bagel might not be the "true" New York style, but Zack wasn't just looking for the best bagel. He was tired of poor service and burnt bagels on his way to work, so he wanted to make sure that the winning bagel shop would not only have the best bagel but also the best customer service.
Narrowing down the field from the many shops, Zack settled on 16 contenders with solid reputations and fantastic Yelp reviews.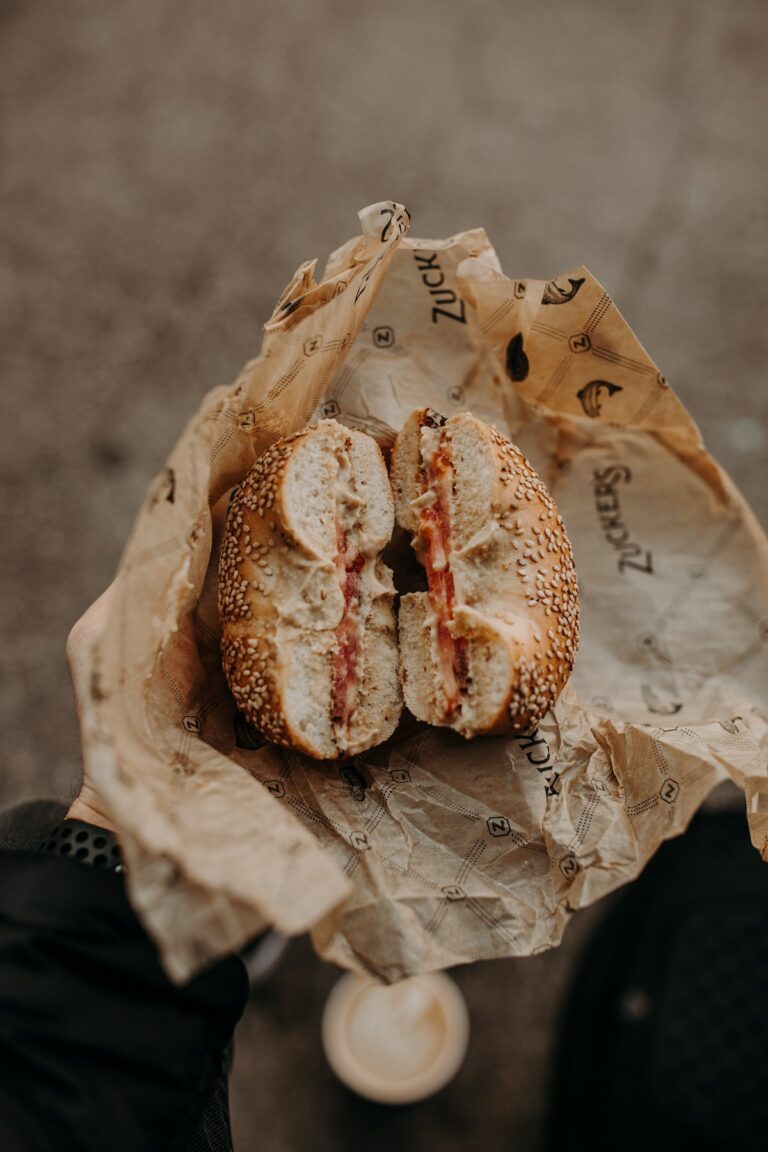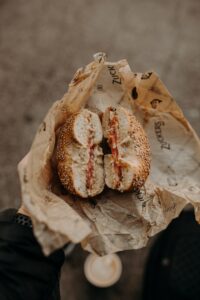 Absolute Bagels
Absolute Bagels is one of the most popular bagels in the city with lines stretching around the block on weekends. While the storefront may be considered slightly drab and boring, the wide variety of kid-oriented, colorful, and sweet spreads makes up for that. Absolute also serves a delicious Tofutti spread for anyone who is lactose intolerant.
Widely considered to serve one of the best bagels in Midtown, Ess-A-Bagel has a reputation for its long, but quick-moving lines. Founded in 1976, this iconic bagel shop has a wide selection of savory salads and smoked fish allowing you to put anything you choose on your bagel! They also now have a location in DUMBO.
Known for its massive customizable bagels, Tompkins Square Bagels is a fan favorite. Their wide variety of spreads, schmears, and toppings allows you to create whatever bagel you may want.
A rapidly growing chain, Brooklyn Bagels has just opened a 5th location and judging on their popularity will open more bagel shops soon! Offering a breakfast and lunch selection that goes well beyond bagels, Brooklyn Bagel is a great spot to grab a later breakfast or lunch. And, of course, their coffee is great.
This small but delicious bagel shop is right by Times Square which can result in long lines of tourists and sight see-ers coming to check out what a New York bagel is like. Best Bagel has one of the highest Yelp ratings in the city with thousands of perfect scores across the board.
Tal Bagels is known for their plain untoasted New York bagel which stands out among competitors who are jumping on the latest trends. Tal Bagels is widely considered to be one of the best New York-style bagels in the city.
Making bagels in Manhattan since 1972, H&H is a cultural icon in New York City lore. Featured in both Seinfeld and Sex & The City, H&H crafts one of the best New York bagels in town. Sadly, H&H is no longer owned by its famous founding family, but its legacy lives on.
Black Seed bagels are not true New York style, but that doesn't matter if you are trying to find what bagel you like the most. They are actually a blend of Montreal-style bagels and New York-style bagels. This means, that Black Seed Bagels offers you a culinary experience that you won't find anywhere else in the city.
As you may have guessed from the name, this shop focuses on the two most important ingredients to a New York bagel: the bagel and the schmear. With great scores from food critics and Yelp, this spot maintains the legacy of the old-time bagel joints.
Anyone who reads reviews about Zucker's will see words like "delicious" and "amazing" over and over again. Zucker's is known for its high-quality smoked fish, offering a wide variety of different kinds.
David's bagels are known for being large and plush, with the perfect New York texture. No matter the weather or the humidity, bagels at David's never seem to be under or over-baked.
Sometimes chain bagel shops get a bad name but don't let that happen for Pick A Bagel. Their customer reviews show that they have remained true to their methods and that each location produces fantastic bagels.
A favorite of Wall Street, Leo's Bagels knows how to make a classic New York bagel. Complete with a wide variety of spreads, lox, and lactose intolerant options, Leo's makes sure their customers are taken care of.
In the business of making great bagels for over 25 years, Murray's is a perennial top-ten bagel spot in the city. Close to the Highline, their location is perfect for a quick breakfast before one of the city's most scenic walks.
Founded in 1914, this classic family-owned shop is the most "appetizing" store in town. They boast one of the best varieties of spreads, smoked fish, savory salads, and much more. If you are looking for a quintessential New York bagel experience, look no farther than Russ & Daughters.
Over the last 80 years, Kossar's has consistently served delicious bagels and bialys. An iconic kitchen that has kept its spirit from decades gone by, this spot is a classic in the New York bagel game.
Once Zack had picked the 16 shops, each was then paired with another based on location and ease of access.
For each round, Zack and his friend would head to the two bagel shops, order a Lox bagel and then meet in a central location to perform the taste test. This ensured that neither bagel had the advantage of being warmer or fresher than the other one.
As the bracket progressed, the trips became longer, often including long treks on the subway and even longer lines waiting to order. But that didn't matter, what mattered was finding a winner for the bracket.
Zack took detailed notes in real-time. No detail was too small or aspect unimportant to be included.
Match 1: Tal Bagels Vs. Tompkins Square Bagels
The loser: Tal Bagels — Not great quality bagel (chewier). Bagel-to-filling ratio not as good (smaller bagel with more in it).
The winner: Tompkins Square Bagels — More consistent fill. Great quality bagel
Match 2: Black Seed Bagels Vs. Ess-A-Bagel
The loser: Black Seed Bagels — Very small. Little cream cheese. Very doughy. Great iceberg lettuce.
The winner: Ess-A-Bagel — Large. Solid crunch. Two layers of cream cheese.
Match 3: Brooklyn Bagel & Coffee Company Vs. Best Bagel & Coffee
The loser: Best Bagel & Coffee — Huge line out the door at 9 AM on Saturday. Two Layers of cream cheese. Huge, heavy, and an indented bagel with a weird curved shape. Lots of lox. More chewy/doughy.
The winner: Brooklyn Bagel & Coffee Company — Great crunch. Not as chewy. Tastes more sesame. Not overstuffed. Great quality.
Match 4: H&H Midtown Bagels East Vs. Absolute Bagels
The winner: Absolute Bagels — Didn't ask if we wanted it toasted. Put onions instead of lettuce. Good texture and good crunch. Very no shits place run by all Thai people
The loser:  H&H Midtown Bagels East — Weird taste. Tastes like bread. No crunch. Very bougie.
Match 5: Bagels & Schmear Vs. Zuckers Bagels & Smoked Fish
The loser: Bagels & Schmear — Came with coleslaw and pickles side. Overloaded with cream cheese that was globbed all in one place, should have been double layer for better distribution. Romaine lettuce. Bagel had no crunch and was too chewy. Contents fall all over the place when you try to eat it.
The winner: Zucker's Bagels & Smoked Fish — Two layers of cream cheese. Iceberg lettuce. Harder shell, but the inside is still a little too chewy. Thicker overall bagel sandwich.
Match 6: Leo's Bagels Vs. Pick-A-Bagel
The winner: Pick-A-Bagel — Hard outer shell results in great crunch. Soft inside. Not too much of any ingredient. Not too hard, not too chewy. Great coffee.
The loser: Leo's Bagels — Huge overstuffed bagel with lots of lox, lettuce, and double cream cheese layers. Sweeter bagel with more sesame flavor, but not evenly cut. Good crunch, but a little too chewy. Very long and slow low line.
Match 7: Murray's Bagels Vs. David's Bagels
The loser: Murray's Bagels — A ton of lox. 2 layers of cream cheese.  Overstuffed. A little chewier. Burnt.
The winner: David's Bagels — Cheaper bagels (10$). Unassuming place. 2 layers of cream cheese. Bigger bagel resulting in more equal bagel to topping ratio. Solid crunch, but burnt.
Match 8: Russ & Daughters Vs. Kossar's Bagels & Bialys
The winner: Russ & Daughters — Oddly quiet in packed store made it extremely uncomfortable. Pull a number and have to wait to be seen. Bagels are hand-rolled and boiled, like absolute bagels. They didn't have any lettuce because of the CDC recall on Romaine lettuce. The bagel was tiny and had very few sesame seeds, but it was thick and had a solid crunch. It was also a little chewy, but not too bad. The lox tasted very fresh as well, and there was not too much cream cheese (it still had 2 layers of cream cheese) resulting in a good bagel-to-topping ratio. Expensive ($15)
The loser: Kossar's Bagels & Bialys — Nice little bagel spot with a very nice staff and a few tables. They also offered samples of some of the cookies that they offer. The bagel was a little too flat and thin and looked a little more like bread than a bagel should. It had a crunchy outside, but it was so thin that was more like a flagel than a bagel. It did have a great sesame flavor though. Pretty cheap also ($10).
Quarter-Finals:
Match 9: Tompkins Square Bagels Vs. Ess-A-Bagel
The winner: Ess-A-Bagel — Very Long Line. Expensive (~15$). Much smaller and more circular. 2 layers of cream cheese. More aesthetically pleasing. No crunch, but solid outer layer. Not too chewy. Good proportion of ingredients. Much more fishy (more lox). More flavor in bagel (more bagel-y, less bready).
The loser: Tompkins Square Bagels — Very efficient place. Cheaper (~11$). 2 layers of cream cheese. Good amount of lettuce, but distributed unevenly. Not as well put together bagel. Decent crunch, not too chewy. Taste varies from bite to bite. Some are better bites than Ess-a-Bagel (when you get everything together) but some are worse (when you only get some ingredients).
Match 10: Brooklyn Bagel & Coffee Company Vs. Absolute Bagels
The winner: Absolute Bagels — Line way out the door. Much smaller. Erroneously added onion. Good crunch. Not a lot of lettuce.
The loser: Brooklyn Bagel & Coffee Company — Double-layer cream cheese was a little too much. A little too chewy. More sesame flavor.
Match 11: Zucker's Bagels & Smoked Fish Vs. Pick-A-Bagel
The loser: Zucker's Bagels & Smoked Fish — Much taller/thicker bagel with a ton of sesame seeds. A ton of cream cheese all in 1 later, resulting in large cream cheese clumps. Really chewy and bready with less of a crunch. Seed tasters in store.
The winner: Pick-A-Bagel — No lettuce because of CDC recall. Super hard shell, but the inside was very thin and a little too hard. A ton of lox, resulting in the lox going all over the place when bitten. Really good-looking pastries in store.
Match 12: David's Bagels Vs. Russ & Daughters
The winner: David's Bagels — Much bigger. 2 layers of cream cheese. Outside was not quite as hard and inside was more chewy, but had a solid crunch to chew ratio. Didn't toast.
The loser: Russ & Daughters — Free lox sample. Tiny. A little overstuffed (2 layers of cream cheese & a lot of lox). Great crunch to chew ratio (great crunch with harder outside & solid chew). No lettuce. 2 layers of wrapping.
Semi-Finals:
Match 13: Ess-a-Bagel Vs. Absolute Bagel
The loser: Ess-A-Bagel — Not even bagel halves. Flatter bagels. Double cream cheese layer. Not as much crunch (doughier). A little too much cream cheese.
The winner: Absolute Bagel — Double cream cheese layer. Much crunchier.
Match 14: Pick-A-Bagel Vs. David's Bagels
The loser: Pick-A-Bagel — Not evenly cut. All the toppings coming out of the back/not evenly distributed. Had an outer shell, it didn't have too much of a crunch.
The winner: David's Bagels — Too much cream cheese globbed on in double layers. A little burnt back. Not much lox. Better crunch.
The Finals
Match 15: Absolute Bagels Vs. David's Bagels
The runner-up: Absolute Bagels — Very crunchy outside. Very chewy inside (a little too much). Less lox. Not as much of a sesame flavor. Double cream cheese layer.
The overall winner: David's Bagels — A little less of a crunch on the outside, but also not quite as chewy inside. Way more lox. More of a sesame taste. Double cream cheese layer.
---
Want to be more like a New Yorker? Check out all our Insider's Guides to fool all the locals.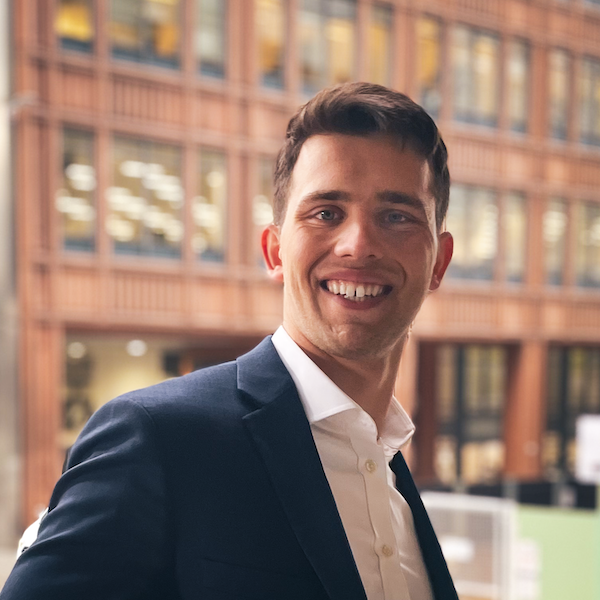 Luke Button is a writer, marketer, and content creator. He is passionate about tech, brand building, self-improvement, and the future of work. Luke's work has reached #1 on Hacker News multiple times, been read aloud in the House of Commons, and is featured in Business Insider and Entrepreneur.