Located in the heart of New York City, Cafe China is an authentic Sichuanese eatery that takes pride in serving traditional Chinese cuisine. From spicy dishes to delicately flavored, fresh seafood, this restaurant has it all. Each dish is made with pristine ingredients and served by a friendly staff inside its vintage-inspired interior. Dining at Cafe China is a classic experience for both locals and tourists alike. But, while restaurant critics continue to rave about this establishment's gourmet food, Cafe China has run into a recent dilemma: a copycat. 
After operating out of the same establishment for over ten years, Cafe China announced its temporary closure while it relocates to a new building at 59 W. 37th Street in Murray Hill. In the comments of an Instagram post, Cafe China explained to a concerned customer, "We are in the process of reopening down the block when someone took over our old space and made it like we were still there, without our permission, of course." According to Cafe China, and loyal customers of the beloved Sichuanese eatery, someone has stolen their menu, imitated their well-known vintage design, and opened up to customers in the very same building that previously housed the true Cafe China. 
Who Is the Copycat? 
In recent weeks, a new, yet oddly familiar restaurant has appeared in Murray Hill. Outwardly, it resembles Cafe China at its height – same decor, same menu – but several insiders say that it is a hoax. The new restaurant, located at 13 E. 37th Street, operates under the name "CHILI 美麗." 
According to Cafe China, a group of ex-employees set up the faux cafe in the restaurant's former building. These (possibly irate) employees are duplicating their beloved cuisine and aim to take advantage of trustful tourists, those who have never been to the real Cafe China – or even know what authentic Sichuan food tastes like. 
However, the staff at CHILI 美麗 have a different story to tell. In a public statement shared on Instagram, new details come to light. CHILI 美麗 claims they are in no way imitating the original Cafe China, and stated, "We are the management and staff of a new restaurant on 37th Street in Manhattan called CHILI 美麗. Recently on Instagram, we were accused of some horrible things, of being thieves and con artist and copycats, of stealing cooks and trying to pretend to be Cafe China for unsuspecting tourists." The new staff goes on to explain, "We were, in fact, the long-time heart and soul of Cafe China until just a few months ago, when the ownership abruptly announced its plans to move the restaurant on west 37th Street, closed the original space, and summarily fired all of us!"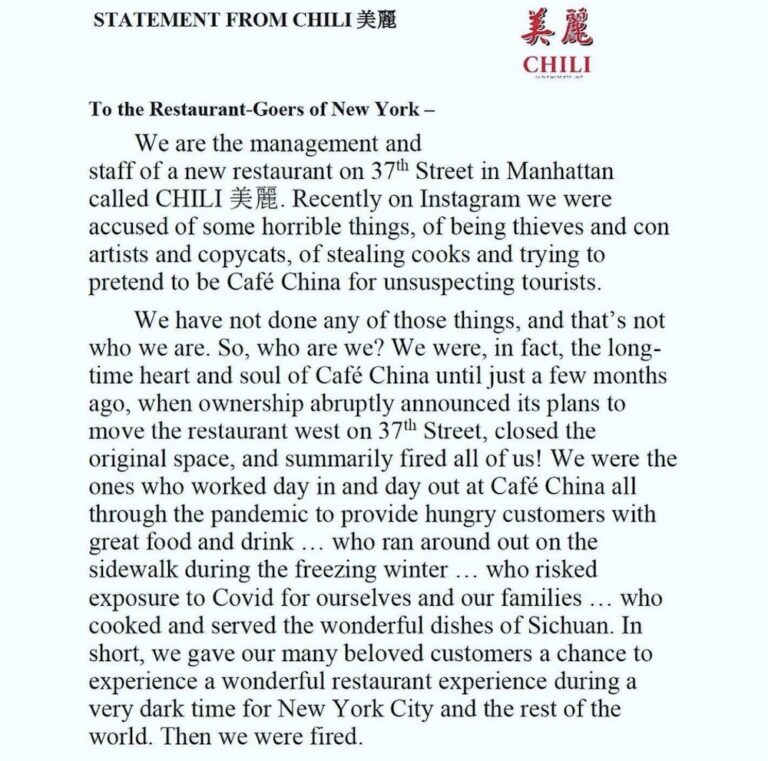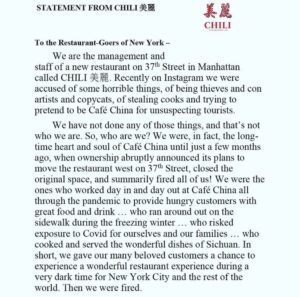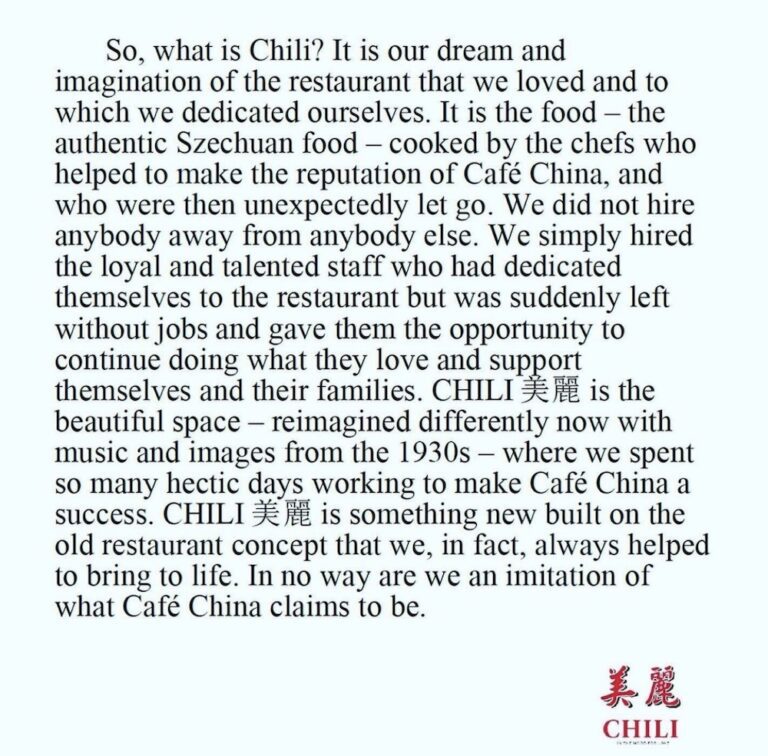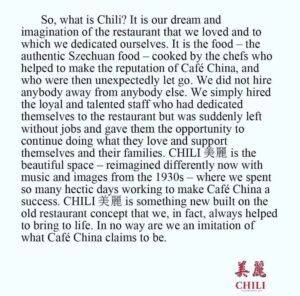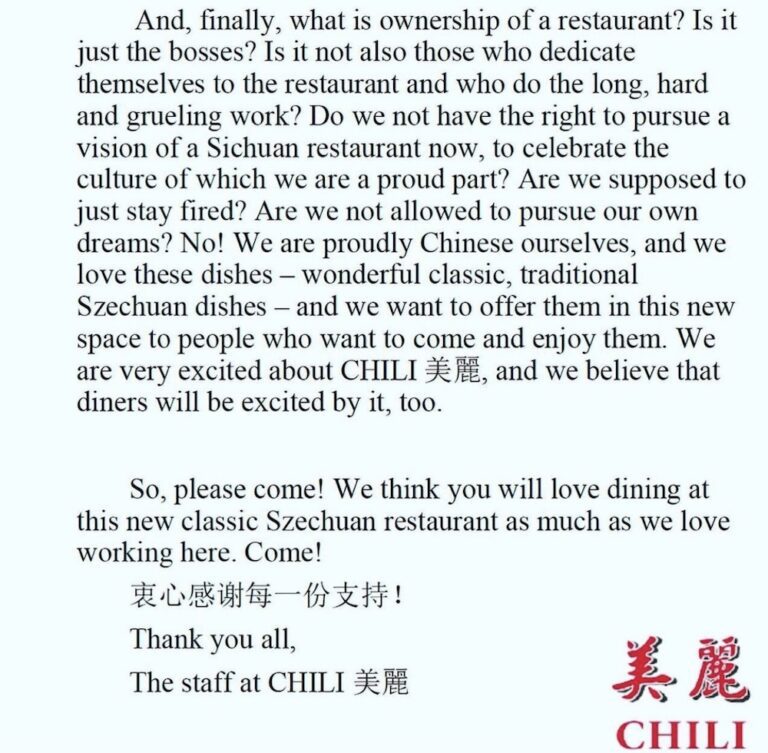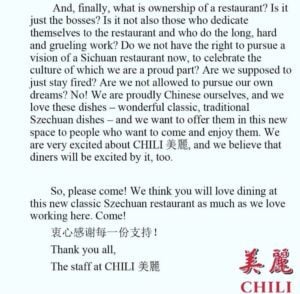 Who Is the Real Cafe China?
Cafe China responded to this recently released public statement by CHILI 美麗. In their rebuttal, they claim, "Dear New York. We have read the statement by CHILI, and wish to respond. While we deeply appreciate their contributions as Cafe China employees, we wish to clarify that they were not abruptly fired by Cafe China. We had planned to relocate the entire Cafe China team over to our new location at 59 W. 37th Street when we signed the lease in 2019. We had notified everyone of our plan soon after." Later in the statement, they add, "Those who resigned and joined CHILI told us they were the new owners…We created Cafe China, they were the ones helping it grow. However, we are sad that the owners of CHILI copied Cafe China without permission."
CHILI 美麗 is now fully operational and serving many locals, including previous customers of Cafe China. Meanwhile, Cafe China plans to re-open in their new building soon. Customers of the original Cafe China are now left with a difficult choice to make: Who is the real Cafe China? 
(Featured Image: Courtesy of Cafe China)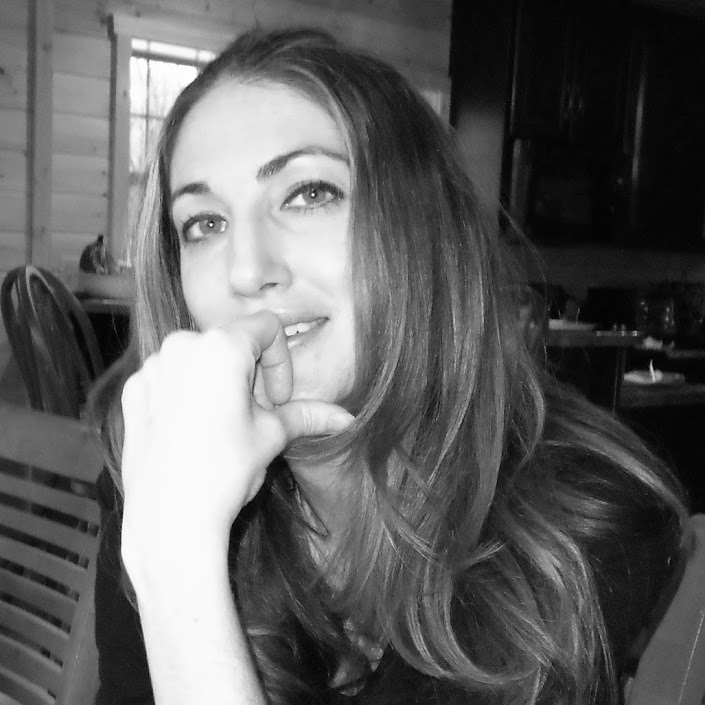 Based in Belleair, Florida, Erica brings over 18 years of experience working in marketing and development. She regularly reports on healthcare, finance, real estate, retail, education, and fashion.