December 21st marks the first day of winter. It is no secret, however, that the approaching shivery season has been delayed. October and December are historically cold months for New York residents, but this year we are being hit with sixty-degree afternoons leading up to the bitter days that are supposed to come. Regardless, sitting at home and taking it easy is no longer an appealing option to most that have been locked inside for over a year due to the COVID-19 pandemic. People are eager to get out and about like previous years, looking for any excuse to be outside of their house. It is understandable — your home has now become your office and you can't bare to look at the same walls for another second. Good news. We did some research for you and have compiled a list of fun weather activities that you can do with family, friends, or even just yourself. 
Hop on a Snowmobile in Upstate New York
You thought we were just going to tell you to go ice-skating at Bryant Park, huh? No. This article is not one of those. We searched for uncommon and exciting ideas. Snowmobiling is not your typical Saturday activity, but goodness does it sound fun! This will require a bit of travel, but if you have a car, can borrow a car, or rent a car this is the perfect winter weekend trip idea. 
C+C Adirondack Snowmobile Tours is an adventure filled spot located in Chestertown, New York just north of Albany. It is about a three-and-a-half-hour drive from Manhattan, but I would say it is worth it for the views and activities they offer. Being one of the most highly rated spots in the Adirondack Mountains, C+C Adirondack Snowmobile Tours offers one and two hour snowmobile tours through the woods. They have the option to ride with a guide, so if you're too nervous to navigate on your own do not worry at all. 
If you are looking for something a bit closer, Rip Van Winkle Ranch is roughly a two hour drive from Manhattan and gets the same outstanding reviews as C+C Adirondack Snowmobile Tours. They are located in Haines Falls, New York. From November to April they offer snowmobile tours for the whole family regardless of there being snow on the ground or not. 
Visit a Wine Bar in Manhattan
Wine bars are certainly a year-round activity. There is no season that is specific to wine, however, there is nothing like getting dressed up in comfy-casual clothing, sitting inside while it is freezing out and sipping some wine to warm you up. Not only do you get to choose from a wide variety of wines, but most places offer side dishes to munch on. For example: charcuterie, cheese, bruschetta, and a load of other delicious appetizers. This is an activity where you can make a reservation for a certain time and still have room to do things before or after. Some spots that we found are: Wine:30, Amelie Wine Bar, JadisNYC, and Vin Sur Vingt. We highly recommend calling prior and making a reservation as these are popular spots in the city. 
Kick Back and Relax at A Spa
There is absolutely nothing in this world like a little bit of pampered rest and relaxation. Self care is crucial and something we hold near and dear to our hearts. Regardless of your circumstances and how you chose to go about it, everyone deserves some off time. What better way to spend it than at a spa? There is something truly magical about visiting a spa during the winter, especially if the spa is in a particularly cold and snowy area. You can experience a sweet escape right outside of Manhattan with Narnia-esque views. Going to a spa would serve as more of a weekend getaway rather than a day trip, but we could not recommend it more. 
Mohonk House, located in New Paltz, is a historically wonderful spa that dates back to 1869. This Victorian-style getaway is surrounded by nothing but nature and has an incredible variety of activates to do other than visiting their spa. Buttermilk Falls Inn & Spa is another spectacular place settled cozily in Milton, New York. They actually just reopened their overnight stays, so make sure to get booking right away! This spot is located on 75 acres of land right by the Hudson River offering picturesque views and a snug atmosphere. If you are looking for something that is a bit more family-oriented, Whiteface Lodge in Lake Placid, New York is the place for you. Being an award-winning lodge, Whiteface Lodge has so much to offer whether it be views or activities, there is no doubt you will have a pleasurable experience. 
Visit a Farmers Market in Manhattan
Sure, if you are a New York City native this idea may not be as exciting as others… But we can promise that it is worth it to go check out a farmers market in Manhattan at least once. In a few locations throughout the city there are farmers markets where a bunch of vendors get together to sell their goods. These things can be surprisingly a lot of fun especially during the winter. Whether it be fresh produce, hot cocoa, warm baked goods, or some artisan objects, farmers markets never fail to get us excited. There is something enchanting and cozy about walking down the street lined with little booths while sipping on some hot mulled cider. Even if you are not looking to purchase anything you can always window shop! There are plenty of farmer markets located across the city!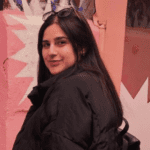 Carly is a freelance writer with interest in topics pertaining to lifestyle blogging, social justice, and anything to do with film/media. She graduated from the University of Wisconsin - Madison with a degree in English & Literary studies in hopes to write for a large music publication. When she is not writing, you can find her watching movies, cooking her famous Carbonara, and enjoying time outdoors.