If you are an avid reader and enjoy collecting physical copies of books you most likely have an overflowing bookshelf or a stack of books scattered on your floor. Whether this is an enjoyable sight for you or not, there is a creative and exciting way around this choice of decoration.
If and when done correctly a bookshelf wall can be the perfect addition to your space. Not only that, but a bookshelf wall can help divide off a space to create a separate desired area. For example, if you live in a one-bedroom apartment and are expecting a baby – you can implement a bookshelf wall for a makeshift nursery.
There are different ways to create a bookshelf wall, price points to consider, certain laws for NYC bookshelf walls, and a handful of pros and cons. Don't worry though. This article will lay out everything you need to know about incorporating a bookshelf wall within the comfort of your dwelling. 
Different Ways To Create A Bookshelf Wall
There are two current ways to create a bookshelf wall. You can put up a pressurized wall or relay on a partial wall. Pressurized walls are installed using pressure as opposed to using screws and can be easily removed without ruining the existing walls. These are extremely stable and reliable with many options for customization. Pressurized walls will go from floor-to-ceiling and can offer the best level of privacy outside of a real permanent wall.
A partial wall are also installed without using screws, nails, etc. so this is an ideal option in order not to ruin any sort of pre-existing infrastructure. These are the walls that stop around 12 inches from the ceiling which is required by New York City law. Given that partial walls don't run from floor-to-ceiling, they do not offer as much privacy if you were looking to create a divider within your apartment.
How to Decorate Your Bookshelf Wall
It's time to decorate once your pressurized or partial wall has been put up. Have fun and get a little creative with this one. For both, you can create a bookshelf by lining the wall with shelving and or storage cubbies. From there, put up your favorite books or items and organize them in a way that pleases you best! Our favorite is to sort all the books by color! Additionally, for partial walls, you can place decorative items on top of the wall within the 12 inch clearance section and install a kind of curtain (pending that it does not serve as a fire hazard), or anything you may see fit that would create more privacy safely. Whether you choose to put actual books on this wall or not is entirely up to you. New York City apartments are usually quite small and everyone is always looking for a means of extra space to keep their belongings. 
Rules And Regulations To Follow When Considering A Bookshelf Wall
Building a typical bookshelf wall as either a divider or solely just for decoration and or storage purposes would require either something called a temporary pressurized wall or a partial wall. However, NYC laws have made it very difficult for temporary pressurized walls to be installed. Because of these strict rules landlords will typically only approve partial or a modernized version of a bookshelf wall. 
If you are looking to create a bookshelf wall out of a temporary pressurized wall, it is crucial that you run it by your landlord first. The wall is not allowed to interfere with the ventilation system, sprinkler system, or any means of exit within the space. The wall also must not support any sort of structural weight like the ceiling. 
In accordance with the NYC Housing Maintenance Code, a temporary pressurized wall is required to ensure the following: every bedroom must be at least 80 square feet, the living room needs to be larger than the minimum amount of space required, a temporary wall must be installed so that it does not damage the permanent wall and cannot be installed with nails or screws, the room must have a window that faces outside, there needs to be a means of escape in case of an emergency, and pass-through bedrooms are not allowed with a temporary pressurized wall. If you are not using a pressurized wall and instead using a partial wall, then your wall must require a 12 inch clearance below the ceiling and 36 inches from the wall. 
How Much Does A Bookshelf Wall Cost?
The cost of a bookshelf wall varies depending on if you choose to go with a pressurized wall or partial wall, the size of the wall, and any other customizations you may choose to make. However, the typical cost for a bookshelf wall ranges anywhere between $1,000-$3,000. Even though this is a considerably pricey addition to your household, there are ways to keep the price on the lower end.
If you are creating a bookshelf wall in order to split a space between you and a roommate, you can always cut the cost in half with them. Customizations will jack up the price by a considerable amount. For example there are sliding, pocket, standard walls that can have single or double-paned French doors. If you are not looking to spend too much on your bookshelf wall, you do not have to add these features.
There are also soundproofing mechanisms that can be implemented in order to reduce noise which will only add costs onto the base price. However, if you are prepared to spend more then go ahead and get funky with it! The bookshelf wall world is your oyster. 
Pros And Cons Of A Bookshelf Wall
There are pros and cons to every decision you will make in this lifetime. Some come with more pros than cons and vice versa. Thankfully, bookshelf walls have more pros than cons. These are great mechanisms in order to separate space in a tight apartment. 
It is no secret that New York City apartments are not gracious with the space that they offer tenants. It is easy to feel cramped when you have loads of items and no place to put them. As previously mentioned, bookshelf walls create the opportunity to add cubbies into your apartment in a stylish way. Even if you are not the most architecturally savvy person, you can easily look up some DIY shelving organization methods. YouTube will always be your best friend.
Not only do bookshelf walls create more storage, but they can also open the opportunities for a roommate or an extra room. Say you find the apartment of your dreams. The location is perfect, you fall in love with the quirks it offers, and the amenities make your heart skip a beat. However, it is a one-bedroom that is way out of your price range. You are not looking to go back to university days and share a bedroom with someone… which is completely understandable. Instead, you can install a bookshelf wall to section off another bedroom and boom! You have the space for another roommate. This goes for any and every situation in which you need an extra room. Even if that room is just used for junk, at least it serves as a closed off space. 
However, one thing that could be considered a con is that in some buildings the tenant is responsible for the cost of not only putting up the wall, but also taking down the wall before they move out. This is yet another cost that will be added into the mix, so only take on this task of installation if you are prepared to pay both fees! The price of removing a pressurized or partial wall can range anywhere between $500 – $2,000.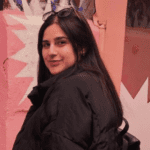 Carly is a freelance writer with interest in topics pertaining to lifestyle blogging, social justice, and anything to do with film/media. She graduated from the University of Wisconsin - Madison with a degree in English & Literary studies in hopes to write for a large music publication. When she is not writing, you can find her watching movies, cooking her famous Carbonara, and enjoying time outdoors.