The pandemic forced New Yorkers to adapt in some serious ways, but none more obvious than the addition of dining sheds outside most restaurants. Built as a way for people to enjoy going out while avoiding the indoors, these sheds have evolved from ramshackle mishmashes into elaborate dining experiences. Many can no longer even be considered  "shacks" as much as "tiny sidewalk buildings." Regardless, New Yorkers took to them in a big way, which is why they are here to stay. If you're looking for some of the coolest ones, here's a list of City Signal favorites: 
Best Outdoor Dining Sheds Manhattan
– 230 5th Rooftop: This rooftop restaurant/bar in the Flatiron District was popular before the pandemic for its beautiful views of the Midtown skyline. The Empire State building is the focal point as you enjoy a nice cocktail, but how can you see it through a dining shed? Easy! Make that shed an igloo. Each plastic igloo is heated, making this a perfect spot for winter dining. They also each have their own TV, so you can cuddle up close with some special and watch Hallmark movies just in time for the holidays. 
– Red Rooster: This Harlem staple is special for a lot of reasons. Its comfort food, like hot honey chicken and jerk salmon, will fill your stomach while its live music will fill your soul. Their outdoor space takes reservations, which is good since the comfy, heated sheds are wildly popular. If you want to feel the heat in the middle of a chilly winter evening, Red Rooster is the way to go. 
– The Winter Garden at The Standard: Have you ever been walking around the city and thought to yourself, "Sure dining sheds are cool. But what I really desire is a big ole Yurt for 2-10 of my close compatriots!" Well, look no further than The Standard in East Village, because they have Yurts a plenty. Cozy and warm, the Winter Garden takes reservations for small parties to enjoy fondue and wine inside a well-decorated Yurt. They also have holiday screenings with fresh baked gingerbread cookies, so it's truly a wonderland. 
– Comodo: If you're seeking the epic flavors of Latin America, look no further than Comodo. Located in the Freehand Hotel on Lexington Avenue, this restaurant invites you to "relax and let your guard down" while you enjoy a high level of comfort in heated, private dining sheds. The sheds have a subtle charm to them that add to the vibe and highlight the passion for the great meal you'll be eating. 
– Watermark: Coming soon to the Seaport District, the Watermark is a cocktail bar and winter wonderland. If you ever loved going around to check out your neighbor's Christmas lights as a kid, then you'll love having a drink inside one of these private, heated greenhouses. Located right on the water, this magical venue will fill you with childlike wonder as you check out the bright, beautiful views. 
– L'Artusi: Ever want to experience an Italian getaway without ever leaving the city? A tall order, right? Not as tall as you might think. Styled to feel authentically Italian, the pleasant outdoor seating at L'Artusi will make you feel like you've been transported to the land of pasta and wine. Beautifully decorated and nicely heated, these private dining rooms will provide you with ambiance while you enjoy a nice pinot noir with your plate of handmade pasta. 
– The Courtyard at Arlo SoHo: While New York City has literally everything, it can definitely still throw you a curveball. The cedar cabins at a SoHo hotel, for example, might seem wildly out of place in this dense urban area. And yet, here they are in all their glory. Just as comfy as their woodland contemporaries, these cabins let a small group of people cozy up with some hot drinks to enjoy an afternoon or evening. Decked out with rocking chairs and pumpkins, The Courtyard is a great place to spend an autumn day. 
– Baar Baar: NYC is no stranger to great Indian cuisine, but Baar Baar on the Lower East Side is simply beyond compare. Enjoy their vegan or non-vegan menu in their outdoor space, decorated with tasteful flowers and overhead lights to provide you with a sense of comfort and beauty. Overhead heaters will keep you warm in the winter months, but the food will ensure that you eat here year-round. 
– The Greens at Pier 17: If you liked the greenhouses at The Winter Garden and the  Cedar Cabins at Arlo SoHo, then The Greens at Pier 17 will be the dream you never dared to dream. Located in the Seaport District, these greenhouse cabins could almost be described as "sprawling." These spaces provide banquet seating and virtual fireplaces to really nail the "winter in a cabin" motif. While the fireplaces might be fake, the heat inside these cabins is real and can be adjusted to whatever temperature suits your group. 
– Literally All of Little Italy: People always ask me what my favorite restaurant in Little Italy is. The truth is that you could throw a rock and hit a great restaurant in this tiny neighborhood. The dining sheds in this area are older than the pandemic and provided a road map for many of the restaurants when indoor dining shut down. The advantage of Little Italy's dining sheds is that you absorb the culture of the neighborhood when you eat there. The sights and sounds of this historic neighborhood surround these well-decorated sheds providing a New York experience like no other. 
---
These are just a few examples of the amazing ingenuity of NYC restaurants. There are many more out there sporting greenhouses, yurts, sheds, and, yes, even cabins. With so many to choose from, it's hard to know which one to try first. My advice to you, if you're still undecided after reading this list, is to just walk around. Eventually, you'll find a  restaurant with outdoor dining that speaks to your heart and your stomach. So bundle up with someone you love and enjoy a hot cocktail outside.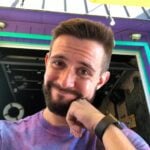 Russell is a writer and comic based in New York City. His plays have been featured at Penn State's Cultural Conversation's Festival, The NYC Thespis Festival, and Imaginarium's Inaugural Theater Festival. Follow him on TikTok and Instagram @pooleparty528