'Tis the season for beer – the sun is shining and thirsty mouths are watering. What better way to quench these cravings than to sit outside and enjoy a tall glass of ice-cold beer? To be very honest, there is no better way. Luckily, there are tons of NYC breweries available with outdoor seating spaces to visit. 
Breweries in NYC serve as a perfect Saturday activity. With table games, great music, comfortable seating arrangements right under the summer sun, and a Bavarian pretzel, there is no doubt you will have a great time. All outdoor breweries in New York City will actually brew their beer on-site which creates a unique sense of freshness that you can't get anywhere else. Below we have gathered up a list of our favorite NYC outdoor breweries that you must check out this summer. 
Beer Garden NYC
1.) Torch & Crown Brewing Company – 12 Vandam St
View this post on Instagram
Joe Correia and John Dantzler, the owners of Torch & Crown Brewing Company, are two NYC natives with an interesting story. When these two boys were 16 years old they had their fake IDs confiscated in the West Village and were left with no means to purchase alcohol. So, they decided they would make it. Their first test was with a homebrew kit which, long story short, didn't go very well. But this didn't stop them. They insisted on trying every method they could until they perfected their recipe. By the time they were ready to graduate high school, Correia and Dantzler were winning homebrew awards. As time went by they knew they had to open their own spot. So, Correia went into chemistry to study the mechanics of a brewery and Dantzler went into finance to study what it would take to progress from a business standpoint. 10 years later, they created the well-known and very loved Torch & Crown Brewing Company 
Torch & Crown is located in the middle of Lower Manhattan offering a friendly and relaxed space with two levels. Any place in which you are consuming alcohol can become very pretentious very quickly. However, Correia and Dantzler wanted to make their brewery as laid back as possible. With a full outdoor seating area, patrons can enjoy the New York City air while kicking back and people-watching. They have three beers on tap and from the can which are offered year-round. There are also roughly 12 other beers that rotate depending on what is available and what season it is. 

2.) Threes Brewing – 333 Douglass St
View this post on Instagram
Threes brewing is one of the best options for outdoor breweries around. They are known for crafting approachable beers that have a good balance between simplicity and complexity, with a focus on lagers, hop-forward American ales, and mixed culture beers. With a keen interest in original recipes, Threes Brewing also values the idea of incorporating modern twists into the mix. Not only are their beers sold at their home brewery, but they are also sold at over 700 bars, restaurants, and shops across New York State and 30+ others. Please take note that their outdoor space is only available at their Gowanus, Huntington, and Governors Island locations. The outdoor space usually involves some sort of overhead covering for weather purposes, tables, and décor to satisfy all your aesthetic needs. 
Their first flagship spot was opened in 2014 at the Gowanus location as a non-traditional taproom and event space. Since then, they have added a sister bar in Greenpoint, a seasonal outpost on Governors Island, and a beer shop/tasting room in Huntington. Threes Brewing has been featured in publications such as Bon Appétit, The New Yorker, Spectrum News, BrewBound, and many more notable pieces. Reviews rave about their outdoor space and find it to be accommodating and comfortable with a fantastic ambiance. 
3.) Fifth Hammer Brewing Company – 10-28 46th Ave
View this post on Instagram
Located in Long Island City, Queens, Fifth Hammer Brewing Company is more than suitable for an afternoon at the brewery. This spot has both indoor and outdoor seating (depending on the weather) and does not take reservations unless you have a party with 10 or more people and it must be booked at least one week in advance. The seating is strictly on a first come first serve basis no matter the day. It should also be noted that Fifth Hammer does not serve food, but often calls in food pop-ups and trucks to serve patrons. There is also an option to bring in your own food or order something to the brewery. You can take a look at their calendar here to see any upcoming events, food pop-ups, and music performances. 
Fifth Hammer Brewing Company offers a wide variety of on-site brewed beers. This list features low carbonated beers, hops such as IPAs, fruity sours, lagers, dark-tasting beers, and Belgian-style options. They also have other beverage options such as different types of waters, ciders, wines, and canned cocktails. There are cans and bottles to-go offered if you are interested in a take-home gift. 
4.) Grimm Artisanal Ales – 990 Metropolitan Ave
View this post on Instagram
Grimm Artisanal Ales is a Brooklyn-based brewery founded in 2013 by Joe and Lauren Grimm. After almost 10 years of experimenting with every recipe they could come up with, this couple finally succeeded in a fermentation process that has attracted people from all different walks of life. They specialize in concise, elegant ales while mixing in hints of creativeness and experimentalism that can be seen with the rise of the American artisanal beer revolution. For five whole years the Grimms would brew and sell beer out of their Gowanus apartment while also traveling to various existing breweries to offer their product. Finally, in 2018 they opened Grimm Artisanal Ales in Williamsburg and since then have flourished amongst the Brooklyn brewery scene. 
Grimm Artisanal Ales offers both indoor and outdoor seating options with different hours for each. Outdoor seating is available from close to open and indoor seating is available after 5pm. Currently, they do not take reservations. If seating is full when you arrive they encourage putting your name and number down on a waitlist and they will text you when a table is ready. Luckily, there are a lot of places nearby to visit while you wait. Grimm Artisanal Ales does not have food options, but does have a few snack options if you and your party get hungry at any point of your excursion! 
5.) Talea Beer Co. – 87 Richardson St
View this post on Instagram
Talea Beer Co. was started by two avid homebrewers with an MBA, LeAnn and Tara. They met after leaving their corporate jobs in tech and media in order to join the beer industry. These two ladies worked hard together on a daily basis and found that their passions aligned well. Their dreams headed in the same direction and the common end goal was to ultimately operate and own a brewery. Not only this, but they wanted to expand the current craft beer market with their creations. 
LeAnn and Tara felt the beer industry was heavily male-led and lacked feminine energy that didn't involve confusing packaging and difficult to understand recipes. After visiting a multitude of breweries they noticed that there was rarely an approachable space that valued inclusive perspective and voice. These determined women knew there was a market for their ideas and thus launched TALEA. The goal of TALEA was to offer easy-drinking beers that may "replace that glass of rosé". LeAnn and Tara's beers are high-quality with a low-bitterness taste profile that has touches of fruit-forward flavors. It is supposed to be a beer you can drink casually amongst those who are drinking hard-seltzers and wine. A more sophisticated beer if you will. 
Talea Beer and Co's flagship brewery and taproom opened in Williamsburg, Brooklyn in March 2021. Since then, they have been featured in publications such as VICE, Thrillist, The Infatuation, New York Times, Time Out New York, CNBC, and a winner for Whole Foods Supplier Awards. 
Luckily they have both indoor and outdoor seating options with some of the best atmospheres around. Their outdoor space allows dogs, so you are more than welcome to bring a furry friend to accompany your human one! Currently, you are not allowed outside food, but they do have options for snacks and sometimes food trucks and pop-ups. You can check out their event schedule here to check out any upcoming food features. Talea Beer does not require reservations for smaller parties. However, if you do have a large group you must fill out a private events booking form.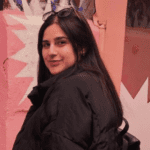 Carly is a freelance writer with interest in topics pertaining to lifestyle blogging, social justice, and anything to do with film/media. She graduated from the University of Wisconsin - Madison with a degree in English & Literary studies in hopes to write for a large music publication. When she is not writing, you can find her watching movies, cooking her famous Carbonara, and enjoying time outdoors.