There's something about karaoke.
The flashing, multi-colored lights. The disco balls rotating overhead. The allure of being a pop star for the evening.
Before the global pandemic, karaoke venues had become part of the lifeblood of New York City nightlife. But at the onset of COVID-19, a dark question loomed large in the minds of karaoke enthusiasts across the five boroughs:
Will my favorite karaoke spot survive the pandemic?
Sadly, a few places didn't make it. Unable to entertain microphone-hungry patrons during the lockdown, they were forced to close their doors. But some venues weathered the category-X storm that was COVID-19, having cemented their legacies as iconic karaoke spots in New York City.
Now that things are more or less normalizing (thanks to widely available COVID vaccine), we've put together a list of the best NYC karaoke spots to blow off some post-pandemic steam.
The five note-worthy(pun intended) karaoke venues below are sure to unlock your inner-"Bowie" and keep you singing until the wee morning hours.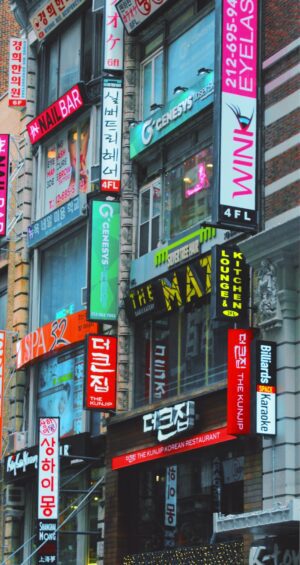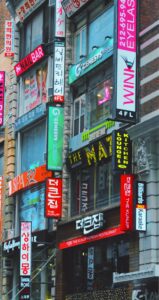 Gagopa Karaoke
Address: 28 W 32nd St 3rd floor, New York, NY 10001
The Koreatown strip on 32rd Street between 5th & 6th Avenues is like something out of Seoul. Here, numerous storefronts advertise tasty Korean cuisine on chalkboards flanking the narrow street and the razor-sharp scent of kimchi wafts in the air 24/7.
But K-Town wouldn't be complete without a few karaoke spots to sing your heart out. One such place is Gagopa Karaoke on the south side of 32nd Street. With a flexible BYOB ("Bring Your Own Booze") option, Gagopa makes you feel right at home. So grab a cordless mic and order some grub on the Seamless app. You can get it delivered here as long as you keep queuing songs on the karaoke machine.
Note:  As some true locals are quick to point out, you can bring as much beer, wine, or champagne as you want.  However, they do not allow BYO "hard alcohol."
Maru
Address: 11 W 32nd St, New York, NY 10001
If you're looking for an upscale karaoke spot, look no further. At Maru, the VIP lounge boasts a giant cast iron bell that looks like it was plucked from an ancient Buddhist temple, now dangling from the ceiling in all of its glory.
In contrast to this cast-iron relic, Maru's lighting is futuristic with hues of magenta, lavender, and burnt orange glowing in bright neon. Even the square coffee tables are rimmed with the most entrancing neon glows. But be warned: this razzle-dazzle comes at a price with a "Louis XIII" cognac listed on the menu at a panic-inducing $9,000.
Karaoke Duet 35
Address: 53 W 35th St 2nd floor, New York, NY 10001
The last of the K-Town venues to make our list is Karaoke Duet 35. With 60-inch flat screens hanging from the walls and 150Wx2 speakers blasting a large selection of songs, Duet 35 is a formidable player in the New York City karaoke scene.
As its name suggests, there are plenty of classic duet anthems to choose from like Marvin Gaye and Tammi Terrell's "Ain't No Mountain High Enough" or John Travolta and Olivia Newton-John's "You're The One That I Want." But if you're not feeling these options, check out this list of the top 20 karaoke duets of all time.
Sing Sing Karaoke Ave A
Address: 81 Avenue A, New York, NY 10003

Sing Sing Karaoke near St. Marks has been an East Village staple since 2000. Its aesthetic is unmistakeably "East Village-y," from the ubiquitous townhome-style building that houses it to the exposed red brick walls accentuating its interiors.
With an extensive song list available in multiple languages, Sing Sing appeals to New York City's diverse melting pot. And if you're feeling the vibes here, check out its grungier sister venue on Avenue A which features a graffitied, glow-in-the-dark wall.
While the venue is iconic and stories, the biggest compliments about this place are the selection of songs and the overall ambiance.  This place is one of the coolest spot in NYC, so it's worth checking out.
Karaoke Boho
Address: 152 Orchard St, New York, NY 10002
Karaoke Boho rounds off our list of the best NYC karaoke spots to blow off some post-pandemic steam. Feeding off the Lower East Side's taste for late-night debauchery, Karaoke Boho on Orchard Street is at a short walking distance from world-famous Katz's Deli where a pastrami on rye can sustain you for hours of singing.
With 17 private rooms that can fit up to 30 people and over 80,000 songs in multiple languages, Karaoke Boho is the perfect place to belt out your favorite tunes. So throw on your rockstar outfit and head over to one of these top-notch karaoke venues. After all, the night's still young!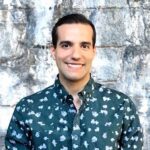 Ivan Suazo is a copywriter and SEO blogger with over ten years of experience in the real estate industry. He's also the founder of a wellness blog, QWERTYdelight.com, and writes sleep stories for the Slumber App.