To many in NYC, Jersey City is just another commuter town. However, this line of thinking is reductive, as Jersey City is a large area with its own neighborhoods and industries. Some of the best parts about Jersey City are the places to eat and drink that can be found here. Cuisines from all over the world have made their home in this city, and the people who live here enjoy every single one of these restaurants. Getting hungry? Here are some of the best restaurants and bars in Jersey City.
Best Jersey City Restaurants
Sátis Bistro ($$$)
View this post on Instagram
This Mediterranean restaurant is a favorite amongst the residents of Jersey City due to its classy atmosphere and delicious food. Some of their specialties include blue point fried oysters, tiger shrimp and squid ink pasta, and whole branzino. They have delectable charcuterie boards that are perfect for catered events, and the restaurant itself hosts several private events year-round. They have special holidays like Mother's Day and Valentine's Day and, If you're really lucky, you'll be able to catch some live music.
Rumba's Cafe ($$)

This Cuban Restaurant is popular amongst locals and visitors alike for its quick service and flavorful meals. Some of the best stuff they offer includes their beef soup, fried pork ribs, and creme custard, all of which with the freshest ingredients. They also serve fresh Spanish Coffee, which is a perfect way to wake up in the morning. Though "cafe" is in the name, this place serves breakfast, lunch, and dinner. It does get busy, so be sure to get there early, so you don't have to wait for a table.
Veloce Specialty Sandwiches ($)
View this post on Instagram
This sandwich shop is quick, delicious, and full of attitude. Started by an Italian family, this shop makes some of the best sandwiches in Jersey, with favorites like chicken parmesan, Italian cheese steak, and a crispy prosciutto salad. They have a ton of cold sandwiches as well, and their truffles fries on the side are out of this world. They cater special events too, so this place can really do it all.
Carvao BBQ ($$)
View this post on Instagram
This BBQ joint is full of good times and great friends thanks to their emphasis on community building. Not only does this place have amazing BBQ like pulled pork, ribs, and burgers, but they host a ton of events like karaoke, comedy/music open mics, and trivia nights. They have daily drink and food specials, so there's always something new going one, and you're bound to see someone you know when you enter the establishment. This is one of those places where everybody knows your name after just one visit.
Sol Azteca ($)
View this post on Instagram
This Mexican restaurant is the perfect place to go for a night out with family and friends. The portions are large, the drinks are sweet, and the atmosphere is fun and energized. Some favorites at the restaurant include their spicy chorizo tacos, grilled cactus burritos, and their al pastor tostadas. The menu hee is huge, so everyone can find something they like to eat. They even have special events on occasion for holidays and celebrations!
Clove Garden of India ($$)
View this post on Instagram
This Indian restaurant is full of bright colors in both their decor and their food. This establishment has been an institution in the area for over 15 years, and serves traditional Indian cuisine like chicken tandoori, paneer biryani, and a wide variety of curry to satisfy any pallet. This place is on the classier end, but the portions are large, and the prices are just right, so you can enjoy a fabulous meal without breaking the bank.
Domodomo ($$$)
View this post on Instagram
This refined sushi restaurant is the sister location of the famous Domodomo in NYC. Famous for their handrolls, this restaurant provides guests with the option of table service with a full menu or an omakase experience, where a seasoned sushi chef will curate a fixed menu for the evening based on the seasonality of their ingredients. Either way, you're guaranteed to have an amazing meal here, and the prices are way cheaper than similar experiences in NYC.
Razza ($$)
View this post on Instagram
This artisanal pizza place is famous in the area, sporting some of the best pies in all of New Jersey. Cooked in a wood burning oven, some of the best pizzas that are served here include their margherita, guancia, and di natale pies. They also have a variety of salads, sides, and seasonal drinks that are sure to enhance any evening.  The pizza is so good that head chef, Dan Richer, even wrote a book on the subject. The Joy of Pizza can be found right on their website.
Caribbean-Flava ($$)
View this post on Instagram
This Caribbean restaurant serves mostly Jamaican cuisine, but its extensive menu also includes other Caribbean favorites. Some of the best stuff on their menu includes their goat curry, jerk chicken, and escovitch snapper fish. The restaurant is run by a husband and wife who have graciously decided to let the entire community have a taste of their family recipes. The owners also want the community to see them as family, which is why you are treated like honored guests the minute you walk in here.
Casa Latina ($)

This Dominican restaurant has some of the best Yelp reviews of any eatery in Jersey City. Their portions are enormous, and they might be the most hospitable restaurant in New Jersey. They frequently hang cute welcome signs on their door that brighten people's days, right before they fill those mouths with flavorful dishes like oxtail, pernil, and mangu. Don't just come here for the great food. Come here to experience true hospitality.
Laico's ($$)
View this post on Instagram
This Italian fine dining establishment has been serving delicious meals since 1972. The Laico family has been running the restaurants for that entire time, providing guests with a lavish, yet cozy restaurant experience. Some of the best items on their menu include their various brick oven pizzas, fettuccine alfredo, and shrimp parmigiano. They have a wide assortment of wines and beers to go along with your hearty meal.
Carolyn's Soul Food ($$)
View this post on Instagram
This soul food restaurant is a staple in the city, and will keep you coming back for more. Though the restaurant itself opened in 2008, the cooks here have over 50 years of experience, cooking delicious items like meatloaf, chicken thighs & drums, and racks of ribs. They even have all the sides people love like mac & cheese, black eyed peas, and collard greens. This place is comfort food personified, so bring your appetite and enjoy yourself.
Poor Man Vegan ($)
View this post on Instagram
This vegan restaurant is inexpensive by design, as the owners of this establishment strive to prove that people can eat vegan food that won't break the bank. This place has every food a person could want including, mac & cheese, burgers & hotdogs, and a variety of desserts, all of which are vegan and organic. This place has an ever changing menu based on what the owners have been experimenting with and what seasonal ingredients they have. You'll love this place so much, you'll probably want one of the hoodies they sell.
Krewe of McGinley Square ($$)
View this post on Instagram
This New Orleans style restaurant was created by husband and wife Anthony Tamburro and Hank Morris. Tamburro acts as the chef while Morris is the face, treating the establishment as a sort of social club that the community can grab a bite in. Some of their best dishes include chicken po boy, cerole jambalaya, and vegan dirty rice. This place has a ton of special menus for different holidays and hosts a big celebration every year on Mardi Gras.
Best Jersey City Bars
Jersey City's food scene is diverse and affordable, but it's not the only exciting part of the city. There's also a fairly active nightlife and bar scene here, full of dive bars, cocktail lounges, and wine establishments. Some of the coolest bars and lounges in Jersey City include:
Ringside Lounge ($)
View this post on Instagram
This sports bar is very popular with the young professionals of the area who enjoy watching sports with their friends. This place has large TV's that display boxing, football, and basketball games. They offer special cocktails that are sweet and strong, as well as buckets of beer during happy hours and integral games. They also serve the standard bar food, so this place has a bit of everything.
Low Fidelity ($$)
View this post on Instagram
This cocktail lounge is low key, with an atmosphere that's perfect for subtle evenings like date nights or a bit of light reading. They have a wide variety of drinks from standard mixed drinks to frozen margaritas. One of their more unique creations include the Inca Gold, mixed with pisco, pineapple, lemon, and apricot liqueur with angostura bitters. Another delicious drink they serve is the Don't Go Chasing Watermelons which contains gin, watermelon, lime, simple syrup, and yellow chartreuse.
Corkscrew Bar & Grill ($$)
View this post on Instagram
A classy pub, this place was established in 1976, and has been serving great drinks and bar food ever since. They are all the usual suspects here like burgers, chicken tenders, and meat pies. They have a ton of beers on tap, as well as large TV's and plenty of seating for those who want to watch the big game or special televised event. They also have a nice patio space that's perfect for a snack and a pint on a sunny summer day.
Fox and Crow ($$)
View this post on Instagram
A fun bar with a ton to offer, Fox and Crow is a chill bar that college students and young adults will greatly enjoy. They have a ton of bar food with extra sauces and toppings, and their drinks are sweet and filled to the brim with some of the best brands of whiskey and tequila. Some of their best offerings include the black bean veggie burgers, Philly cheesesteak, and bottomless mimosas at brunch. They even have live music every once in a while.
Departed Soles Brewing Company ($$)
View this post on Instagram
This brewery and tasting room is a favorite amongst the people of Jersey City. Since 2015, the boys of the brewery have strived to remain flexible in terms of their brews, never leaning too heavily into IPAs, lagers, or any other style of beer. Instead, they pride themselves on the wide variety of beers they have created over the years, including their gluten-free beer, a rare find in any bar or restaurant. They host various events each year and donate a fair amount of their proceeds to veterans and first responders.
Hudson Hall ($$)
View this post on Instagram
This beer garden and smokehouse is extremely popular on the weekends, as their outdoor area has a ton of stuff to do during the summer. The space is huge, so groups of any size are sure to have a great time here. Their food is of an Eastern European variety with some American bar food staples thrown in there. They have an incredibly extensive beer and cocktail list, and it changes often depending on the season and what's available. This space is all about community and is great when you have something to celebrate.
Pet Shop ($$)
View this post on Instagram
This small dive bar is a favorite amongst the young professionals that live in Jersey City. Their menu includes that standard bar food, and their drink menu includes a slew of cocktails that are crafted by the bartenders who work there. One of these traffic drinks is the Country Road, which includes vodka, cucumber, lillet rose, strawberry, lemon, and tonic. Another is the Penn and Tell Her, which includes gin, basil, genepy, blueberry, and lemon. They also have old arcade games and even a photo booth.
The Archer ($$)
View this post on Instagram
This cocktail lounge is classy, perfect for a date night that won't tear your wallet asunder. This place has a ton of specialty cocktails, including a daily special that's a surprise to everyone until they visit the establishment. One of their best drinks is The Good Ship, which includes rye, irish whiskey, dry vermouth, benedictine, and orange bitters. Another favorite amongst residents is the Dancer in the Dark, which includes apple brandy, brennivin aquavit, lemon, simple syrup, apricot, and egg whites. While these drinks are some of their best, you really can't go wrong when you're here.
Lucky 7 Tavern ($)
View this post on Instagram
A dive bar with style, this place has great drinks, snacks, and old arcade games for guests to enjoy. This bar has a ton of events including a ladies night every Thursday, NFL games, and a ton of special events that are ever changing. Some of these events include BBQ, live music, and even catered block parties. This place is all about having a good time, which is why they've paired their extensive beer menu with their bar food that's cooked to absolute perfection.
O'Learys Publik House ($$)
View this post on Instagram
This pub claims to have the coldest pints in town, and that very well might be true. This place is extremely popular with locals who swear by the establishment's quality. Some of their best offers include their hot dogs, thin crust pizza, and the Mrs. O'Leary Melt, which is described as a burger fused with a grilled cheese. They also have a wide variety of beer and Irish whiskeys that will pair well with any of their entrees. Many residents say that this bar anchors the neighborhood, which means it's truly something special.
Pint ($$)
View this post on Instagram
This gay bar has been around since 1911, and has special happy hour events every day of the week. This establishment is affordable and fun, with regular Bingo nights, trivia, and even comedy on occasion. The space is available for private events, and they have their full menu available for said events. They do serve stronger drinks, but they mostly have craft beers that change seasonally. Overall, this place is full of good times and better beers.
Würstbar ($$)
View this post on Instagram
This gastropub is one of the most unique establishments in all Jersey City. Dealing mostly in German cuisine and drinks, this place had delectable bites like sausages, sauerkraut, and pretzels. They also have a wide variety of beers and ciders, including German brands like Bitburger, Green Slate Lager, and Original TAP07. This place is one of the only locations in Jersey City to get these amazing beers.
Dullboy ($$)
View this post on Instagram
This cocktail lounge has one of the best patios in the city, perfect for sipping on a cocktail during the sunny days of summer. They have special events on a regular basis, including Punch Sundays, a special brunch menu with unique entree offerings and special cocktails that you can get in punch bowls. It's a great way to spend the day with friends.
---
Jersey City is seen as a commuter town to NYC, but that's not fair to the citizens and establishments who call it home. There is a lot to do here, and even more to eat and drink. Jersey City has a bit of everything from hole in the wall eateries to gourmet gastropubs. These establishments keep the area thriving and bring their communitiesPhoto by Tomas Martinez on Unsplash together. In that way, Jersey City is a lot like NYC. It's a bustling community that isn't afraid of expansion, experimentation, and showing off its talents. Jersey City is definitely worth a visit so bring your appetite and remember to tip your bartenders.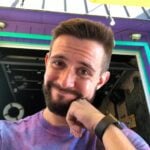 Russell is a writer and comic based in New York City. His plays have been featured at Penn State's Cultural Conversation's Festival, The NYC Thespis Festival, and Imaginarium's Inaugural Theater Festival. Follow him on TikTok and Instagram @pooleparty528