It is no secret that the five boroughs of New York are home to some of the most delicious Indian food that the continental U.S has to offer. London has a notably famous Indian restaurant scene, but New York City and the surrounding boroughs are on the rise to take the title.
Author Bobby Ghosh at Bloomberg beautifully articulates and outlines the ins and outs of London Indian restaurants versus New York, touching on some pretty vital information when it comes to seeking out the best Indian restaurants. The first thing to take note of is the lack of competition that takes place within the New York City Indian restaurant scene. Because there is not an overwhelming abundance of Indian restaurants that fill the streets, the demand for chefs is not as high. This means that owners are not taking random chefs in desperation to fill in their kitchens. The process of choosing who works where is a bit more meticulous which creates the foundation for better food. Also, famous chefs such as Floyd Cardoz and Jigar Mehta brought about smaller Indian fine-dining establishments within New York and inspired others to do the same. The domino effect proceeded to take place and thus birthed some of the most delicious, appetizing, and incredible Indian restaurants in New York state. 
On the topic of good Indian food, we should probably talk about what dishes are most common before we hop into restaurant recommendations. Travel writers Janice and George over at Sand in My Suitcase compiled a comprehensive list of suggestions based on popularity. First, they mention Biryani which is a classic Indian dish that consists of rice, meat, and/or vegetables. Next is butter chicken which is probably the most popular Indian curry dish. This is a mild curry sauce with onions, butter, cream, tomato, and chicken chunks. Butter chicken (prepared correctly, of course) is a dish that just melts on your tongue and rewards your tastebuds with something really special. This list would be nothing without the mention of Korma which could easily go head-to-head with butter chicken for subjectively the best thing to ever happen to Indian cuisine. Korma comes from northern India and is a braised meat dish that includes vegetables that are slow-cooked in a thick, mild curry sauce mixed with cream, coconut milk or yogurt, and sometimes almonds. Then, it is spiced with coriander, saffron, ginger, cardamom, and black peppercorn. Chefs will usually put their signature twists on Korma, so if it sounds as delightful to you as it does to me, I highly recommend ordering this delicacy. Last but not least, Samosas serve as a wonderful appetizer. This is a fried or baked pastry filled with spiced potatoes, peas, onions, and sometimes meat. Check out Janice and George's list for more. 
Let's hop into why you ultimately clicked on this article – our recommendations of a few of the most mouth-watering Indian restaurants within the five boroughs of New York. 
Best Indian Restaurants NYC
1.) Clove – 1592 Amsterdam Avenue
View this post on Instagram
With head chef Anil Ahmed in charge, customers are in for a real treat. As the higher-end cousin of Kismat, a lowkey storefront space that has been around since 1981, Clove offers a delicious Americanized take on traditional Indian dishes. Mixed into this intriguing manifestation and blending of cuisines, one could also receive plates that feature solely regional Indian cuisine. Interested in an Indian-inspired hamburger? This place is for you. 
2.) Doaba Deli – 945 Columbus Avenue
View this post on Instagram
The best restaurants are not always the most glamorous. This beloved spot has stolen the hearts of many New Yorkers for years. Opened by Inderjit Singh over 10 years ago, this no-frills joint serves some of the best Indian food around. With a plethora of vegetarian options, one could also find lamb, goat, or chicken curry available. The menu rotates daily, so don't try it out just once! 
3.) Jackson Diner – 37-47 74th Street
View this post on Instagram
It truly does not get better than this when it comes to Indian food. Jackson Diner stands out as one of the most famous Indian restaurants in all of New York. Opened in 1981, this spot offers a wide variety of traditional Northern Indian cuisine with a fantastic mixture of vegetarian and non-vegetarian dishes. If you visit for lunch you could have access to their much-adored buffet. 
4.) Adda Indian Canteen – 31-31 Thomson Avenue
View this post on Instagram
Located in Long Island City, Adda Indian Canteen is a funky little Indian spot with raving reviews. Started by Roni Mazumdar and Chintan Pandya, this restaurant is home to food from Mumbai, West Bengal, and other Northern Indian cities. Their most famous dish is the Lucknowi biryani which is topped with a mouthwatering pastry. With it being a relatively small space, the owners ensure the quality of their takeout food and put great effort into making it as good as eating it on-site.
5.) Jaz Indian Cuisine – 813 9th Avenue
View this post on Instagram
Lastly, we have one of the latest additions to the Hell's Kitchen dining scene. The owner, Jaz Rupall, started the restaurant after she noticed the success of her cooking classes, which she hosted in her own apartment for her guests during the pandemic. You can stop by today to check out the delicious assortment of dishes that Jaz and her team has to offer. Coming from work during lunch? Check out their two-course prix-fixe lunch menu with dishes that highlight the restaurant's homestyle, northern Indian cuisine. The prix fixe lunch menu is priced at $19.95 and will be available seven days a week from 12 pm – 3 pm. For those looking for additional things to do, Jaz is looking to resume her at-home cooking classes in the restaurant in the coming months!
Honorary mentions:
Cardamom (43-45 43rd Street)

Vatan (409 3rd Ave.)

Sahib (104 Lexington Ave.)

Sona (36 E. 20th St.)

Veeray de Dhaba (222 1st Ave.)

Usha Foods (

255-03 Hillside Avenue)

Angel (7414 37th Rd.)

Desi Galli (101 Lexington Ave.)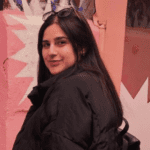 Carly is a freelance writer with interest in topics pertaining to lifestyle blogging, social justice, and anything to do with film/media. She graduated from the University of Wisconsin - Madison with a degree in English & Literary studies in hopes to write for a large music publication. When she is not writing, you can find her watching movies, cooking her famous Carbonara, and enjoying time outdoors.