As a Dairy State ex-pat, I came to New York with very high standards when it comes to ice cream—and the sheer quality and variety of options available in the city did not disappoint! For your convenience, CitySignal has amassed a starter's guide to the different kinds of frozen confections to be found in NYC and the best places to get your fix of each of them.
Regular Ice Cream in NYC
What is American Style Ice Cream?
This is the standard variety that most of us think of when imagining ice cream: a creamy solid that holds its shape once scooped. USDA standards dictate that ice cream must consist of at least 20% milk solids and 10% milkfat, but beyond that, there is plenty of room for riffing on the recipe: while New England style ice cream includes egg yolk, Philadelphia style is totally eggless. Other factors that impact taste and texture include the amount of air trapped in the ice cream as it churns and, of course, toppings and mix-ins.
Chinatown Ice Cream Factory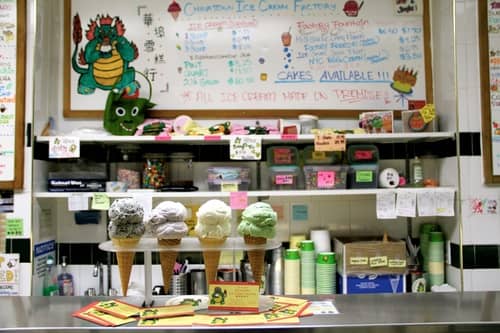 The family-run Chinatown Ice Cream Factory has been a staple on the Manhattan ice cream scene for over forty years. With regular flavors like Lychee, Red Bean, and Zen Butter and "exotic" flavors such as Oreo Cookie and Mocha Chip, Chinatown Ice Cream Factory provides tourists and lifelong New Yorkers alike with a chance to expand their palates while indulging in creamy goodness.
Ample Hills Creamery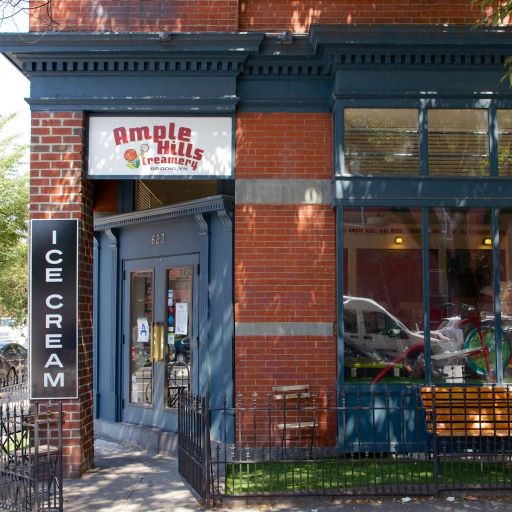 Ample Hills Creamery, with locations in Brooklyn, Queens, and Manhattan, offers another quintessential New York ice cream experience with rich, delicious flavors such as Pecan Be Heroes and Hopelessly Devoted to Moo pasteurized and churned at their factory (the largest in the city) right in Brooklyn's Red Hook.
Morgenstern's Finest Ice Cream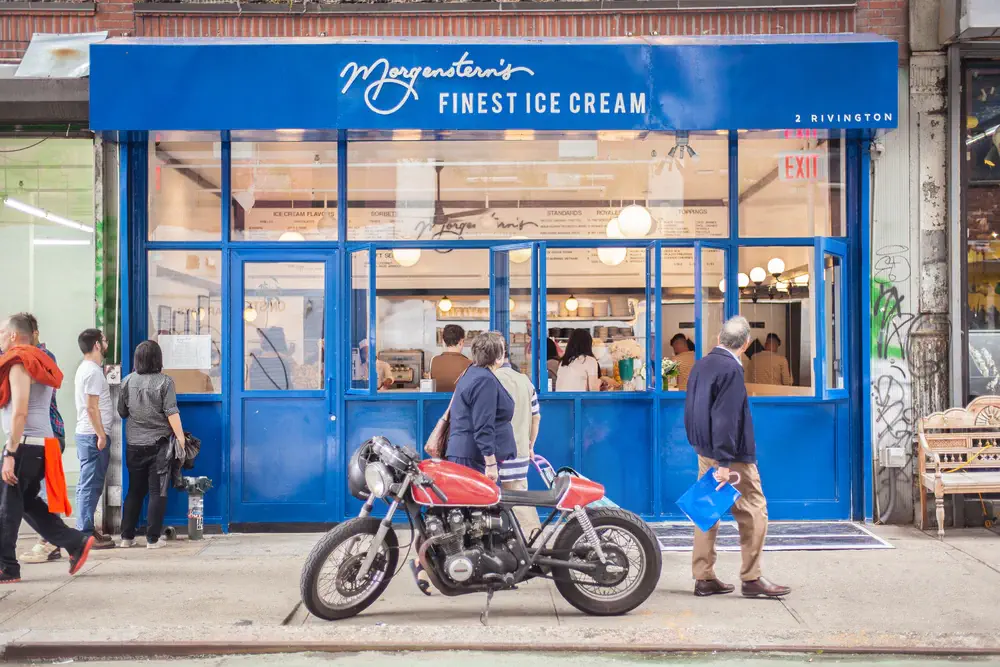 Morgenstern's Finest Ice Cream, which sells flavors like Olive Oil Chocolate Eggplant and Pineapple Salted Egg Yolk, takes itself a bit more seriously but still infuses joy in every bite. Found in Greenwich Village, this artisan ice cream parlor specializes in small-batch ice creams with distinct flavor profiles, all personally concocted by founder Nicholas Morgenstern.
Caff
è

Panna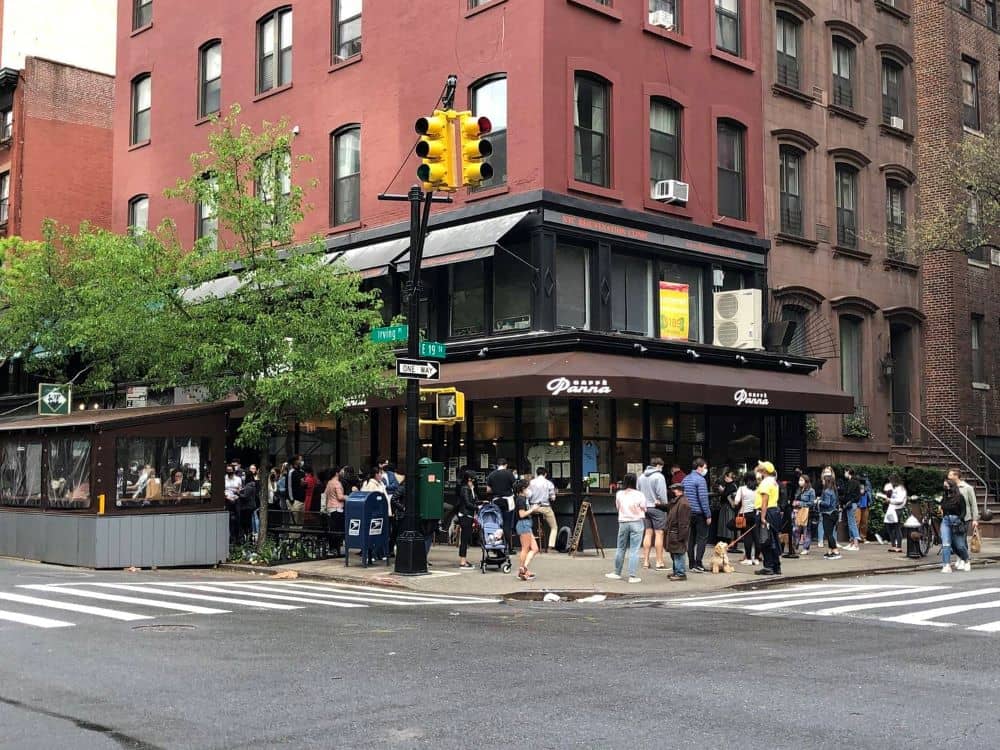 Gramercy's Caffè Panna takes this craftsman approach to even greater extremes: this ice cream parlor-meets-coffee shop is famous for importing many of its ingredients straight from Italy, including its eponymous panna, or Italian whipped cream. Favorite scoops off the menu include the coffee-infused Caffè Bianco Stracciatella and the strawberry-swirled Red Flag. 
Mikey Likes It Ice Cream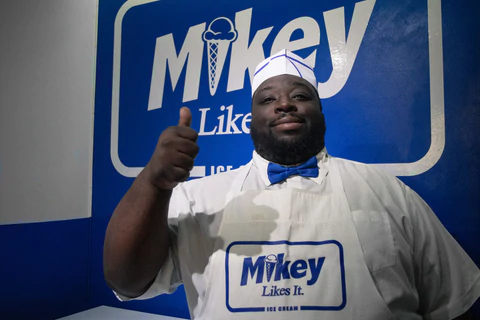 For a sweet treat with a sense of humor, swing by one of the locations of New York's famous Mikey Likes It ice cream shop in the East Village, Harlem, or Midtown. With its stores are festooned with cutouts of iconic celebrities' heads, Mikey's is known for riffing on pop culture—recent projects have included a collaboration with the hip-hop duo Tag Team on a flavor called Scoop! There it Is! and a triple-chocolate confection called the Victory Mac Daddy created by Mikey in honor of Hillary Clinton.
Davey's Ice Cream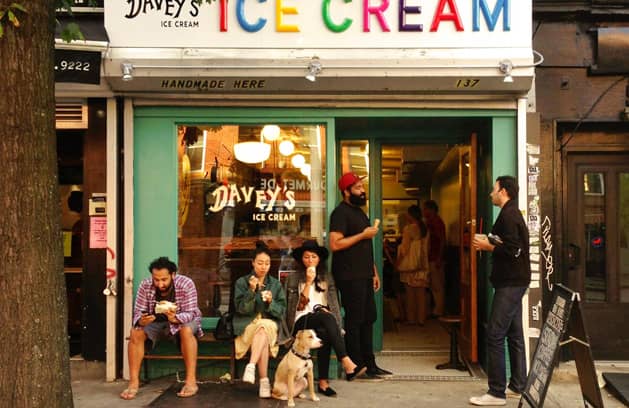 If you're as interested in mix-ins as you are in the base ice cream itself, then Davey's Ice Cream, based in Greenpoint, Brooklyn, is the place for you. Davey's is famous for collaborating with local bakeries to craft delicacies like waffle ice cream sandwiches and sundaes served atop an entire slice of pie. Whether you're pairing it with another dessert or just grabbing a solo scoop, be sure to try their Strong Coffee and Speculoos Chocolate Chip ice cream.
Best Soft Serve in NYC
What is Soft Serve?
Soft serve is very similar to traditional ice cream, but it has a lower fat content and is kept constantly churning in order to increase the amount of air in the mixture and preserve its soft texture (traditional ice cream is removed from the churn and allowed to harden as it cools). The result is a deliciously smooth and creamy treat.
Big Gay Ice Cream
No account of New York City's soft serve offerings would be complete without paying homage to Big Gay Ice Cream. An ice cream business that began as a food truck in 2009 and now has three locations across Manhattan, Big Gay Ice Cream is famous for its fun-loving flair. Crowd-pleasing treats include the cheekily-named Salty Pimp and the delectable dulce de leche Dorothy (christened after the beloved Golden Girls character).
Soft Swerve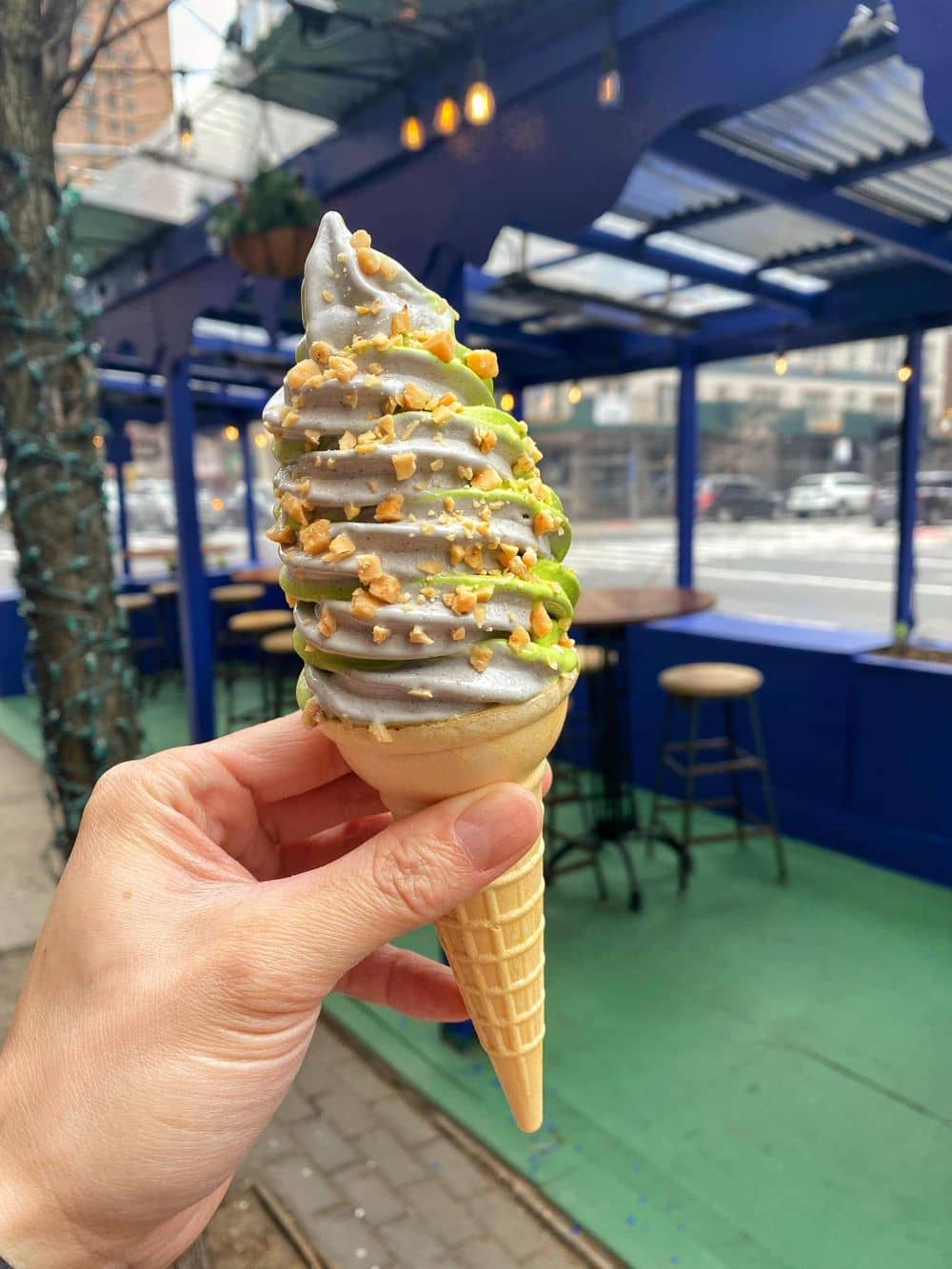 Another iconic New York staple is the Lower East Side's ever-funky Soft Swerve. Specializing in Asian-inspired flavors, including Thai Tea, Frozen Hot Chocolate, and their signature Ube Purple Yam with its lovely lilac hue, Soft Swerve also offers delicious toppings such as Fruity Pebbles cereal, freeze-dried strawberries, and mochi bites.
Milk Bar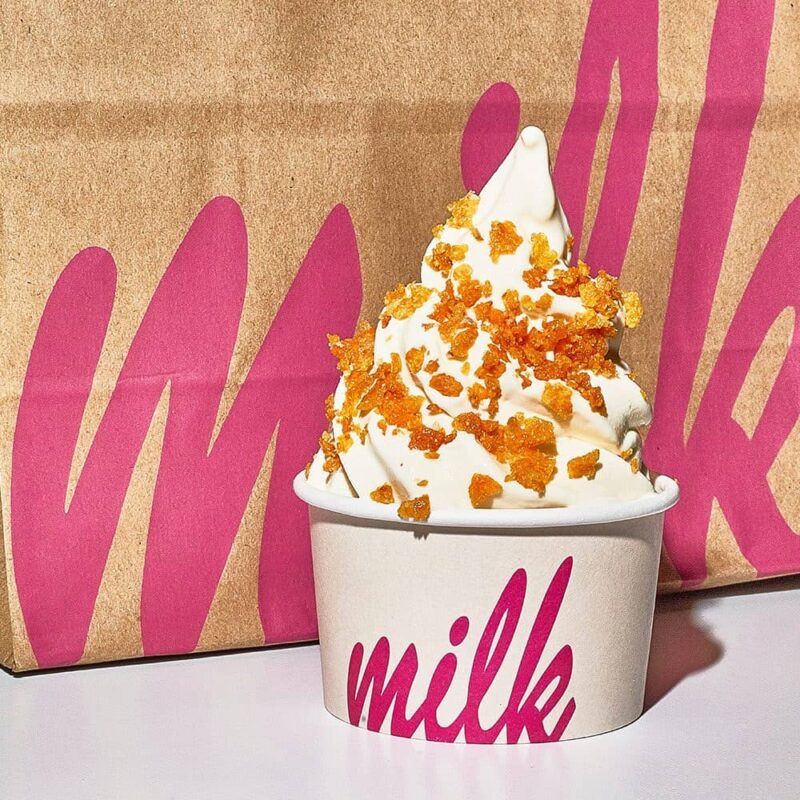 If you've jumped on the bandwagon of the "cereal milk" craze, New York has the perfect soft serve for you. While NYC's Milk Bar pioneered the trend over a decade ago and even went on to trademark its Cereal Milk™ Soft Serve, I prefer the more playful Milk & Cream Bar. Milk & Cream offers eighteen different flavors infused with classic cereals such as Apple Jacks, Cinnamon Toast Crunch, and Reese's Puffs in decadent cones festooned with cereal pieces, cookie chunks, and chocolate candies and drizzled with chocolate, jelly, or honey.
Taiyaki NYC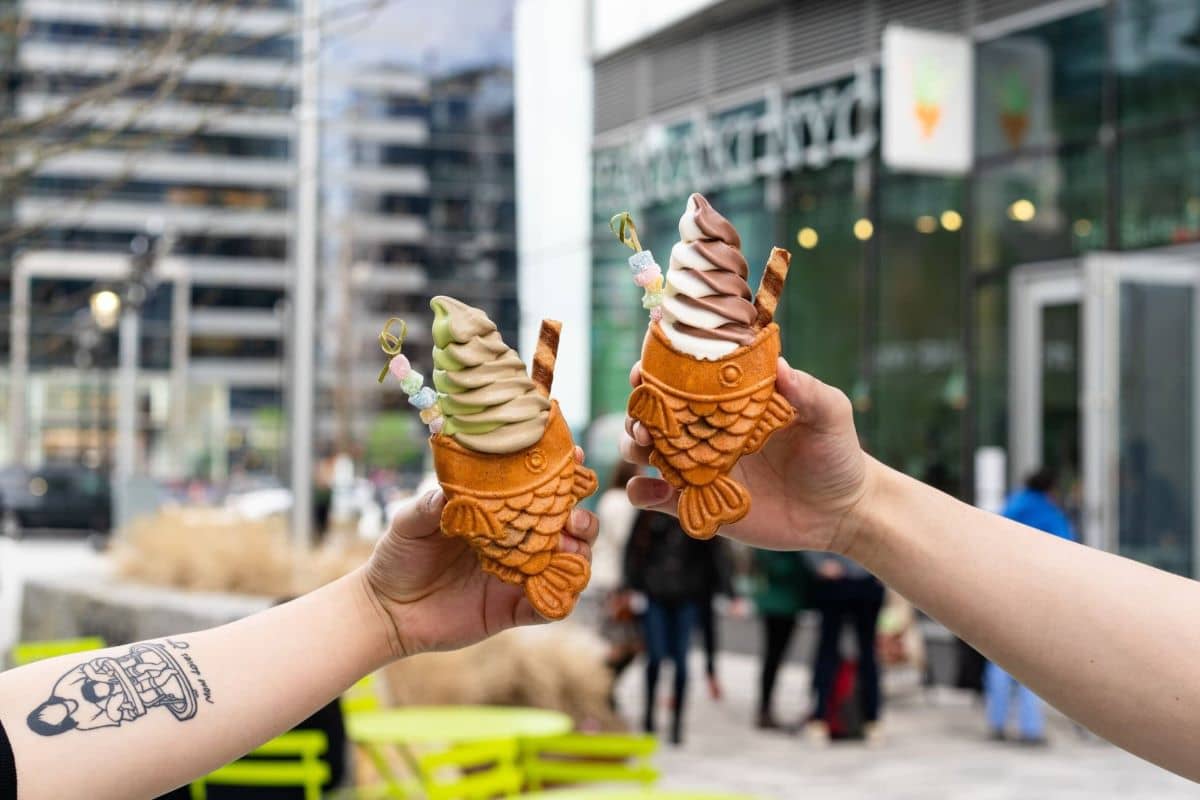 For an eminently Instagrammable soft serve, be sure to hit one of Taiyaki NYC's locations in Chinatown, Williamsburg, or Flushing. Inspired by Japanese culture, Taiyaki presents their soft serve in a fish-shaped cone reminiscent of the traditional taiyaki pastries sold as street fare in Japan. Their soft serve—which features flavors like Matcha and Black Sesame—come topped with a wafer stick and mini mochi cakes, while the cone itself is loaded with a center of red bean paste or custard.
Surreal Creamery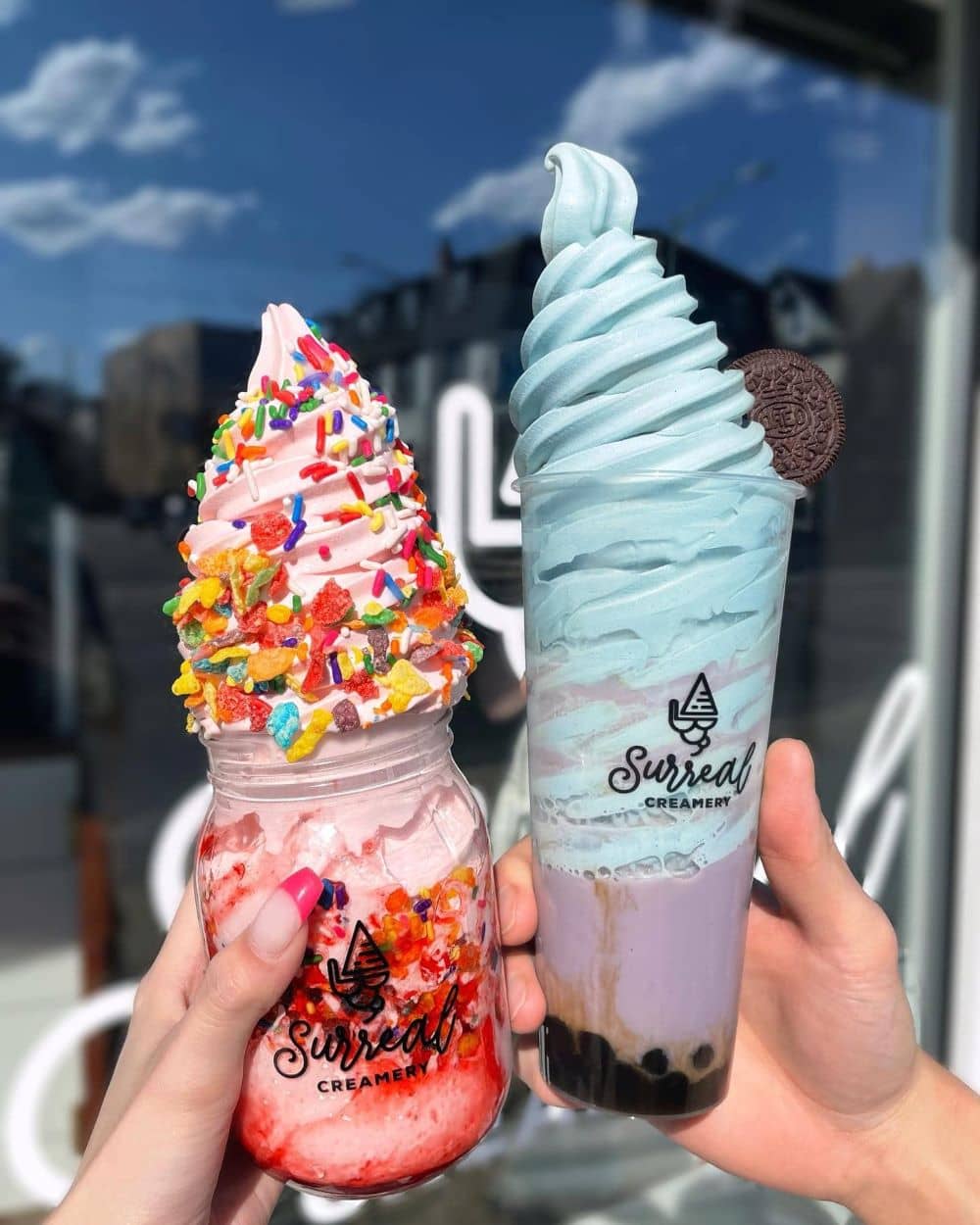 Another twist on soft serve presentation can be found at Surreal Creamery, which boasts two Manhattan locations. They are best known for their outrageous mason jar sundaes as well as their "floteas," a fanciful fusion of bubble tea and soft serve. Popular combinations include brown sugar bubble tea and Earl Gray ice cream, taro bubble tea and Matcha ice cream, and Thai milk bubble tea and Vietnamese Iced Coffee ice cream.
Try Gelato in NYC
What is Gelato?
Gelato, an Italian delicacy, has a few distinct differences from its American counterpart. It is churned more slowly than traditional ice cream, resulting in reduced airflow and thus a denser texture. The big difference in taste, however, comes from gelato's lower fat content. By using a higher proportion of milk than cream and skipping out on egg yolks entirely, gelato allows for a more distinct flavor palate unclouded by excess butterfat. Purists will also insist that it be served at a warmer temperature: gelato is meant to sit out for 10-15 minutes before serving to achieve the perfect texture and creamiest flavor.
Il Laboratorio Del Gelato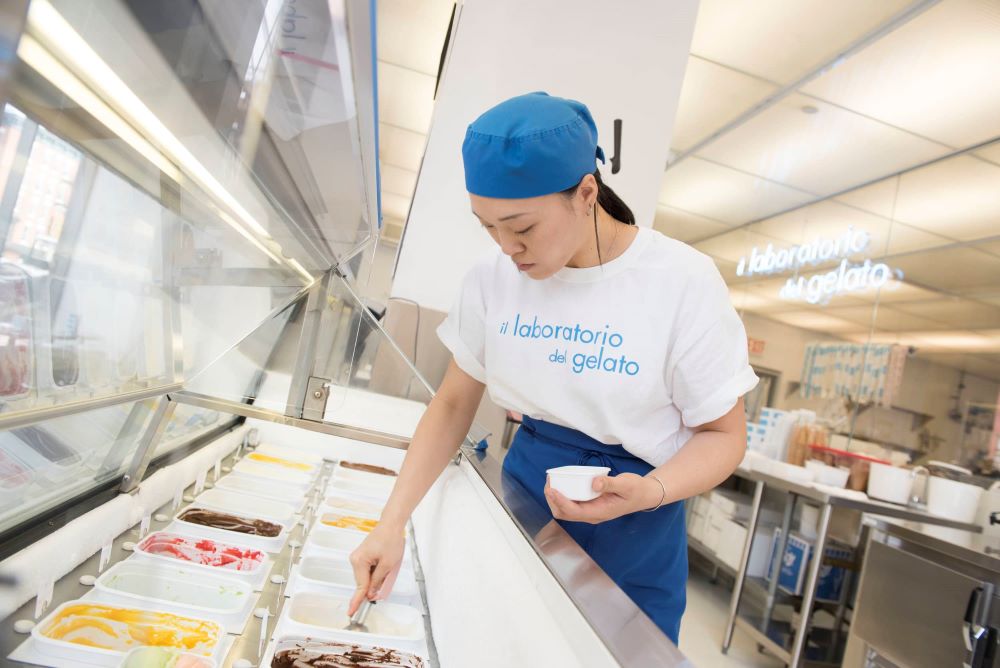 This year, Il Laboratorio Del Gelato is celebrating two decades of being one of NYC's premiere gelato outposts. While one of their primary focuses is on serving as a wholesale outlet of premiere gelato for restaurants across the city, each of their retail locations in Greenwich and the Lower East Side offer 48 different varieties of gelato by the scoop for walk-in customers. Flavors are rotated multiple times per day, so you never know what you're going to find!
L'Arte del Gelato
For another gelato experience that prioritizes authenticity, try L'Arte del Gelato, whose permanent locations can be found in Chelsea Market and the World Trade Center's Oculus Plaza. The brainchild of Sicilian-born Francesco Realmuto, the company draws inspiration from the vintage gelaterias of the 1970s and prides itself on making its gelato fresh every day from the finest traditional ingredients. Favorite flavors include the chocolate hazelnut Gianduia and the bitter almond Amaretto. 
Amorino Gelato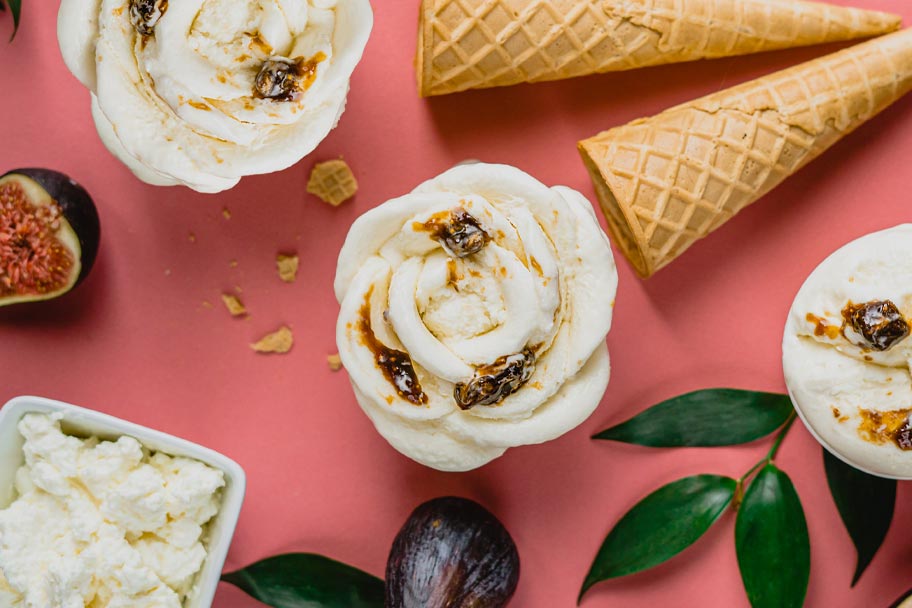 Amorino Gelato, a French-based gelato chain, currently has three of its celebrated outposts in New York: one in Greenwich Village, one in Times Square, and one on the Upper West Side. Amorino is famous for serving its gelato in the shape of a rose, creating a charming treat that looks just as good as it tastes. Italian-born founders and childhood friends Cristiano Sereni and Paolo Benassi list Pistachio Sublime and Amarena Cherry as their favorites among Amorino's 27 flavors of gelato.
Screme Gelato Bar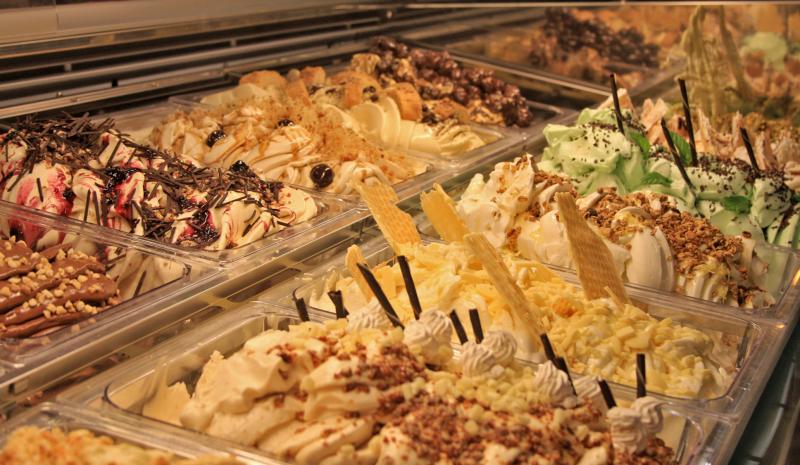 One of the city's hidden gelato gems is Screme Gelato Bar on the Upper West Side. Screme puts a creative international twist on their gelato, combining Italian techniques with American flavor palates to create flavors like Mojito, Twix, and Guinness and Dark Chocolate. As a bonus, Screme's gelato is certified kosher and its sorbet is certified parve.
Best Sherbet/Sorbet in NYC
What is the difference between Sherbet and Sorbet?
The distinction between sherbet and sorbet is quite simple: sherbet is made from a base of frozen fruit and incorporates milk, cream, and/or egg whites for a creamier taste, while sorbet does not include any dairy products and thus has a lighter, cleaner flavor.
Chloe's Soft Serve Fruit Co.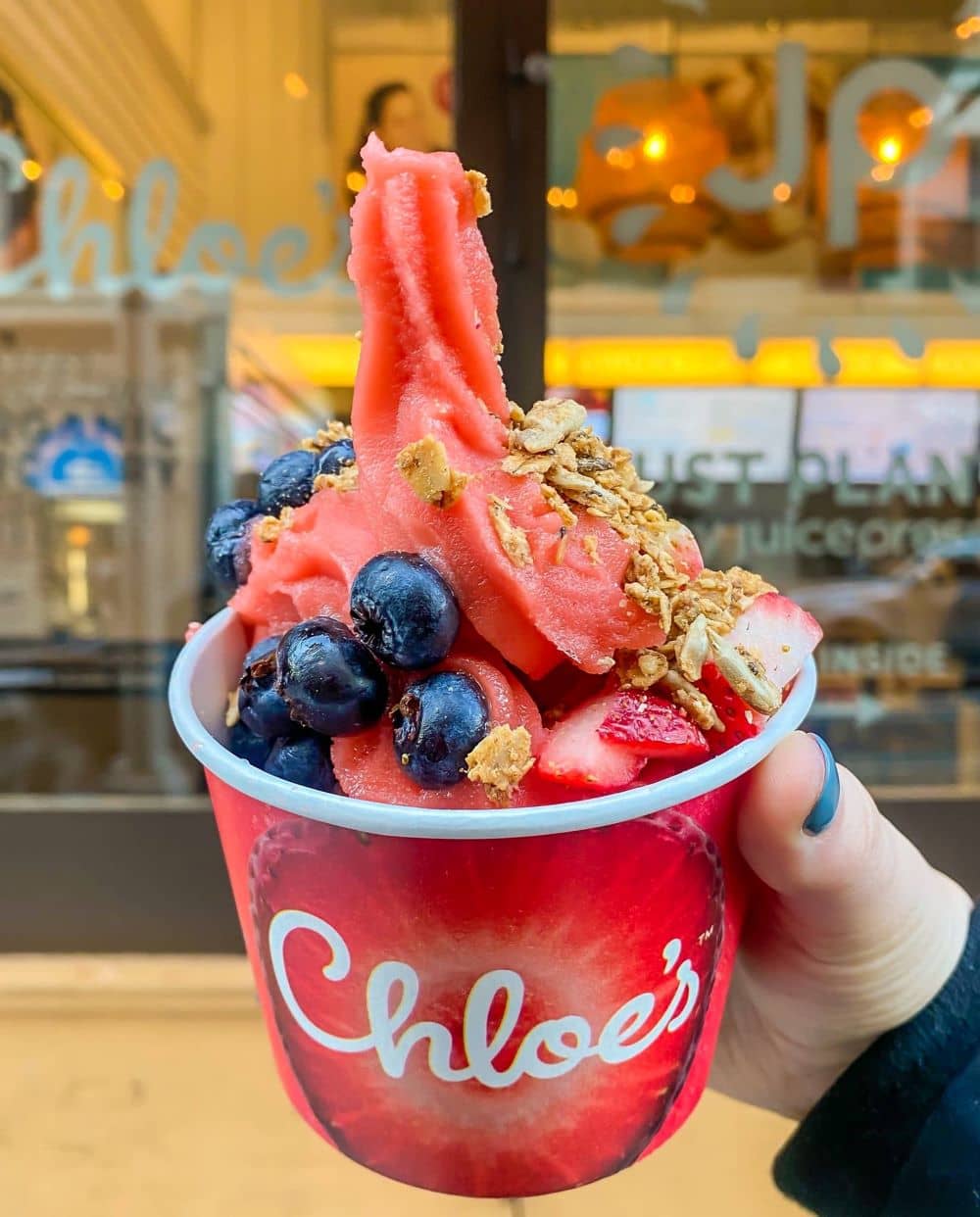 Chloe's Soft Serve Fruit Co. prides itself on stripping sorbet down to its purest and most minimalistic form by only using three ingredients—fruit, water, and cane sugar—and presenting it soft serve-style. While Chloe's has gone one to become a nationwide brand, you can still swing by the company's first brick-and-mortar store in Union Square (now shared with a Juice Press) to try their signature banana, mango, and chocolate flavors.
Cones Artisanal Ice Cream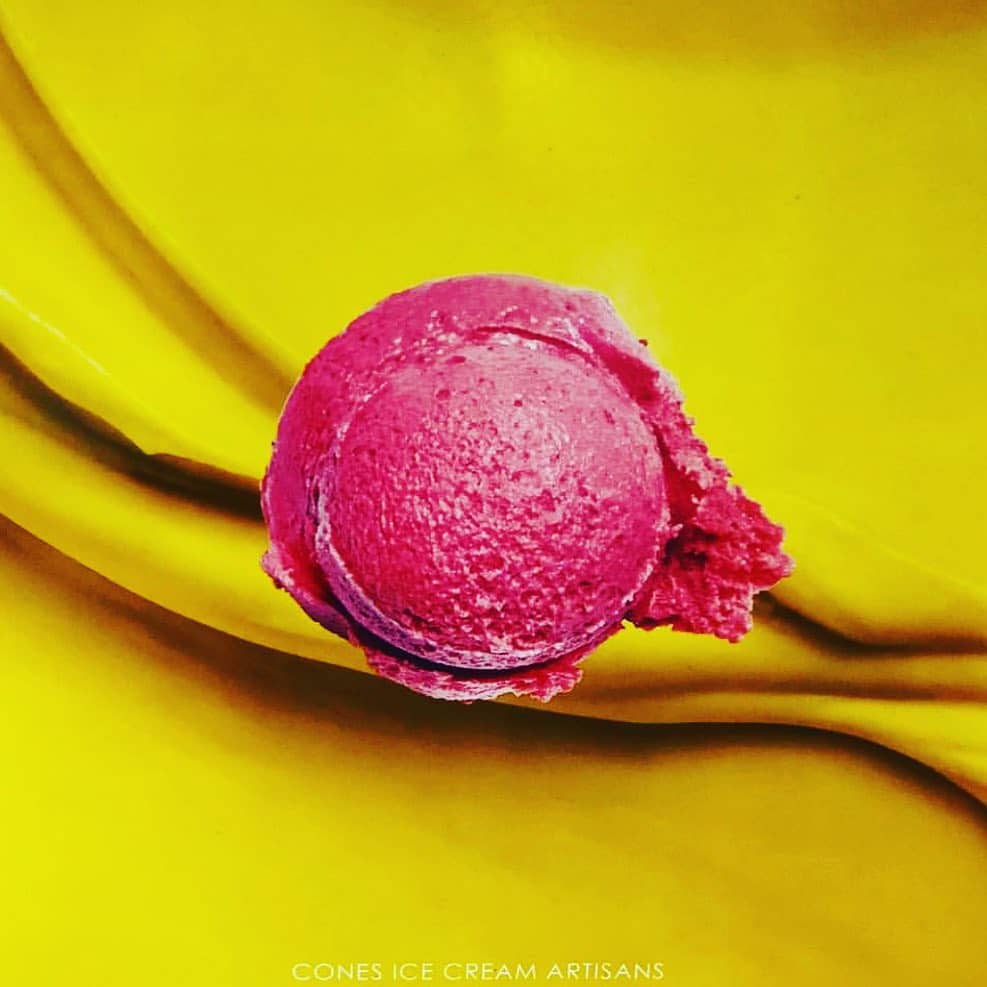 Alongside its impressive traditional ice cream varieties, Greenwich Village's Cones Artisanal Ice Cream offers a scrumptious array of sorbet flavors including Lychee, Chocolate, Passionfruit, and Watermelon. One of their more unusual menu items is Corn ice cream—perhaps they'll devise a corn-based gelato someday as well!
Sundaes & Cones
Sherbet is becoming increasingly difficult to find as more and more ice cream choose instead to stock sorbet as a dairy-free alternative for their vegan and lactose intolerant customers. However, the always-popular Sundaes & Cones in the East Village still includes a few sherbet flavors such as Honeydew, Coconut, and Black Raspberry. 
NYC Locations for Frozen Custard & Yogurt
What is Frozen Custard vs Frozen Yogurt?
Frozen custard isn't so much a delicacy as it is a way of life in my native Wisconsin. The main difference between frozen custard and traditional ice cream is egg yolk: ice cream must consist of less than 1.4% egg yolk, while frozen custard must consist of more than 1.4%. Frozen custard also has less air beaten into it during the mixing process, resulting in a thicker and richer texture. Frozen yogurt, on the other hand, does away with both egg yolks and cream and instead uses cultured yogurt as a base.
Rita's Italian Ice & Frozen Custard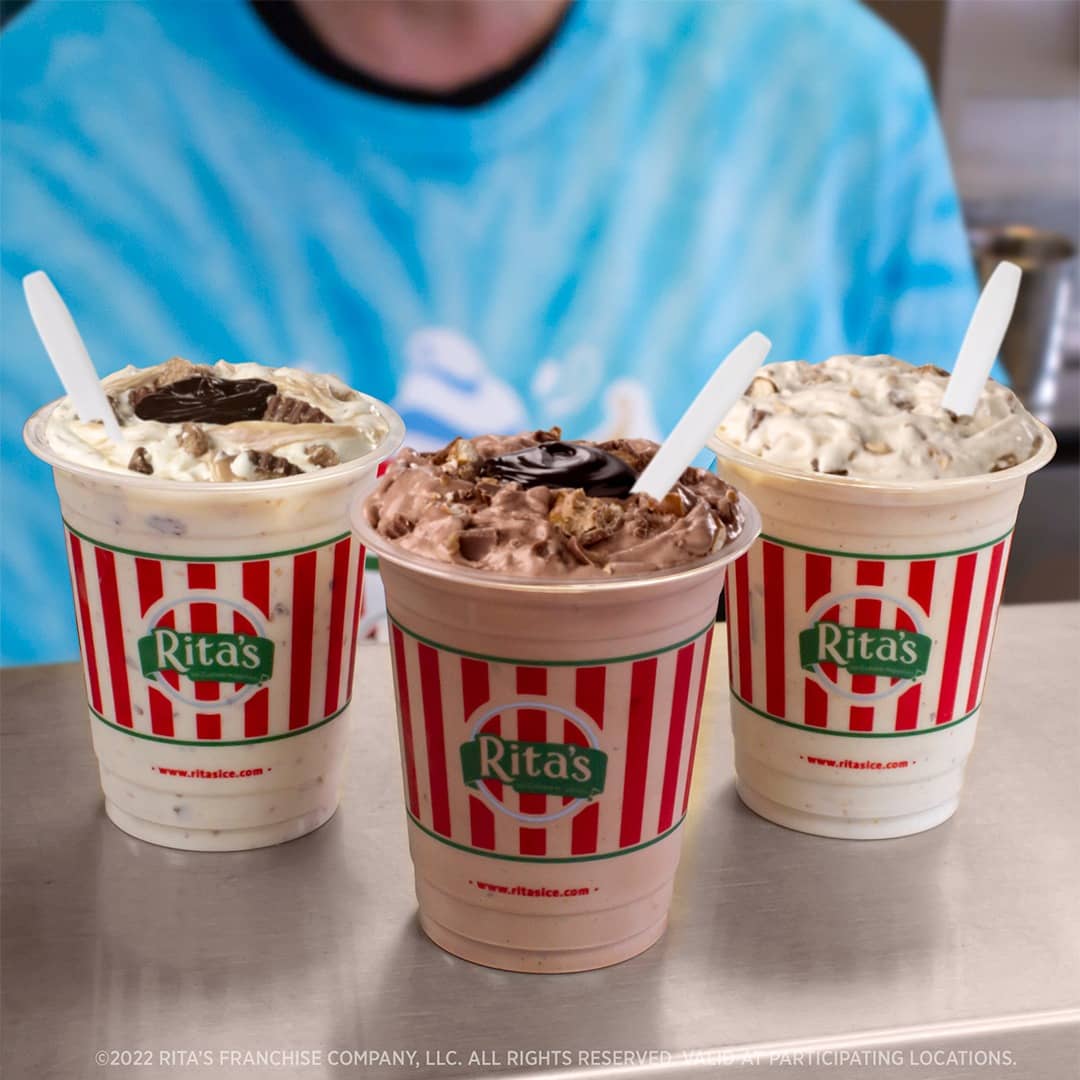 Shake Shack has something of a stranglehold on NYC's frozen custard market, but if you're looking for another option, try checking out Rita's Italian Ice & Frozen Custard at Whitehall Ferry Terminal or their several locations in Brooklyn. They put an Italian twist on this Midwestern staple and serve fun flavors such as PB&J, Spumoni, and Cotton Candy Confetti.
Culture: An American Yogurt Company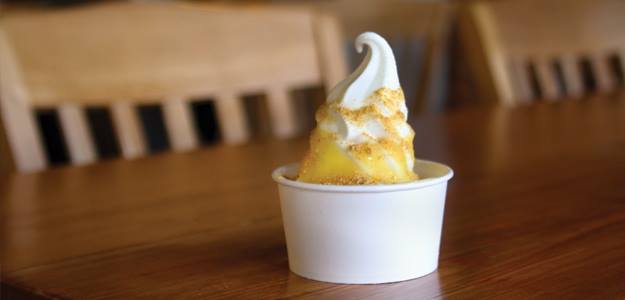 Froyo has become a bit more scarce as the Pinkberry craze is slowly dying down, but high-quality frozen yogurt can still be enjoyed at independent shops such as Culture: An American Yogurt Company, found in Greenwich Village and Park Slope. Their yogurt is made fresh in-house with specially-selected probiotic cultures and local dairy. Flavors, which are updated daily on Culture's Twitter account, include White Peach, Unsweetened Banana, and Nutella.
Other Nontraditional Ice Creams
Whipped Urban Dessert Lab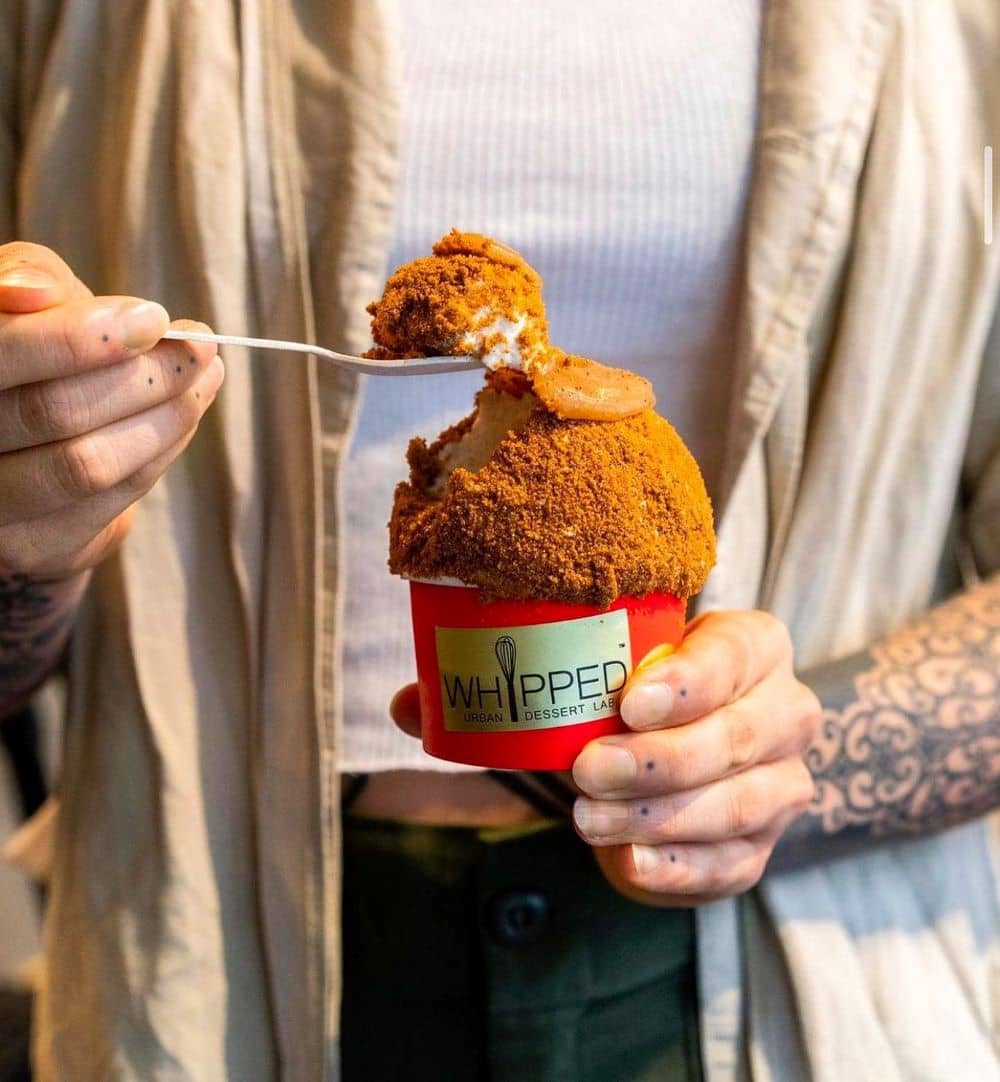 New York is home to dozens of different ice cream hybrids and spinoffs that defy categorization entirely. One example is Whipped Urban Dessert Lab, found on Manhattan's Lower East Side. A Black-owned business that brands itself as the world's first oat milk "ice crème" shop, all of their base ice crèmes are free of dairy, egg, nuts, soy, and gluten to make a delicious dessert accessible for all dietary restrictions.
La New Yorkina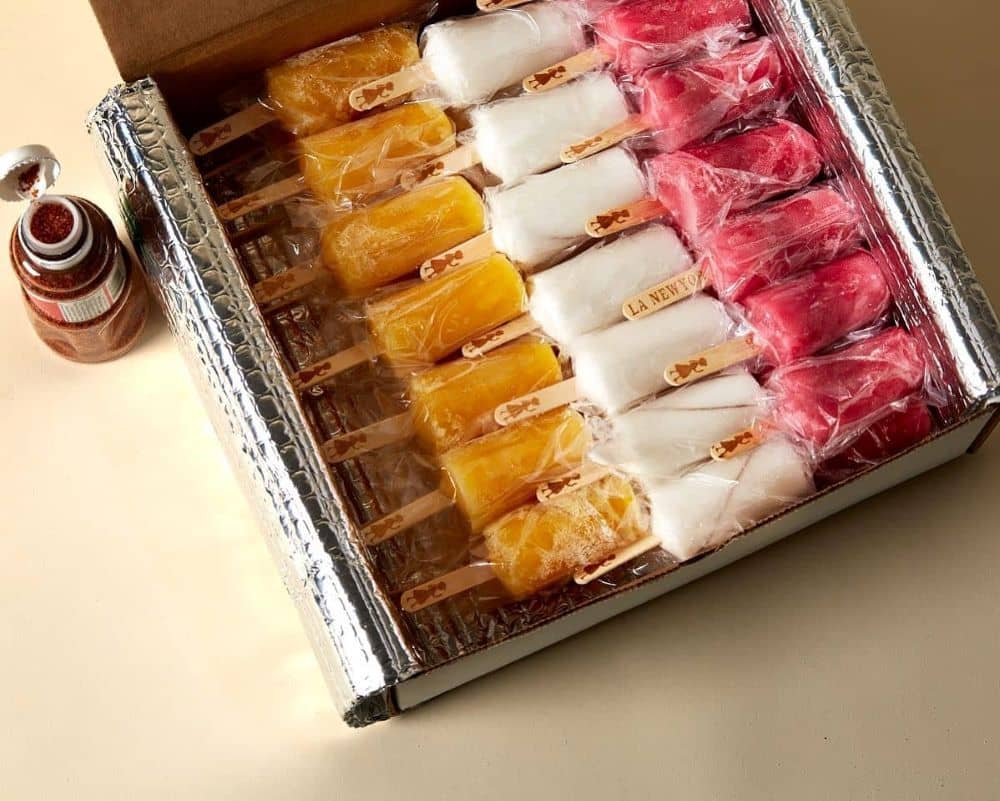 Manhattan's beloved La Newyorkina offers a Mexican-inspired riff on ice cream and frozen treats. Alongside their Horchata and Queso Fresco ice creams, they are especially known for their Paletas and Paletitas (colorful frozen popsicles made with fresh fruit).
Rolling Cremè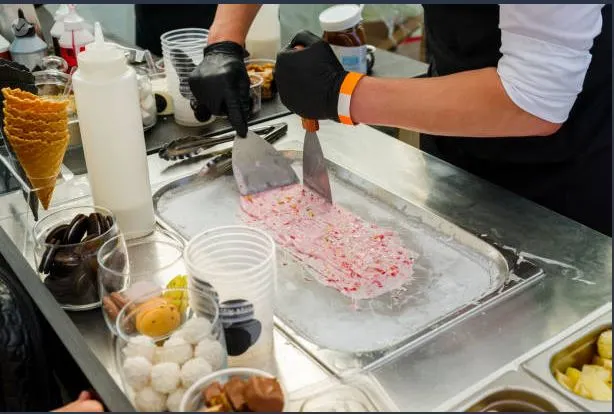 If you're bored of eating ice cream in scoop or soft serve form, you can always try it rolled! Having originated in Thailand, rolled ice cream is created by melting traditional ice cream, pouring it onto a cold flat surface, allowing it to refreeze, and then scraping it up into a roll using a metal spatula. Though the famous 10Below is now closed, you can still visit Rolling Cremè in Brooklyn to get your fix. 
Sam's Fried Ice Cream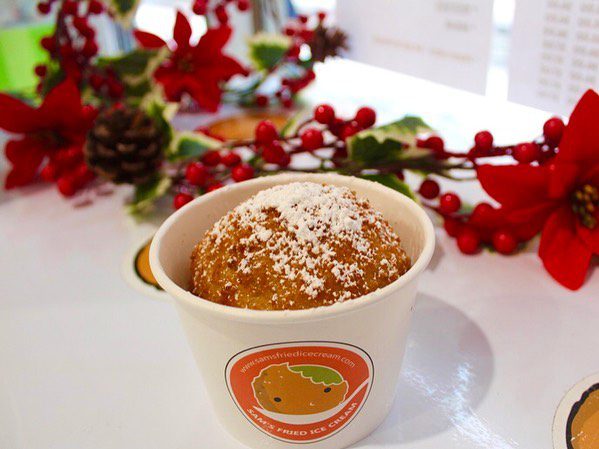 Fried ice cream sounds like a scientific impossibility, but Sam's Fried Ice Cream in Chinatown has been perfecting this bizarre culinary art since 2011. Fried ice cream must be rolled in its breading, left to freeze overnight, and then very quickly fried to create a crispy shell without melting too much of the ice cream inside. Ice cream flavors at Sam's include Green Tea, Blueberry Cheesecake, and Strawberry, which can then be coated in a crust of bread crumbs, breakfast cereal bits, or Oreo crumbles.
Tipsy Scoop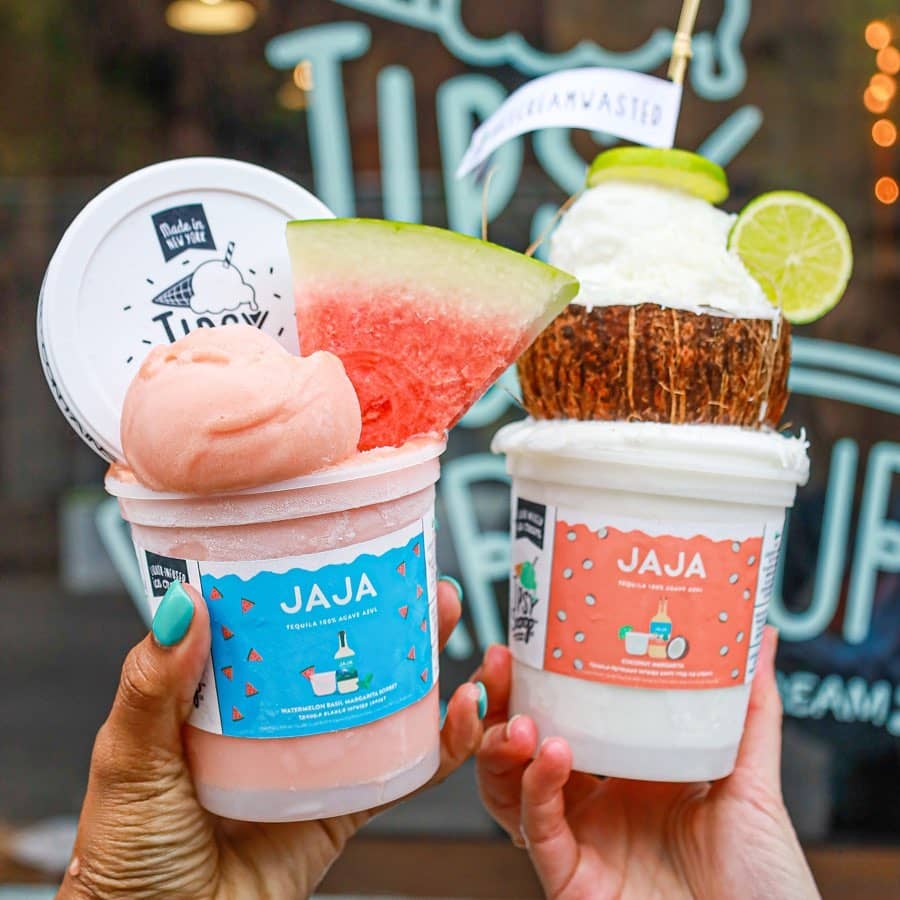 Those in the mood for a more adult sort of indulgence should be sure to stop by one of Tipsy Scoop's "barlours" in Kip's Bay and Williamsburg. Their ice creams—which come with names like Vanilla Bean Bourbon, Spiked Hazelnut Coffee, and Skrewball Peanut Butter Whiskey—are infused with alcohol for a buzz that goes well beyond your average sugar rush. They also offer vegan sorbets so that everyone can get in on the fun!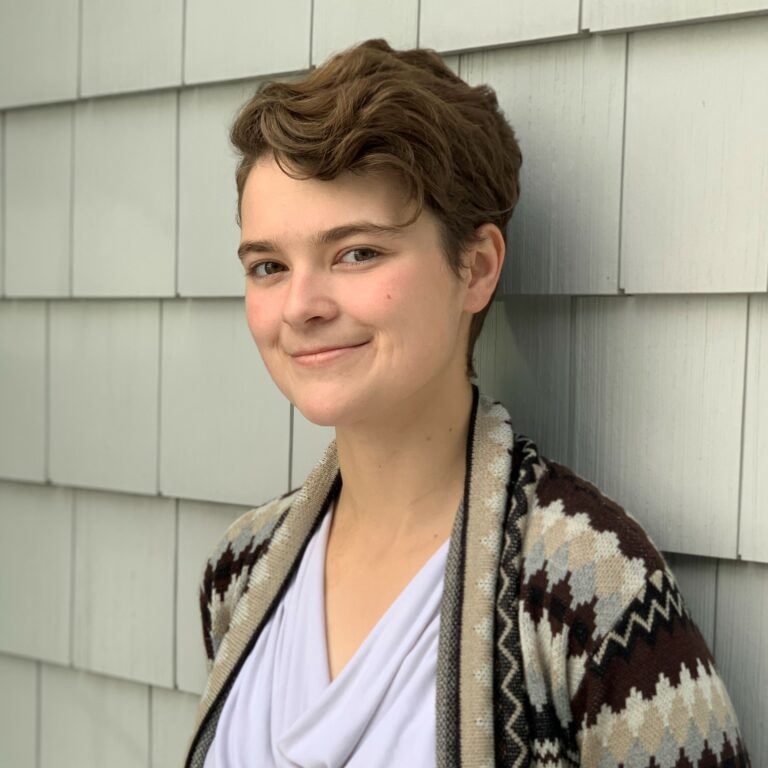 Sophie McIntosh is a Brooklyn-based writer and dramaturg hailing from Sun Prairie, Wisconsin. Her plays have been produced by Imaginarium Theatre Company, Platform Production Company, and in the Boston Theater Marathon. Check out more of her work at sophiemcintoshwrites.com!