Art inspires us. It rejuvenates and touches our deepest emotions. Its expression reaches deep inside our souls and pulls out the best and worst of humanity. Art confronts, educates, expands boundaries, and forces creativity, making us come alive. New York City offers an impressive array of art and culture to breathe life into our post-pandemic world once again. So let us celebrate life post-Covidion.
It is worth noting that most museums are still at reduced capacity and sell timed-entry tickets, so plan.
The MET offers exhibits showcasing art from all over the globe and human history. Since its' founding in 1870, MET's Modern and Contemporary Art collects the work of living artists and houses works from notables such as Balthus, Braque, Matisse, Miró, Modigliani, Picasso, O'Keeffe, Marin, Pollock, and Rothko. The iconic Fifth Avenue building welcomes art/architecture lovers and offers its' space for hosting events. Online reservation required, "pay what you wish" available for New York residents.
The Guggenheim (a personal favorite) offers an intimate experience that rejuvenates your soul. Build by Frank Lloyd Wright in 1955-1959; the museum offers an immersive experience comparable to being inside a giant snail. Visitors can stroll from the top of the snail and visit exhibits. This unique gem accomplishes the impossible by offering a uniquely intimate experience (seemingly impossible in the great city) alongside comprehensive permanent and visiting collections. We are all looking forward to the upcoming Kandinsky exhibition (opening October 8).
Select Saturdays (4-6 pm) offer "pay what you wish" admission.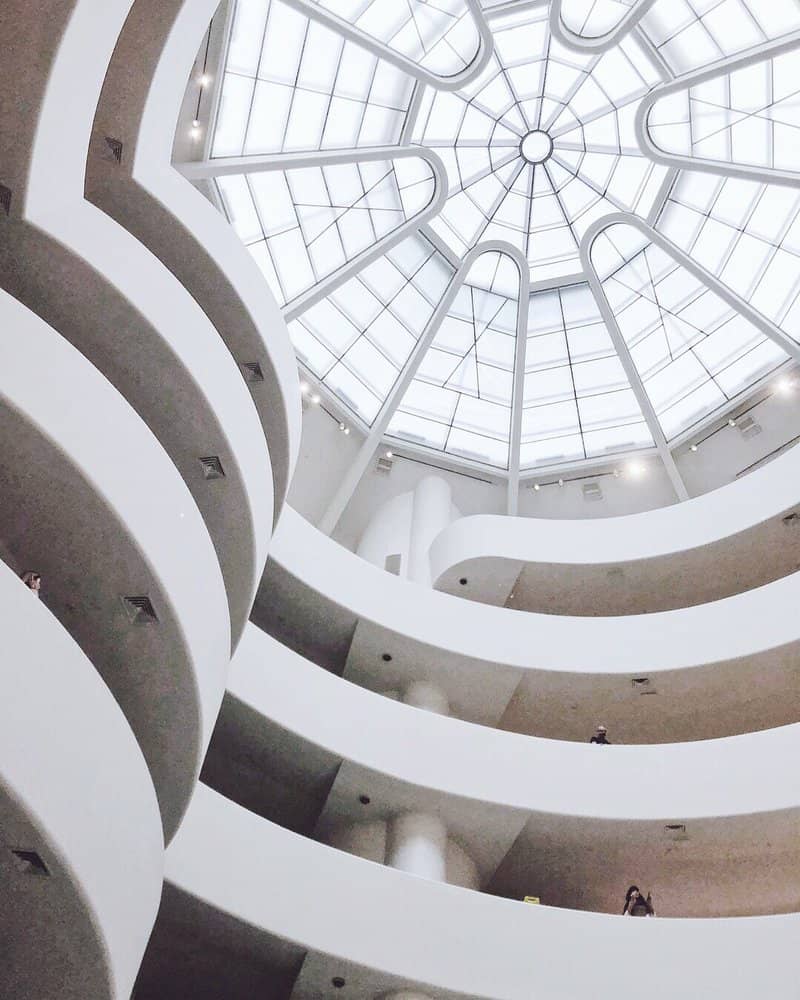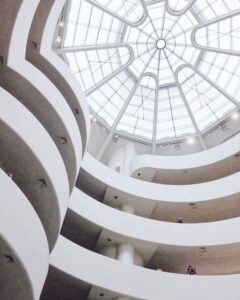 It is a blessing that MOMA offers a restaurant with well-stocked wine options. Akin to a camping experience, plan on spending much time here. The massive, midtown structure features permanent and traveling collections. Current traveling exhibits feature Cézanne, Calder, Saint Phalle, Bordowitz, Johnson, Crawford, and Brazilian modernist photography.
The New Museum is on a mission to present culturally relevant work that spans across mediums. Currently featured exhibit themes include Hershman Leeson film (examining the intersection between technology and the human-self), Atkins (a collaboration between art and technology), and Wong (animation, self-expression, and art). In addition, New Museum partners with known companies in initiatives to aid community advancement and bring art/culture to everyone.
David Zwirner collaborates with an extensive list of world-renowned artists. In addition, the gallery self-publishes books on each artist to contribute to our experience. The current exhibition is Past into Present, by Bridget Riley. Reservations are recommended but not required.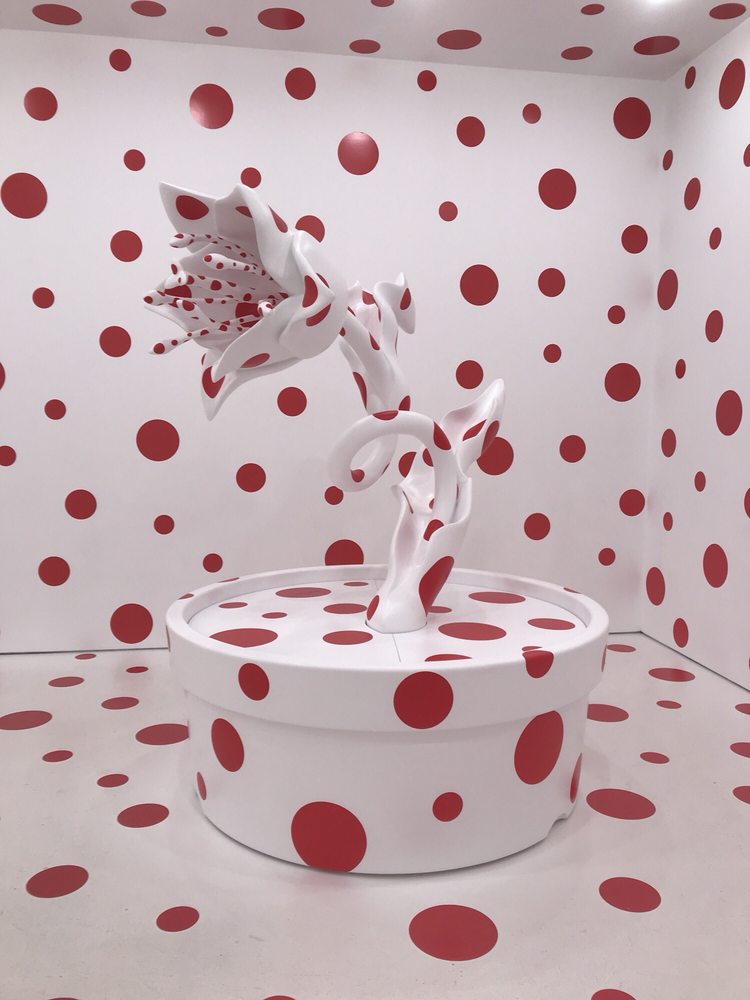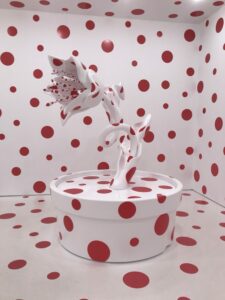 The Brooklyn Museum's mission is to educate, entertain and inspire by offering exhibits and educational/interactive/recreational events. Brooklyn Museum is an all-age, family-friendly establishment. Currently, exhibits include Modern Gothic (furniture art), KAWS: What a Party (mixed-medium art and sculpture), The Slipstream (Reflection, Resilience, and Resistance in the Art of Our Time), Nick Cave (Truth be Told, dealing with political/society paradoxes), John Edmonds (A Sidelong Glance, photography/digital media by the local Brooklyn artist), Climate in Crisis, and Design (1880 to Now). Masks required.
Now showing: Dawoud Bey, An American Project (photography), Dave McKenzie's The Story I Tell Myself, Making Knowing: Craft in Art, 1950–2019 (artistic process examination of sixty artists), and The Whitney Collection (over 120 selected works from the permanent collection, 1900-1965). In addition, the Whitney Museum offers a unique experience through online portal access to digital galleries and their commissions.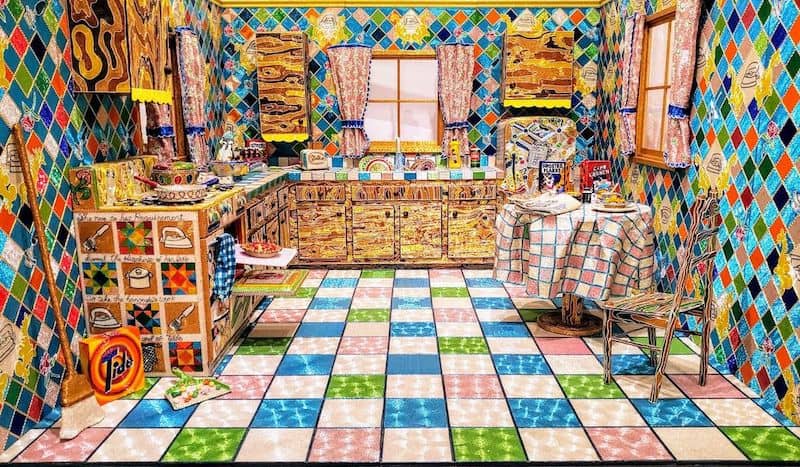 One of the more captivating pieces, titled "Kitchen", by Liza Lou.  A seemingly ordinary kitchen scene is actually made entirely of thousands of beads (and 5 years of effort).  Even the broom, tide box, and free-standing cereal boxes are made of beads.
The legendary Martha Graham shaped American dance, and her influence is world-renowned. Her philosophy was to turn inwards for inspiration. Rather than superimpose interpretation onto already existing music/story, she would start with the inner world of emotion/energy and tailor the choreography around this inner world. She mentored many artists, including the famed Mikhail Baryshnikov. Her influence spans artistic genres (dance, music, cinema, and more). Martha Graham Dance Center continues her mission and regularly commissions work of contemporary artists, offering audiences multiple entrance points into the artistic world.
Mikhail Baryshnikov (famous Latvian ballet dancer/choreographer) opened the center, a platform where rising stars can experiment and develop ideas. These residencies culminate in artistic works showcased at the center. BAC showcases performances across multiple art forms and even featured classical musicians, like the renowned Gideon Kramer. In addition, BAC offers a free arts education program for NYC public high school students. The new season schedule is TBA, so stay tuned!
We have a new, exciting presence in the artistic world. The Ronald O. Perelman Performing Arts Center (PAC) will showcase theater, music, dance, opera, film, and media with a mission to inspire and unite. The expected opening date is 2023.