Scorching New York Summer is upon us yet again and, in the thick of it, you can look up at the glittering skyscrapers and realize that shine is just from the heat waves coming off the pavement.
Rather than cook like an egg on the sidewalk, many opt to dig for the select sources of solace in the city. But when the shade of the parks just doesn't cut it in mid-July, you will itch to ditch Madison Avenue for ocean spray and a thick, temperate gust of wind off the waves refreshing enough to satisfy the homesick Darryl Hannah in Splash.
It's a fact that New York's boroughs all have beaches – Manhattan excluded. Locals typically visit beaches in the area rather than in the city's busier places. But after venturing to each of these fabulous beaches myself, I am aiming to change that perspective and help my fellow New Yorkers branch out for the beauty of their neighbors!
We think of a few big names when we think of New York beaches. After all, at least ten films have been set around Coney Island alone (think Warriors to Beaches to Requiem for A Dream) and while I of course have to talk about that powerhouse, there are so many gems I've discovered besides.
Let us jump right into the eight amazing beaches of New York City I've explored starting with Staten Island. While often overlooked for its distance from the other four boroughs, amongst other reasons, the home of our beloved Working Girl is not to be slept on. In fact, it has more beaches than any of the other boroughs, making it a great place to explore new horizons for the summer.
South Beach, Staten Island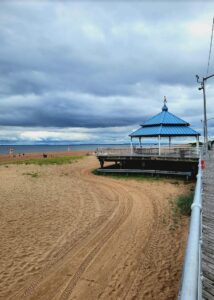 What's lovable about this beach is the full "experience" that comes with the journey. Sure you could take the highway bus from Brooklyn, but if you're coming from anywhere else or just looking for a fun layer of travel, take the Staten Island Ferry out of Manhattan.
It's free to board and has amazing views of the Statue of Liberty along the way (you won't have to pay for the tour boat this time!) There is just something about seeing the gleaming skyline in the summer from a misty ferry that makes you feel like Fievel Mousekewitz, destined for adventure Americana.
Once there, you can walk the Roosevelt Boardwalk — built to create jobs and revitalize the city during the depression — and enjoy the concessions and pretty views of the Atlantic and Brooklyn. It is a little more secluded than other beaches in this list but the town is just a bus ride away with metro access and lots of shopping.
Midland Beach, Staten Island
Next, we have Midland Beach, which borders South Beach. A similar look of course but being a few miles further down the coast you receive more unobstructed ocean views and natural foliage.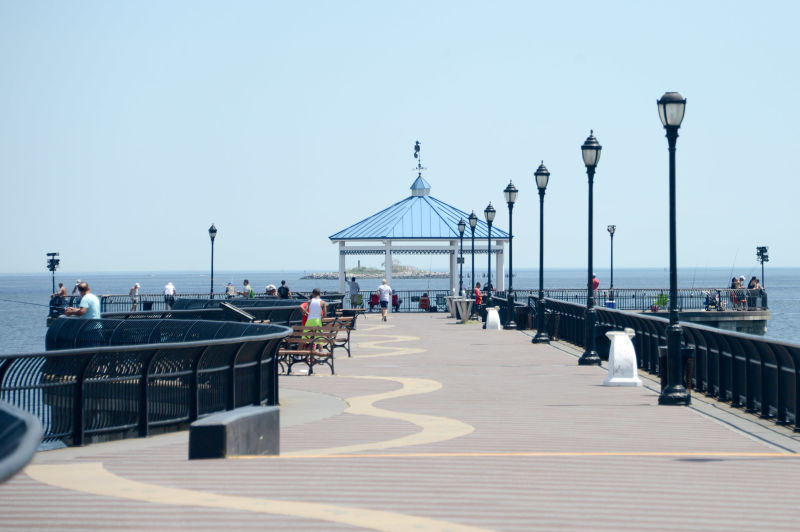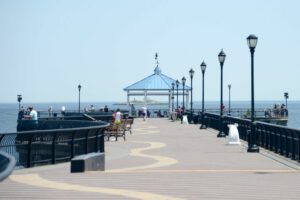 This beach also hosts Ocean Breeze Pier, which is the largest recreational steel pier on the Atlantic. A perfect spot for fishing and netting, you are likely to see a larger catch here. (I witnessed a few personally just in my time visiting.)
Even on a cloudy day, you will find this beach has a moody, Jane Austen-esque romance for weddings and lover's strolls. The local town is much closer here and there are options for buying lots near the sea.
Also, do not pass up the opportunity to try the best BBQ I've had since leaving the South. It can be found here at the award-winning Juicy Lucy's, which also hosts a drive-in movie theater from its parking lot.
Rockaway Beach, Queens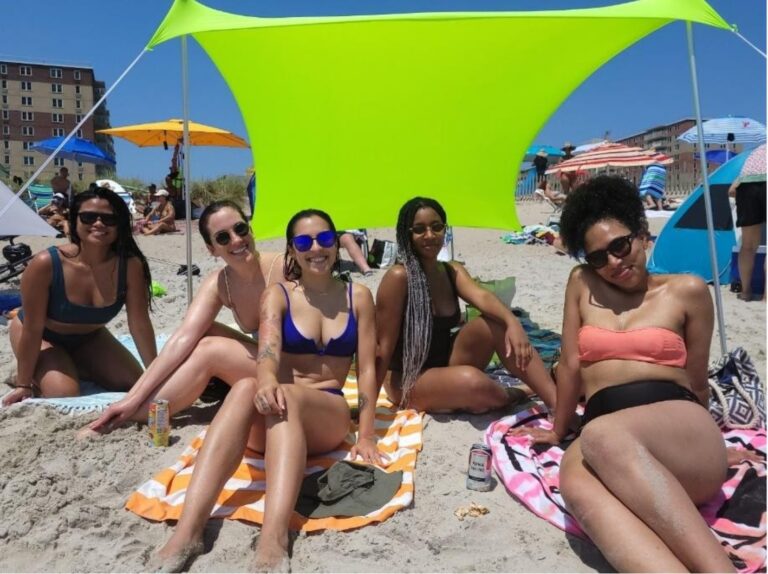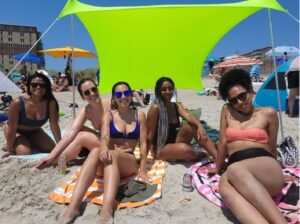 We make our way to a much more well-known spot, a favorite amongst city dwellers. And while we may know it well, this bears repeating for the folks in the nosebleed seats.
Rockaway gets packed with patrons during the summer and the energy is electric! Here you'll find a couple of miles of surprisingly clean beach and water given the popularity, as well as a very interesting mix of towering apartment complexes against low-rise luxury duplexes and even the very solid original single homes with yards and gardens.
That's what is appealing about the area – it's still an established family neighborhood. Given that, there are modern amenities right off the boardwalk, and public transport access in comfortable walking distance from the shore.
There is also a sea wall separating a section of beach for surfing only, where the waves are naturally more aggressive and draw in a lot of enthusiasts. Get your 70's version of a Blue Crush moment here.
Coney Island Beach, Brooklyn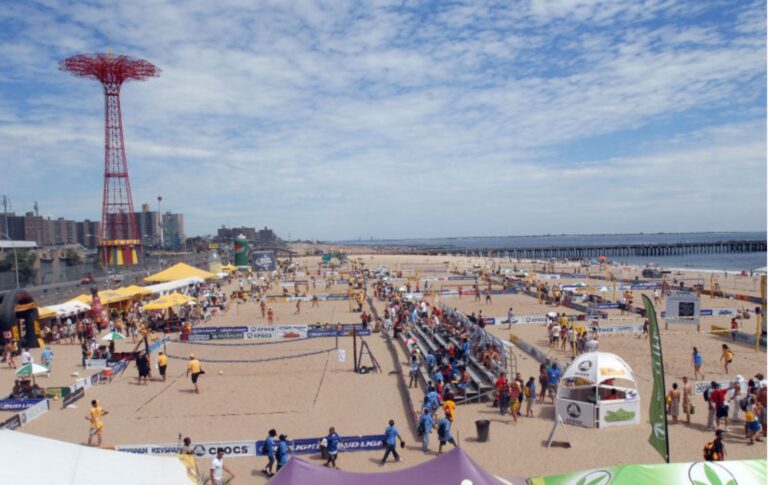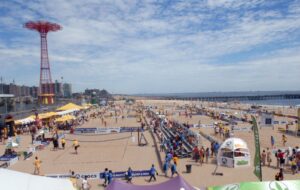 Scooting over now to a true classic, Coney Island. Not a real island; in actuality, it is the southernmost tip of Brooklyn off the metro.
This beach has been popular since it was first made a vacation destination in the late 1800s. With the vintage charm of famous concessions and a boardwalk boasting tons of outlook points you will find everything you want to have a rounded beach day.
This beach is also particularly family-oriented. You'll be as "psyched" as Uptown Girls' Ray heading down the pier to the Coney Island amusement park. As our late, darling Brittany Murphy once said, "It's like passing through the gates to the emerald city."
While there, you can even take a break from the heat at the very impressive New York Aquarium which has a new Spineless exhibit, huge shark habitat, and an endearing seal show.
Past the beach is a very established extension of Brooklyn city with many old apartment complexes and parks nearby. The population of the Brighton Beach area is almost 50% Russian and Ukrainian, giving you a staggering number of traditional restaurants and delis to grab a meal.
Orchard Beach, Bronx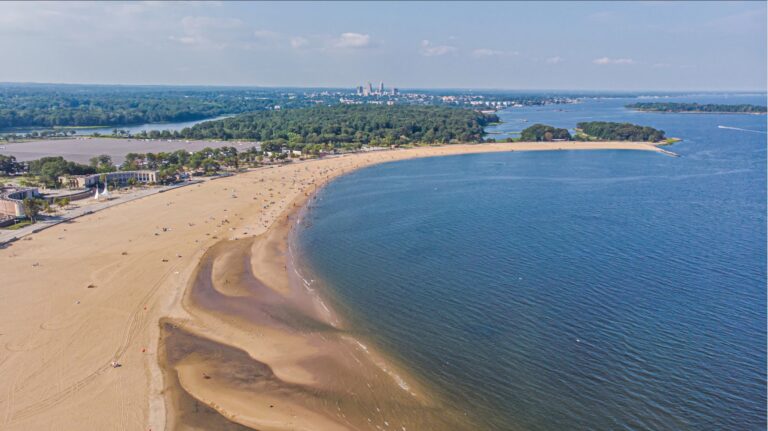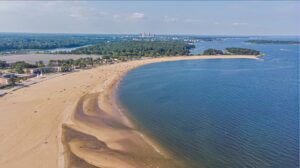 Up in the Bronx, we are looking at Orchard Beach. While this spot is immensely popular with borough locals it's another beach that is woefully overlooked. Getting here from other places is a bit of a journey to be true, with access by bus system mainly, but it is so worth it.
The neighborhoods around it are bustling but established and quiet with plenty of yard space. Exploring the paths of the massive Pelham Bay Park through the trees is a welcome calm from the city as the boardwalk appears over the hill, sprinkled with groups hosting birthdays and sunbathing.
Like Coney, this beach is very family-friendly. There is a massive playground with fountains off the boardwalk, and I even managed to catch a youth league basketball competition on the courts.
The beach here has extremely calm waters from its cove-like shape, making for perfect safe swimming further from shore. If you are craving something sweet or savory, food truck vendors are scattered up and down the beach with fruits, soft-serve ice cream and lots of sandwiches.
For an added layer of calm, don't shy away from this beach on a cloudy day as it provides space for great photography and boat rides.
Glen Island Beach, Bronx Border/New Rochelle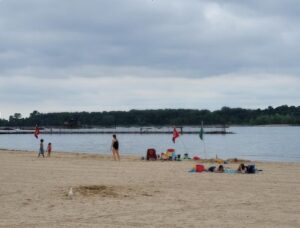 This spot was a true adventure to reach. I want to start off by saying this is a Private Beach, accessible only to residents of the region surrounding the island – the team working there was kind enough to let me snoop around and show you lovely folks the beauty of this secret gem!
Living in this area has its perks. Locals enjoy the proximity to the city being right on the edge of the Bronx yet still maintain the luxury of SPACE, which as we know can be difficult to come by here.
The parks are plentiful, the shops and restaurants are mostly local and very cool and as a cherry on top, you have access to Glen Island.
On this island, there is not only the beach but an established yachting club that hosts elaborate parties, an incredibly fun crew of folks worth becoming a part of if you're in a stage of your life where you've personally outgrown the city vibe and yearn to slow it way down.
Little Island, Manhattan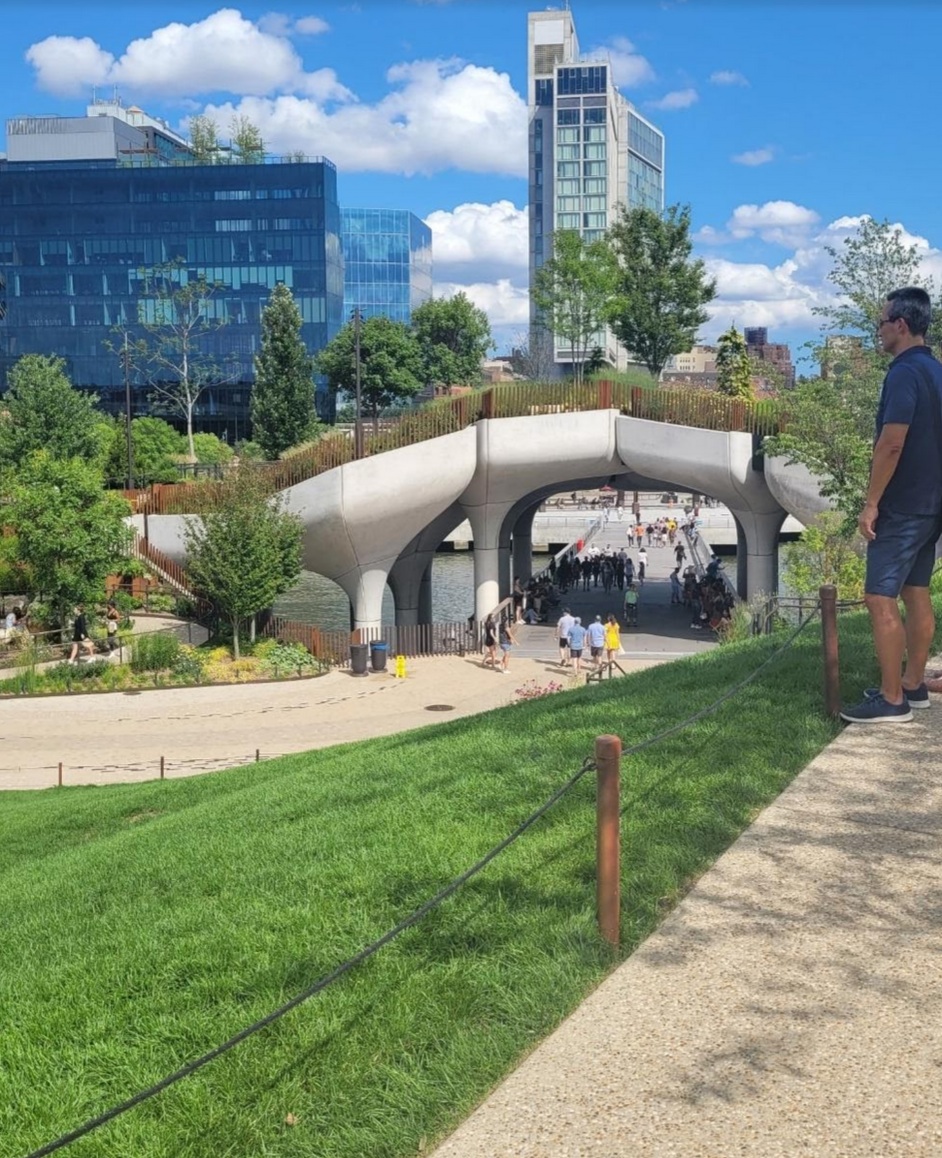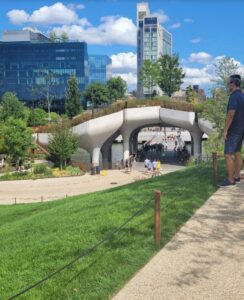 Moving back down the Hudson, we hit Little Island on Pier 55, the city's newest manmade island-park attraction off Chelsea.
With a reservation through the website, anytime after noon, you can gain a free spot on the island for as long as you like.
This constructed wonder is set on a concrete and steel base of pillars made to look like champagne bottles. It also hosts live music and performances weekly in its beautiful amphitheater.
In addition, it is designed with beautiful greenery uncommon for Manhattan, that swirls upward to peak with layers of overlooks, providing some awesome views of the downtown skyline and the Empire State Building that will make you sing Alicia Keys.
This is not technically a beach, but it's brand new, and the real reason I mention it is because it has a front-row vantage point to a major upcoming attraction on the neighboring pier, Manhattan's first beach.
Gansevoort Peninsula Park, Manhattan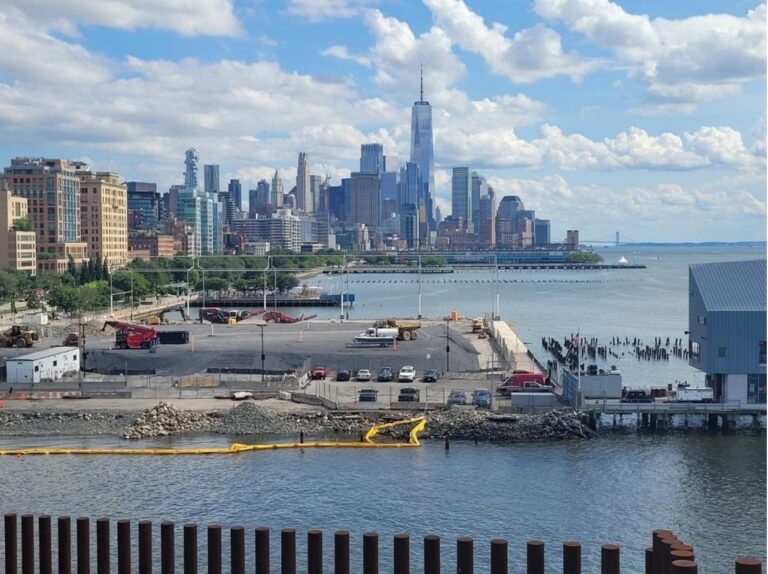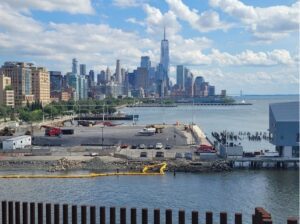 This photo was taken from Little Island next door and features the currently-under-construction, very first beach in the Manhattan borough.
Set to open in 2022, the Hudson River Park Trust has been working on this interesting project for over two years.
There is currently a very impactful art installation that has been there for years – queer artist David Hammons' "Days End," – that will be carefully incorporated and considered in the space as it was donated by the Whitney Museum across the street.
This little slice of escape from the Midtown bustle will feature a true sand beachfront, rocky seating on the opposite side, boardwalk, and green space with recreation areas. I can't wait to get over there and see it for myself.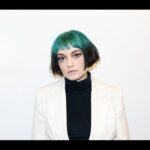 Caroline Zemp is a creative content writer, author, editor and journalist. She lives in Brooklyn, NY with her wife as they frequently eat their way across the five boroughs.