Update: The Squirrel has found live performance venues in NYC and now offer in-person classes. UCB is now under new ownership by Jimmy Miller and Mike McAvoy, who have reopened the theater's second LA location, and plan on bringing the organization back to NYC in the near future.
New York City has always been America's premiere comedy scene. From The Apollo to The Comedy Cellar, The Big Apple is where rookies and veterans come to hone their craft.
But it's all fun and games until a global pandemic shuts everything down. That's what happened to Upright Citizens Brigade, and so many others, in March of 2020.
UCB History
Following the momentum from their Comedy Central show, Upright Citizens Brigade, founders Amy Poehler, Matt Besser, Matt Walsh, and Ian Roberts searched for a venue to host regular sketch and improv shows.
The group bounced around several locations until 2003 when they found a 150-seat theater in the heart of Chelsea. This space allowed them to expand into a full-blown school, attracting talented students who would eventually take the comedy world by storm. Noted alumni are Aubrey Plaza, Kate McKinnon, Ed Helms, Aziz Ansari and Nick Kroll.
Soon everyone wanted to see what Upright Citizens Brigade would do next. By 2005 they debuted in Los Angeles with UCB Franklin. In 2011, they opened up UCB East (commonly called "The Beast") in New York's Lower East Side.
Three years later, they opened up a second Los Angeles theater — UCB Sunset. With four theaters in two of the best cities for comedy, UCB was on top.
What Happened to UCB?
So, what happened? How did an organization known for churning out Saturday Night Live cast members go from four powerhouse theaters to just one location (the Franklin) in LA?
Well, there are many reasons. The theater and the school were facing financial struggles long before the Covid-19 pandemic.
UCB's reputation also made people wary of the institution. They constantly struggled with diversifying their performers and they've come under scrutiny numerous times for not paying performers while forcing them to pay for weekly coaching sessions.
UCB responded by saying performers were paid in industry exposure.
Shows at UCB theaters have always been cheap, ranging from just $5 to $10 depending on their popularity. And while most of these shows had packed houses, UCB had to find other sources of funding to pay the ever-increasing rent for their spaces. One of these alternative funding sources was the students themselves who paid a hefty amount for classes that were pre-requests for house team auditions.
While you won't find cheap improv classes anywhere, UCB was definitely the most expensive. Class prices ranged from $350 to $450 while other theaters, such as The Magnet and The People's Improv Theater (The PIT), charged lower rates and allowed more opportunities for stage time.
UCB had to make a change. They needed to bolster revenue and increase foot traffic. In 2017, they found the former location of the Pearl Theater Company on 42nd street between 11th and 12th Avenues. The rent was much steeper, but the theater was larger, nicer, and located near Times Square. 
In a risky move, UCB closed down their Chelsea location, and UCB Hell's Kitchen was born. Did their gamble pay off?
No. No, it did not. While the new location was closer to the busier parts of town, it was on the edge of Hell's Kitchen, making it a difficult theater to get to. The decline in show attendance, as well as a shrinking student body, only made the insanely high rent even harder to pay.
In February 2019, UCB closed its Lower East Side location citing financial issues. A year later, the pandemic hit. UCB sold both the Hell's Kitchen and Sunset locations in 2020. The Franklin location remains and carries on the legacy.
NYC Comedy During COVID
UCB wasn't the only comedy club to face hard times. Most improv theaters faced the same struggles. UCB's largest competitor in the improv game, The PIT, closed in February 2021.
On the stand-up side of the fence, certain clubs held protests in opposition to the quarantine. Several smaller venues even went so far as legal action.
Carolines on Broadway, however, simply waited it out.
The Comedy Cellar, The Stand, Carolines, and The Magnet are now resuming shows. UCB has not announced a return to New York City.
While the theaters themselves might be gone, their spirits live on. Several former members of UCB have formed a comedy theater and school called The Squirrel. They're currently offering online classes at competitive rates, shows are largely donation-based, and they are looking forward to finding a permanent home in New York City, mirroring the same journey the founders of UCB took nearly two decades ago.
The Squirrel also promises to pay their performers.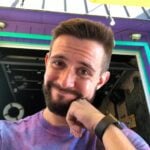 Russell is a writer and comic based in New York City. His plays have been featured at Penn State's Cultural Conversation's Festival, The NYC Thespis Festival, and Imaginarium's Inaugural Theater Festival. Follow him on TikTok and Instagram @pooleparty528