With the worst of the pandemic largely behind us, most of us are just itching to get out. With the recent mad dash to dine out again, getting into many of the top restaurants has been challenging. Plus, there are so many great choices.
Sorting through them to find the gems can be daunting. That's especially the case if you don't live in a fantasy land where you can ask a Michelin-starred chef friend. 
Guides are a great place to start. Some are more reliable than others when it comes to food. For most big foodie cities in the world, the most consistently reliable list is Worlds 50 Best. They don't exactly cover too much of North America, though they do feature some New York City restaurants.
If you want to go down a rabbit hole of fantastic restaurants, The Michelin Guide tends to be another great choice. Bib Gourmands is their most reliable distinction worldwide. Restaurants with that distinction are always world-class and offer a foodie experience for a more reasonable price. Their one-star restaurants can be hit or miss. Some you won't be able to get off your mind for years, and others you may wish to forget.
Michelin Plates are less of an accolade and more a list of restaurants that just happen to be on their radar. Some are unbelievable, and others less so. However, you can correct that by cross-referencing with Worlds 50 Best, other guides, or Google reviews. 
Sometimes asking your friends for recommendations can yield great results. Be careful to cross-reference those too, depending on the friend. A great rule of thumb is to start with your friends who are also into cooking. They tend to understand the principles of what you're looking for, including freshness of ingredients or techniques that are hard to replicate at home. You'll be more likely to have a great experience. Friends who travel a lot probably have had to figure these things out the hard way, so they would also be a great resource.
If putting in all that work sounds like an awful chore and bore, here are a few places to try that may motivate you.
Wildair
For casual outdoor small bites and unusual wines served all day, Wildair is always a fun choice. This place is small and low-key with snacks and lunch pricing for under $20.
 

 

View this post on Instagram

 
Contra
An added bonus if you want to keep going into the night is to do dinner at their sister restaurant, Contra. They have a Michelin Star and offer small plates, priced ever so slightly higher than Wildair by just a few bucks. They've also got great wine and no pretension, so you can mix and match to choose your own adventure each time. 
 

 

View this post on Instagram

 
Estela
For a similar concept to Contra, where you can select from a number of small plates, Estela is an excellent choice. They also have a Michelin Star and offer dishes at a slightly higher price point in the 20s per dish. How they reimagine some familiar dishes or their flawless execution of a seemingly simple dish will leave you wanting more. Fortunately, they have a cookbook available to teach you some of their recipes at home.
 

 

View this post on Instagram

 
Atoboy
Atoboy offers a prix fixed tasting menu for $75. Though it's a bit pricier you're in for quite a treat. Situated in Midtown, you can easily walk right past their unassuming entrance. Once you open the door though, you will be transported into a simple, no-frills restaurant. The decor and lighting are designed to keep you focused on their creative Korean-fusion food. Just about every dish here is a stand-out. If you walk out of here with your mind blown wanting to see what happens if you go further down this road, with a little advanced planning, you can try their two-starred sister restaurant Atomix.
 

 

View this post on Instagram

 
Golden Diner
Any true New Yorker will appreciate a good diner. Opened by a former Momofuku Ko chef Samuel Yoo, Golden Diner takes everything we love about diners and elevates it, while keeping prices in the teens. You feel like you're sitting in a small, normal diner, but what you're served is a huge plate full of food made from actual fresh ingredients with some fun twists and some Asian fusion. 
 

 

View this post on Instagram

 
Dirt Candy
With more of the top restaurants focusing more on plant-based eats, Dirt Candy would be a great choice to truly experience something memorable. Chef Amanda Cohen takes seemingly ordinary, accessible vegetarian ingredients and combines them into something truly extraordinary. They offer a five-course chef's tasting at $85 per person, including gratuity, and if you opt for the wine pairings for an additional charge, they will certainly kick each dish up a notch. They also offer a more low-key à la carte lunch menu of snacks, sandwiches, and salads in the low-to-mid teens.
 

 

View this post on Instagram

 
Nyonya
After over a year of being cooped up at home, if you're having the itch to travel, but can't quite hop on that plane just yet, you can be transported to the best Southeast Asia has to offer at Nyonya, which is a Bib Gourmand restaurant that showcases a plethora of down-home, primarily Malaysian food with some dishes from the nearby countries as well. Most dishes price below $17, with few exceptions. Don't let the extensive menu scare you away, as their dishes are all authentic and made with great ingredients. 
 

 

View this post on Instagram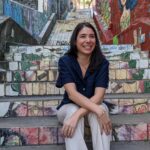 Jasmin Richie is a native New Yorker-turned-expat. Since 2014, she's lived in Brazil and Singapore and has traveled to over a dozen countries, chronicling it all in her travel and food blog.