The New York City public school system一the nation's largest一serves over 1.1 million students in 1,800 separate schools. From Erasmus Hall Academy in Flatbush, Brooklyn, which opened in 1787, to the brand new H.S./I.S. 89 in Great Kills, Staten Island, school buildings are a ubiquitous and fascinating part of city streetscapes.
The project of free universal public education in the city began in earnest in 1843 with the establishment of the Board of Education in Manhattan. The 1898 consolidation of the five boroughs into New York City formally incorporated the city's several school systems into a forerunner of today's Department of Education.
Consolidation, combined with a rapidly growing population due to immigration, led to a much-needed boom in school construction. Many of the city's most iconic educational edifices date to this era. The castle-like, neo-Gothic style of many is the work of Charles B.J. Snyder, the Superintendent of School Buildings from 1891 until 1923. Others owe their architectural flair to James Naughton, who held a similar position in Brooklyn from 1878-1898.
Today, the School Construction Authority manages the design and construction of new school buildings, additions, and rehabilitation of historic school buildings.
P.S. 34 Oliver Hazard Perry School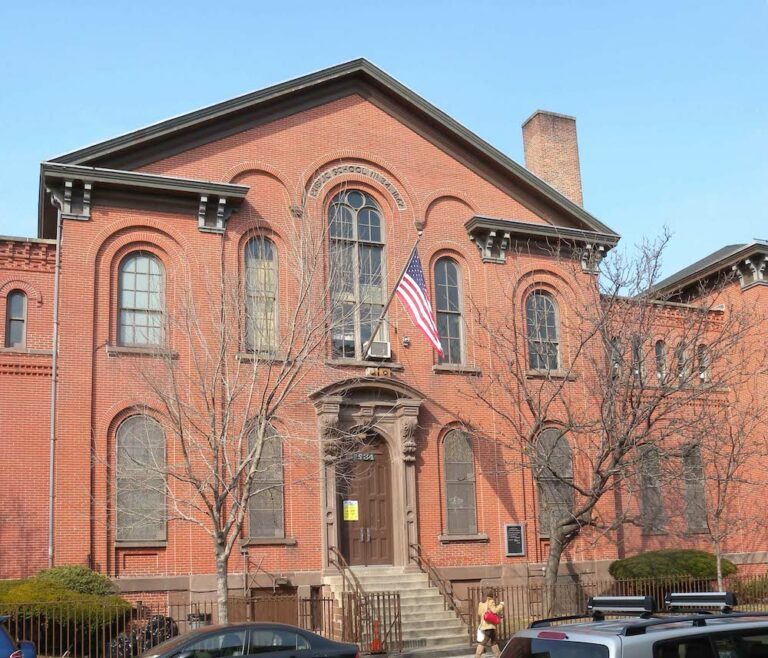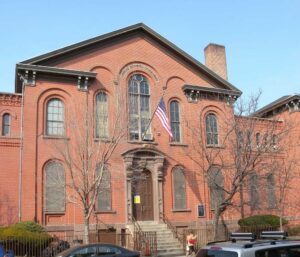 Located at 131 Norman Avenue in Greenpoint, Brooklyn, P.S. 34 is the oldest school building in continuous use in New York City.
Samuel B. Leonard, Superintendent of Buildings for the Brooklyn Board of Education, designed it in the early Romanesque Revival style.
Construction began in 1867, and additions were made in 1870 and 1887-8. The two-and-a-half-story building features red brick and brownstone construction, rounded arches, and Italianate details.
The school's name honors Oliver Hazard Perry, an American naval officer who led the fleet that triumphed over the British in the Battle of Lake Erie during the War of 1812.
Today P.S. 34 offers the city's first Polish-English dual-language program.
Erasmus Hall Campus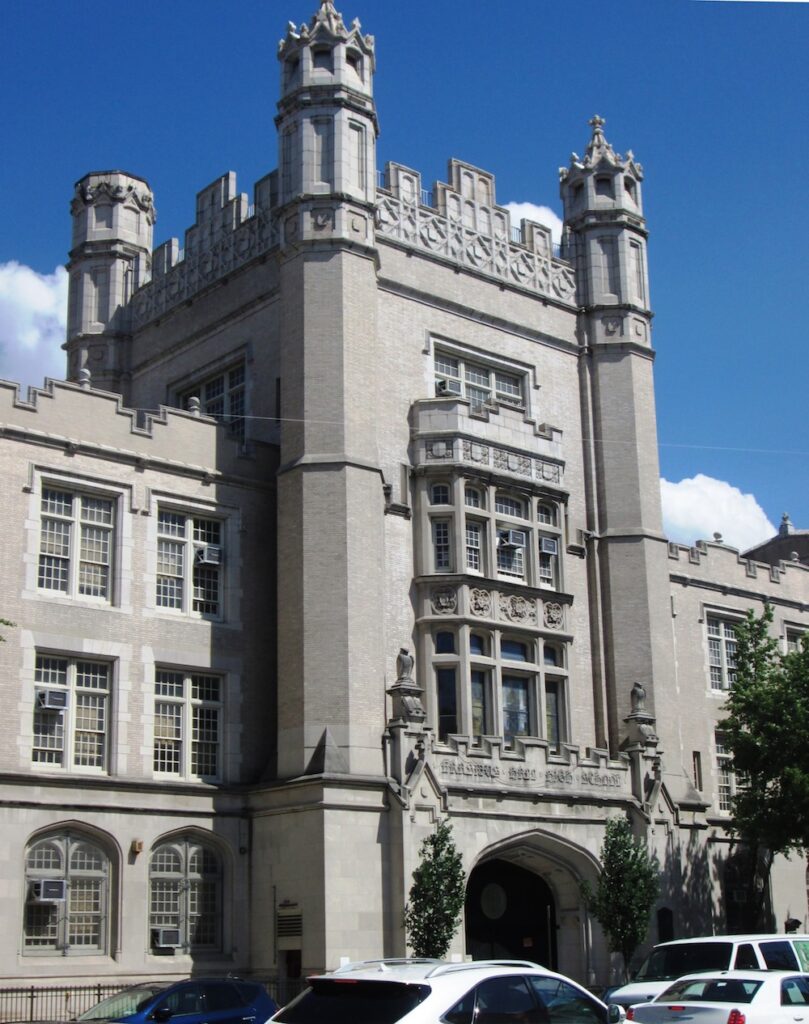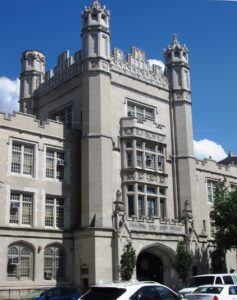 Erasmus Hall Educational Campus, located at 899–925 Flatbush Avenue, began as Erasmus Hall Academy, a private secondary school chartered by the New York State Regents in 1786.
The original Federal-style building is 36 feet wide by 100 feet long with clapboard siding and a hipped roof. It retains two of the fireplaces that originally heated the classrooms.
In 1896, after decreasing enrollment, the building was donated to Brooklyn's Board of Education, which was soon incorporated into New York City's education system. In order to preserve the building and accommodate the area's growing population, a quadrangle of buildings in the Collegiate Gothic style was erected around the original structure, which sat on a landscaped central open space.
This design by Charles B.J. Snyder also had the function of shutting off the school environment from the area's noisy commercial traffic. Erasmus Hall Educational Campus was constructed in four sections in 1905-06, 1909-11, 1924-25, and 1939-40, and features elaborate stained glass, including a memorial window by Louis Tiffany.
Today, the Erasmus Hall Academy building is managed by the National Park Service and not open to the public. Erasmus Hall Campus houses several smaller middle and high schools.
Flushing High School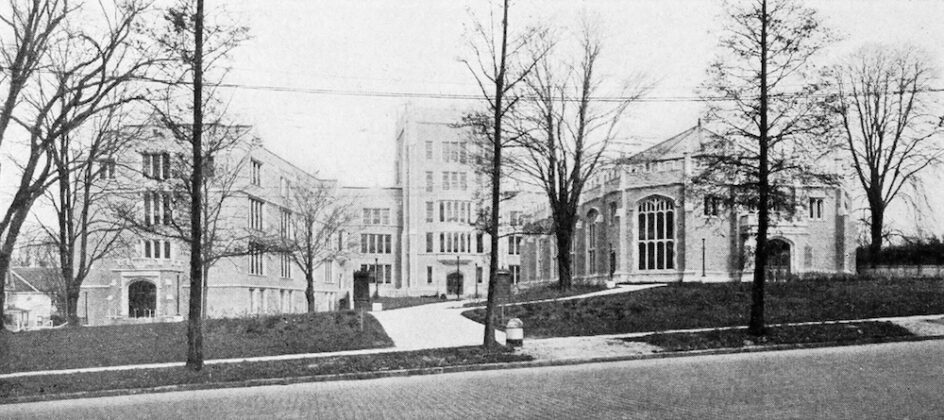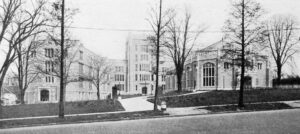 Flushing High School was founded in 1875 by the Flushing Board of Education and is the oldest public high school in the city.
The present building was erected between 1912 and 1915 and designed by Charles B.J. Snyder in the Collegiate Gothic style. Like Curtis High School, the architecture was inspired by medieval English colleges.
It features an imposing, five-story square entrance turret and is built of buff-colored brick with gray speckled terra cotta. A wing was added in 1954, and a gymnasium in 1978.
Today, the school serves about 1,600 students and offers New York State Career and Technical Education programs in Entrepreneurship/Virtual Enterprise, Law Academy/Legal Studies, and Marketing.
Washington Irving Campus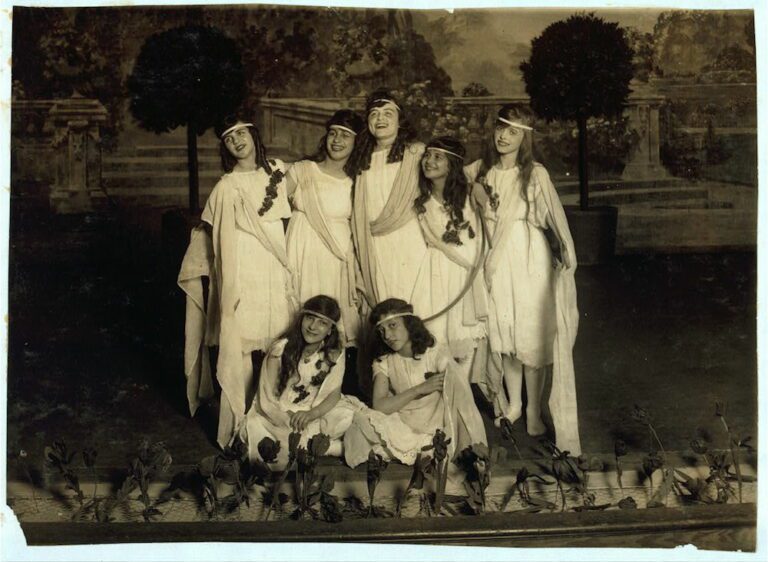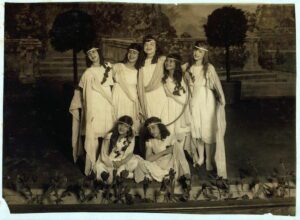 Located at 40 Irving Place, Washington Irving Campus was designed by Charles B.J. Snyder. It opened in 1913 and was originally a branch of Girls Technical High School.
Male students were admitted beginning in 1986.
While the building exterior is relatively simple一two limestone stories topped by five gray brick levels trimmed in limestone and terracotta一it's the building interior that sets it apart from other schools.
The school lobby features a large stone fireplace topped with a bas-relief depiction of The Legend of Sleepy Hollow by sculptor Frances Grimes, as well as 12 murals of the early history of New York by Barry Faulkner. The building boasts a 1915 M.P. Möller pipe organ in its auditorium.
Today, the building houses six schools: Gramercy Arts High School, the High School for Language and Diplomacy, the International High School at Union Square, the Union Square Academy for Health Sciences, the Academy for Software Engineering, and the Success Academy Charter School.
Public School 15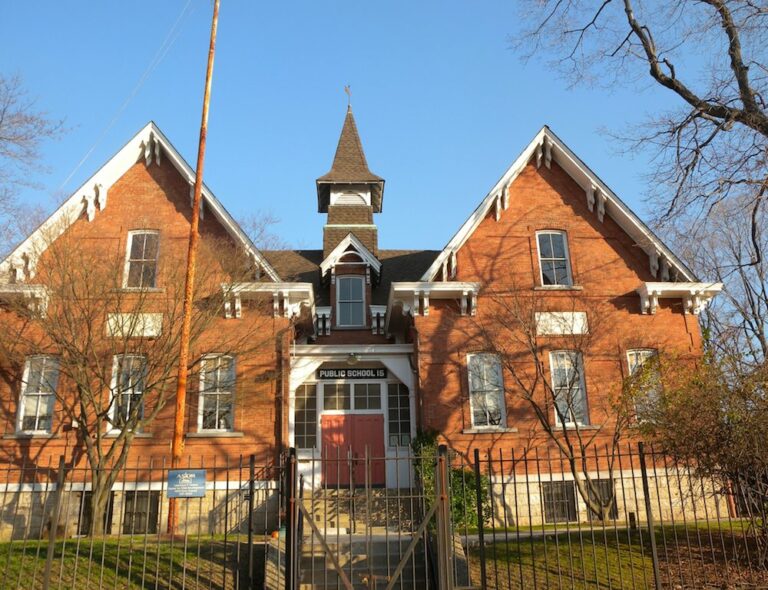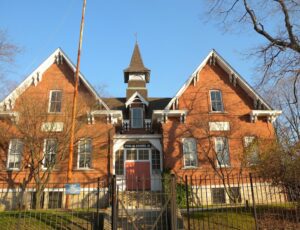 Public School 15, located at 4010 Dyer Avenue in the Eastchester section of the Bronx, is the "rare example in New York City of the rural, red brick schoolhouse," as is noted in its Landmarks Preservation Designation.
Simon Williams, the school's principal, designed the building. Edward Cordial, a local builder, constructed it in — what was then — a small, relatively pastoral community.
The building is a modified Neo-Gothic style in the shape of an H. No longer a public school, it continues to serve the children of New York City as the Lawrence F. Hickey Center For Child Development.
 Curtis High School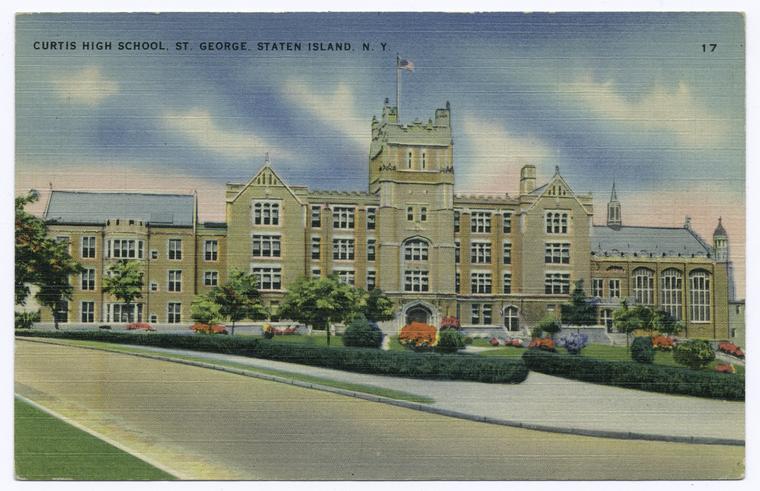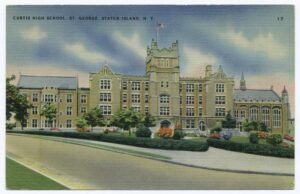 The first public secondary school on Staten Island, Curtis High School opened in 1904, six years after the borough's consolidation with the city.
Standing four stories tall and built of buff-colored brick with Indiana limestone trim, the castle-like school sits high on a hill overlooking Upper New York Bay at 105 Hamilton Avenue in the St. George-New Brighton neighborhood.
It was designed by Charles B.J. Snyder in the collegiate Gothic style, and features a central "square, turreted tower inspired by English medieval models," as is noted in its Landmarks Preservation Designation.
The building features several additions made between 1919 and the 1930s, all of which harmonize with the building's existing architecture.
Today, Curtis High School enrolls about 2,830 students and offers a panoply of special programs including International Baccalaureate and Advanced Placement courses and thirty varsity sports teams.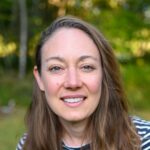 Leah Reddy is a New York-based writer, video editor, teaching artist, and theatre director/dramaturg with roots on the westside of Cincinnati, Ohio. She's been lucky enough to teach in all five boroughs of NYC and as a result, spend time in our fantastic city's lesser-known neighborhoods. An avid runner, foodie, and NYC history buff, she will talk your ear off about her favorite subjects and try to convert you to her level of enthusiasm for the Yiddish Broadway walk of fame, thali, and the fact that Chester Arthur was sworn in as President of the United States in the building that now houses Kalustyan's. She wants all New Yorkers to be able to enjoy their city and to marvel in the things that surround us all each day.