Tenants across the five boroughs, particularly in the Bronx, are making more heat-related complaints to New York City's 311 hotline than in previous years.
Heat complaints across the city are up 25.6% over the same period last year. The findings, published last week by RentHop, shine light on the neighborhoods and buildings where landlords are unable or unwilling to comply with heat season regulations and how well the city's complaint redress process is working.
Who is Cold?
The burden of cold apartments appears to be falling on the lowest-income New Yorkers. There is a strong negative correlation (-0.474) between the median cost of a one-bedroom apartment and the number of heat and hot water complaints in a neighborhood. In simple terms: the lower the median rent of a one-bedroom, the more heat complaints in the area. Correlation is not causation, but citywide data suggests a clear relationship.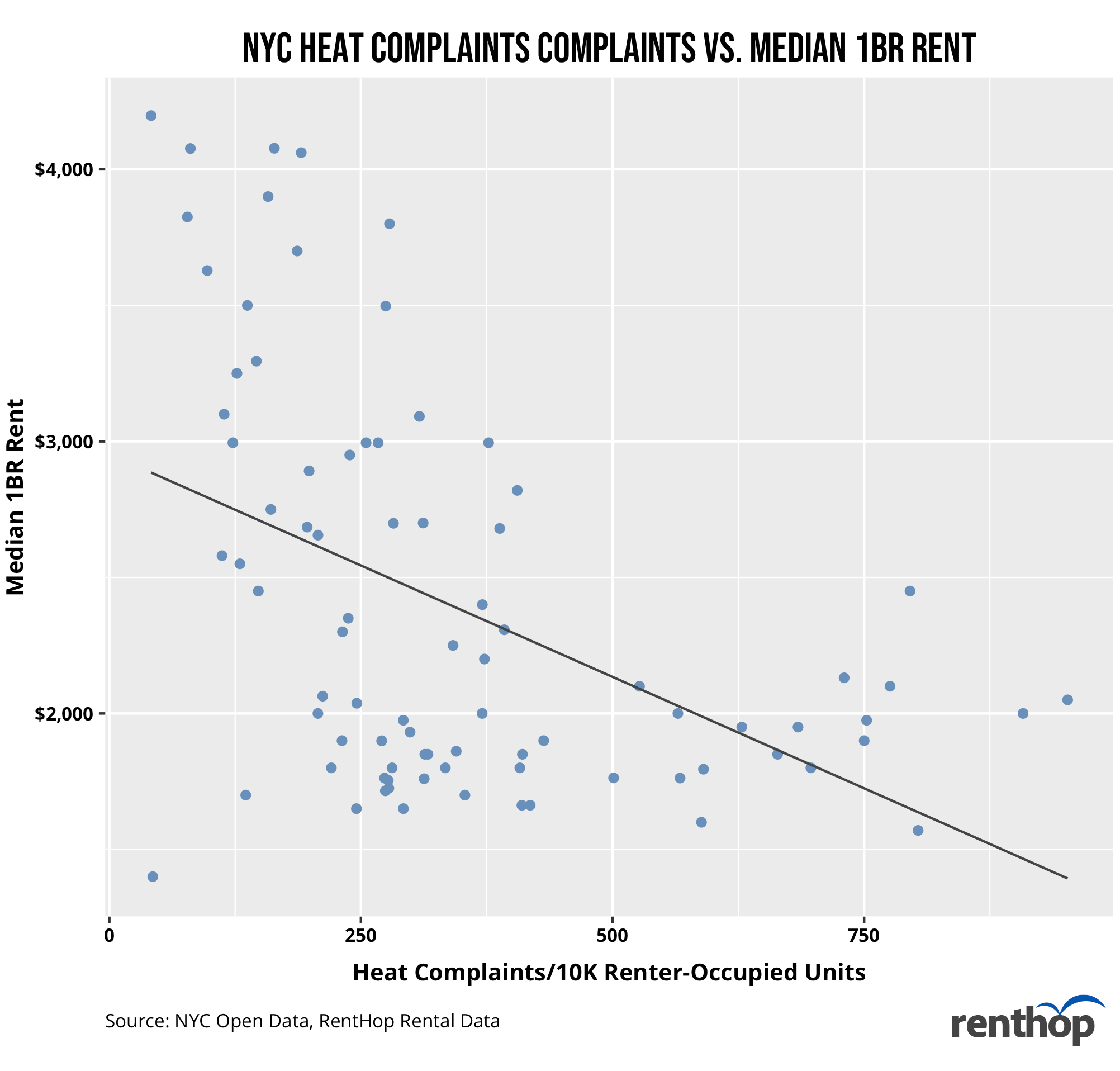 Of the 25 neighborhoods with the most heat complaints, 17 are in the Bronx, the borough with the highest poverty rate in the city.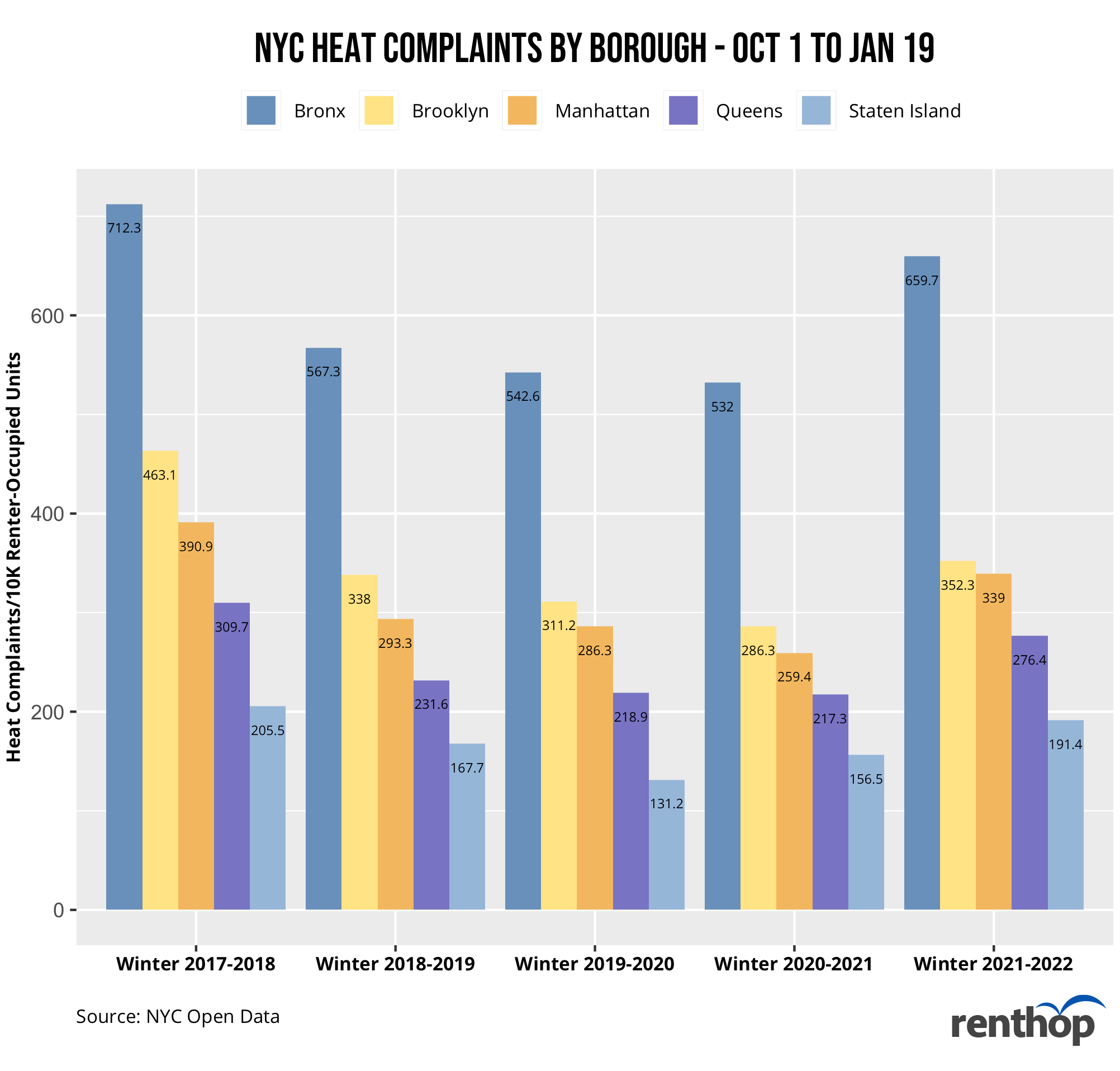 Zooming in on one example, Fordham South in the central Bronx had the highest number of heat complaints in the city. The median rent for a one-bedroom in the neighborhood is $1,500 compared with a city median of $3,150.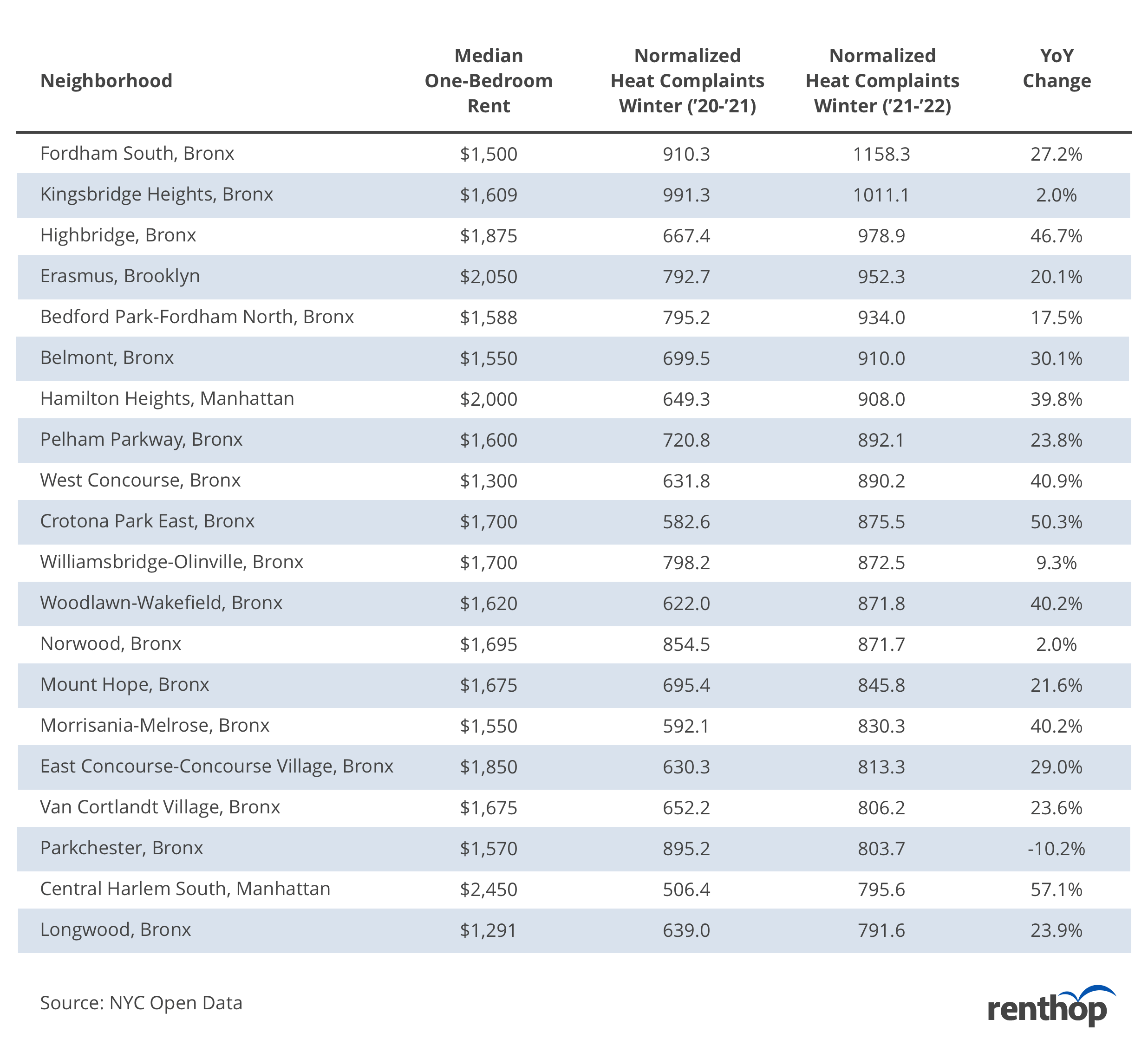 2018 data on the area's health shows that 65% of households are rent-burdened, meaning they pay more than 30% of their income for housing. Residents also face worse-than-average health and education outcomes, some of which (like air pollution) are directly related to their living environments. Creating a city that serves all New Yorkers better is a complex and ongoing process, and ensuring that landlords follow city law and uphold the terms of lease agreements is one part of the bigger picture.
Heat Requirements
First, some basics about residential heat and hot water requirements. The laws currently in place were codified in the 1929 Multiple Dwelling Law (page 79), which aimed to raise the standard of living for New Yorkers in both older buildings and new construction by requiring windows, ventilation, and fire protection; allowing for more significant buildings; and prohibiting construction of new apartments without heat, hot water, or electricity.
As per the city, "Heat season runs from October 1 through May 31. During that period, NYC buildings owners are required to maintain minimum indoor temperatures:
Between 6 AM and 10 PM, if the outside temperature falls below 55 degrees, the inside temperature must be at least 68 degrees Fahrenheit.
Between 10 PM and 6 AM, the inside temperature must be at least 62 degrees Fahrenheit at all times. There is no outside temperature requirement.
Hot water must be provided at all times at a constant minimum temperature of 120 degrees Fahrenheit."
Making a Heat Complaint
Tenants whose apartments lack adequate heat or hot water are first encouraged to directly contact their landlord or building management. If the issue is not resolved, tenants file a service request through the city's 311 Portal. There are separate forms for complaints about a single apartment versus an entire apartment building. It's possible to submit the form anonymously.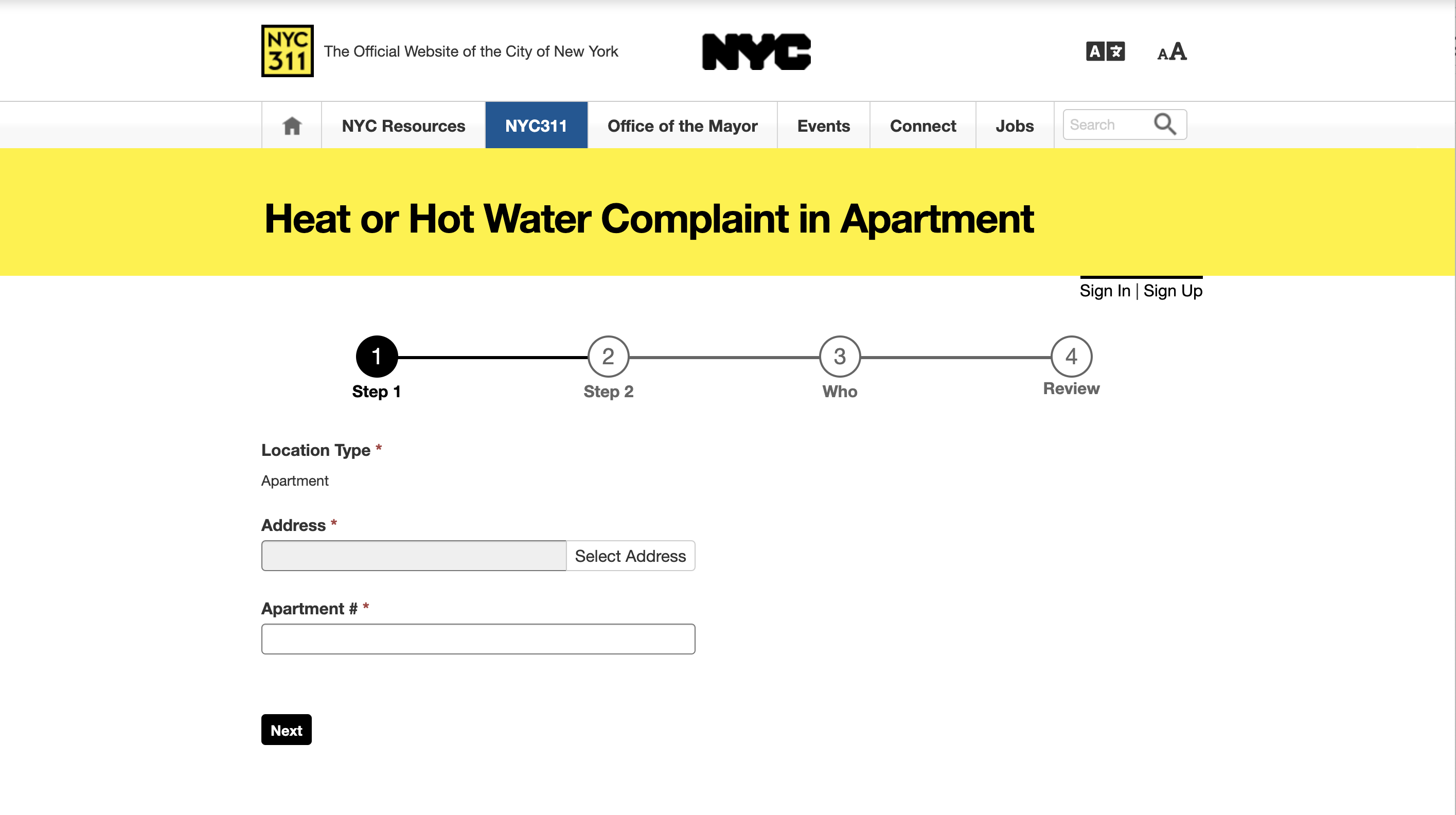 Service requests are handled by the Housing Preservation and Development (HPD). (Translators are available throughout the process: just let HPD know what you need.) HPD contacts building management and informs them that a complaint was filed and the problem must be corrected or a violation will be issued. HPD then follows up with the reporting tenant to confirm that the heat or hot water was restored. If HPD can't reach the tenant or the problem was not corrected, a uniformed Code Enforcement officer is sent to the building to do an inspection and, if warranted, write a violation. Heat violations are Class C or "immediately hazardous" and require immediate correction. A $250 fine is issued for each day the problem persists.
At this point, if the building fixes the problem, the owner or management files a certification of the repair, and notice of this is sent to the reporting tenant. HPD may make the repair under the Emergency Repair Program if the issue isn't addressed and bill the owner. Alternatively, tenants can initiate an HP proceeding in Housing Court. The proceeding results in a hearing after which landlords can be forced to make repairs.
How Long Does This Take After Making A Heat Complaint?
Of course, if you're shivering in your kitchen, you can't wait long for a Code Enforcement Officer.
According to HPD data, it has taken an average of 11.4 days to close an emergency complaint this fiscal year, a decrease from the 14.8 day average from last fiscal year. Additionally, only about half of emergency violations are corrected by owners, putting the burden of advocating for suitable living conditions on the tenants. The deadly January 9, 2022 fire at 333 E. 181st St. in the central Bronx was caused by a malfunctioning space heater, possibly used to compensate for the lack of building heat.
The city has developed several proactive approaches to buildings with poor maintenance and heat records. The Heat Sensors Program requires installing internet-connected heat sensors in every apartment in select apartment buildings with a history of heart complaints. Building owners and tenants then have access to temperature data. Code Enforcement officers will also conduct bi-weekly inspections of the properties to ensure heat compliance. Property owners are subject to increased fines for heat-related violations.
Another program, the Alternative Enforcement Program (AEP), is an enforcement program for buildings with many open housing violations. It provides for frequent inspections to ensure violations are addressed. If the owner fails to complete the repairs in the program's first four months, an Order to Correct is issued. If the problems persist, HPD can make the repairs and bill the landlord, and if needed, begin legal proceedings to collect the cost.
The Takeaway
The city provides a clear process for reporting violations of heat and hot water regulations, but it could take weeks to fix the problem and places a heavy burden of action—calling building management, making the complaint, meeting with the Code Enforcement Officer, and confirming whether or not repairs are made—on tenants. The proactive approaches to building maintenance like AEP and the Heat Sensors Program are a step in the right direction but only apply to a limited number of buildings in New York City.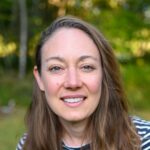 Leah Reddy is a New York-based writer, video editor, teaching artist, and theatre director/dramaturg with roots on the westside of Cincinnati, Ohio. She's been lucky enough to teach in all five boroughs of NYC and as a result, spend time in our fantastic city's lesser-known neighborhoods. An avid runner, foodie, and NYC history buff, she will talk your ear off about her favorite subjects and try to convert you to her level of enthusiasm for the Yiddish Broadway walk of fame, thali, and the fact that Chester Arthur was sworn in as President of the United States in the building that now houses Kalustyan's. She wants all New Yorkers to be able to enjoy their city and to marvel in the things that surround us all each day.