While many movies have been set in New York City, it may be surprising to learn that far fewer have been shot on location in the five boroughs. The below list of films—one for each decade of the twentieth century—celebrates the raw and real city as a major character.
1903: Rube and Mandy at Coney Island
This silent film, made by the Edison Manufacturing Company, was shot on location at Coney Island with a version of the Kinetograph, the original motion picture camera. The film, just over 12 minutes long, used a classic New York City movie plot: Rube and Mandy, a couple from the country, spend a day frolicking first at Coney Island and later on the Bowery. The movie ends with the pair eating hot dogs purchased from a street cart. Watch it here.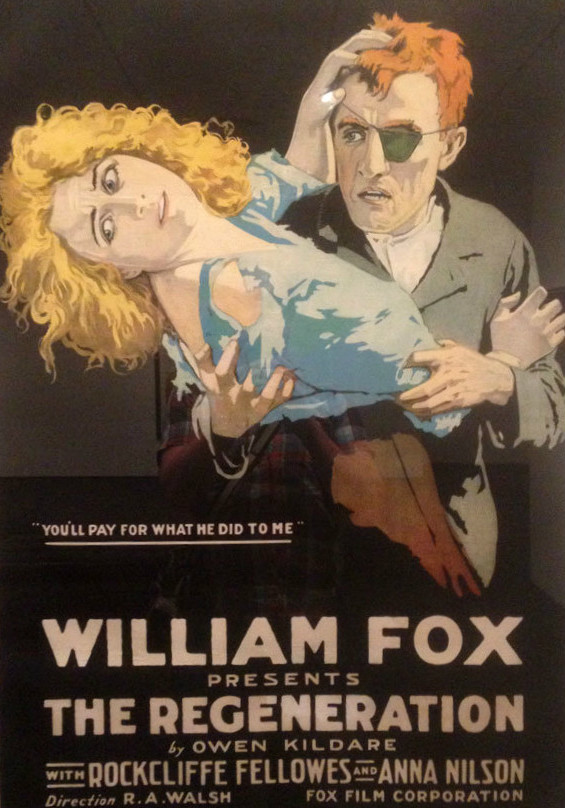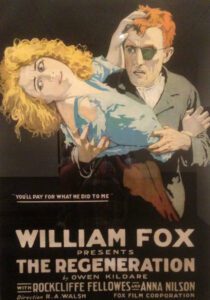 1915: Regeneration
This progressive-era silent film is considered to be both the first "gangster movie" and one of the first features shot on location, in this case on the Lower East Side. Adapted from My Mamie Rose, a memoir by Owen Kildare, the story follows a young Irish-American boy who enters into a life a crime after the death of his mother, and his eventual reformation and "regeneration" as a result of the ministrations of a caring social worker. The film notably features an action scene consisting of a ferry catching on fire and actors jumping into a river. Watch it here.
1921: Manhatta
This silent film, made by photographer (and NYC native) Paul Strand and painter Charles Sheeler, consists of 65 separate shots of Manhattan street life and landmarks, connected by intertitles with quotes from Walt Whitman's poetry. Whitman's poem "Mannahatta", from which the movie takes its title, captures the wonder of the city: "A million people—manners free and superb—open voices—hospitality—the most courageous and friendly young men, City of hurried and sparkling waters! city of spires and masts! City nested in bays! my city!" The film is considered the first avant garde movie. Watch it here.
1939: Metropolis 1939
The 1930s, despite their reputation as part of the Golden Age of Hollywood, produced few movies shot on-location in the Big Apple. Studios, in an effort to cut costs and speed up production, filmed almost exclusively at California studios, even for iconic NYC stories like Street Scene (1931) and You Can't Take It With You (1938). For a window into the street life of the city during the decade, look to outtakes from Metropolis 1939, shot for (but not used in) March of Time newsreels, and now owned by the National Archives. Watch it here.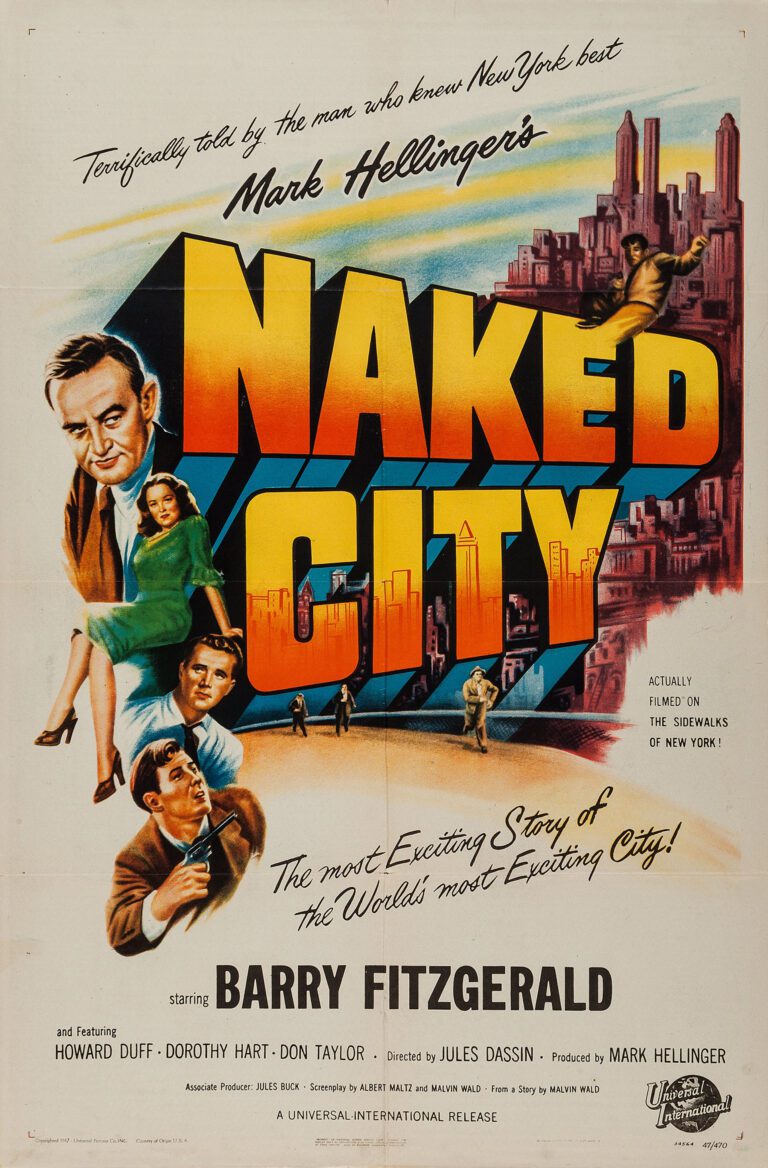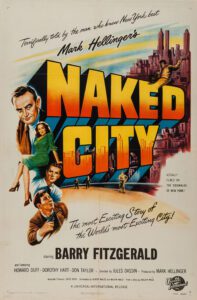 1948: The Naked City
This classic film noir, about the murder of a model in her Manhattan apartment, was shot on the streets of New York City in the summer of 1947, just before window air conditioners became widely available. The inspiration for the film came from Naked City, a 1945 book of photographs by tabloid photographer Weegee (real name Arthur Fellig) whose stark black-and-white images chronicled crime, accidents, and downtown nightlife. The Naked City went further than merely shooting on location: scenes were filmed from inside a van with tinted windows, turning ordinary New Yorkers into extras and fully capturing the spirit of the city. Learn more here.
1953: Little Fugitive
This delightful film follows a seven-year-old Brooklyn boy (played by real-life Brooklyn boy and non-actor Richie Andrusco) who runs away from home and spends the day at Coney Island. The movie was written by Ray Ashley and co-directed by Ashley, Morris Engel, and Ruth Orkin. Engel had been a WWII combat photographer and designed the lightweight, portable camera used to shoot in public without drawing attention. The result is a time capsule of the action and personalities of Coney Island in the early 1950s. Learn more here.
1967: Barefoot in the Park
Adapted from a Neil Simon play of the same name, Barefoot in the Park stars Robert Redford and Jane Fonda as newlyweds Paul and Corie Bratter. They honeymoon at the Plaza Hotel (where Doris Roberts, better known as Marie Barone from Everybody Loves Raymond, makes a brief appearance as a maid); move into a disaster of an apartment in Greenwich Village (where Herbert Edelman, better known as the Golden Girls' Stanley Zbornak, shows up as a telephone company employee); befriend an eccentric neighbor who takes them on a late-night ride on the Staten Island Ferry; and eventually fall apart and make up in Washington Square Park. Learn more here.
1975: Aaron Loves Angela
This loose adaptation of Romeo and Juliet tells the story of an African American boy from Harlem, played by Kevin Hooks, who falls for a Puerto Rican girl from Spanish Harlem, played by Irene Cara in her film debut. Robert Hooks, founder of the Negro Ensemble Company and renowned actor, played the father of his real-life son Kevin in the movie. The film showcases New York City at its grittiest. From Coney Island to the Lower East Side to Grant's Tomb, director Gordon Parks, Jr. (son of the famous photographer and director) showed the graffiti, broken plaster, and empty lots as the unremarkable backdrop for the teens' emerging relationship. José Feliciano wrote and performed the film's soundtrack. Learn more here.
1982: Wild Style
The 1980s features perhaps the best-known slate of movies shot on location in NYC, from 1980's Fame, about a group of students at a performing arts high school, to 1985's Do the Right Thing, shot entirely on one block in Bedford-Stuyvesant, to 1989's When Harry Met Sally and its iconic "I'll have what she's having!" scene at Katz's Delicatessen. But 1982's Wild Style (shot in 1981) was filmed entirely on location and features rappers (including Grandmaster Flash and Busy Bee), graffiti artists (like Lee Quinones and Lady Pink), and others from the city's hip-hop scene playing loosely fictionalized versions of themselves. This low-budget film captures the city and the burgeoning hip-hop scene as it was almost forty years ago. Watch on IMDB TV via Amazon Prime.
1990: Paris is Burning
The 1990s similarly offers a panoply of NYC films, from 1990's Metropolitan, about rich college students on the Upper East Side, to 1995's Kids, a dark look at one day in the life of a group of down-and-out teenagers. 1990's Paris is Burning, a documentary by Jennie Livingston, is an eye-opening and intimate exploration of the city's drag ball culture, with scene shot at balls, in apartments, on the city's piers, streets, parks, and beaches. Watch it here.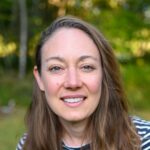 Leah Reddy is a New York-based writer, video editor, teaching artist, and theatre director/dramaturg with roots on the westside of Cincinnati, Ohio. She's been lucky enough to teach in all five boroughs of NYC and as a result, spend time in our fantastic city's lesser-known neighborhoods. An avid runner, foodie, and NYC history buff, she will talk your ear off about her favorite subjects and try to convert you to her level of enthusiasm for the Yiddish Broadway walk of fame, thali, and the fact that Chester Arthur was sworn in as President of the United States in the building that now houses Kalustyan's. She wants all New Yorkers to be able to enjoy their city and to marvel in the things that surround us all each day.