New York City's Financial District has undergone an exciting real estate rebirth since Wall Street's 2008 stock market crash and the subsequent global economic crisis.
As companies in the southernmost district of Manhattan reeled from the financial downturn, some were forced to close their doors and offer up their properties for sale.
Then came the ambitious real estate developers who acquired some of the buildings mentioned in this article. They each shared a common vision: to convert thousands of empty office spaces into newly refurbished luxury apartments.
But there was a catch: some of the buildings for sale in the Financial District, or "FiDi" for short, had been granted special landmark status by the NYC Landmarks Preservation Commission. In other words, developers weren't free to renovate their newly acquired properties however they pleased.
The result is a collection of historic Art Deco, Neo-Gothic and Greek Revival skyscrapers that offer a delightful mix of old-world charm with a modern twist.
The five iconic landmark properties converted to residential featured in this article are a tribute to New York City's unbreakable spirit. They're living proof that no matter the hardship or challenge, New Yorkers always have, and always will, "high-rise" to the occasion.
Built in 1836
107 residences
9 stories
Former New York Merchants Exchange
A triumph of Greek revival architecture, 55 Wall Street was home to the New York Merchants Exchange, United States Customs House, and National City Bank headquarters before it was converted into condominium residences in 2006.
Completed in 1836, 55 Wall Street is one of the oldest landmarked properties set amid the steaming potholes of NYC's bustling Financial District. Its exterior facade on Wall Street achieved landmark status in 1965 thanks to its brilliant display of stone masonry and 12-colonnade (or rows) of Corinthian columns that greet visitors every day.
In 1999, the building's interior features were also designated as landmarks by the NYC Landmarks Preservations Commission. That goes for the marble floors and walls, stone columns, and a 60-foot vaulted ceiling in 55 Wall's impressive lobby. The original banking hall, later converted to a luxurious ballroom, was among the largest in the United States and has hosted prestigious awards ceremonies, including the Annual Peabody Awards from 2015 to 2019.
Today, 55 Wall Street is known as the Cipriani Club Residences. It rises nine stories above Wall Street—arguably the most famous street in the Financial District—and features 107 condo units with floor plans ranging from spacious loft-like studios to large 3-bedroom residences.
Built in 1932
612 residences
67 stories
Former American Insurance Group building
Rising 67 stories over Manhattan's southernmost district, 70 Pine Street is a monolith of brick and steel. In 1932, it was the third tallest skyscraper in the world after the Empire State Building and the Chrysler Building in Midtown, Manhattan. Today, it's the 19th tallest building in New York City, reimagined from old office spaces into 612 modern luxury apartments.
One of 70 Pine's most notable features is its opulent Art Deco lobby. Comprised of six hallways connecting Pearl and Cedar Streets, the lobby floors and walls of 70 Pine are drenched in brown marble with ornate geometric patterns etched on the steel frames of its doorways, staircases, and elevators.
70 Pine was formerly the Cities Service Building until 1976 when American Insurance Group (AIG) acquired it. In the wake of the global financial crisis of 2008, AIG filed for bankruptcy and sold some of its assets to raise money, including 70 Pine Street, which served as the company's headquarters up until then.
The building's exterior facades and interior lobby earned landmark status from the NYC Landmarks Preservation Commission in 2011. The landmarked lobby remains virtually unchanged, transporting visitors of this Art Deco gem back in time to the 1930s.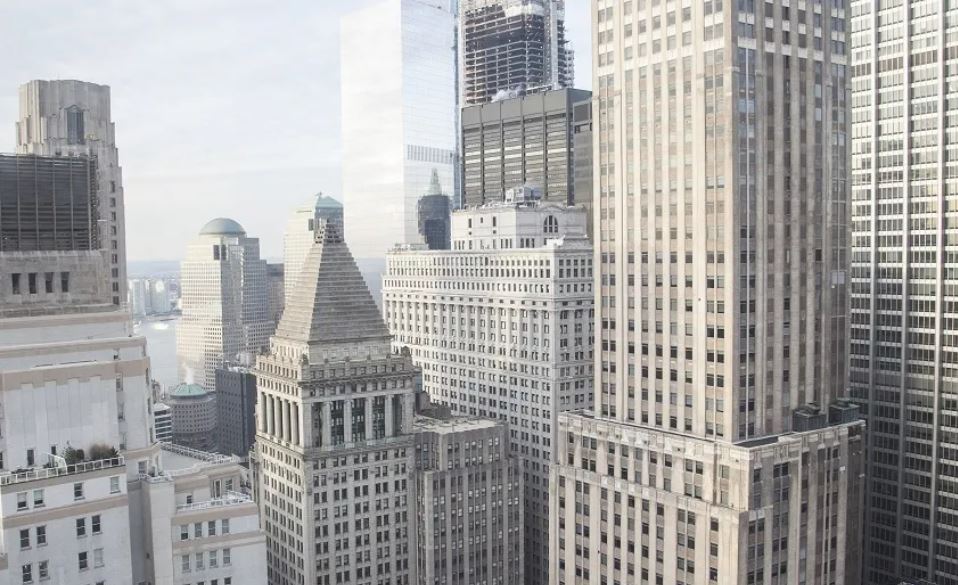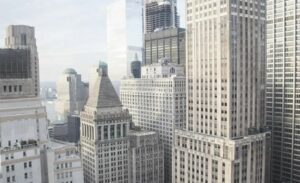 Built in 1931
762 residences
57 stories
Former City Bank Farmer's Trust building
What do the TV series "White Collar," "Gotham," and "The Blacklist" have in common?
Besides garnering millions of viewers, they've used 20 Exchange's exquisite interiors as a location for their film shoots.
But TV shows aren't the only productions drawn to the scenic backdrops of 20 Exchange. Major films like 2019's "The Joker," 1987's "Wall Street," and Spike Lee's "Inside Man" have all been shot in this iconic building as well.
There's a reason film scouts keep 20 Exchange on their radar. Formerly occupied by the City Bank Farmer's Trust between 1931 and 1979, the property's interior is a network of palatial hallways where winding marble staircases lead to bank vaults that weigh hundreds of tons, and secret doors open to a breathtaking dome with intricate Art Deco carvings.
As if all this pizzaz weren't enough, the main entrance of 20 Exchange features a dramatic round arch surrounded by 11 coins of carved granite. Each coin represents one of the many countries in which the City Bank Farmer's Trust held offices.
In addition to its decorative display of nickel, silver, and bronze, 20 Exchange is home to 14 statues sculpted out of the exterior stone facade. Nicknamed the "Giants of Finance," these imposing statues with their stoic expressions are like something out of the Louvre. To this day, the giant sculptures keep their watch over the narrow cobblestone streets of the Financial District.
20 Exchange achieved landmark status by the NYC Landmarks Preservation Commission in 1996. In 2004, the property was converted into 762 residences soaring 57 stories in the sky.
Built in 1907
410 residences
24 stories
Former Brady Security and Realty Corporation
A staple of Neo-Gothic architecture, 90 West Street was one of New York City's first skyscrapers and has been meticulously restored since its debut in 1907. Damaged by the collapse of the nearby World Trade Center on 9/11, 90 West underwent subsequent extensive renovations and reopened in 2005 as an enduring touchstone of the Financial District.
With only 24 stories to its name, 90 West isn't as tall as its counterparts in FiDi, but it enjoys proximity to the Hudson River and offers sweeping water views from its west-facing windows.
Like 70 Pine Street and 20 Exchange Place, 90 West has also been called by several names since its founding. Originally known as the West Street Building, it was later called the Brady building by locals and employees of the Brady Corporation, a security and realty company that acquired the property in the mid-1900s.
Today, 90 West boasts 410 elegant residences along with a suite of luxury amenities, including a state-of-the-art gym and a modern club room for its residents to enjoy.
90 West won a landmark designation from the NYC Landmarks Preservation Commission in 1998 due to its rich architecture and historical value. It was also added to the National Register of Historic Places in 2007.
Built in 1927
156 residences
32 stories
Former American Telephone Company building
The Verizon Building at 100 Barclay, also known as the American Telephone Company building and the Barclay–Vesey building, is located in a northwestern hamlet of FiDi that defies Tribeca's neighborhood claim of the area west of City Hall between Chambers Street to the north and Vesey Street to the south.
This majestic tower was constructed between 1923 and 1927 and has been touted as the world's original Art Deco skyscraper. In its heyday, 100 Barclay served as the largest telephone company building in the world with over 1.2 million square feet of office and telecommunication space.
The grand lobby of 100 Barclay will keep you looking skyward with its vibrant overhead murals, bronze-clad hallways, ornate light fixtures, and 22-foot vaulted ceilings. But the true Art Deco showstopper is the cast bronze detailing surrounding its elevators that depicts a fairytale scene of flora and fauna.
Today, the lower floors of 100 Barclay are used for commercial purposes, but the top ten floors, from the 22nd to the 32nd, consist of 156 residential lofts that have been outfitted with the finest interior appointments, including Calacatta gold marble and custom-stained white oak floors.
100 Barclay became an official New York City landmark in 1991 and was added to the National Register of Historic Places in 2009.
The Enduring Spirit of Landmark Properties Converted To Residential In NYC's Financial District
Repurposing commercial properties that have been landmarked by the City of New York into sprawling residential towers isn't an easy feat. There's a lot that real estate tycoons and developers aren't permitted to modify, alter, or renovate once they've acquired these historical relics, no matter how robust their budgets are for improvements.
Although this may pose an obstacle for the visionary real estate developer, there's a benefit to preserving the historical value of landmarked buildings in New York City. For starters, prospective renters and homebuyers benefit from properties that are under the protection of the NYC Landmarks Preservation Commission.
Landmark status ensures that certain features rich with history and value won't be subject to demolition as long as the property continues to enjoy landmark protection. This offers peace of mind to renters and homebuyers who invest in these properties and worry over the possibility of renovations happening in the building's common areas after they've moved in.
What's more, witnessing the reaction of prospective renters and homebuyers as they walk through the front doors of iconic landmark properties converted to residential is a special thing to behold.
Once tours of buildings like 70 Pine Street and 20 Exchange Place have concluded, many prospective renters and homebuyers are confounded by what they've seen. They couldn't have imagined how a place designed long ago to house cubicles, desks, and filing cabinets could suddenly feel like home.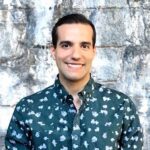 Ivan Suazo is a copywriter and SEO blogger with over ten years of experience in the real estate industry. He's also the founder of a wellness blog, QWERTYdelight.com, and writes sleep stories for the Slumber App.