Recently, I wrote an article for CitySignal about my favorite worst apartment design trends in NYC. To pen it, I drew from my five years of experience as a real estate agent in Manhattan. This was, without a doubt, sufficient time to witness the most awkward apartment concepts in the city — some real doozies that, despite their construction flaws, rented like hotcakes. It was Manhattan, after all, a place where location trumped everything else, including a shower in the kitchen.
This brings me to the first cringe-worthy design concept in this second installment:
1) A Shower in the Kitchen
I loved the West Village: quaint cobblestone streets, charming townhomes, chic boutiques. But the rental scene painted a different (more grim) picture for the budget-conscious renter. My client, who was prepared to pay $3,500 per month in rent (not a penny more), wanted a renovated 1-bedroom on a picture-postcard street like Cornelia or Grove. "It's West Village or bust," she said, claiming that other agents had tried and failed to show her apartments north of 14th Street.
In real estate, I learned early on that you can't tell a client what they want doesn't exist. You have to show them.
And so, on a sunny Saturday morning, my client and I set out on a tour of the West Village: six apartments in two hours. We saw kitchenettes with tiny sinks and half-size refrigerators; closets that doubled as makeshift bedrooms; blackened floors that would creak eerily as we walked on them; and bathrooms that gave new meaning to the phrase "close quarters."
But the straw that broke the camel's back was a shower in the kitchen, similar to this one we covered earlier.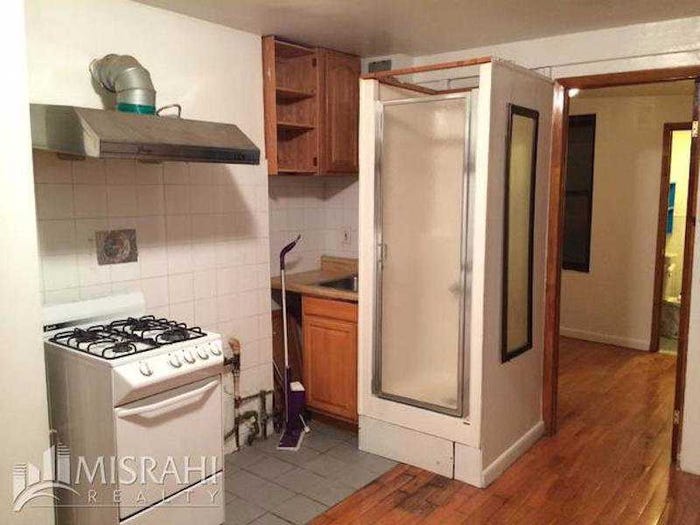 There it was: a phone booth with a showerhead and faucet, having no business being plopped in the kitchen of a West Village brownstone. "Okay," my client said at the end of the tour. "What's above 14th Street?"
2) Tunnel Vision
Railroad apartments — also known as floor-through layouts — emerged in NYC in the 1800s when demand for housing outweighed the need for privacy. A general lack of building codes and regulations also paved the way for these elongated residences in which rooms were built one behind the other, with front and back doors opening to an exterior hallway.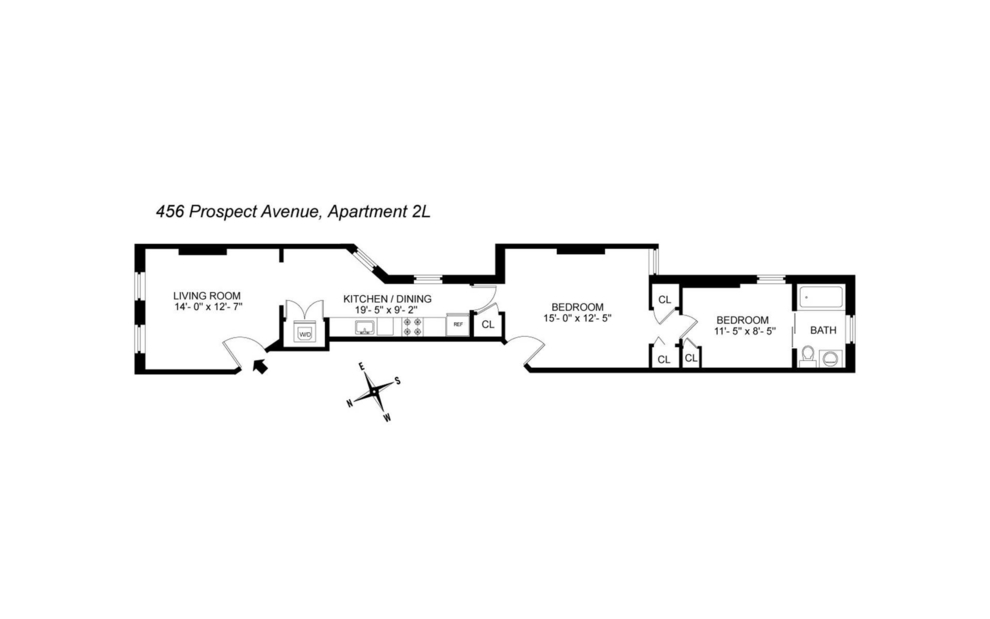 If you asked me, a railroad apartment was like staying in a hostel, where rows of bunk beds, arranged in a single room, guaranteed little to no privacy. But if you asked my clients — let's call them Roommates A and B — the floor-through layouts I showed them in the Lower East Side were bigger and cheaper than anything else they'd seen. Neither cared that one of them would need to go through the other's bedroom to use the bathroom. Every. Single. Time. This proved to me yet again that one man's real estate trash was another man's treasure.
"It's bigger and cheaper," Roommate A said. "What else matters?"
"Amen," said Roommate B.
3) Stuck with Lazy Susan
I grew up in New York City, where extra cabinet space in the kitchen was a luxury, so the idea of a revolving circular storage tray called a "lazy Susan" had never occurred to me. That was until I discovered one in a random city kitchen, crowding an entire corner cabinet.
It was a pie-shaped lazy Susan, but rather than having a flexible cabinet door that opened both corner panels, one was fixed. The problem? Unless both corner cabinet doors opened, this lazy Susan — mother of spice holders; goddess of non-perishables — wouldn't turn a lick.
So much for the convenience of a rotating tray. Not that it mattered; the apartment was rented later that week. As for the lazy Susan? I guess it could've been worse. The landlord could have hung a spice rack over the cooktop.
4) The Murphy Bed
As a New Yorker who valued space like it was the last glass of water in the desert, I had a soft spot for space-saving gadgets and gizmos, but my relationship with Murphy beds was yet one of love and hate. I saw the potential, as many New Yorkers did, for a bed that folded into the wall every day to give you back your living room, but it came at a cost. For one thing, you can kiss your privacy goodbye. For another, Murphy beds always looked awkward to me, even if they operated smoothly as if the person who designed them thought of a bed only as a last resort.
That seemed to be the case in an Upper East Side studio, where my clients, a young couple, lived on top of each other. They were elementary school teachers, so it made sense that they'd want to save money on rent by combining their bedroom and living area. But making a studio into a one-bedroom unit with a Murphy bed? That wasn't going to work, I thought to myself.
My clients thought otherwise: "Less to clean," said one. "So true!" said the other.
5) A Kitchen in the Bedroom
Imagine there are two rooms of equal size. One has a built-in desk. The other has a built-in fireplace. Where would you put the kitchen?
Assuming you chose the latter (living room), you'd be right. But because this is NYC we're talking about, it's a toss-up.
As a real estate agent, having seen hundreds of apartments in the city (or dare I say, a thousand!), I learned that sometimes a bedroom can have a kitchen built on one side of the wall.
For example, the bedroom/kitchen I saw in Alphabet City had a hot plate with two burners, a small sink, and a minifridge — all within arm's reach of the bed. It appeared to be custom-made for someone who took the idea of a midnight snack rather seriously. Either that or it was fit for a chef who dreamed up exotic recipes in the middle of the night; you know, someone who needed emergency access to a cooktop for that reason alone.
Go figure!
Final Thoughts on the Most Awkward Apartment Concepts in NYC
It dawned on me: Each apartment concept on this list had something to do with space, a valuable commodity in NYC. Beyond that, each of these design disasters felt purposeful, like they were born out of necessity rather than bad taste.
So what if some of them lacked an interior hallway or made you shower where you broke bread? This was New York City, I thought to myself, where each apartment had a story to tell, questions to answer, and a solution to inspire.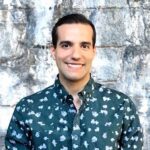 Ivan Suazo is a copywriter and SEO blogger with over ten years of experience in the real estate industry. He's also the founder of a wellness blog, QWERTYdelight.com, and writes sleep stories for the Slumber App.