Design is one of New York City's biggest industries. Inside every building is a layout carefully thought out by a creative mind seeking to best utilize the space. Outside every building is a statement that reminds people where they are and showcases what the building is all about. Right now, NYCxDesign, a non-profit that aims to increase diversity and equity within the world of design, is holding its annual design festival that celebrates and teaches the value of these industries. The Festival lasts until May 20th, and it's its ten-year anniversary, so it's going to be a big one!
In 2013, NYCxDesign hosted its first Festival to immense success. The Festival featured prominent figures in the world of design and architecture. They showed cased people from the world of manufacturing and builders and included presentations from international business and educational institutions. Every year since, The Festival has grown larger. Today, multiple boroughs host a plethora of events and receive thousands of guests from all over the world. Each of these events is open to the public, who can plan their week and sign up at https://festival.nycxdesign.org/. 
The Festival events range from formal to fun, as the festivities are as versatile as the discipline of design itself. One of the most celebrated this year will be the NYCxDESIGN Student Showcase Night on May 19th. This event will celebrate the designs of some of the best students in the City. Another one to look out for is the Wexler Gallery/Botanica – Inspired by Nature Showcase, an immersive event featuring the designs of NYCxDESIGN Award finalist, Andreea Avram Rusu, as well as other designs from talented people that seek to invoke a feeling of nature. These events are not to be missed.
Other events will be far more recreational, like the screening of MAU at Angelika Film Center from the 13th to the 20th.
The film tells the story of Bruce Mau, a designer responsible for Coco-Cola's global sustainability platform, among other monumental achievements (We won't spoil the film for you). There are also a variety of bars and restaurants that feature events and specials for The Festival. Check out the DesignxDrinks page of the NYCxDesign website to learn more, or just head to places like Kings County Distillery, Bar Blondeau, or As You Are so you can see the celebrations for yourself.
If exhibitions are more your speed, check out Industry City/ IC local Exhibit curated by Adrian Madlener. This year's theme is "Tools!" and takes an in-depth look at some of the machines and devices that we use in our everyday lives. Yes, even something as simple as tools had to be designed by someone, and this festival is about showcasing how veritable the world of design is.
Take another exhibit, Sunshine Thacker Presents The Groovitational Collection, as an example. This combination of interior design is fused with modern art to present furniture that has been inspired by space travel.
There are even spaces for emerging talent at this all-inclusive festival. The Pink Essay Presents: Physical Education II exhibit features a wide array of furniture, object design, sculpture, and more from exciting up-and-coming artists that are sure to change the game. The Radiator Show seeks to do the same thing by uplighting voices that are talented yet often overlooked. The showcase is meant to expand diversity in the market so designers can make an easier living and consumers can have more unique, versatile options for their home decor. The Festival is truly a place to see the future of design.
Innovation, diversity, and inclusion are what the good folks at NYCxDesign are all about. Each one of their festival events, and there are many more than the ones listed above, are dedicated to celebrating, showcasing, and expanding the industry. This festival is not just a ten-year anniversary, it's the culmination of everything NYCxDESIGN has strived for since its inception. It's the end result of a collection of artists coming together to show the world the cool stuff they made. This is what the industry needs to expand and grow stronger, and they've already laid a great foundation.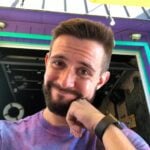 Russell is a writer and comic based in New York City. His plays have been featured at Penn State's Cultural Conversation's Festival, The NYC Thespis Festival, and Imaginarium's Inaugural Theater Festival. Follow him on TikTok and Instagram @pooleparty528