A lot has changed since the pandemic shut down New York City. The city has largely bounced back, though many notable institutions are now gone. Upright Citizens Brigade, on the other hand, seems to be getting a second chance at life sometime soon. The UCB 4 – Amy Poehler, Matt Walsh, Matt Besser, and Ian Roberts – have sold the institution. It now seeks to make a comeback, not just gaining the ground it lost, but also expanding into a national brand that people everywhere will be able to participate in. At least, that's what its new owners claim.
UCB was purchased by former Onion CEO Mike McAvoy and co-founder of the Mosaic Talent Agency, Jimmy Miller. The pair made the purchase thanks to additional backing from venture capital firm, Elysian Park Ventures. The inclusion of a venture capital firm in this purchase has led to some confusion amongst people in the comedy scene, though. Venture capital firms usually only get involved in businesses they could potentially make a profit from. However, UCB has never been known as a money-making venture. In fact, UCB has had a long, sordid history of money issues, to the point where they had to sell one of their New York theaters in 2019 to stay afloat.
Financial issues weren't the only ones plaguing UCB either. For years, the theater and school faced criticism for their lack, and mishandling, of diversity, as well as their unwillingness/inability to pay their performers. Before NYC shut down, and UCB lost two of their remaining three theaters, they made promises to address diversity, but not about the lack of pay for their performers. These new owners have promised to address both issues while also keeping the spirit of the former UCB alive.
One of the biggest questions on everyone's mind is, how will they make UCB profitable. Elysian is invested in many entertainment properties, albeit mostly sports-related and mostly through tech and apps. Perhaps they'll go the route of The Squirrel Theater, an improv theater made up of former UCB alumni, started during the pandemic that did online shows and classes. Maybe they'll sell franchises to comedy buffs in different cities so UCB can be anywhere in the country. There are many unknowns with this purchase. However, several things are known: UCB wants their Black Box Theater in LA back, and they plan to reopen theaters and training centers in New York City.
There are many mixed feelings involved with the purchase of the Upright Citizens Brigade. Many in the comedy community thought it was gone forever. Some even would've preferred it that way. Still, many are excited about the purchase and hope that the theater can learn from its tumultuous past. It's a long road ahead, and more information will arise as time marches on. There are many ways the new UCB can make this work, and many more ways they can destroy the name. Whatever happens, it seems that UCB is not done fighting for its place in the comedy world, and expects that it will be around for a long time.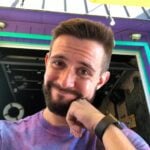 Russell is a writer and comic based in New York City. His plays have been featured at Penn State's Cultural Conversation's Festival, The NYC Thespis Festival, and Imaginarium's Inaugural Theater Festival. Follow him on TikTok and Instagram @pooleparty528