New York City is home to one of the most iconic cityscapes in the world. Residents and visitors of this bustling metropolis can gaze at the Manhattan skyline from different locations throughout the city. For east-facing views, Hoboken in New Jersey is an excellent spot across the Hudson River, and standing high above it all is One World Observatory in the Financial District.
These are just a couple of the best locations to catch breathtaking views of the New York City skyline. Below is our curated list of the most Insta-worthy spots showcasing NYC's signature buildings, cultural landmarks, and vibrant cityscapes from afar.
Brooklyn Heights Promenade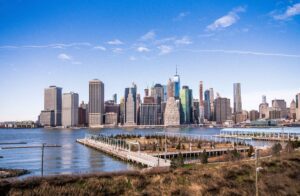 A, C to High Street. 2, 3 to Clark Street.

Free.

Featured in view: One World Trade Center, 120 Wall Street, Woolworth Building.
The Brooklyn Heights Promenade overlooking the East River is a fixture of tranquility in an otherwise busy urban city. It opened in 1950 as a byproduct of the Brooklyn Queens Expressway, otherwise known as the BQE. Since then, the Brooklyn Heights Promenade has been offering locals and tourists a sweeping vista of the ever-changing Lower Manhattan Skyline. 
One permanent landmark featured in the view is the iconic Brooklyn Bridge. Completed in 1883, this gargantuan structure of limestone and granite is arguably the most famous bridge in New York City. 
Top of the Rock Observation Deck
B, D, F, M to 47-50 Rockefeller Center. N, R, W to 49th Street. 1 to 50th Street.

General Admission: $32 – $38; Express Pass: $65; VIP ticket: $95.

Featured in view: Empire State Building, Metlife Building, Central Park.
The observation deck at 30 Rockefeller Plaza in Midtown, also known as "Top of the Rock," features floor-to-ceiling glass panels on the 67-floor viewing platform. Visitors looking north can see Central Park with its scenic avenues winding through tall trees and grassy spaces. Those looking south are treated to an unobstructed view of skyscrapers rising from the deep bedrock of the island of Manhattan below 59th Street.
The featured view here is of the Empire State Building on W 34th Street. One of the most beloved Art Deco skyscrapers in the world, the Empire State Building maintains its status as one of the most recognizable symbols of NYC culture. Standing at 102 stories and 1,454 feet at its pinnacle, the building was the tallest in the city for nearly 40 years after its completion in 1930. Today, that prize goes to One World Trade Center in the Financial District, clocking in at 1,776 feet above the ground.
The Met Roof Garden Bar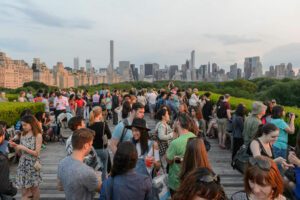 4, 5, 6 to 86th Street. 6 to 77th Street. Bus Routes: BXM8, M1, M2, M79-SBS, M86-SBS*

(*Select Bus Service.)

Residents of New York State can pay less than the general admission ticket price of $25 for adults, $17 for senior citizens, and $12 for students.

Featured in view: Central Park Tower, Central Park canopy.
The Cantor Rooftop Garden Bar is located atop one of New York City's most visited attractions: the Metropolitan Museum of Art at 1000 5th Avenue. Before the global pandemic, the Met was welcoming approximately 6.5 million visitors in 2019, earning a coveted spot on TripAdvisor's Top 5 Points of Interest and Cultural Landmarks in NYC.
From the rooftop bar, visitors can take in stunning views of Central Park and its dense tree canopy as well as panoramic cityscapes. At sunset, skyscrapers become silhouetted by warm hues of orange and lilac glowing behind them, rendering this seasonal bar at the Met one of the most romantic settings in New York City.
Roosevelt Island Tram
4, 5, 6, N, R, W at 59th St/Lexington Ave. F, Q to Lexington Ave/63rd Street.

$2.75 each way.

Featured in view: Chrysler Building, United Nations Headquarters, East River.
The Roosevelt Island Tramway is one of the best-kept secrets among vista junkies in NYC. Inaugurated in 1976, the cable car system, which is held aloft by the Queensboro Bridge, connects Roosevelt Island in the middle of the East River with the island of Manhattan. The tram schedule runs from 6 AM to 2 AM Sundays to Thursdays and from 6 AM to 3:30 AM on Fridays and Saturdays.
Although the journey to and from Roosevelt Island via the tram is only five minutes short, it's enough for riders to enjoy New York City's most scenic views near Midtown, including panoramic vistas of NYC landmarks such as the Chrysler Building and the United Nations Headquarters. 
Gantry Plaza State Park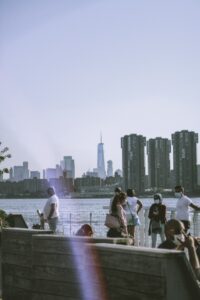 7 train to Vernon Boulevard-Jackson Avenue. NYC Ferry — East River line from Pier 11 in Wall Street or from E 34th Street in Midtown.

Free.

Featured in view: Chrysler Building, Empire State Building.
Gantry Plaza State Park is a 12-acre oasis in the Hunter Point section of Long Island City, Queens. Named for two gantries that once used to load and unload rail car floats, these vestiges now stand in sharp contrast to steel and glass towers surrounding them.
Offering spectacular views of the Manhattan skyline in Midtown since 1998, Gantry Plaza State Park is a perfect place to escape the hustle and bustle of city life. Here, New Yorkers also enjoy relaxing strolls through manicured gardens, a mist fountain, and four amenities-rich piers, one of which is a prime spot for fishing.
Pier A at Hoboken Park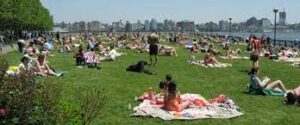 PATH to Hoboken.

Free.

Featured in view: One World Trade Center, New York by Gehry.
For a different perspective of NYC, cityscape aficionados can catch east-facing views of the Manhattan skyline from New Jersey. These viewpoints differ from the west-facing vistas along the East River, showing a different side of New York City that folks who live in the Garden State have been enjoying for decades.
One of the best spots in Jersey to snap the most Insta-worthy pictures of the Manhattan skyline is Pier A in Hoboken Park. To get there, New Yorkers can hop on the PATH train operated by the New Jersey rapid transit system and exit at the Hoboken Station across the Hudson River.
One World Observatory
E to World Trade Center. 4, 5 to Wall Street. A, C, J, Z, 2, 3, 4, 5 to Fulton.

Standard General Admission: $38*; "Combination" upgrade tickets: $48*; "All-Inclusive" experience: $58*

(*online prices only. For in-person prices, add $5.)

Featured in view: Statue of Liberty, Empire State Building, Central Park Tower, Brooklyn Bridge, Manhattan Bridge.
One World Observatory is an elevated experience literally like no other. Located at One World Trade Center in the Financial District, visitors ascend to the top of the tallest building in the Western Hemisphere on "Sky Pod Elevators" that climb up 102 floors in 47 seconds.
When it isn't shrouded in a thick veil of clouds, One World Observatory offers unobstructed, 360-degree views of New York City and beyond. Notable landmarks that can be seen from the observatory include the Statue of Liberty, the Empire State Building, and some of the commercial properties converted to residential in the Financial District. 
Manhatta
2, 3 to Wall Street. J, Z to Broad Street. 4, 5 to Wall Street.

$88 prix fixe menu.

Featured in view: 70 Pine Street, New York by Gehry, Brooklyn Bridge.
In 2018, restauranteur Danny Meyer brought his vision of a French-American restaurant perched 60 stories in the sky to life. Dropping the "n," he called it "Manhatta": a swanky establishment at 28 Liberty Street that offers a 3-course meal from a prix fixe menu priced at $88. Included in the meal are breathtaking views of the Lower Manhattan skyline, with an intimate closeup of 70 Pine Street's pinnacle clad in stainless steel, brick, and stone stealing the show.
Other cultural landmarks featured in the 360-degree exposures from Manhatta are the Brooklyn Bridge, the Manhattan Bridge, and New York by Gehry: an eye-grabbing, 76-story skyscraper located at 8 Spruce Street in FiDi.
Edge at Hudson Yards
7 to W 34th Street/Hudson Yards. A, C, E, or LIRR to 34th Street/Penn Station.

Standard General Admission: $36*; "Champagne" Admission (upgrade) tickets: $53*; Premium Admission: $71*

(*adults online prices.)

Featured in view: One World Trade Center, Hudson River, Hoboken cityscape.
The sky deck at Edge isn't for the faint-hearted. Jutting from the building's glass facade 100 stories above Hudson Yards, the sky deck at Edge features a mind-bending, see-through floor that gives new meaning to the word "vertigo." 
Located at 30 Hudson Yards between 12th and 9th Avenues in Midtown West, Edge is indeed "edgy" with its one-of-a-kind architecture characterized by jagged glass edges that give this futuristic property an otherworldly feel. The sky deck at Edge is suspended in mid-air and offers remarkable views of skyscrapers dotting the Hudson River's eastern shoreline, including One World Trade Center on the southern tip of Manhattan.
Staten Island Ferry
1 to South Ferry. 4, 5 to Bowling Green. R, W to Whitehall Street/South Ferry.

Free.

Featured in view: Statue of Liberty, Ellis Island, Governors Island, Lower Manhattan skyline.
The Staten Island Ferry is more than just a mode of transportation. For 25 minutes, visitors can take in amazing views of the Statue Of Liberty, Ellis Island, and New York Harbor for the handsome price of $0.
The Staten Island Ferry operates 24/7 with vessels departing every 15 to 20 minutes during peak hours and every 30 minutes during off-peak hours. It's the only direct mass-transit connection between Manhattan and Staten Island, giving passengers one of the most unique experiences for gazing at the lower Manhattan skyline.
---
The takeaway:
With so many free and paid options to catch cityscape views in NYC, plus a variety of vantage points scattered across the city, it's hard to decide which is the best spot for breathtaking views of the New York City skyline. But perhaps this doesn't matter: Wherever residents or visitors of NYC go to brandish their binoculars, there's always an interesting angle or a new perspective to discover in this vibrant global city that never sleeps.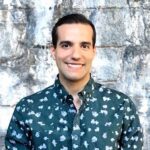 Ivan Suazo is a copywriter and SEO blogger with over ten years of experience in the real estate industry. He's also the founder of a wellness blog, QWERTYdelight.com, and writes sleep stories for the Slumber App.