New York is no stranger to beautiful, soaring skyscrapers decorating its landscape. It's a regular occurrence to hear about another being built. However, every now and then, there's an exceptional piece of architecture that goes up, worthy of mention. Such would be the case with the Affirmation Tower: a 90-story tall, seemingly "inverted" skyscraper displaying five tiers and located on the west side of the city.
Designed by AD100 architect, Sir David Adjaye, the Affirmation Tower is making history as one of NYC's largest structures, standing 1,663 feet tall and encompassing a total of two million square feet. It appears to be inverted, with the largest tier resting on the top of the building, and the smallest tier resting on the bottom. 
Set to occupy one of the last few open acres in Manhattan, the stunning monument would be developed by Don Pebbles, a black real estate entrepreneur, author, and activist. The Affirmation Tower would host a rooftop eatery, a skating rink, an entertainment complex, a ballroom, and two hotels.
The Affirmation Tower is noteworthy for more than its stunning, physical appearance. Consider the following aspects of the structure to truly understand why this building is one of New York's most memorable towers. 
The Architect: Sir David Adjaye 
Ghanian-British architect David Adjaye is the man responsible for the Affirmation Tower's design. A quick look at his previous work will reveal he's not one to shy away from eye-catching formations. Adjaye is the mastermind behind notable buildings throughout the world, such as the National Museum of African American History and Culture in D.C. and the Africa Institute in the U.A.E. He's also responsible for the Webster in LA. 
Adjaye doesn't seem to adhere to any architectural style in particular, but bizarrely shaped buildings backed by powerful narratives seem to be his signature. His newest design, the Affirmation Tower, is yet another unusually shaped building with a meaningful story behind it.
The Community: Honoring Black New Yorkers
The "upside-down building" is surrounded by a milky white, terrazzo façade which—if you look closely—resembles afro picks. It's a subtle tribute to black culture in a city where Black New Yorkers undoubtedly made their mark in American history. NYC boroughs and neighborhoods such as Harlem and Bed-Stuy are considered historical birthplaces of urban black culture here in the U.S.
The Affirmation Tower would be home to a number of businesses, making the building a destination for all. However, the plaza garden might be one of the most impactful places on the premises, as it will display tributes of historically significant Black New Yorkers.
The Team: Primarily Black & Women-Led 
funded by black and female investors—the Affirmation Tower is the work of a majority Black and women-led team. Developer Don Pebbles believes "a project like Affirmation Tower is long overdue for New York City."
Black and female entrepreneurs are likely to share his opinion. With the vast majority of the city's population being black, brown, and female, it goes without saying that this project would be meaningful in more ways than one. "It is an all too rare opportunity for us to make the world's most iconic skyline more inclusive than it's ever been before," says Pebbles of the development. Not only is the building's development team diverse, but so are the buildings' future tenants. The mixed-use development would host minority entrepreneurs as its earliest commercial tenants.
The Space: Built by Minority and Female Contractors
It's obvious that the intention of the Affirmation Tower is to elevate people of color. So much so, that the project's partners have agreed to give more than 30% of the development's construction work to minority and female contractors.
The team responsible for the signature development seems to be on the same page. They're serious about NYC being a center not just for cultural immersion, but also economic inclusion. By incorporating people of color and women at every step of the process, the Affirmation Tower team is making sure the building emanates inclusivity from beginning to end.
The Respect: Reduced in Size to Honor 9/11
Although taller by floor, the Affirmation Tower would not sit higher than the One World Trade Center. Out of respect for the nearly 3,000 people who lost their lives on September 11, 2001, Pebbles and Adjaye have decided to make the Affirmation Tower slightly shorter in spire height than the One World Trade Center. 
It's a meaningful act of respect, compassion, and remembrance to all those lost on one of New York City's most tragic days. It's also a level of consideration you don't see all that often in the business world. Without a doubt, the Affirmation Tower would truly be a one-of-a-kind, American structure. 
*Affirmation Tower is just one of the RFPs competing for Site K. The Empire State Development Corporation still has to choose a winning entry before development can begin.
(featured image from Adjaye Associates and The Peebles Corporation via New York Yimby)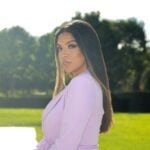 Vivian Tejada is a freelance real estate writer from Providence, RI. She writes SEO blogs for real estate, travel and hospitality companies. She's passionate about the future of work and helping Latin American freelancers achieve time, location, and financial freedom. When she's not writing you can find her at the gym, a family cookout, or at brunch with her girls. Follow her on Linkedin to learn more.