What made Greenwich Village so attractive to the most brilliant minds of America and beyond?
Its Golden Age was a haven for unprecedented freedom for thought and of course what I love so much about this, it was all rebellious in nature. A response to the conforms of the preceding tyrannical and often puritanical nature not only in America, but abroad as well. 
This magical rebellious nature in the air drew dazzling cultural heroes such as philosophers, political activists, artists, poets, writers and so much more. Thomas Paine, Emma Goldman, Jack Reed, Eugene O'Neill, Marcel Duchamp, Bob Dylan, Jack Kerouac, Edgar Allen Poe, Walt Whitman and Jackson Pollack are just a few.
It was here that those could exchange ideas, live freely and unconventionally.
Non-conformists, many of them were, homosexual, anarchists, you name it, they all had a unique vision.
Woodie Guthrie, Charlie Parker, even the late Mayor Ed Koch all drank from these waters of doing life their own unique way. Individual morality flourished here as it was the hotbed of all debate.
The places I have selected for your visit to the village have in most cases been here for decades, several, centuries. Some are well known while others are more word of mouth.
Yet each is historically significant In its own way. Most of all they represent a "freedom of spirit," for which Greenwich village is unmistakably the holiest of enclaves. 
The charm of the West Village is knowing that these winding streets dating back to the 19th century have been preserved even from the time it was the center of major cultural progression.
One can spend days meandering through this historically important neighborhood, which has been known for its bohemian culture since 1916, and where many luminaries had their start within this avant-garde, treasured enclave. Here is a list of just a few of its glorious locations. Some are known by few, while others are historically significant.
St. Lukes in the Fields
At 487 Hudson Street, one can find a beautiful public park that few know about. First designed in 1821, the church and garden at St. Lukes in the Fields is approximately two acres in size, taking up one full city block.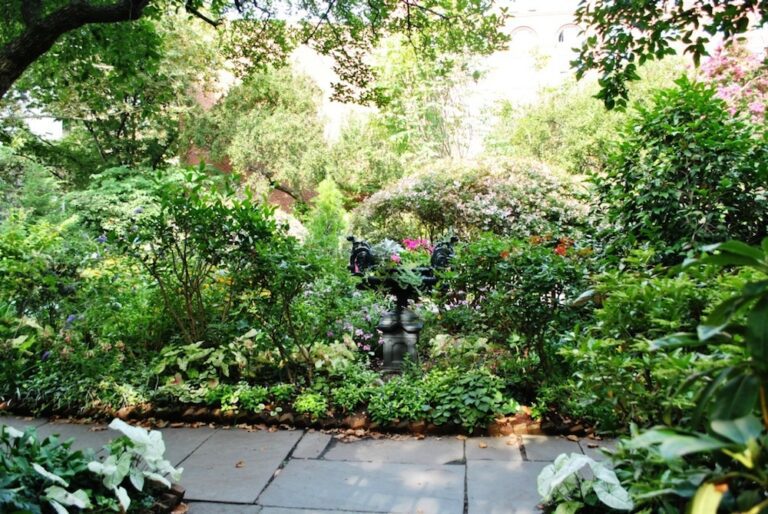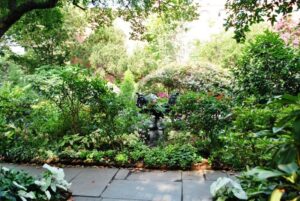 The New York City Landmarks register claims it to be "the most significant architectural ensemble in the West Village and the earliest in date."
It is enjoyed for being a quiet place for contemplation, picnicking, and strolls along the paths. The gardens are open year-round and plantings change seasonally.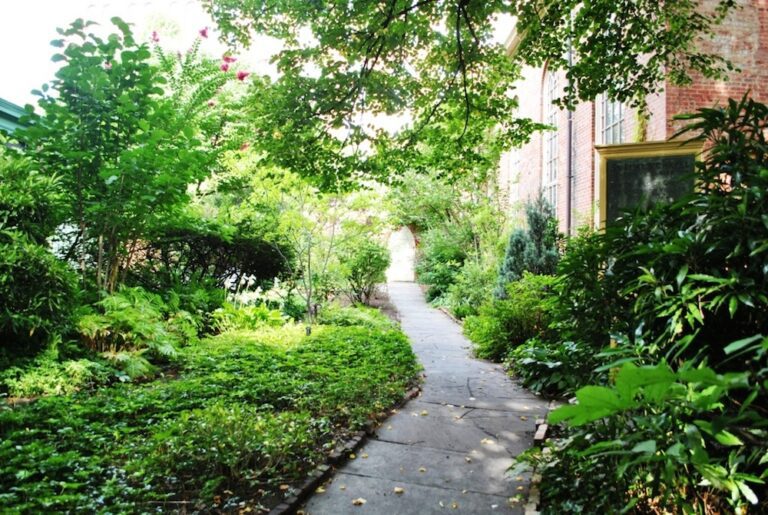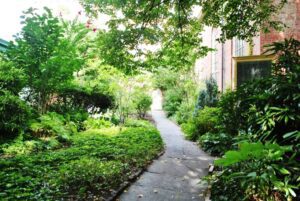 St. Luke's also celebrates Pride Month and hosts a free virtual concert series.
Washington Mews
Another magical place in the neighborhood is the iconic, cobblestoned, gated street known as the Washington Mews.
Located slightly north of Washington Square Park, between 5th Avenue and University Place, the street is made up of two-story carriage houses and was built between 1829-1833.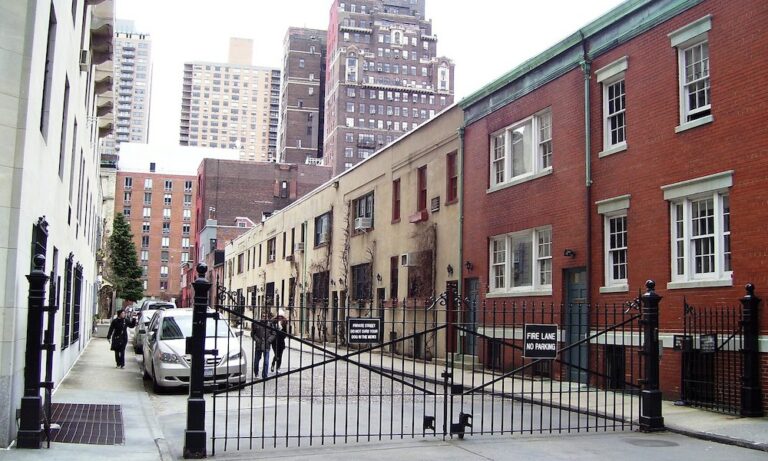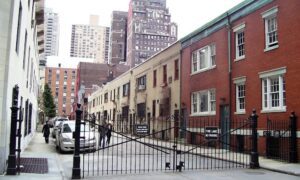 The parcel of land that it sits on was originally bequeathed by sea Captain Richard Randall for destitute, old, retired sailors. Little did he know that the street would become so desirable that it would attract the likes of Gertrude Vanderbilt Whitney, the founder of the Whitney Museum of American Art as the perfect place to call home. Although gated in 1880, the street remains open to the public but is still considered private property. A timeless treasure for all of those who encounter it, indeed.
Caffe Reggio
This establishment has been serving customers since 1927 and is the oldest original cafe in Greenwich Village.
In fact, it's believed to be the first place in the United States to make cappuccinos for patrons.
The fabled Caffe Reggio, located at 119 MacDougal Street, is filled with antiques with some paintings dating back to the Italian Renaissance. It also has a bench that belonged to the Medici family, decorated with the family crest.
A tiny jewel box of a place, why not stop by and have a bit of their warmth and grace with a cappuccino and pastry for which they are so known?
Tables line the sidewalk in warmer weather.
Jefferson Market Library
Located on the southwest corner of 10th Street, this historic building was originally built as a courthouse from 1874-1877 by the firm Vaux and Withers. Now a branch of the NY Public Library, at one time it faced demolition.
Due to public outcry, it was saved.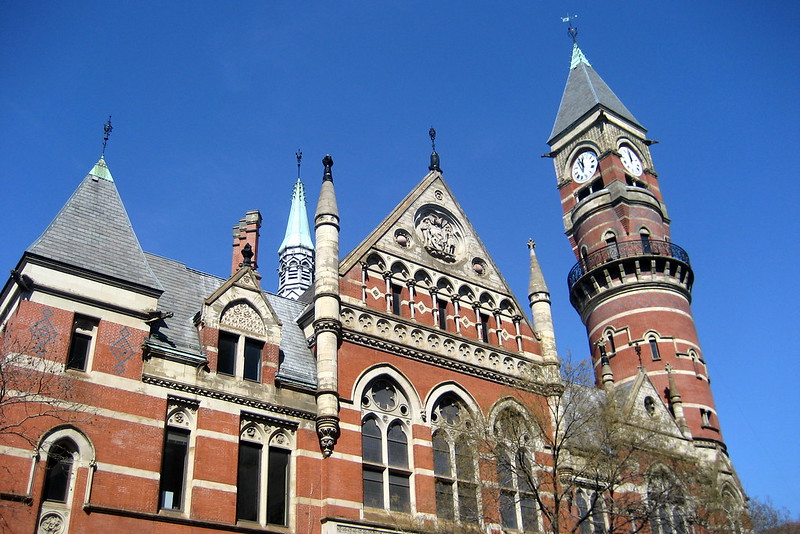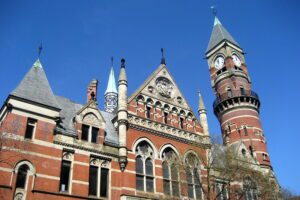 It was named a historical landmark in 1969. With its unique Venetian Gothic design, it has been voted the 5th most beautiful building in the United States by a league of architects.
Although silent for many years, the bell tower has been restored and can be heard chiming today. It is also a place for public concerts and performances.
Cafe Wha?
Music history has its place at this location 115 MacDougal Street. Cafe Wha, which opened in the 1950s has had a brilliant run of being the first place where many great musical artists have been discovered.
Folk legend and Nobel Laureate Bob Dylan supposedly held his first regular job here as a backup harmonica player.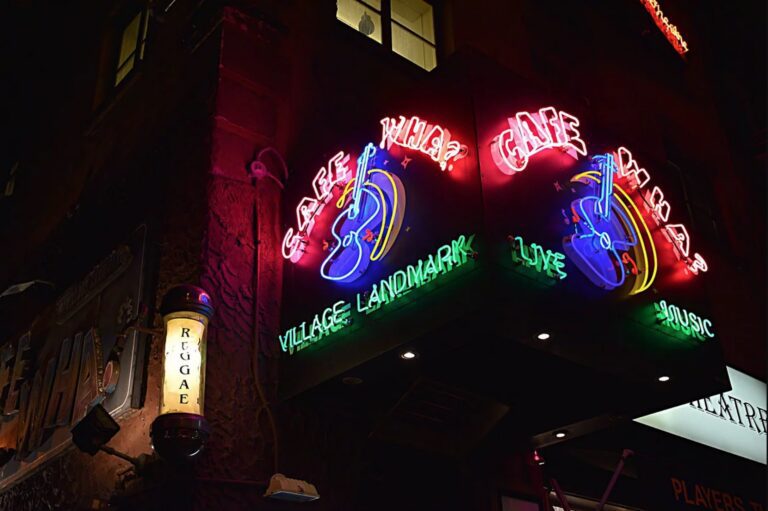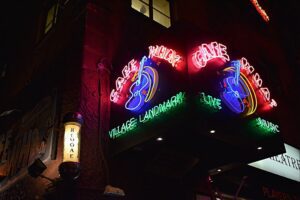 Others such as Jimi Hendrix, Peter, Paul and Mary, Bruce Springsteen and many more played here before they became world-famous.
Cafe Wha is still a popular venue hosting a variety of musical talent and some even say on occasion a famous musician will pop in unannounced to play a set or two.
During the pandemic, because Cafe Wha? has both outdoor and indoor concert spaces, the outdoor one remained open with social distancing in place. 
Grove Court
Stroll along the sidewalk of Grove Court. This alley is somewhat isolated, but filled with beautiful pre-Civil War homes. Note the original red-brick facade.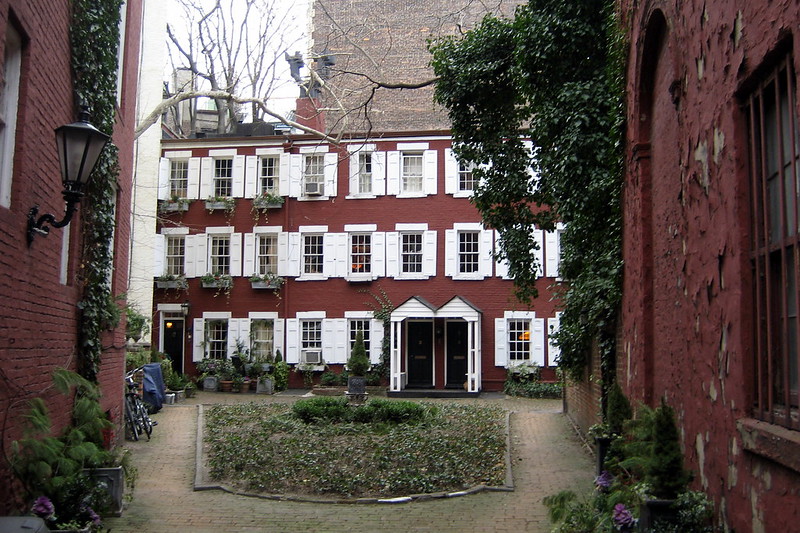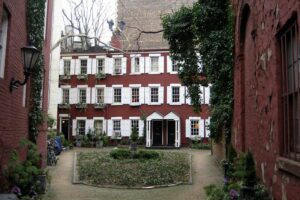 Behind the iron gate that encloses this corner of Greenwich Village is a community  that dates back to the mid-19th century.
Located off of Grove Street between Bedford and Hudson Streets are six connected houses. They were built for lawyer Samuel Cocks.
The alley was first known as "Pig's Alley" or "Mixed Ale Alley," a reference to the drinking habits of those living there. Those who inhabited the alley between construction and 1922 were Irish families headed by women (h/t Village Preservation).
Today, Grove Court is filled with lush flower beds and considered a secluded oasis in the middle of the typically bustling village.
_________________________________________________________________________
For those seeking to rent an apartment in the prime location of the West Village, consider Rockrose Rentals at 110-114 Horatio Street. With water views of the Hudson River, this is an excellent luxury building with great amenities: Roof deck, full-time doorman, elevator, and pets allowed. Surrounded by galleries, restaurants, and boutiques, the building has 154 rental units of all different sizes.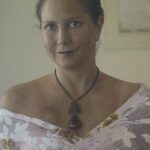 Pamela J. Goldman lives and works in Manhattan's Carnegie Hill neighborhood. She is a published author, artist and restaurant critic. She loves cooking French cuisine and traveling with her husband.