During the Coronavirus pandemic people have been getting laid off left and right. The unfortunate reality is, the demand for jobs isn't as high and companies are desperately looking for ways to cut down their costs. People with roommates everywhere are being affected by this. Suddenly you're expected to fend for yourself because your trusted partner has no choice but to move out. Money is tight, it's understandable. Instances other than COVID strike as well. For example: you are not getting along well with your roommate and ask them to move out. Or maybe your roommate has a family emergency which means they must go back home to Wyoming for the next six months. Life evidently happens and you should always be prepared for next steps… just in case. 
So, what do you do if you're caught in this sticky scenario? What happens when you get that dreaded text from your roommate informing you that they have to move out ASAP? Well, luckily there are multiple options and laws that are here to assist you. Even though it may feel like you are being left in the dark, you can navigate around this obstacle with some leg work.  
Fortunately, there is a law in place called the New York City Roommate Law. To break it down for you in non-technical terms, you are allowed to have a roommate who is not on the lease. There are a lot of different words to describe someone that may live in your apartment: cotenant, subtenant/subletter, a family member, and a guest/licensee. These terms are not to get confused with "roommate". According to this law, that means you are entitled to find new roommates in order to replace the old ones after speaking to your landlord and getting their approval. In most cases you would be required to begin a new lease with your new roommates. This means that the old roommates would have to surrender your current lease so that you are able to create a new one.
Let's think about some other situations that aren't as simple as that one… because sometimes life is not that easy. Maybe your roommate needs to move out for only three months and then will come back to finish out the last two months of the lease. In this case, you would need to find what is called a "subtenant" or more commonly known as a sublet. Most New York City apartments do allow a sublet, but there are also a handful of them that don't. Before you reach out to your landlord to ask, you can sift through your lease and it will usually state sublet rules on the first few pages. As per the article I linked earlier, a sublet is someone who will rent the apartment from the tenant as opposed to renting from the landlord. If your lease does state that you can have a sublet, it is crucial to get written consent from your landlord that OK's this transaction. If you are unable to obtain this piece of writing it can result in eviction as you would have an illegal sublet. Point is to make sure you cover all your bases before making anything official.
Finding a roommate or sublet within a short-time's notice can be difficult. After searching through every Facebook group, every Craigslist posting, and asking all of your friends if they know of anyone looking for a room, you are still unable to figure something out. What now?
Assuming that you and your roommate that is moving out are both on the lease (which I hope for your sake that you are), you are both equally liable for rent payments. A landlord is entitled to collect money from either of you at this point because even if you made a verbal agreement to split the rent evenly, there are no legally binding documents that state this. If you have searched every corner of the earth for a replacement and are running into walls, a last resort scenario could be to go about a civil suit to sue for your share of rent.
Writers at PeoplesClerk, a resource designed by a consumer lawyer and engineer to assist people in approaching small claims court, lays out all steps you should take in preparing to go to court. First, it's best to communicate with your roommate that has defaulted on their payments and let them know this is the route you are taking. If this sounds like a threat, it is. Like I said: this is the worst case scenario, but if they have left you with no choice then there is nothing more you can do. Next you want to make sure you collect and save all evidence that may help you in the court of law. For example: contracts, receipts, invoices, proof of how much they owe toward rent, and any sort of agreements that you guys came to in regard to the amount they are supposed to be paying. Then, you are to send a demand letter to your roommate which states what you are requesting from them. This can be done via text message or over the phone, but it is probably safer to write a letter. It emphasizes the severity of the situation and makes things more official. Be sure you are clear on how much you are able to sue for in a small claims court. So, in the state of New York, the maximum amount would be $10,000. In the unlikely case you are owed more than $10,000, PeoplesClerk recommends waiving these extra fees in order to save yourself money in the long run. You will avoid the cost of a lawyer, high court fees, and longer proceedings that would normally take place in regular court. To sue in a small claims court is usually between $30-$75, which makes this process significantly less expensive. You will then have to follow the three steps of the proceeding which are as follows:
Complete a "Plaintiff's Claim and Order to Go to Small Claim's Court"

File the "Plaintiff's Claim and Order to Go to Small Claim's Court"

Serve your roommate
I know this seems scary, but the last thing you want is for your roommate to owe you rent money. After all, many of us are renting and not buying our homes because we are still saving up money to do so. Just make sure you are prepared, know what you are going to say, and have all your evidence ready. As tedious as the process seems, you will most likely get your money back and can move on with your life. Don't let it scar you. Unfortunate circumstances like this happen more often than you think, and you are most definitely not alone!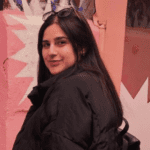 Carly is a freelance writer with interest in topics pertaining to lifestyle blogging, social justice, and anything to do with film/media. She graduated from the University of Wisconsin - Madison with a degree in English & Literary studies in hopes to write for a large music publication. When she is not writing, you can find her watching movies, cooking her famous Carbonara, and enjoying time outdoors.