Meadow Partners, a private real estate investment firm, purchased two rental apartment buildings in Manhattan's East Village. The transaction, which came out at a total of $58 million, is relatively modest compared to other purchases seen in Manhattan, which is home to some of the most expensive real estate in the country. 
The investment company purchased a pair of buildings that are adjacent to each other — one at 305 East 11th Street and the other at 310 East 12th Street. The last time the buildings changed owners was 1968. 
The two buildings are a relatively small 89 units combined, with about a third of them rent-stabilized. Meadow Partners usually purchases properties that are about 15 to 20 percent affordable, so this purchase is a bit out of the norm for the company. The firm's managing partner Jeffrey Kaplan told Crain's New York that the market-rate units in the two buildings are currently renting at below market value, but he sees an opportunity to increase rents as demand for rental space skyrocketed in Manhattan over the last year. 
Kaplan did note that the current growth in Manhattan rents can't continue in the long term. Speaking to Crain's, he explained that "it's not sustainable, the level of rent growth we've seen, but there's a little more room to grow," he said. "We're assuming there's enough upside in the free-market portion that we can get the returns we want if the rent growth is just flat on the stabilized units," Kaplan said.
What Happens When a Corporate Landlord Buys a Property
The Chissick family was the previous owner, serving as the landlord since 1968. When larger institutional firms buy up these smaller properties, rents often, but not always, go way up as a result. While Meadow Partners hasn't revealed any future plans regarding these two East Village apartment buildings, institutional investors often have a short-term profit strategy over a long-term hold strategy. This often means that firms hope to increase the value of the building quickly before selling for a profit for their investors, which ultimately can leave tenants with huge rent increases. 
Heather Vogell, a reporter, spoke to marketplace.org about the rise of institutional, private equity firms buying apartments from smaller landlords. She said that "what really distinguishes this type of landlord from other types of landlords is that other types of landlords…create a steady stream of income through the rent, and over time hope that the property value will increase." Speaking about private equity firms, she pointed out that "what's different here is that you have a firm that's coming in without a long-term-hold strategy in most cases."
The other types of landlords she speaks about are often smaller landlords but can also include corporate landlords. The fear for tenants, obviously, is that when a larger corporate landlord buys their building, their strategy may be to increase the value and sell for a quick profit. They can do this by purchasing an older building and renovating/updating the property, resulting in higher rents.
Of course, there's no clear indication that Meadow Partners has a short or long-term strategy yet. However, the fact that they purchased the properties from a smaller landlord is notable, as rents in the pair of buildings are currently cheaper than the neighborhood average.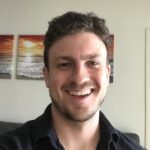 Tyler graduated from Virginia Commonwealth University in 2017 with a Bachelor's degree in Urban and Regional Studies. Currently based in Los Angeles, he works as a freelance content writer and copywriter for companies in real estate, property management, and similar industries. Tyler's main professional passion is writing about critical issues affecting big and small cities alike, including housing affordability, homelessness, inequality, and transportation. When he isn't working, he usually plans his next road trip or explores new neighborhoods and hiking trails.