There is nothing like a day of fishing. Hanging out outside with a friend or alone, some nice cool drinks, and the sounds of nature make for an idyllic afternoon. That said, the location of my fishing paradise doesn't typically take place in NYC, especially in the parks. I'm sure I'm not alone in thinking people who fish in Central or Prospect Park must be doing something illegal. Thing is, they're probably not breaking the law at all! As long as they follow a few guidelines and rules, the bodies of water you can fish in New York vastly outnumber the bodies of water you can't fish in.
How to get your fishing license in New York City
Intrigued? I'd be surprised if you weren't! Fishing in Central Park seems like a great time. But where do you start? First and foremost, you need a fishing license if you're over 16. Some 16-year-olds might be tempted to fish without a license, but I beg them not to turn to a life of fish crime. Speaking of fish crime, some websites that claim to sell you a fishing license are scams. These scams reel you in (no, I'm not sorry) only to steal the information you provide them. This is why it's important to obtain a license only from the official Department of Environmental Conservation website. Once you have that, you can fish and hunt for frogs with a spear.
Gear for your New York City fishing experience
So you have a license, time to go fishing in the park, right? Wrong! First, you need the right gear. One might think that they just need a pole, some line, lures/bait, and hooks. However, there are strict regulations for fishing gear in New York State, especially for freshwater fishing. The biggest rule is that your sinker must be lead-free. This is to cut down on water pollution and make for a healthier environment for fish and people. The lead-free rule goes for all fishing. For freshwater fishing, since you're required to throw your fish back in most freshwater locations, you're not allowed to use a barbed hook. This is so the fish won't be injured once you throw it back. Once you're done fishing, you're required to clean up after yourself for once.
Where to fish in NYC
So you have the gear and the license. Now it's time for that sweet sweet fishing! But where can you fish in NYC? What are the best spots? Lucky for us, park rangers themselves have placed their top fishing spots on the parks and recreation website! Here are some spots they've highlighted.
Freshwater Fishing
Saltwater Fishing
Fishing in NYC is a fun way to spend the day and it's easy to do when you're prepared. Just be sure to have a license, the right gear, and the knowledge ready at your fingertips. Soon you'll be a successful angler and then you can tell your friends about the wonders of NYC fishing. There are a lot of locations and fish to checkout, and some places even have events that teach and celebrate the art of the sport. In a city that makes it difficult to commune with nature, do something that's peaceful, fun, and rewarding.
Also, please please please send us your fish pictures. That place in Staten Island has eels! Ever catch a shark? I want to see that! Here's our Instagram again. Happy fishing!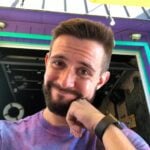 Russell is a writer and comic based in New York City. His plays have been featured at Penn State's Cultural Conversation's Festival, The NYC Thespis Festival, and Imaginarium's Inaugural Theater Festival. Follow him on TikTok and Instagram @pooleparty528