Greenpoint Basics
Welcome to Greenpoint, the artsy, northernmost neighborhood in Brooklyn! When imagining Greenpoint, many of us think of quirky, hipster residents who wear knit hats in the summer and push their dogs around in strollers. While those folks are certainly around, the neighborhood is a rich tapestry of art, food, and entertainment. 
With Williamsburg to the south and Long Island City to the north, Greenpoint is an ideal place to catch some great views. One only has to go to the East River to see skylines from Brooklyn, Manhattan, and Queens in all their glory. While the neighborhood might seem close to these areas, getting to them can be a bit tricky, which is one reason the residents of Greenpoint have made the area their own. 
The History of Greenpoint
Before European colonization, the land that would become Greenpoint was part of the Lenape Nation. Control of the area was seized by the Dutch, and the first European to settle in the area was Dirck Volckertsen. Volckertsen began farming the land, and soon others followed him, cementing Greenpoint as a farming community. During the Revolutionary War, the farms of Greenpoint were put under a massive strain when the British set up an encampment there. This encampment left the farms isolated from the rest of Brooklyn until 1855 when it was annexed by the borough. 
Afterwards, the neighborhood became a place of industry, housing factories and maritime industries like ship building. These industries dominated the area, and attracted immigrants from Germany, Italy, and Poland. However, this domination came at an incalculable environmental cost. Newtown Creek, a tributary of the East River, became extremely polluted, especially after the Greenpoint oil spill in 1978, which remains one of the largest oil spills ever recorded in US history. Many industries left the area following the clean-up and ensuing litigation, and the city and the EPA began intensive environmental renewal projects in the 1980's, which continue today.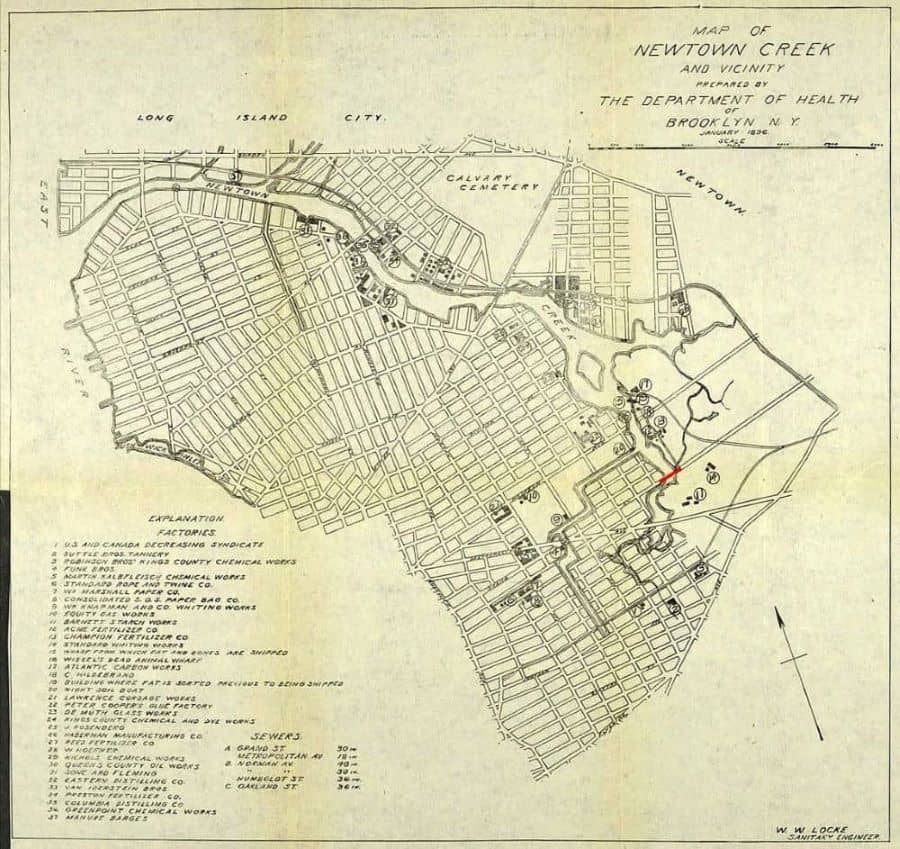 In 2005, the city rezoned 175 blocks of Greenpoint and converted it into residential land. Since then, a large influx of people have continued to move to the area. This allowed for the economy to grow, which meant the cheap rents and buying prices that folks were looking for have largely disappeared. Now, luxury high rises are popping up in the neighborhood, especially near the water, making Greenpoint one of the more expensive neighborhoods in Brooklyn. Even so, the artistic and Polish communities that shaped the area have made their place here, and continue to nurture community despite the rising costs. Let's take a closer look at what Greenpoint has to offer to locals and tourists alike.
Where to Shop in Greenpoint
While Greenpoint isn't exactly a shopping district, the community has some great stores for people to check out. Eclectic and stylish, these shops and boutiques boast truly unique goods that are hard to find anywhere else. Some of the coolest shops in the area include:
Archestratus Books & Food
This specialty shop has a large collection of food and literature from all around the world. They even offer cooking classes for those who are so inclined. Most books sold here are dedicated to the culinary arts, meaning this shop is solely about the art and craft of a good meal. Family owned, and very Sicilian, this shop will put a smile on your face and food in your stomach.
Eighth Hour Bikes
Biking is popular in Greenpoint, so naturally the area needs a place for people to buy and repair this main mode of transportation. Eighth Hour Bikes is that store for many residents. Providing excellent service, this shop specializes in adventure biking. They also cater to the casual rider, and come highly recommended by the people who frequent the shop.
Dobbin St. Vintage Co-op
View this post on Instagram
A co-op that specializes in vintage clothing and furniture, this shop sells pieces in sets and individually. There are some truly unique pieces here that both interior design nerds and newbies will enjoy. Bright and fashionable, this store is worth checking out, especially if you're seeking quirky items to spruce up your home.
Museums and Galleries of Greenpoint
Art is an important part of Greenpoint, which becomes obvious when you see the amount of galleries and showrooms in the neighborhood. These galleries have masterful works of art from newcomers and established creatives alike. Striking and eclectic, these places cement Greenpoint as an artist's haven. Some of the most visited museums and galleries are:
Faurschou Foundation
A private art museum, the Faurschou Foundation is an international collection of works that frequent each of their facilities all over the world. Their U.S. location is in Greenpoint, a diverse artisan neighborhood that the Foundation loves to uplift. Exhibitions change every six months or so, and range from solo exhibitions to larger group showings. This museum is definitely a must see destination for any art lover.
View this post on Instagram
The Greenpoint Gallery
As the name implies, The Greenpoint Gallery is an art gallery in Greenpoint, and offers exhibitions, classes, and space rental for events. This venue is extremely community driven, and residents of the neighborhood are more than welcome to try their hand at painting, pottery, drawing and more. This non-profit is a favorite amongst the people of Greenpoint, and it will likely be a favorite of yours too.
IRL
A newer gallery dedicated to emerging and mid-career artists, IRL is an amazing space that art lovers will get a lot out of. Focusing on avant-garde, this venue hosts over 10 exhibitions a year. There's also a focus on experimental music, with specialty programs and parties for the community. IRL is an experimental place, with a vibe that draws you in and keeps you around.
Greenpoint Landmarks
Greenpoint has a long history of industry and commerce, and with that comes plenty of old and ornate buildings. These structures played an important role in the neighborhood when they were first built, and now, many have been converted for other uses. Beautiful and haunting, these buildings tell a story of industry, the working class, and a thriving community. Some of the most impressive landmarks are:
Oliver H. Perry Elementary School
This beautiful red brick building is the oldest continuously functional school in Brooklyn. Built in 1867, only the indoor amenities have undergone massive changes, such as adding air conditioning and better supplies to keep up with more modern schools. A stunning piece of history, this building was designated a landmark in 1983, and still serves over 400 students every school year.
The Astral Apartments
Another beautiful, ornate structure, this building was one of the first ever housing projects in the city. Built in 1885, this complex housed the working class people who ran the factories and docks that put Greenpoint on the map. Designated as a landmark in 1983, this building is a callback to a more industrial era in the neighborhood.
The Eberhard Faber Pencil Factory
This landmark consists of eight buildings and one freestanding wall, some of which have been retrofitted for other purposes like banquet halls and a bar. Back in its heyday, the factory was the first to produce colored pencils, and sent their products all over the world. The buildings were established as an official Historic District in 2007, and the exteriors provide a vivid look into the industrial past of the neighborhood.
Manhattan Avenue Sidewalk Clock
One of the last advertisement sidewalk clocks in Brooklyn, the Manhattan Avenue Sidewalk Clock was landmarked in 1981. It was erected in 1870, and was originally an advertisement for Bommelstein Jewelers. Back then, street decorations were often used to advertise shops and businesses, and this one has been kept in great condition. 
The Greenpoint Historic District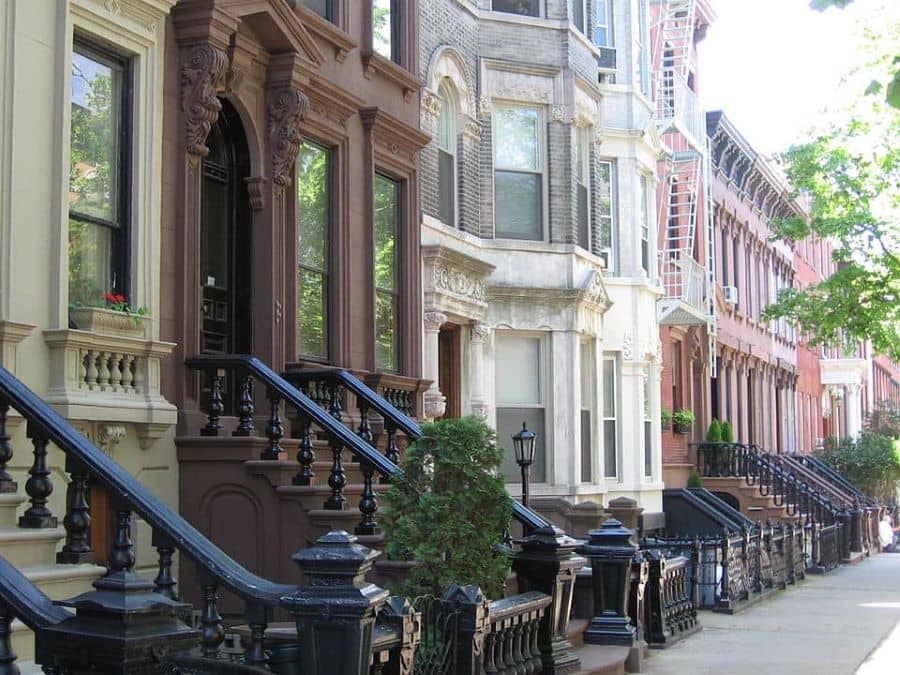 Landmarked in 1982, this district is full of brownstones built after 1832. These homes were mostly inhabited by workers in the shipbuilding industry. Most have been carefully maintained and remain in pristine condition, and are a beautiful sight to behold on a nice sunny day after the trees have bloomed in spring. These quiet, serene sidewalks will send you back in time to when Greenpoint was a thriving town instead of a neighborhood.
Where to Eat in Greenpoint
Greenpoint has some of the best food in the city, and that's not an exaggeration. In the last decade, tons of restaurants have opened up in the area, and it's a challenge to find one that has less than four stars on Google or Yelp. You could throw a rock and hit a delicious spot, but some of our favorites are:
Greenpoint Fish & Lobster
($$)
Greenpoint Fish & Lobster might just have some of the best seafood in the city. A combination restaurant and fish market, this place might seem like a hole in the wall. However, their chefs are basically magicians and can do amazing things with lobsters and scallops. Their wine and beer list is nothing to scoff at either, so make a reservation today, and enjoy some impeccable seafood on their patio space.
Pierozek
($)
There are many Polish places around Greenpoint, and Pierozek is one of the best. With nearly five stars on Google and Yelp, this delicious spot specializes in pierogi, which are made with a variety of traditional and seasonal fillings. They have a good sized drink menu, as well as other traditional Polish delights. There's nothing more cozy than dumplings on a cloudy day.
Frankel's Delicatessen & Appetizing
($)
This famous deli has been around for years, and sports some of the best traditional Jewish cuisine in the city. This place moves fast, and is known for having short wait times for delicious sandwiches. They have a variety of groceries and merch as well, so you can get a lot while you're here. Fan favorites include their pastrami salmon bagel and their hot brisket sandwich.
View this post on Instagram
Five Leaves
($$)
This popular brunch spot is the perfect mix of subtle and classy. Though it could be confused for a standard American place, this restaurant is actually Australian-inspired cuisine, which is why some of the items on their menu are a bit more eclectic. Winning items include their burger, chicken pie, and steak. They also feature multiple skin contact and natural wines—the millennial's drink of choice.
Oxomoco
($$)
A traditional Mexican restaurant from executive chef Justin Bazdarich, Oxomoco is a Michelin Star restaurant that packs a punch. With an impressive food and drink menu, aesthetically pleasing outdoor space, and takeout/delivery options, this is a great pick for all seasons. Their best sellers include their Pollo a Las Brazas and the beef tartare tostada. A refined option to impress on the second date.
Getting Drinks in Greenpoint
If you thought the restaurants in Greenpoint were impressive, then you'll love the bar scene here too. Imaginative and hip, these venues serve up their delicious drinks with style. Though the neighborhood is slightly out of the way for visitors, these bars and cocktail lounges make it worth the trip. Some of the best bars in the neighborhood are:
Threes Brewing Greenpoint
($$)
Owned by the same folks who started Greenpoint Fish & Lobster, Threes Brewing has plenty to offer, plus a delightful atmosphere. Much of the seafood selection found at Greenpoint Fish & Lobster can be found at Threes, but the real story here is their draft selection. Specialty beer made locally and internationally is their specialty. Their menu changes often, so repeat customers will have a dynamic experience every time.
TØRST
($$$)
An elevated bar experience, TØRST is determined to craft a hoppy adventure with their craft beers. Their food is essentially "bar food but fancy" and they have over 200 different beers on their menu. Different beers appear and rotate throughout the year, and they are always seeking new ones to add to the list. TØRST keeps it exciting!
Minnows Bar
($)
Simple, pure, and perfect, Minnows is a chill neighborhood bar with specialty cocktails, draft, canned, and bottled beer, plus fantastic bar snacks! It's cheap for the area, and their fun environment gives off the vibe of a beloved dive bar that's been around for decades. Their effortlessly cool style appeals to just about everyone.
View this post on Instagram
Eavesdrop
($$)
A hip new bar dedicated to sound, Eavesdrop has a DJ, a warm atmosphere, and delicious cocktails. This venue was designed to enhance the music playing in the bar, and encourages customers to really listen to the intricacy of each song. The drinks here are interesting as well, using specific brands to create the perfect blended cocktail. If a stellar aesthetic experience is what you're after, this is the place for you.
El Pingüino
($$)
A rustic, classy joint close to the water, this Spanish bar is known for its specialty cocktails and delicious seafood, with a special emphasis on their mussels and scallops. The bar will make you feel as if you're in a coastal town bar where everyone cools off after a long day of fishing. Not only is their menu amazing, but their happy hour specials are out of this world, offering half off mussels and sherry from 4pm-7pm daily. Run, don't walk.
Cafes in Greenpoint
Any neighborhood with a large artist population is going to take their caffeine very seriously. Greenpoint has some great cafes that, one could argue, makes it a go-to spot for coffee drinkers of all kinds. Some local favorites include:
Sweetleaf Coffee
Sweetleaf has several locations in Brooklyn, but their Greenpoint café is the original, and contains their entire operation in the back of their shop. This space isn't hidden, either. Every customer can see the process of crafting their amazing coffee. It's a must-see for every coffee fiend.
Cafe Alula
This Lebanese café serves great coffee and Mediterranean food including shawarma, falafel, and tabbouleh. The space itself is cute, bright, and colorful, using the colors of the walls and floor to enhance the natural light that floods the space. This café will make even a gloomy day wonderful, as the friendly staff, the amazing food, and the stellar coffee put a smile on your face.
View this post on Instagram
Eleva Coffee
Another flagship coffee shop in Greenpoint, Eleva Coffee is right next to the East River, so you can get your coffee to-go and calmly watch the ships go by in the water. Working directly with their own bean farmers, Eleva Coffee seeks to support the infrastructure that makes drinking coffee possible in the United States. Buying coffee here means supporting cafes everywhere.
DSTRKT Coffee
A modern coffee shop with a huge menu, DSTRKT Coffee is known for their special coffee mixtures and waffle boxes, which is a box of waffles with "make your own" toppings. This café is sleek and industrial, with fast-paced baristas making drinks with impressive speed. If you're in a hurry, but still want something delicious, this is the spot for you.
Paloma Coffee & Bakery
This café is a wonderful place that serves some of the best cold brew in the city. Their specialty, of course, is espresso. Their mocha and Spanish tortillas are also out of this world. Go to Paloma to get a sweet treat with your coffee and start your day the right way.
Where to Live in Greenpoint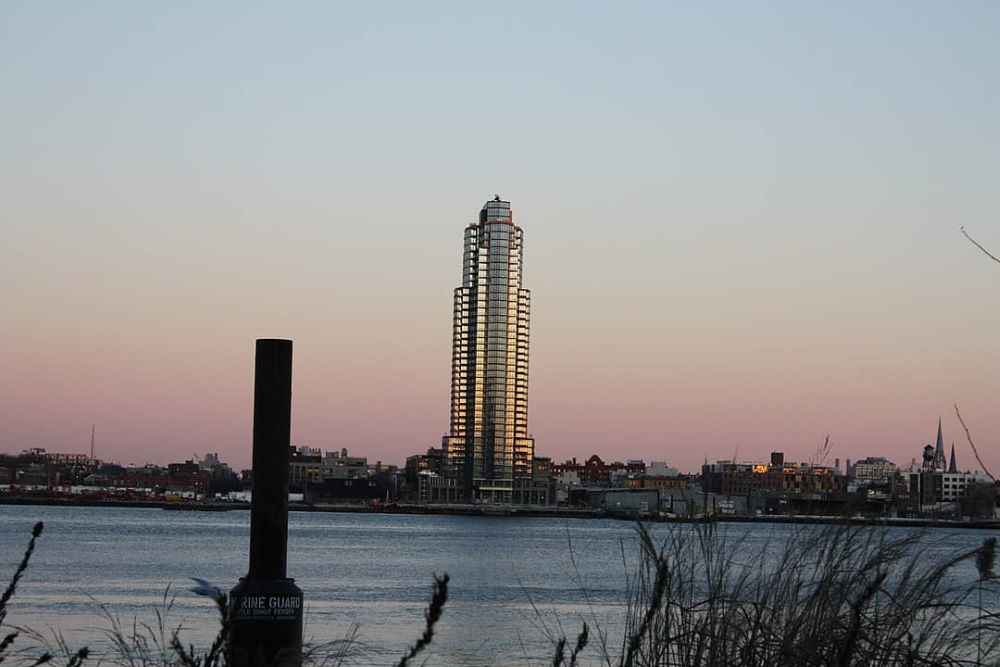 Until recently, Greenpoint was largely made up of small apartment complexes and single family homes. More recently, older commercial buildings have been renovated into homes, and luxury high rises are being erected every year. There are many notable housing options in this neighborhood. Some of the best include:
Greenpoint Apartments for Rent
The Greenpoint
A newer building near the water, 21 India Street, also called The Greenpoint, is a stunning rental building with a lot to offer its residents. Some of the amenities here include a coworking space, a children's playroom, and a billiards room, making it perfect for families and young professionals who work from home. They even have a basketball court, and nearly every home has a stunning view.
97 Clay Street
A small townhouse with multiple apartments inside, this historic building is perfect for people who don't like large and lavish apartment buildings. That said, this building still has a small resident's lounge in the basement, complete with comfortable couches and some billiards tables. There's even a communal outdoor space that is perfect for hanging out on nice summer evenings.
Two Blue Slip
Another beautiful waterfront building, Two Blue Slip feels more like a resort than an apartment complex. It has an enormous fitness center, furnished terrace, and a large, outdoor, heated swimming pool. The building puts an emphasis on relaxation and recreation, which means it's perfect for those seeking something a bit more luxurious.
56 Box Street
Small but mighty, this rental building is cute and cozy with a ton of outdoor spaces. The 56 Box Street complex is quirky and modern, with a ton of exposed steel and brick, which gives it an industrial touch. Nearly every unit of this building has a private balcony, perfect for sipping coffee or reading on a nice day.
The Freeman Corner
Small and stunning, The Freeman Corner invokes the industrial past of the neighborhood while providing modern luxuries to its residents. Many units come with a private balcony space, but the communal rooftop deck will bring you closer to your neighbors. There's also a large fitness center, a bike room, and private parking for an extra fee, adding to the appeal of the beautiful units.

Greenpoint Condos for Sale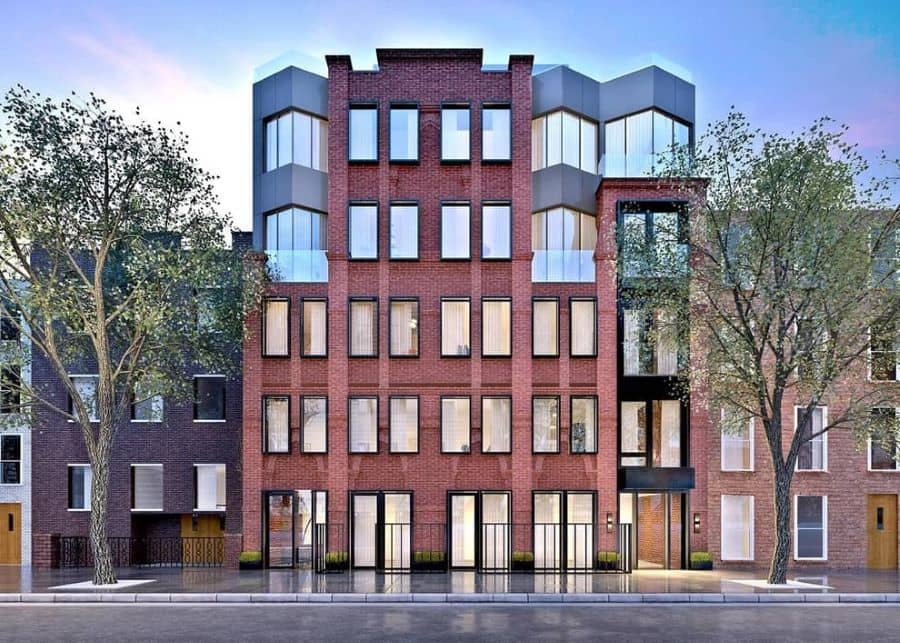 1080 Lorimer Street
Located close to the Historic District, 1080 Lorimer is a stunning building that fits the neighborhood aesthetic. It's not too flashy on the outside, but the inside will blow your mind. With a furnished rooftop deck, large fitness center, and video doorman, this smaller condo provides residents with a sense of safety and comfort.
The Pencil Factory
Part of the landmarked Pencil Factory, this condo is part of Greenpoint history. Close to the waterfront, this building features great views despite its short height. Units are large with high ceilings, and the open concept only makes them seem larger. This complex is perfect for history buffs who want all the modern luxuries.
Parker House
A sleek complex in the heart of the neighborhood, Parker House has 24 amazing units that are filled with natural light. Residents can purchase a parking space and private rooftop cabana for the stunning views, though many homes have private balconies. Right next to many of the area's best shopping and eating establishments, this building's location is the envy of Greenpoint.
120 Java Street
A beautiful red brick building with innovative design, 120 Java Street was a former church that was converted into condos in 2021. These homes are essentially lofts, ranging from studios to three bedrooms. The building is even large enough for amenities including a fitness center, children's playroom, and private storage.
 79 Clay Street
With a lovely stone façade, this condo is exclusive, elegant, and bright. With just eight units, these homes are large and unique, many of them duplexes. Select units have private outdoor spaces. Close to the water, this building is perfect for people seeking a compact living situation in a quieter part of the city. 
Best Parks in Greenpoint
Greenpoint might no longer be full of farms, but you can still find spots of nature in this former industrial neighborhood. Some of the parks here are quite large, sporting athletic fields and monuments that have been standing for decades. Some of the coolest parks in Greenpoint are:
McCarren Park
Right off the border of Greenpoint and Williamsburg, McCarren Park is the largest green spaces in the area. Home to one of the biggest public pools in the city, this park has a number of athletic fields, a memorial garden, and even a farmer's market. This is many people's favorite park, and it's easy to see why.
Msgr. McGolrick Park
The second-largest park in Greenpoint, McGolrick Park is full of greenspace, basketball courts, a pavilion, and much more. The pavilion, built in 1910 with later additions made to honor WWI veterans, is a national landmark. This park also boasts a farmer's market and a large playground with water features, making this a popular family destination.
WNYC Transmitter Park

As the name suggests, this park used to be the location of the WNYC radio transmission towers. These days, this tiny park and pier is a great place to sit on a sunny day or a calm night. The views of Manhattan and Brooklyn simply can't be beat. The skyline looks magnificent, especially juxtaposed to the small clump of green grass that park visitors like to watch from.
Dog Runs of Greenpoint
Dogs are very popular in this neighborhood, and people love taking their furry friends to dog runs so they can commune with the other pooches of Greenpoint. Some favorite spots of dog lovers include:
McCarren Park Dog Run
A large dog run in an even larger park, McCarren Park Dog Run will tire out your furry friends so they'll be nice and calm when you get home. Pets have plenty of space to run around here, and other visitors to the dog run are very friendly.
McGrowl-Lick Dog Run
Located in McGolrick Park, McGrowl-Lick Dog Run has the best name ever. This run is on the small side, but there are plenty of toys for Fido to play with, and separate areas for large and small dogs.
Traveling in Greenpoint
Greenpoint is a quieter part of Brooklyn, and that's because it can be a bit of a task to get to. Not many subway stations or buses service the area, and most residents have gotten used to driving or biking to their preferred destinations. While travel can be a challenge, there are still options:
Trains
Unfortunately, there is only one train line that connects Greenpoint to the outside world. The G line has two stops in the neighborhood, and can take you to Queens or further into Brooklyn. The quickest way to Manhattan by train is to take the G line to Queens, and catch a different train at Court Square in Long Island City.
Buses
Buses are a bit more prevalent in the neighborhood than trains, but not by much. Bus lines that run through Greenpoint include the B24, B32, B43, B48, and B62.
Rental Bikes, Ride Shares, and Ferries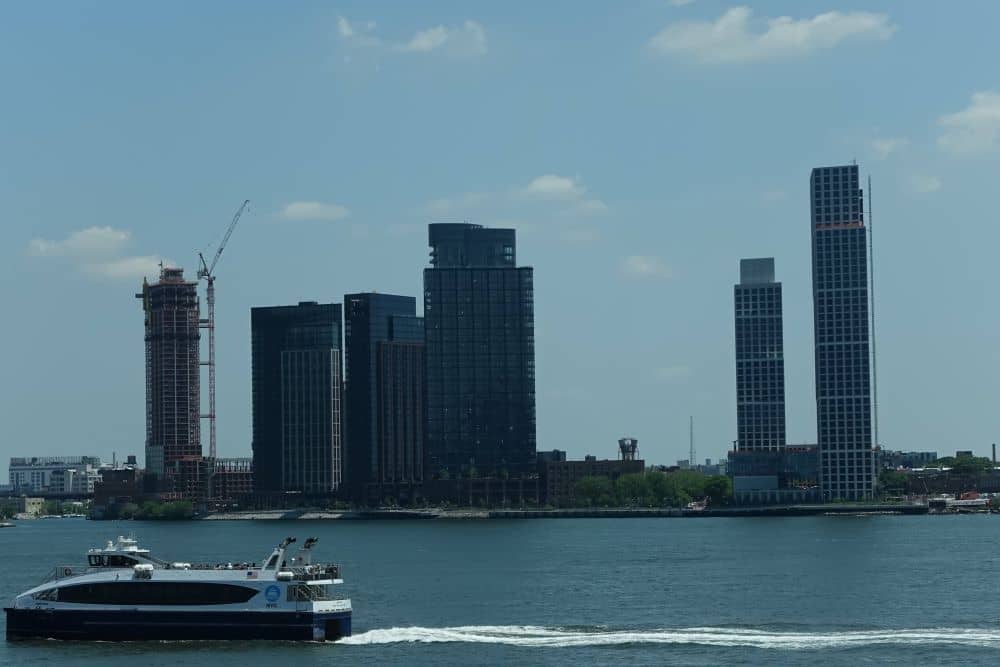 The Greenpoint ferry terminal takes passengers back and forth into other parts of Brooklyn and Manhattan along the East River, and is a fun and practical way to travel given the scarce train service. Rideshare apps like Uber, Lyft, and Via are easy to call in the neighborhood, and Citi Bikes are easily accessible at a number of docking stations in the area.
---
Greenpoint is a diverse neighborhood with many artists and immigrant populations, especially those of Polish descent. The neighborhood has changed drastically since its former industrial glory, but it's been reshaped into something new, beautiful, and exciting. As the population continues to grow, more creative businesses and innovative art will come with it.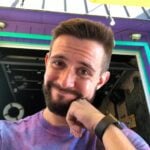 Russell is a writer and comic based in New York City. His plays have been featured at Penn State's Cultural Conversation's Festival, The NYC Thespis Festival, and Imaginarium's Inaugural Theater Festival. Follow him on TikTok and Instagram @pooleparty528