New York City has a PR problem. The waves from the pandemic and post-pandemic have sent the city into a downward spiral of exorbitant rent prices, sanitation concerns, and droves of tourist traffic. As of July 5th, twice-a-week alternate side parking will be coming back to the city to help keep the trash on the city's streets at bay and Sanitation Commissioner Jessica Tisch agrees "with New Yorkers who feel that our city is meaningfully dirtier than it was before the pandemic, and that is not acceptable."
Cleanliness aside, living in easily accessible and affordable locations seems to be a thing of the past for people living in the five boroughs. WIth remote and hybrid work now a common job perk, what does the city really have to offer?
Designing New York City For The Future
For NYC to surpass its former glory, it will need to lean heavily into the programs from NYCxDESIGN. Many are familiar with their work without even needing to walk a few blocks down the street, as the non-profit helped found the Design Corps, a small business reopening network that assists restaurants with design-related needs for updates such as the highly popular al fresco sidewalk dining spaces.
Mayor Adams seems to understand New York City is at a precarious tipping point. On May 10th, Adams delivered remarks at Pearl Alley to open the 10th Anniversary of the Annual Design Festival by NYCxDESIGN, addressing the importance of the organization and what they do for the community. 
"We can't stumble into a post covid New York City. We must move into post COVID, by design," stated Adams. "We must design not to leave anyone behind. Because historically, when we designed the city, we designed it without thinking about of those communities that have historically that have been part of the design." Mayor Adams then spoke on the significance of the fashion industry to New Yorkers transitioning out of homelessness and domestic abuse shelters and the necessity to pay the workers in the garment industries an adequate wage to survive.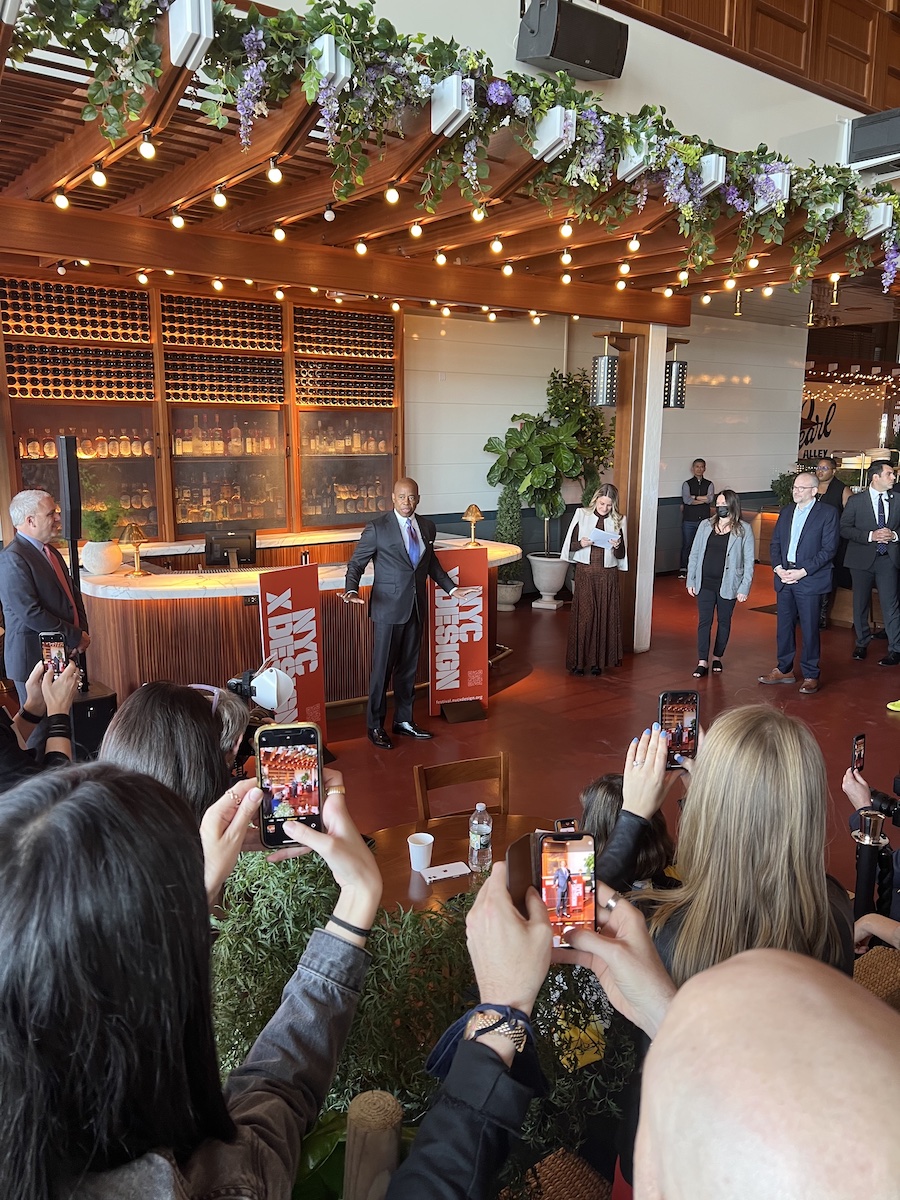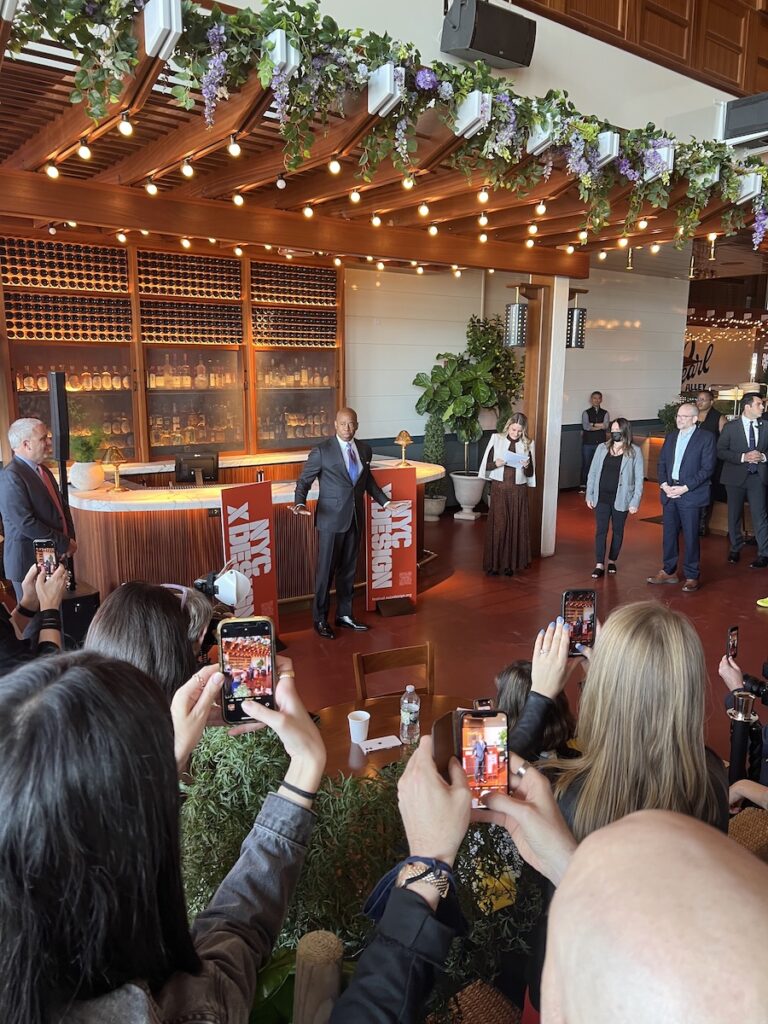 Andrew Kimball, former longtime CEO of Industry City, and Adams' selection for CEO and President of the New York City Economic Development Corporation (NYCEDC) re-iterated Adams' thoughts, "it's not enough to get back. We need to come back with a more inclusive design plan."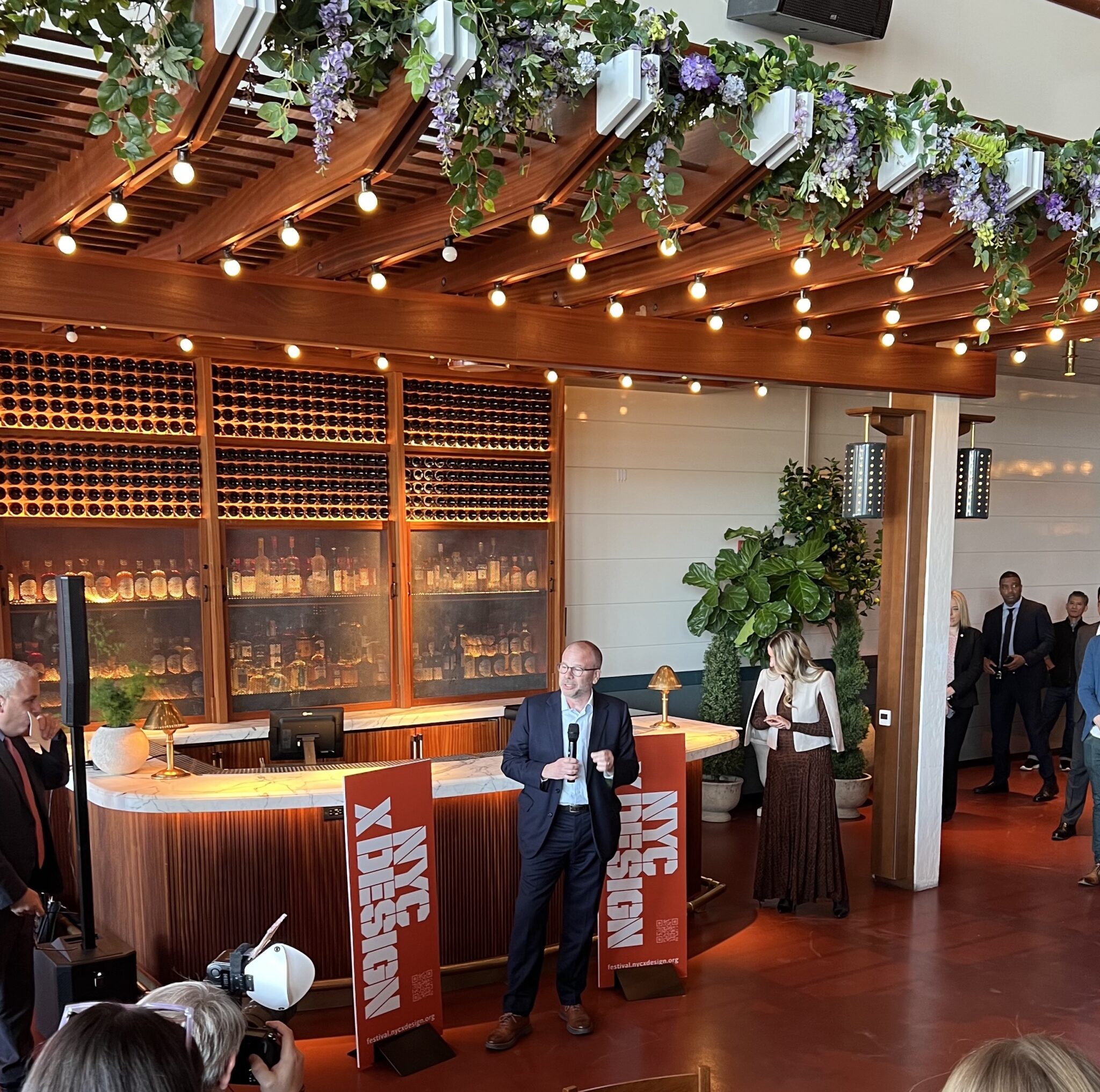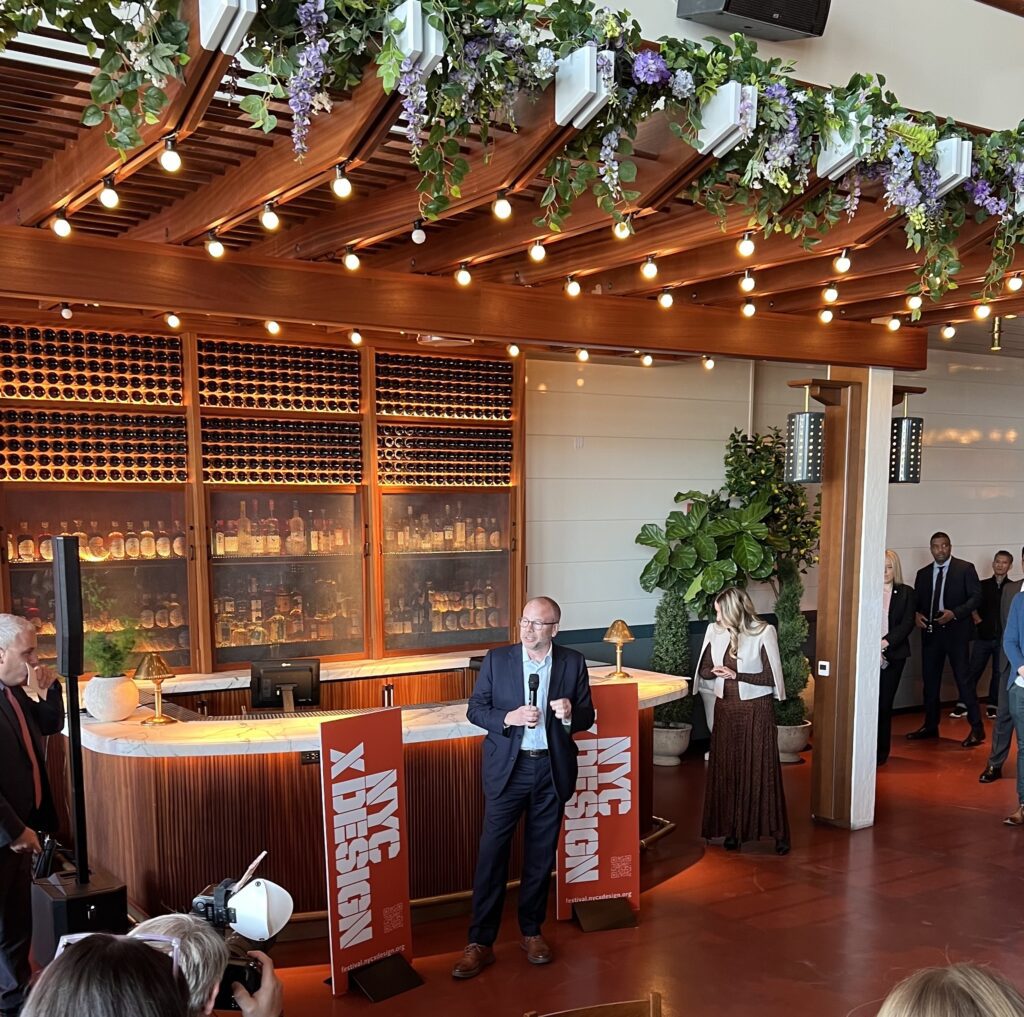 While the fashion aspects Mayor Adams spoke of only encompass a small part of what NYCxDESIGN is all about, the sentiment rings true. New York architecture, such as the 25 billion dollar project that is Hudson Yards, has received harsh criticism for its development as a "billionaire's playground" directed towards affluent New Yorkers. Even developments such as One45 in Harlem propose to bring climate justice, green jobs, enhanced social consciousness, and increased equity to the uptown neighborhood, are met with skepticism from the community due to concerns of gentrification and local resident displacement, among other things.  
As of March 31st, 2022, the median 1 bedroom rent for an apartment near the 34th street Hudson Yards MTA station was around $4,153. This puts Hudson Yards as one of the least affordable areas to live in, which is no surprise considering the skyscrapers like 15Hudson Yards that surround the compound carry apartments with 1 bedroom rents at $6,300. The website claims Hudson Yards is a model for "future global cities," but what does the average working class New Yorker gain from this area?
Are these developments being designed with the community in mind or in partnership with the community? The two are very different things. 
The Tin Building and the South Street Seaport Neighborhood
Among the speakers at the opening of The Festival were notable members involved in the creation of the Tin Building, Seaport's newest building to open this July (provided they can hire 700 workers). The Tin Building is "designed to delight and engage every one of your five senses in the most delicious way." Curated by acclaimed chef Jean-Georges Vongerichten, the claims are that it will be "a never-before-seen culinary experience." But as the "spot to shop, sip, savor, and feast while soaking in the recently revived landmark's rich history," what will it really provide for the community? 
Robin Standefer, Co-founder of Roman & Williams, the design firm that worked on the Tin Building with Vongerichten, recounted her own personal history with the building and stated that this location will offer everything from "high food" to "low food" and will allow New Yorkers of all walks to enjoy diverse cuisines. She likened it to "peeling back all parts of the city from an economic point." Mr. Vongerichten and the developers expect a mix of locals, tourists, and other New Yorkers, including Brooklynites arriving by ferry, to be drawn to the market, according to the NYTimes. 
But after over 1,000 restaurants have closed their doors since March 2020, does the community need another location pulling traffic away from local businesses? No doubt the local economy will benefit from an increase in traffic looking to spend, but might this be another carefully curated New York "experience" that takes away from the locally born and housed businesses that make up the city's backbone.
Could the Tin Building Fall into the same realm as the Hudson Yards project? The 2016 Economic Impact report for Hudson Yards quoted Tom Wright, President of the Regional Plan Association, saying, "Hudson Yards will play a vital role in New York City and the region by revitalizing Manhattan's Far West Side and by creating the type of modern, mixed-use district that is being built by our competitors around the world."
Revitalization or Tourist Magnet? The Responsibility of Design
But now, with luxury businesses like Equinox and a shopping mall filled with ultra-high-end labels and bucket list attractions, Hudson Yards has turned into part luxury destination and part tourist magnet. It seems that the Tin Building, with its mixture of "high-end" food curated by an acclaimed chef, lesser counters and cafés such as T Café and Bakery, a space for cooking classes, and a museum of the building's history call more to tourists and wealthy elites than everyday New Yorkers out for a quick run to the market. 
Is "community revitalization" purely a code for tourist attraction? Is New York City officially "back" and better than ever when the streets are swarming with confused tourists? It seems that when designing for the future of economic growth, it's really just a massive marketing campaign directed at the short-term visitors with full wallets and a desire to spend. 
Hopefully, the topic of inclusive design for NYC residents will be broached on May 13th, for the Festival's "The Responsibility of Design" directed at designing for the environment, well-being, and community. Among the speakers will be Michael K. Chen, Principal for Michael K. Chen Architecture (MKCA).
Chen also co-founded Design Advocates, a network of independent architecture and design firms collaborating on pro-bono projects for small businesses, institutions, and organizations that serve disadvantaged communities to help them adapt their spaces and operation to COVID-19 and beyond. Chen has led projects such as the Children's Library at Concourse House in the Bronx to provide a new children's library for families transitioning from homelessness. MKCA also has a project called "Biodiversity City" that showcases the relationship between future development and what impacts it can have on ecological conservation and urban biodiversity. Clearly, a portion of their work focuses on the lasting impact. While perhaps not realized until the distant future, it is a far cry from the immediate gratification of an infusion of foreign cash like so many recent developments. 
Is Designing for the Elite the Key to Community Success?
But Chen and MKCA also have many other projects that one would think provide the majority of their profits. From a re-invention and gut-renovation of an East Village Townhouse to a Clinton Hill brownstone, many of the projects on their website are located in wealthy neighborhoods and cater to individuals with deep bank accounts. After all, the money needs to come from somewhere.
Chen has shared that he was introduced to the charity that was spearheading the Bronx Children's project by donors Kate and Julie Yamin, two founders of the charity Cause for Celebration which is proud to be almost completely self-funded. A self-funded charity requires considerable assets and funds to direct to their chosen causes, and in a town where money is power, Chen may have brushed elbows with the donors when running in the circles of elite New Yorkers. It seems that catering design and development towards a small portion of the New York population can in fact be the means to an end in terms of inclusively designing for the community.
Revitalization Through Strength
But maybe what the community needs right now is a display of strength to engage the working class. Lindsey Greene, CEO and President of the Brooklyn Navy Yard Development Corporation, spoke on Tuesday at the NYCxDESIGN Festival about how this week "showcases how resilient this group of people [designers] are." Half of the businesses in the Navy Yard are of the creative design sphere and provide the "different flavors of what design really means."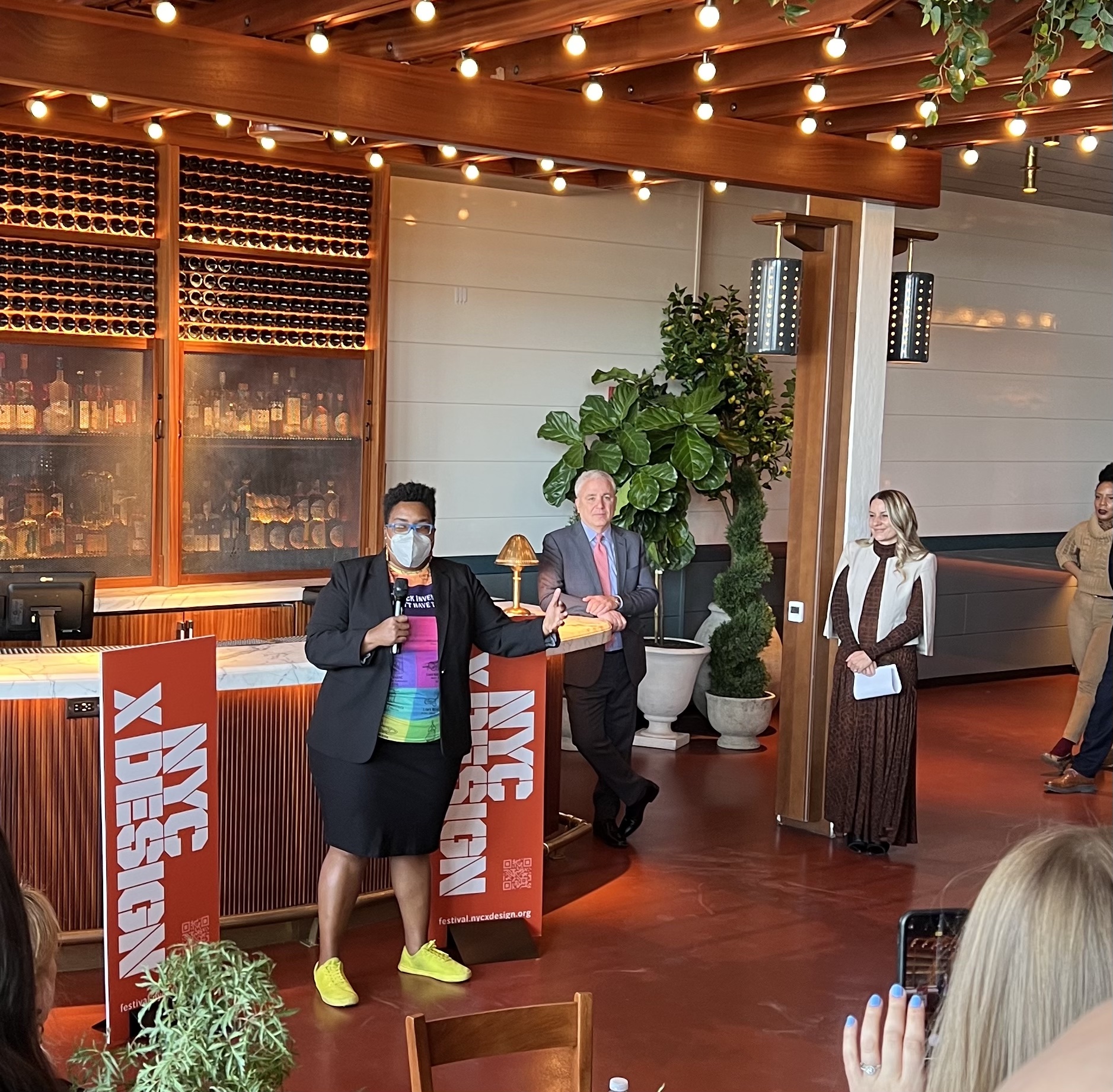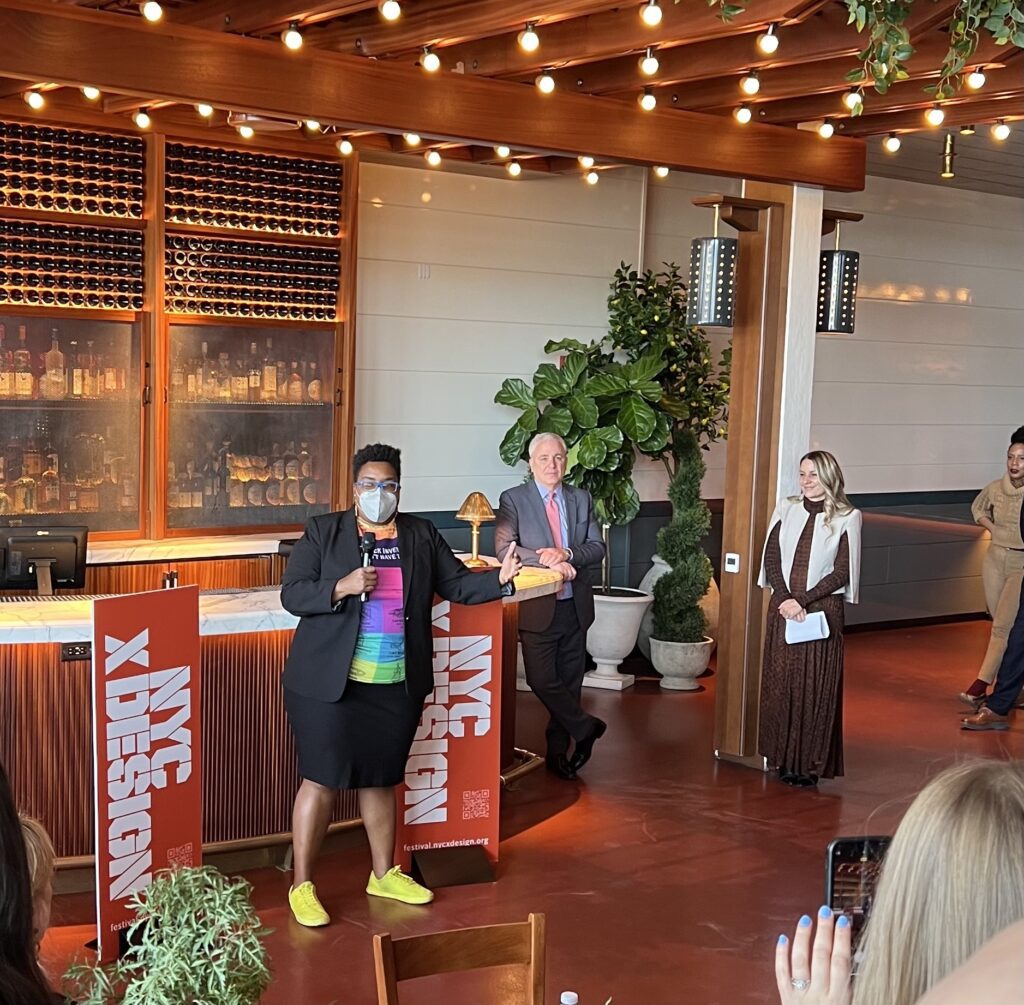 It's no secret the large economic impact the Brooklyn Navy Yard has. The Navy Yard provides thousands of New Yorkers with economic opportunities for manufacturing owners, tech startups, artisans, and other small business owners. This week, the Brooklyn Navy Yard Design and Architectural Tours will explore the Brooklyn Navy Yard's unique architecture, both historic and contemporary, and provides visitors with a look into what makes the Navy Yard an economic powerhouse. This is a rare moment for the doors of the Navy Yard to be opened for the average passerby to enter and fully relish the creation and innovation that is happening on the edge of Brooklyn. These are the less glamorous industries and projects that aren't gracing the covers of trendy magazines but are offering up the chance to create an impact on both a micro and macro level. From the hiring of an individual to guiding inspired designers to change society, the Brooklyn Navy Yard is a deeply influential part of the New York community.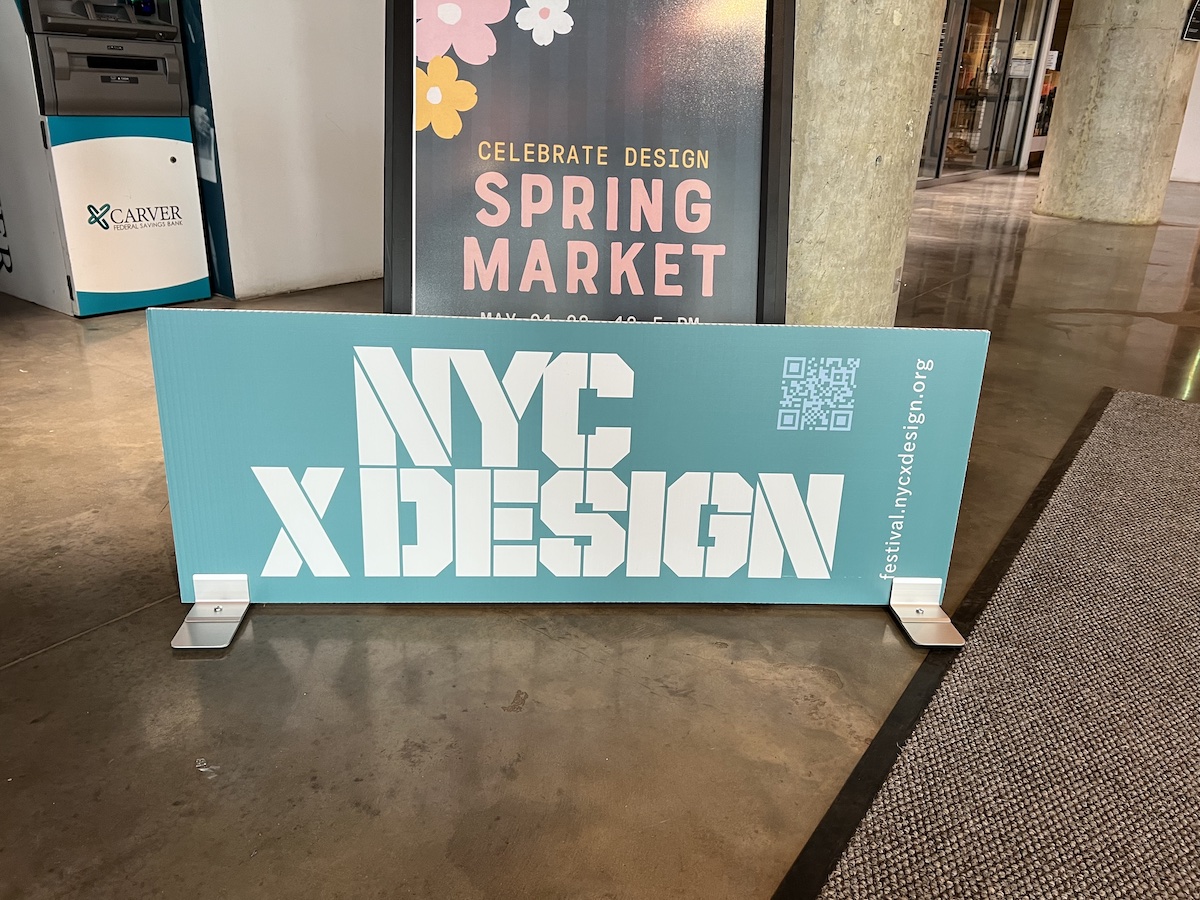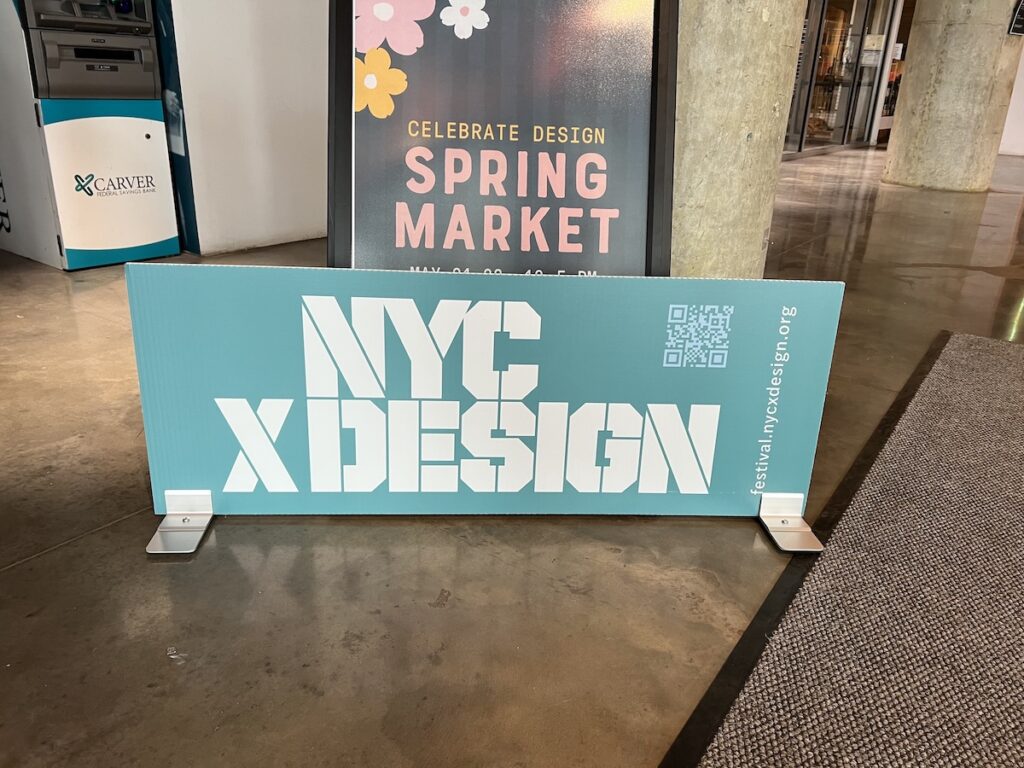 As Adams' said on Tuesday, "when we designed the city, we designed it without thinking about those communities that have historically not have been part of the design," and New Yorkers must not forget this.
Moving forward can only happen by design, albeit carefully planned and executed, working to fix the city's image problem of being dirty, expensive, and crime-laden to one of glittering lights and endless possibilities. Only then will the visiting populations slow to run to worship at the towering monuments of the rich who barely tread on the streets. A pride for the city will be reinstated, and the diverse community of New York City will truly thrive.
Alda is a mom, Brooklynite, and real estate lover. In her free time, she cruises real estate listings to dream of a perfectly attainable several million-dollar brownstone, much to her husband's annoyance. Alda is also convinced she knows everything there is to know about New York City, based solely on consistent people-watching and eavesdropping. Mrs. Burrows would be an amazing trivia partner but instead chooses to write about all the random stuff she knows.