The city is finally alive again, and that means it's time for some amazing outdoor concerts in one of NYC's beautiful parks! Whether you're a fan of the philharmonic or Sam Green, NYC has you covered. Every borough hosts free outdoor concerts. Some are series lasting all summer, and others just a weekend. All the concerts are worth checking out. That said, we know you're busy and probably can't see all of these amazing performances. Never fear, CitySignal is here, and we've curated a list of the best outdoor concerts for folks who live in NYC to check out in each borough. So get dolled up and head out to listen to some sweet, sweet music—and make sure to grab refreshments from your local bodega along the way.
Free Outdoor Concerts NYC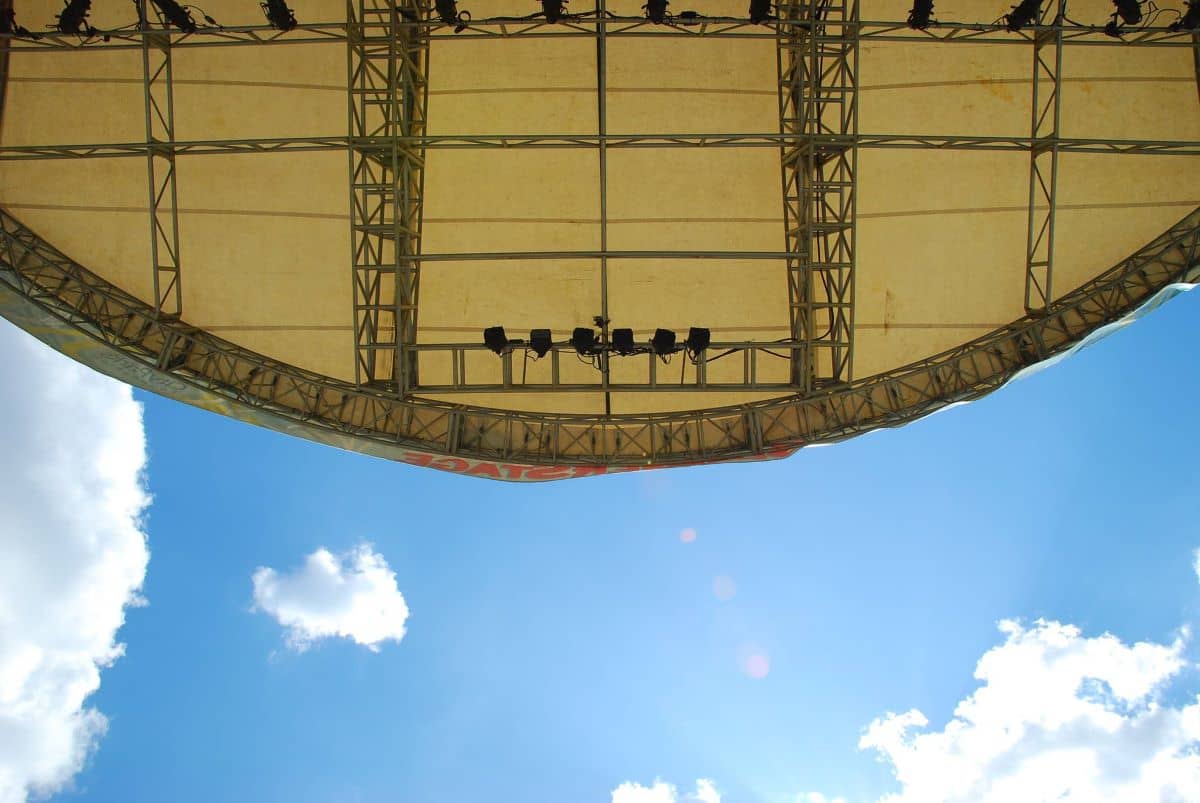 SummerStage:

This is one of the largest annual free concert series in NYC, and one of the most popular. Spanning from June to October, this year's festival has over 90 performances in some of NYC's most popular parks, like Marcus Garvey Park in Harlem, The Coney Island Amphitheater in Brooklyn, Flushing Meadows-Corona Park in Queens, Crotona Park in the Bronx, and Corporal Thompson Park on Staten Island. Their series has performances from bands like Trombone Shorty, The Barenaked Ladies, and The Decemberists. They also have screenings and dance performances, so be sure to check this one out.

New York Philharmonic Concerts in the Parks:

Lasting through July, The New York Philharmonic Concerts in the Parks take place in the most popular parks of each borough, including Van Cortlandt Park in the Bronx, Central Park in Manhattan, Prospect Park in Brooklyn, and Cunningham Park in Queens. The only indoor venue is the St. George Theater in Staten Island, but that one is worth it too. Fireworks will go off after each outdoor performance, an extra special way to close out a night of orchestral tunes.
Free Outdoor Concerts in Manhattan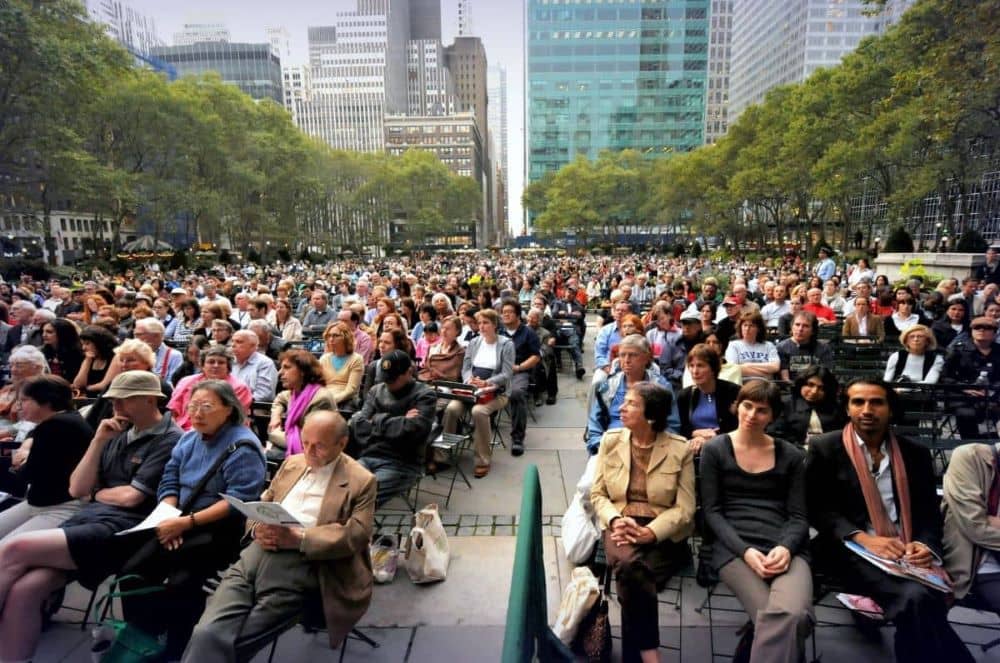 Bryant Park Picnic Performances:

From June to September, Bryant Park is offering a series of opera, jazz, rock, dance, and more to the public. People can bring their own food and drinks to each performance, and sit wherever they want! The events are super casual and include performances from groups like The Metropolitan Opera, The Afro Latin Jazz Ensemble, and the Classical Theater of Harlem.
Backyard at Hudson Yards:

From now through October 31st, Backyard at Hudson Yards will offer a variety of events, including a concert series every Wednesday at 6pm until August 3rd at their Wells Fargo Stage. In addition to live music, they'll be screening movies and sporting events like the golf majors and hockey playoffs.
Lincoln Center's Summer for the City:

Lasting until August 14th, Lincoln Center is hosting more than 300 free events for the good people of the city. Performers include Afropunk, Comedy Underground, Diana Burco, and many others. They also have immersive activities, the most exciting being the silent disco that's held every couple weeks. This event is one giant outdoor party, so you'll risk FOMO if you don't attend!
Free Outdoor Concerts in Brooklyn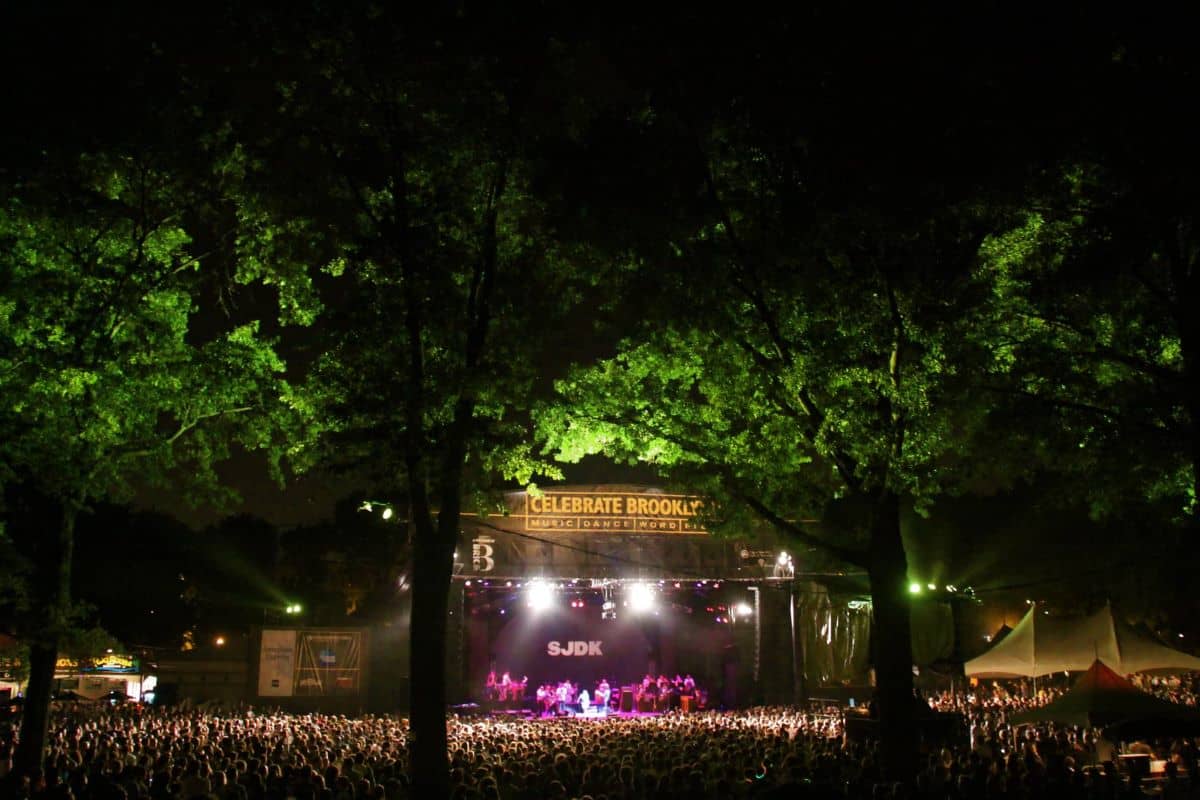 BRIC Celebrate Brooklyn:

BRIC is an annual concert series that blows the minds of Brooklynites every year. Lasting until August 6th, this series takes place in Prospect Park at the Lena Horne Bandshell, and features performances from Yemi Alade and Amindi, Sam Green, Chicano Batman, and more. Along with the free concerts, several benefits for charitable causes will also be held, so make sure to check out their calendar for more info. These events get crowded fast, so make sure to show up early to claim a good spot!
Live at the Archway:

Under the Manhattan Bridge in Dumbo is a concert series that occurs from 6-8pm every Thursday until September. Live at the Archway features many bands and cultural experiences like Brasil Summerfest, Gaijin A Go Go, Iliana Emilia Garcia, and much more. Rain or shine, these performances will entrance you, and keep you coming back every week to see what new wonders await. In addition to stellar music, they also have artist pop-ups and plenty of drinks—Beer fans will be happy to know the series is sponsored by Sixpoint Brewery.
Free Outdoor Concerts in The Bronx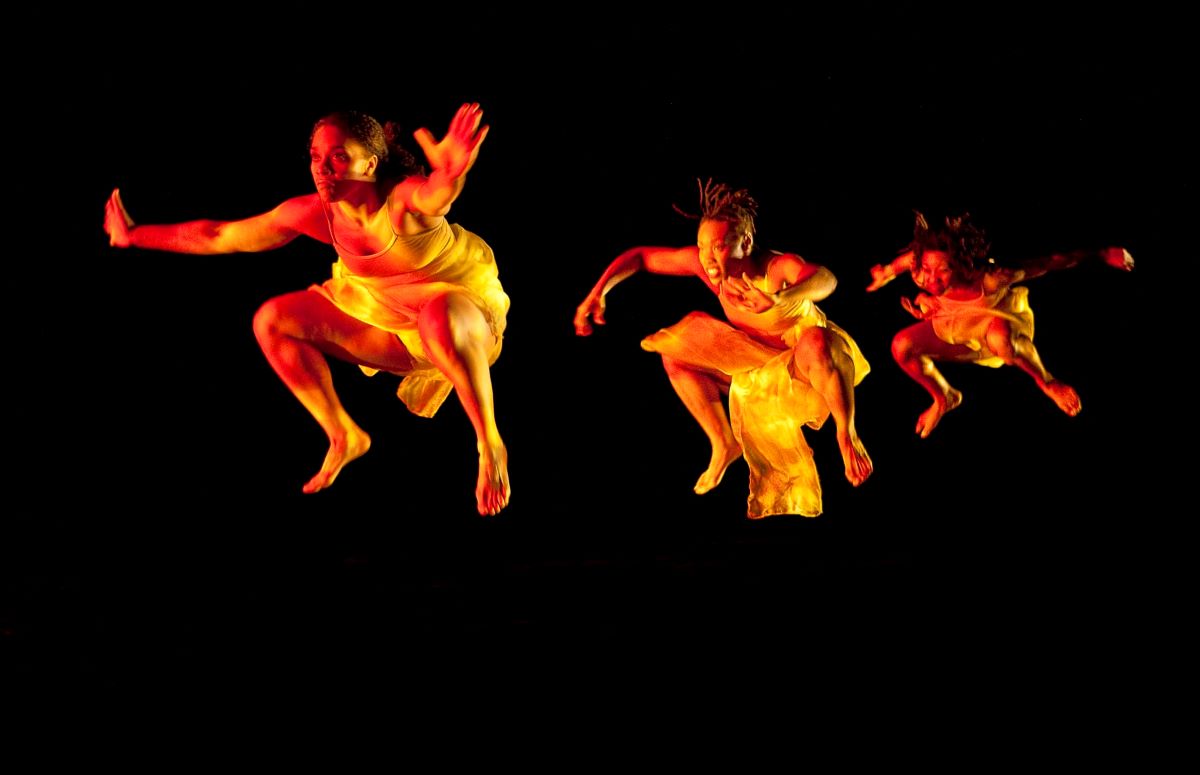 Urban Bush Women/Cheri L. Stokes:

A powerful entry in the SummerStage series, this August 12th concert begins with a dance workshop from the Urban Bush Women, a group dedicated to fighting inequality that women of color face everyday. Afterward, Cheri L Stokes, a hip-hop choreographer and performer, will lead you through her personal story of growing up in Bed-Stuy. It's a night of storytelling through the lens of dance, and those who attend will learn a lot—and leave with some new moves to show off at the next concert.
Kid Capri's Block Party Live:

A contemporary of Kendrick Lamar, Kid Capri is throwing a block party that is sure to go down in Bronx history. The performer, who's produced music for the likes of 50 Cent and Jay-Z, invited his daughter, Vina Love, and rap duo The Hoodies, to perform on August 14th at Crotona Park. Part of the SummerStage Series, this concert is bound to be a blast.
Free Outdoor Concerts in Queens

Nai-Ni Chen Dance Company/ ALL ARTS:

On July 15th in Flushing Meadows-Corona Park, show up to enjoy performances by Nai-Ni Chen Dance Company, a cross-cultural dance group that merges classical Chinese dances styles with modern American dance. Afterwards, ALL ARTS will present their "Past, Present, and Future" festival, which brings dancers and filmmakers together in collaboration. Tap, modern, and ballroom dance will be at the forefront of this concert, so don't miss your chance to experience it!
ChocQuibTown/Nanpa Basico/Salt Cathedral DJ:

A SummerStage event in association with New Latin Wave, this concert is all about celebrating Colombian Independence Day. The set begins with the Grammy winning ChocQuibTown, who specializes in Afro-Caribbean hip-hop. They will be joined by fellow Colombian rapper Nanpa Basico, and Salt Cathedral, who will DJ the performance. This mix of culture and music is sure to inspire and educate those who seek a transformative experience. So on July 16th, head over to Flushing Meadows-Corona Park at 6pm for this unbeatable performance.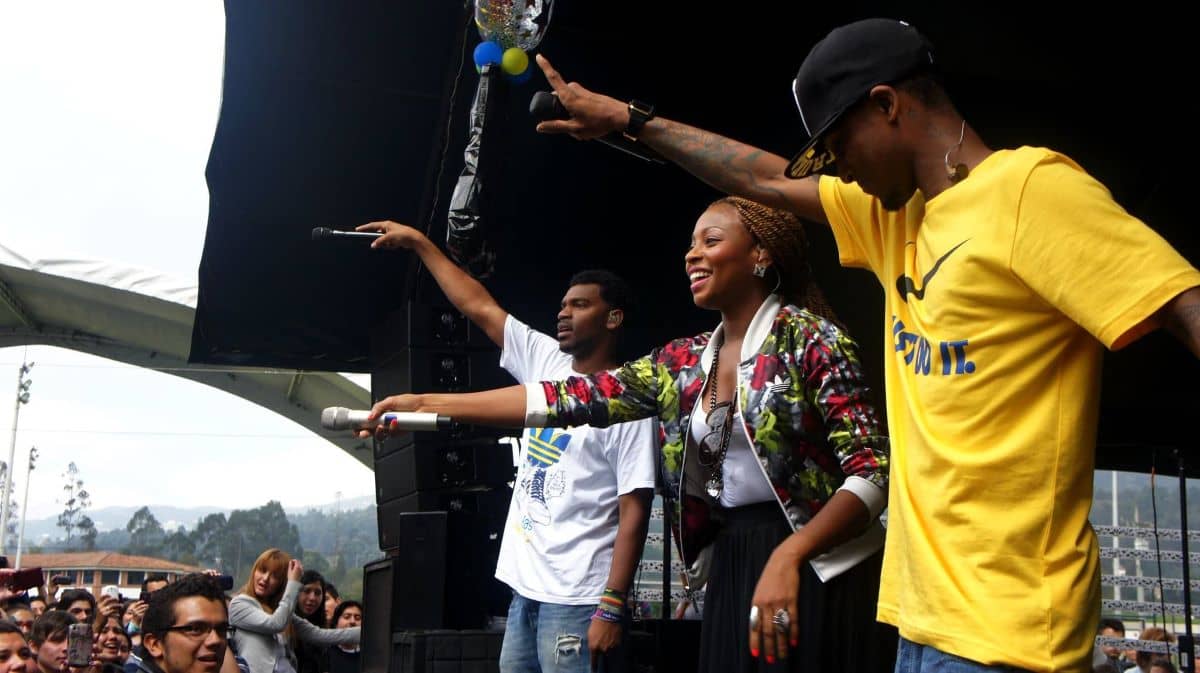 Free Outdoor Concerts in Staten Island

Ana Tijoux/Meridian Brothers/Bembona:

Chilean hip-hop artist Ana Tijoux was born in France during her parent's exile from Chile, and her music reflects her politically charged upbringing. She'll be performing with the Meridian Brothers, a Colombian electric rock band, and DJ Bembona from Puerto Rico. Dance your way through these three stellar performances at Corporal Thompson Park on August 6th at 5pm.
The Staten Island Philharmonic:

A live event for music lovers in Conference House Park, the Staten Island Philharmonic will be giving a live performance on September 4th. A staple in the community, the Staten Island Philharmonic enriches the lives of Staten Islanders, and it's a treat to see them perform some of the classics.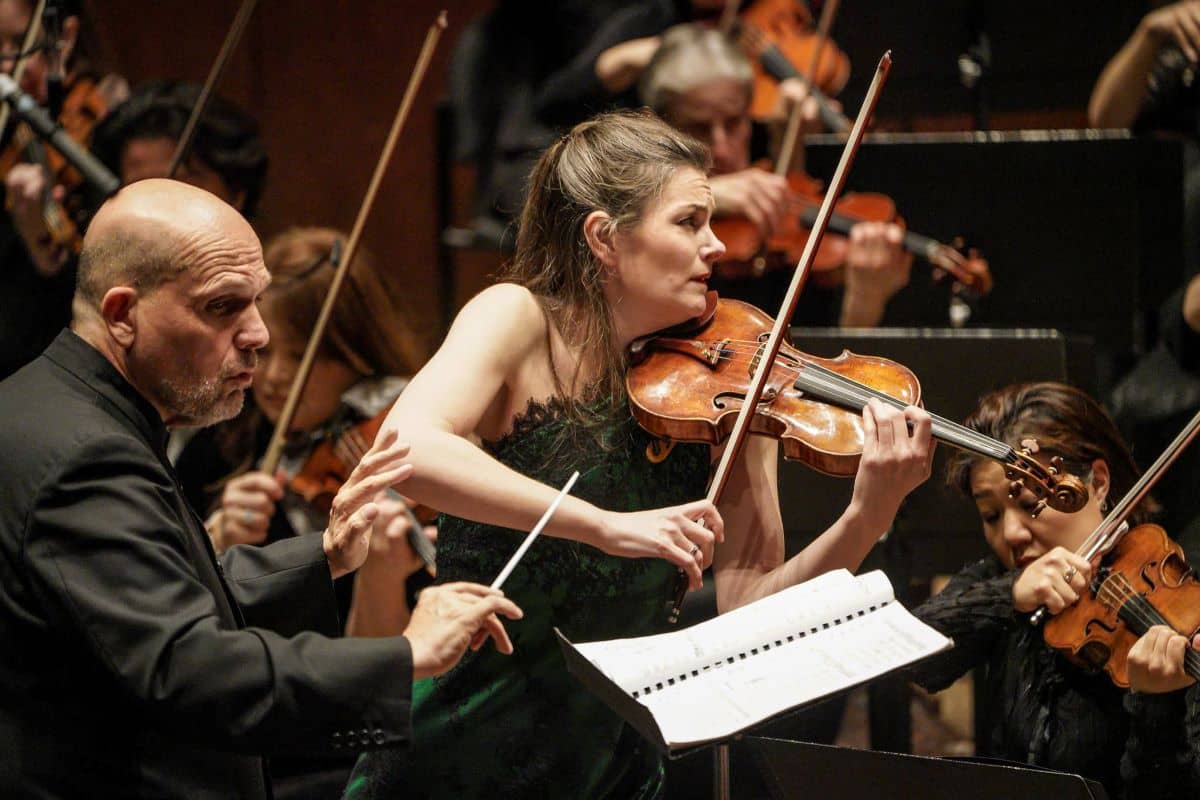 The best part about living in NYC is checking out the huge variety of events around town. The parks always have a little something going on, and the concerts throughout the summer and fall feature some of the best performers in the nation—if not the world! Many of the events listed above are annual concert series, but some will only happen once before they're gone for good. Make sure to slather on your SPF and head to a park to make memories, feel inspired, and get your freak on.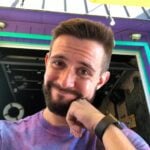 Russell is a writer and comic based in New York City. His plays have been featured at Penn State's Cultural Conversation's Festival, The NYC Thespis Festival, and Imaginarium's Inaugural Theater Festival. Follow him on TikTok and Instagram @pooleparty528