Setting the Stage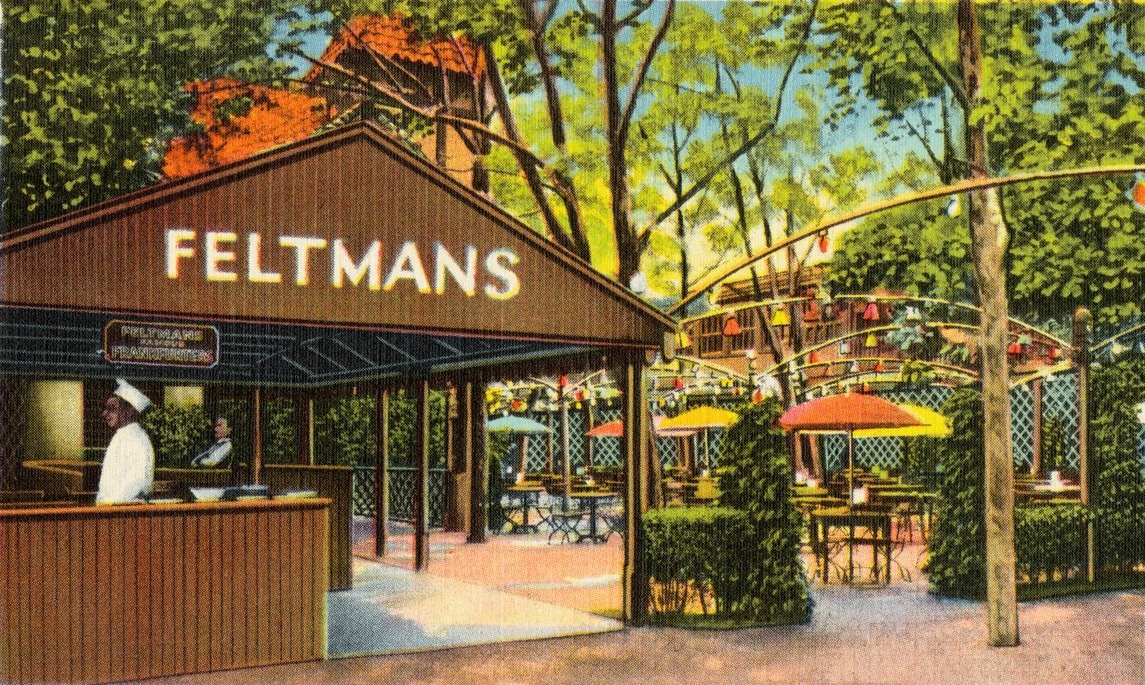 Imagine living in the Gilded Age, at the same time as the Victorian Era was going on in the British Empire, when America was prospering and growing exponentially and the world was full of interesting people. Authors were around like Friedrich Nietzsche, Arthur Conan Doyle, Robert Louis Stevenson, and Mark Twain. The Eiffel Tower was being built, Coca-Cola was being invented and Thomas Edison was establishing the Edison Illuminating Company, right here in New York City. In fact, Pearl Street Station became the first central power plant in the United States, bringing commercial electric lighting to the general population on September 4th, 1882 serving 85 customers simultaneously. Just 2 years later, they served 508 customers. It's an amazing, exciting and colorful time in history, and New York City is a hustling, bustling new metropolis quickly becoming the social hub of the country. Young entrepreneurs are starting businesses that will become legendary, in the fabric of our time.
Charles Feltman and the Coney Island Red Hots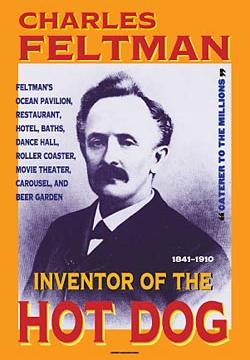 In 1867, just in time to get in on all this excitement, German immigrant Charles Feltman started building his business with a pushcart, on Coney Island. He pushed a pie wagon around Coney Island Beach, selling food to beachgoers. In 1869, he had an idea of putting a frankfurter, which he knew from Germany, in a special long bun. He called them the Coney Island red hots, and they sold for .10¢ apiece. As he had hoped, they caught on, and in a big way. Soon, they were all the rage. By 1871, Feltman leased some land and began to build his dream, a restaurant. The restaurant, Feltman's Ocean Pavilion, did well, producing a seafood platter dinner that became their most popular favorite. Feltman's ultimately became the largest restaurant in the world, serving close to 5,250,000 people a year, and selling 40,000 hot dogs a day, during the height of its popularity in the 1920s. Charles Feltman built a veritable empire that encompassed a full city block in the end, yielding an amazing array of businesses that included nine restaurants, a roller coaster, a carousel, a ballroom, an outdoor movie theater, a hotel, a beer garden, a maple garden, a bathhouse, a Tyrolean village and two huge bars. 
Nathan Handwerker and Nathan's Famous Hot Dogs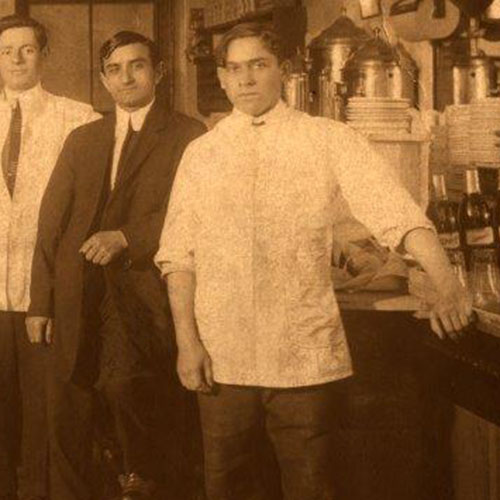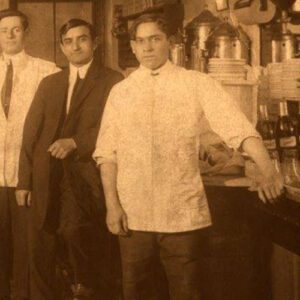 As Feltman built up his business, a Polish immigrant who came to America in 1912 named Nathan Handwerker begin working for him. Handwerker worked as a bun slicer who spent his days hustling for Feltman, and here's where accounts vary. Even Wikipedia contradicts itself by starting out saying his new wife Ida borrowed $300 from friends to eventually start their own (competing) business, but then says the couple used their "life savings". Another account states that while Nathan worked at Feltman's, he saved by eating free hot dogs and sleeping on the kitchen floor, quitting when he could afford to start his own hot dog stand. Regardless of the method, Nathan's Hot Dogs opened at the corner of Surf and Stillwater Avenues on Coney Island in 1916, not far from Feltman's. To gain the upperhand, Handwerker undercut Feltman's price by half, selling his dogs for .5¢ apiece. Ultimately, Nathan's became Nathan's Famous Restaurants, its popularity prevailing, and enduring even throughout the 21st century. 
Both of these men's stories are wonderful examples of impoverished and oppressed people immigrating to the United States to pursue the American Dream – and succeeding beyond their imagination. I love doing stories like these, that illustrate this as one of the very foundations our amazing country was built upon. And we're not done yet… 
The Quinn Brothers and Feltman's of Coney Island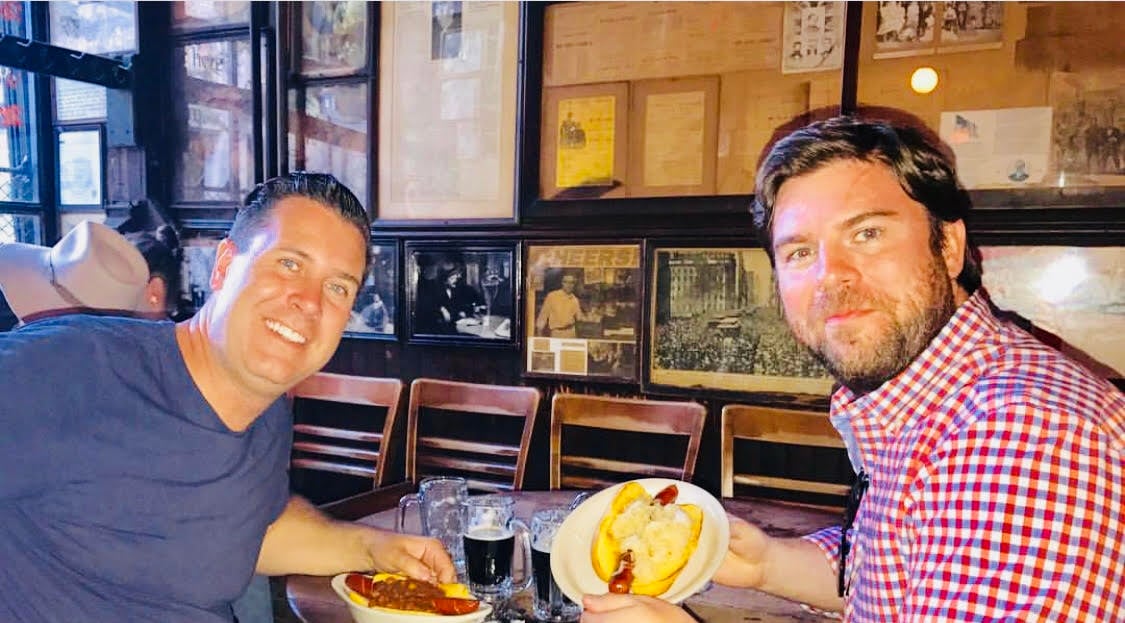 Fast forward to the Quinn Brothers, Michael, Joe and Jimmy. These boys grew up in Southern Brooklyn, hearing the stories of Feltman's Coney Island Red Hots and spending time on Coney Island. As they got older, they dreamed about somehow bringing the Feltman brand back, but also had other jobs and separate lives. Then one day tragedy struck, on a day that will be forever burned into all our memories; 9/11. Jimmy who was just 23 years old, was working for Cantor Fitzgerald, a financial services firm, as a trader. On 9/11, he was working on the 104th floor in the North Tower of the World Trade Center, when the attack occurred. Sadly, Jimmy died in the attack. It was a tragedy the remaining brothers eventually turned into triumph, though, in the name of their fallen sibling. They vowed to finally pursue the American Dream that they had all yearned for together. Though Joe would serve two tours in Iran and one in Afghanistan fighting terrorist attacks like the one that ended his young brother's life, upon his return in 2015, he and Michael opened Feltman's of Coney Island in the East Village of Manhattan. 
As part of their launch of the brand, the two brothers recreated and improved the original nitrate-free, all-beef recipe using all natural ingredients, uncured and naturally smoked meat in a lamb casing. The resulting product is the "filet mignon of hot dogs", and their popularity has grown fast. They even had struck a deal and operated from the very same location on West 10th and Surf Avenue as the original Feltman's, on Coney Island. Sadly, however, the owners did not renew their lease in January of 2020, so the restaurant had to relocate. Today, huge obstacles notwithstanding, their hot dogs are in thousands of grocery stores all over the country, and known as top quality favorites. They also host a fundraising event each year by hosting an outing to a Mets game, where they sell T-shirts and other products. The proceeds from these sales goes to help support children and families impacted by 9/11, as well as struggling military veterans and their families. What an amazing legacy to honor their brother, indeed. The American Dream is alive and well, I'm happy to report.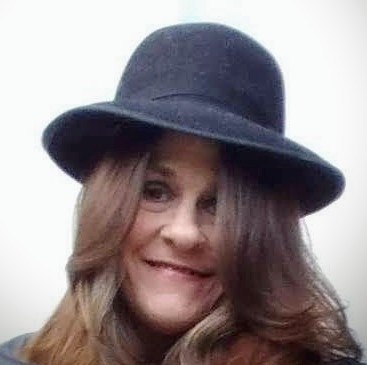 Rochelle Harris is a passionate writer originally from Phoenix, AZ. who credits her success to integrity and determination. She has a great sense of humor, loves music and her family, and writes fiction and poetry in her spare time. She is excited about the New York experience and lifestyle! Follow Rochelle on Twitter at @LinguisticAnRky or get in touch at [email protected]